8 Best Women's Hair Protectors For Sleeping – 2023 Update
Guard your delicate hair against the twists and turns they go through while you sleep.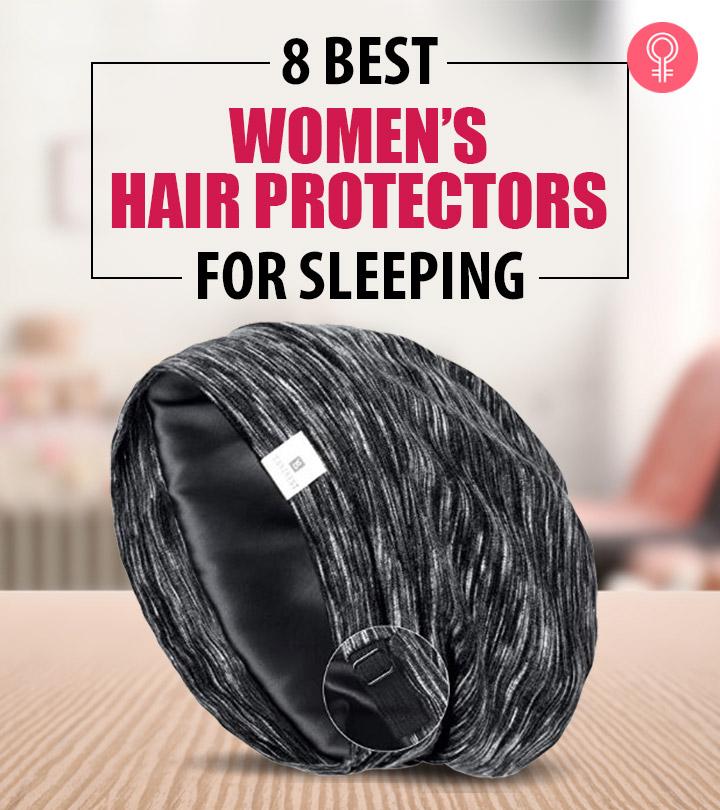 If you are someone who dreams of a long cascading mane of luxurious hair that frames the face beautifully, the best hair protectors for sleeping will fulfil all your hair goals. Of course, you know all about hair care habits needed during your day-to-day life. But did you know that your hair can get damaged by fiction created while tossing and turning during sleep? Don't fret. In this article, we have listed the top-rated products to prevent unintentional hair damage during slumber time. Scroll down.
8 Best Women's Hair Protectors For Sleeping – 2023 Update
Pros
 Sweat-absorption
 Lightweight
 Full-coverage
 Hand and machine-washable
 Comfortable
 Non-slip
Cons
 Does not work for curly hair
Price at the time of publication: $15.99
If you have long hair the Wbfwbb Satin Hair Bonnet is your best bet for keeping your it healthy. This set includes 2 pieces (1 black and 1 leopard print) of 27-inches long satin bonnets. These are one-size-fit-all, made of premium fabric, and suitable for chemo patients. These bonnets are specially designed for holding natural long hair, braids, weaves, rollers, hair clamps, long hair, and up-dos.
Pros
 Comfortable
 Non-slip
 Soft
 Lightweight
 Skin-friendly
Cons
Price at the time of publication: $6.98
Women with frizzy or curly hair can try the FocusCare Satin Headwear. It is made of 95% cotton 5% spandex, making it perfect for dreadlocks and natural curly hair. It prevents hair damage caused by the friction between your hair and pillow. It also claims to reduces frizz, tangles, and hair loss. It is a great option for nurses and doctors. This baggy style sleepwear is stylish enough for those times when you need to rush out of the house. It features a size of 19 – 24 inches to accommodate all head sizes.
Pros
 Comfortable
 Anti-frizz
 Easy to take on or off
 Adjustable buckle
Cons
Price at the time of publication: $13.99
Choose the Satin Sylx Satin Sleep Cap to keep those luscious locks and curls intact. This soft and supple hair bonnet is available in multiple color options. It reduces friction while you toss and turn at night to prevent hair breakage and frizz. Its double-lined satin locks in moisture, revitalizes your hair, and leaves no marks or headaches. It is designed with an extra-wide poly/spandex band that stays put while sleeping without feeling heavy or cumbersome.
Pros
 Non-slip
 Comfortable
 Anti-frizz
Cons
Price at the time of publication: $9.95
Try the multi-colored and stylish 3 pc-set of Bobibi Sleeping Cap that keeps your hairstyle safe and protects your hair from damage while sleeping. These caps feature excellent elasticity to fit your head well. These soft caps are made of soft satin and cane be machine or hand-washed in room-temperature water to extend their life.
Pros
 Multi-color options
 Machine and hand-washable
 Snug fit
Cons
 May cause headaches due to tightness
Price at the time of publication: $10.98
If you are looking for a fashionable one-size-fits-all headgear for bedtime, the Savena Mulberry Silk Sleeping Cap is by far the most excellent choice. Use it to keep your hairstyle fresh-looking and wake up with no bed-head frizz. It ensures less hair breakage by retaining hair moisture and shine, while helping in hair regrowth. It features elastic bands with ribbons for keeping it in place all night. It also includes a hair care ebook. If you need more convincing, feel free to take a look at this YouTuber's video on the merits and demerits of the product.
Pros
 Lightweight
 Stretchable
 Comfortable
 Breathable
 Anti-frizz
Cons
Price at the time of publication: $10.75
The Caplord Satin Sleeping Cap is perfect for curly-haired girls. It reduces hair damage caused by exposure to friction while sleeping. The cap helps in protecting your hair from breakage, tangles, and frizz. Its satin-lined inner layer is soft and smooth. The bamboo outer layer is breathable, adjustable, and leaves no marks on your forehead.
Pros
 Breathable
 Soft
 Adjustable
 Non-slip
 Lightweight
Cons
 Does not stay put all night
Price at the time of publication: $15.98
The Tale King Sleep Cap is skin-friendly, lightweight, and breathable. It is made of 100% polyester and is both hand and machine-washable. This high-quality one-size-fits-all cap is silk-like soft and great for sleeping in to protect your hair from breakage or tangle. Lastly, it is also travel-friendly. You can see results as this product guarantees 100% satisfaction.
Pros
 Comfortable
 Machine and hand-washable
 Skin-friendly material
 Lightweight
 Soft
 Breathable
Cons
Good shampoos and conditioners are not enough to keep your hair frizz-free, de-tangled, and healthy. The hair protectors can prevent damage during the night when you are at rest. If you are not sure how to select a suitable hair protector cap, read the buying guide below.
How To Select Best Hair Protectors For Sleeping?
 Material: Choose the material or fabric according to your hair type. You can use a silk or satin material to reduce friction while tossing and turning during your sleep.
 Design: Select products with features like extra-wide bands or extra-protection that suits your hair style and texture.
 Size: Go for products created to cater to your hair length, volume, and curls. Explore the size chart or go for one-size-fits-all so that the product accommodates your head snugly.
Why Trust Stylecraze?
The author, Vaishnavi Kothuri, is a certified skincare coach and loves to write comprehensive articles on beauty products. She has spend hours sifting product specifications to create this list of the best hair protectors for her readers. She also went through numerous user feedback on multiple trusted online platform before narrowing down the products. Her recommended hair protectors are made of soft and lightweight material. They keep your hair from frizz and breakage by preventing friction during your sleep.
Frequently Asked Questions
Is it good to sleep with a hair cap?
Yes. Sleeping caps help to prevent split ends and frizz. As a result, hair remains healthy and does not need frequent trimming.
Why do people sleep with their hair wrapped?
Nightcap act as an additional barrier between your hair and your pillowcase, which is why people wear them while sleeping. Frizz is scaled back with less friction. Less friction keeps your hair tangle-free and shields it from nocturnal tossing and turning, in addition to reducing frizz.
What should I wear on my head when I sleep?
You can wear a nightcap on your head to sleep better at night.
Can I sleep with saran wrap on my hair?
Yes, you can use a saran wrap to cover your hair and sleep at night. It helps to reduce frizz and makes hair silky smooth.
Does wrapping hair cause thinning?
Yes, wrapping your hair regularly can weaken your hair roots and make your hair grow thinner as well.
How do you protect your hair and prevent breakage while you sleep?
Protecting your hair from the constant friction or tangle that happens during the night is crucial for having healthy locks and preventing breakage. It is always advised not to go to bed with wet hair as wet hair is more prone to breakage.
Apart from that, it is always a good idea to invest in a silk or a satin pillowcase. You can also wear a bonnet or a sleeping cap to bed as it reduces friction and prevents your hair from getting frizzy or tangled.
Is a silk or satin bonnet better?
When it comes to bonnets, both silk and satin are quite similar to one another in terms of functionality. The only difference is the price range. A satin bonnet will be much more affordable as compared to a fancy silk one.
Why should I wear a nightcap while sleeping at night?
Wear either a silk or satin nightcap at night to prevent friction between your hair and the pillow case, which may cause frizz and split ends. It will also minimize breakage and keep your hair tangle free.
Do sleep caps make you hot?
Sleep caps do retain the heat of your head and keep you warm throughout the night. However, if you choose a sleep cap made with a more breathable and cooling material such as silk, it will regulate your temperature and help you stay comfortable throughout the night.