10 Best Conditioners For Boosting Hair Growth
Now achieve strong, unbreakable hair that's silkier and healthy after every wash.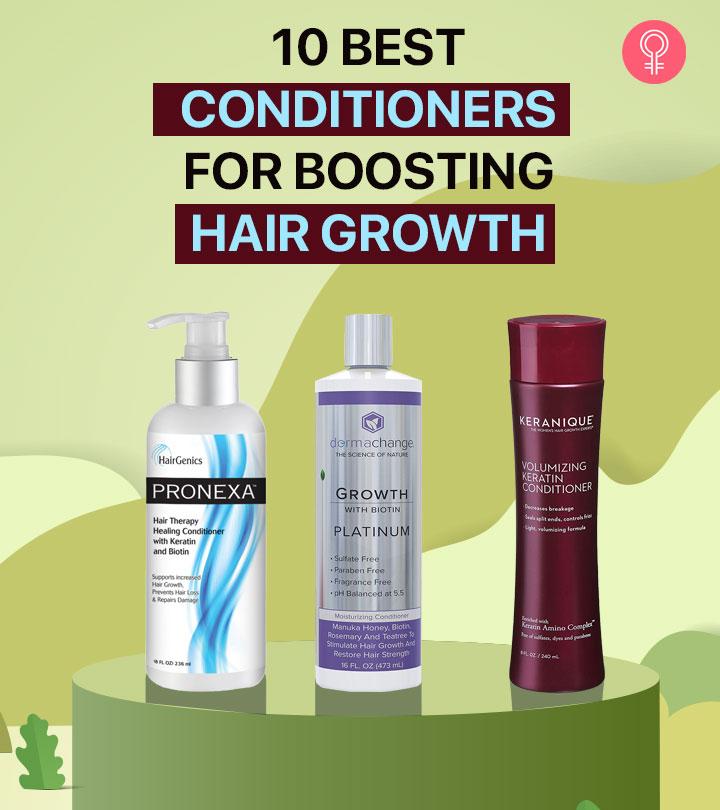 Some people make the mistake of skipping the application of conditioners after shampooing. If you are having trouble finding the right one, this list of the 10 best conditioners will guarantee a boost in your hair growth. The importance of this product is in repairing what a shampoo misses. Cleansing leaves your hair dry, so that's when it steps in for a deep moisturization. Check it out!
10 Best Hair Regrowth Conditioners
HairGenicsPronexa's Healing Conditioner is formulated with hydrolyzed keratin, biotin, silk proteins, seaweed extract,hydrolyzed marine collagen, vitamins, and amino acids. It fights hair loss and thinning while repairing dry and damaged hair to leave shinier,healthier, and smooth hair.This conditioner also consists of saw palmetto extracts and various other DHT blockers toreducehair fall, while biotin strengthens the hair by increasing its elasticity and moisture levels.
Hair Type: All
Key Ingredients: Keratin and Biotin
Pros
Sulphate-free
Paraben-free
Pleasant fragrance
Cruelty-free
Value for money
Cons
Price at the time of publication: $19.99
This nourishing conditioner from Art naturals is infused with natural botanical oils and extracts including argan oil, shea butter, green tea, lavender,rosemary,coconut oil, and aloe vera. This botanical blend stimulates cell renewal, revitalizes hair follicles, and protects your hair from thinning, breakage, and hair loss. The rich plant-based formula conditions every strand of your hair while blocking DHT and promoting hair growth. Argan oil is a powerful conditioner that prevents split ends, increases volume, and protects your hair from thermal damage. The conditioner also has a bevy of minerals and vitamins from oats, willow bark, and quinoa that strengthens and retexturizes your hair. If you are still unsure about purchasing, you can check out a review of this product on YouTube.
Hair Types:All
Key Ingredients: Argan oil, Coconut oil, Lavender, Aloe vera, Green tea, , and Rosemary
Pros
Organic
Hypoallergenic
Sulphate-free
Paraben-free
Non-GMO
Phthalate-free
Color-safe
Vegan
Cruelty-free
Cons
None
Price at the time of publication: $20.51
 Keranique Volumizing Keratin Conditioner has a cream-gel formula enriched with keratin amino complex tothicken and volumize thinning hair. The conditioner coats, protects,moisturizes, and detangles for fuller-looking hair. It is fortified with biotin and panthenol to protect the hair fiber, seal-in moisture, and repair split ends for a frizz-free look. You can check out this YouTuber's review of the product if you require more convincing.
Hair Type: All
Key Ingredients: Keratin amino complex and Pro vitamin B5
Pros
Lightweight
Residue-free
Sulphate-free
Paraben-free
Dye-free
Cruelty-free
Value for money
Cons
None
Price at the time of publication: $22.99
Shiny Leaf Cold Pressed Castor Oil Conditioner coats every hair strand with the nourishing benefits of coconut oil, keratin amino acids, and castor oil. This moisture-rich formulation stimulates hair follicles for healthy regrowth of hair while, adding shine to them. It is also enriched with cold-pressed castor oil, which preserves its maximum benefits, to thicken and add volume to thinning hair. In addition, this hair-rescue formula keeps your hair soft, smooth, and manageable. If you want to find out more about this product and its usage, make sure to check out this review on YouTube.
Hair Type: All
Key Ingredients: Castor oil, Keratin amino acid, and Coconut oil
Pros
Lightweight
Sulphate-free
Paraben-free
Hexane-free
Silicon-free
Color-safe
Cons
None
Price at the time of publication: $16.76
 Maple Holistics Castor Oil Conditioner is enriched with natural ingredients like jojoba, she a butter, lavender,rosemary, silk amino acids, and castor oil. It is infused with keratin to deeply nourish, hydrate, and protect your hair while biotin in the conditioner promotes hair regrowth. Further, castor oil stimulates the hair follicles to boost hair growth and also prevents hair loss with its anti-microbial properties.
Hair Type: Dry, Thin, and Damaged
Key Ingredients: Castor Oil, and Silk amino acids,
Pros
Sulfate-free
Paraben-free
Phthalate-free
Synthetic fragrance-free
Synthetic color-free
Cruelty-free
Cons
Price at the time of publication: $12.95
 Monat Revitalize Conditioner is a gentle volumizing conditioner that revives hair growth, enhances follicle strength, and infuses life into dull and damaged hair. It contains Rejuvenique, a blend of 13+ ingredients that are rich in omega fatty acids and powerful conditioning agents for hair. Capixylin the formula increases the hair density while procataline and crodasorb strengthen the hair shaft by preventing it from sun damage. The formula blocks DHT production and increases hair collagen for a thicker hair growth. This conditioner can be safely be used on colored or chemically-treated hair and extensions.
Hair Type: Chemically-treated and Thin
Key Ingredients: Rejuvenique, Capixyl, Procataline, and Crodasorb.
Pros
Lightweight
Sulphate-free
Paraben-free
Phthalate-free
Artificial color-free
Artificial fragrance-free
Cons
Price at the time of publication: $38.95
Discover new hair growth with the Cherioll Hair Regrowth Conditioner that contains natural ingredients like ginger root, camellia seed oil, and arborvitae leaves extract. This blend along with hydrolyzed collagen improves hair's elasticity, prevents hair loss, and strengthens the follicles by increasing blood circulation to the scalp. Additionally, it also regulates sebum production, nourishes your damaged hair to provide shine, and also ensures that the new hair growth is thicker than before. It
Hair Type: All
Key Ingredients: Ginger root, Arborvitae leaves extract, Camellia seed oil, and Hydrolyzed collagen.
Pros
Gentle
Non-greasy
Anti-frizz
Color-safe
Pleasant fragrance
Value for money
Cons
Can cause a burning sensation
Price at the time of publication: $21.49
 Truu Me Anti Hair Loss Conditioner has a clinically-provenhair growth formula for strained, dry, curly, or frizzy hair.It volumizes, strengthens, thickens, repairs, and promotes natural hair growth.  Olive oil is a powerful nourishing agent while ginger boosts scalp health for stronger follicles. Walnut extract treats dandruff, itchy scalp for a healthier scalp. Additionally, polygonum extract in the formula has been proven to induce anagen phase in hair follicles, thereby promoting hair regrowth. Finally, it also fights the aging of hair follicles to prevent hair loss and thinning.
Hair Type: Dry, Curly and Frizzy
Key Ingredients: Natural olive oil, Ginger extract, Osmanthus extract, Polygonum multiflorum extract, and Ginseng extract.
Pros
Gentle
Cruelty-free
Color-safe
Cons
Price at the time of publication: $17.99
The Dermachange Platinum Growth Moisturizing Conditioner contains natural ingredients to provide deep hydration and nourishment. Argan oil maintains overall scalp and hair health, tea tree oil reduces dandruff,itchy scalp, and manuka honey promotes cell growth in the scalp. It has biotin, an essential nutrient for hair growth while aloe vera hydrates the hair for a nourished look. The potent ingredients offer your hair the vitamins, minerals, and proteins it needs to heal and look its best. more
Hair Type: All
Key Ingredients: Biotin, organic Argan oil, Teatree, Rosemary, Manuka honey,and Aloe vera.
Pros
pH balanced
Sulphate-free
Paraben-free
Fragrance-free
Gluten-free
Cruelty-free 
Cons
Price at the time of publication: $29.99
 Transform dull, brittle, and lifeless hair into silky, smooth, and volumized locks with the Flawless BotanicsLuxtherapyKeratin & Argon Oil Enriched Conditioner. This keratin and protein-enriched formulation is designed to replenishyour hair's luster with every wash. It is clinically-proven to fight frizz, hair loss,and breakage while soothing inflammation and irritation. The botanical blend of argan oil, coconut oil, aloe vera, silk proteins, jojoba oil, and chamomile extract hydrate, rejuvenate, and restrengthening hair strands. The luxurious cocoa and cedarwood scent has a therapeutic effect.
Hair Type: All
Key Ingredients: Keratin, Argan oil, Coconut oil, Aloe vera, Silkprotein, Jojoba oil, and Chamomile extract.
Pros
Hypoallergenic
Anti-frizz
Sulfate-free
Paraben-free
Preservative-free
Gluten-free
Cons
Price at the time of publication: $34.95
If you are about to invest in a hair regrowth conditioner, remember the following vital points to give your tresses the best care. Keep scrolling to read the next section.
Considerations When Choosing Hair Regrowth Conditioners
Nourish scalp: Ingredients like organic keratin protein or biotin nourish and rejuvenate the scalp. Pick a conditioner with natural oils like castor oil, tea tree oil, and rich botanical extracts to nourish the scalp and hair for healthy regrowth.
Unblock and stimulate hair follicles: The regrowth conditioner should cleanse and unblock pores and hair follicles to receive maximum nutrition.
Block DHT: DTH is a hormone that causes hair loss by preventing hair follicles from absorbing vital nutrients. Choose a conditioner that can block DTH so your hair receives maximum nutrition to resume growth.
Strengthen and protect existing hairs: Hair regrowth conditioners also moisturize the hair. Choose a conditioner with ingredients that form a protective layer on the hair follicles, shielding delicate and brittle hair shafts. These conditioners provide strength and elasticity to the hair and help them grow longer and thicker.
If you are wondering about the best ingredients to look for in a conditioner for hair regrowth, then scroll down to find our well-researched list.
What Ingredients Should You Look For In Hair Growth Conditioners?
Vitamins: Vitamins are an essential component of any product for hair growth.Ensure your conditioner contains vitamins B2, B6, and B12 to give your hair maximum health and strength. Vitamin E is another indispensable ingredient as it improves capillary growth and minimizes hair follicle damage.
Biotin: Biotin is a part of the vitamin B family and strengthens your hair's natural keratin and protein to add luster and volume to it.
Keratin: Keratin is a protein added to the hair growth formula to revive hair loss and thinning. Keratin strengthens your hair and adds a natural shine and smoothness to your locks.
Caffeine: Caffeine,when added to conditioners, nourishes your scalp.It stimulates hair follicles to boost blood flow and promote hair growth.
Plant oils: Plant oilsarenon-greasy natural extracts widely used in hair growth conditioner.The most widely used oils are oils of argan, coconut, castor, olive, avocado, and almond. These oils add natural shine and add luster to your hair.
Collagen: Collagen holds your dermal layer and hair follicles together which adds strength to your hair.
Amino acids: Hair products which use amino acid provide hair with moisture and strength. They add body,bounce, and shine to your hair, leaving smooth and silky feeling.
Buying the right conditioner is only half the job done, you also need to follow the proper method of hair conditioner application for regrowth. Read the following segment to know more.
How Do You Use (Apply)Conditioners To Grow Hair?
Rinse out all shampoo in the shower
Use the amount of conditioner recommended on the bottle
Avoid using a conditioner on your scalp. Smear and rub it evenly on the ends of your hair. For long hair, spread it from chin level and down.
Run your fingers or a wide-tooth comb through the ends of your hair to work in the conditioner.
Let it stay on your hair for a moment, following instructions on the label which is typically 2-3 minutes.
Thoroughly rinse off the conditioner.
Why Trust StyleCraze?
The author, Shiboli Chakraborti, is our hair care expert with a passion for unearthing the best products to improve your hair health and growth. She went on a researching rampage to find the best hair regrowth conditioners that give you clean and deeply moisturized hair. She selected these conditioners because on their hair care benefits, ingredients, and absence of harsh chemicals. Transform your hair into long, healthy locks with these recommended conditioners.
Frequently Asked Questions
I'm currently using a hair regrowth treatment for my hair loss. Can I also use a hair regrowth conditioner?
It depends on the type of treatment you are taking. You should preferably confirm with your doctor.
What happens if you use a conditioner everyday?
It generally depends on the hair type. Thick or coarse hair needs more conditioning to add moisture, whilethin textured hair gets sticky with daily conditioning.
Does leaving a conditioner in your hair help it grow?
Yes, but not indefinitely! Most of the benefit of regular conditioners come from the ingredients that coat your hair.
How many times a week should you put conditioner in your hair?
It's recommended to condition your hair once or twice a week after you shampoo them.
Can hair regrowth conditioners grow hair on my bald spots?
Regrowth conditioners work well for rapid hair loss or thinning. However, it does not guarantee new growth on bald patches.
Recommended Articles
Best Hair Growth Shampoos And Conditioners
Best Conditioners To Maintain Healthy Hair
Best Conditioners For Fine Hair – Reviews & Buying Tips
Best Deep Hair Conditioners – Top Picks
Best Hair Products That Stimulate Fast Hair Growth