6 Best Hair Removal Creams Available In India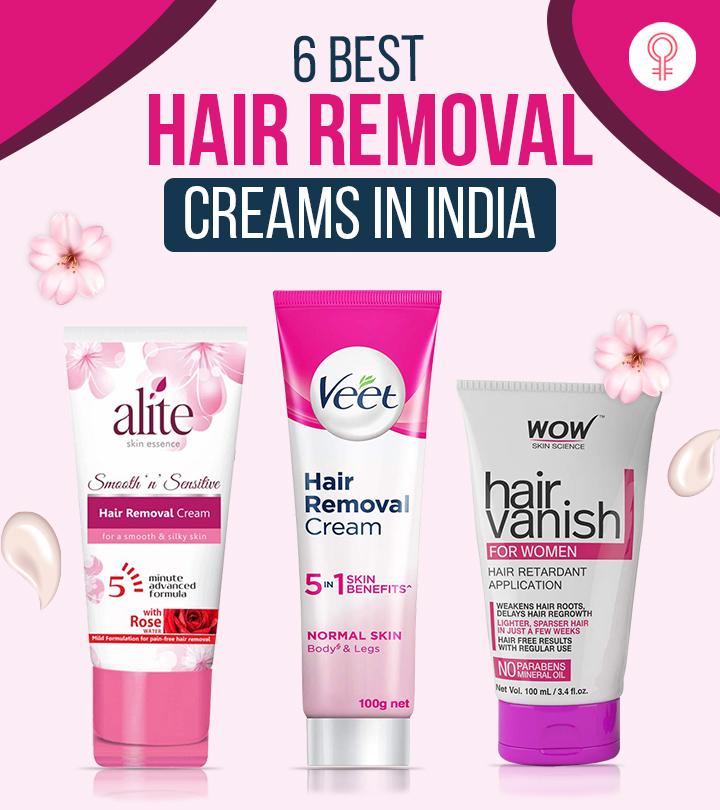 If you are looking for a pain-free alternative to waxing, you are on the right page. Women are constantly grappling with painful hair removal techniques and regular salon bills to get rid of undesirable body hair. Shaving can leave you with razor cuts and bumps, waxing methods are painful, and sugaring can cause burns. A spontaneous invite or a special occasion can leave you frantically trying to fit a salon appointment into your schedule. Well, a quick-fix and desired change from these parlor visits are hair removal creams. We have listed the 6 best hair removal creams available in India to help you chose the best for your skin type. Scroll down to check them out!
6 Best Hair Removal Creams Available In India– Reviews
The Veet Hair Removal Cream is now upgraded with the new Silk and Fresh Technology, leaving you free from unwanted body hair for up to four weeks. This product gives you satiny smooth skin as it removes even the shortest of hair effectively.
This cream is clinically tested and keeps the skin moisturized for up to 24 hours. The floral scent of jasmine and lotus milk removes any bad odor. It exfoliates the skin instantly while removing the hair, leaving your skin smooth and desirable. This cream is suitable to use on arms, legs, and is also the best hair removal cream for the underarm sand bikini line.
Key Ingredients: Jasmine, Lotus milk, and Shea butter
Pros
Removes the shortest of hair
Dermatologically tested
Detans the skin
No hard regrowth
Cons
None
Price at the time of publication: $493.0
The everteen Crème Hair Remover is India's first line of removers especially formulated for sensitive areas like the underarms and bikini line. The 100% natural chamomile extract is gentle, causes no irritation and itching while cleaning your private areas, and has a pleasant smell. It removes hair effectively without burning the sensitive parts.
This is the best bikini hair removal cream as it is painless, non-scarring, and does not cause rashes or stubby growth like razor-shaved hair. You are safe from cuts and bruises with an extended clean finish.
Key Ingredients: Chamomile extract
Pros
No ingrown hair
No razor cuts
No skin darkening
No harsh smell
Cons
Price at the time of publication: $220.0
The WOW Skin Science Hair Vanish For Women is not an instant hair remover but a hair retardant that you can use after removing unwanted hair. The application of this cream slows down the process of regrowth of unseemly body hair. The pro-active ingredients like narcissus tazetta bulb extract and papain enter the skin and weaken the roots.
With each application, new hair will grow thinner, slower, and sparser. If used regularly, the natural oils and Himalayan spring water in this cream provide intense soothing, toning, and nourishing, leaving the skin feeling soft and velvety. This cream does not contain parabensor mineral oils and is safe for the skin.
Key Ingredients: Papain, Narcissus tazetta bulb extract, Jojoba oil, Sunflower oil, Witch hazel, Licorice extract, and Himalayan spring water
Pros
Paraben-free
Mineral oil-free
Delays hair regrowth
Value for money
Cons
Not a one-use hair remover
No instant results
Price at the time of publication: $449.0
The fem Fairness Naturals Fair & Soft Hair Removal Cream (Rose) is infused with the richness of jojoba oil, rose extracts, vitamins, and fatty acids. The distinctive formula contains avocado oil, which is rich in vitamins A,D and E that keep your skin moisturized for a long time, while licorice imparts brightness. This anti-darkening hair remover gets rid of unwanted hair in just a few minutes without any pain or irritation, leaving you with flawless radiant skin. It is the best hair removal cream in India for sensitive skin.
Key Ingredients: Licorice, Avocado oil, Rose extracts, and Jojoba oil
Pros
Anti-darkening
Suitable for sensitive skin
Removes hair in 3 minutes
Value for money
Cons
Not suitable for facial hair
The alite skin essence Hair Removal Cream is rich in natural ingredients and gives you long-lasting silky-smooth skin. Rose water keeps the skin fresh and hydrated, aloe vera has antiseptic properties that heal open pores, and coconut milk and shea butter moisturize and keep the skin soft and supple. This unisex cream can also be used on all body parts and skin types. Remember not to keep it on your skin for more than 10minutes.
Key Ingredients: Aloe vera, Cocoa butter, Shea butter, Coconut milk, and Rose water
Pros
Unisex
Works on thick hair
Suitable for all body parts
Cons
Not suitable for sensitive skin.
The HipHop Hair Removal Cream removes unwanted hair and imparts a radiant glow to your skin. This cream is safe to use for the underarms and bikini line. It is specially formulated and dermatologically tested for sensitive skin, and may be used for all skin types. The activated charcoal has deep cleansing properties that naturally detoxifies your skin. It removes the finest of hair within a few minutes leaving your skin silky and soft.
Key Ingredients: Activated charcoal
Pros
Deep cleanser
Multi-body use
Suitable for sensitive skin
Cons
Choosing the best hair removal cream is only the beginning of your journey towards velvet smooth skin. Read the next section to learn the directions for use to prevent any mistakes.
How To Apply Hair Removal Creams
Hair removal creams are easy to use. Here are some simple steps to go about removing unwanted hair with a cream remover. It is also best to do a patch test if you are using one for the first time.
Application: Apply the cream directly to clean, dry skin. Some creams come with a spatula, so you can use that or your finger to apply a considerable layer.
Leave It On: Leave the cream on your skin for 4-5 minutes. In case you have thicker hair growth, you may need to keep it on for 7-8 minutes.
Clean: Wipe off with a washcloth or sponge. If a spatula is provided, you can use it lightly to scrape off the cream with the removed hair.
Wash: Wash with normal water and pat dry.
Most creams come with a manual on how to use them. It is recommended you read the instructions as there may be slight differences in techniques or places you can use the cream of your choice. Now, let us delve into the key points to keep in mind while choosing a hair removal cream.
How To Choose The Best Hair Removal Cream
Skin Type: If you have sensitive skin, your cream should be antibacterial and anti-inflammatory with aloe vera extract or green tea. Herbal and natural creams are better suited for sensitive skin. For normal skin, milk extracts will soften the skin. For dry skin, your cream should have moisturizing ingredients like olive oil, coconut oil, or shea butter.
Where To Use: Regular hair removal creams are not suited for sensitive areas like the face or the bikini line. There are creams formulated for these special areas. Keep in mind which body part you want to use the cream on and buy one accordingly.
Ingredients: It is best to look for a cream with natural ingredients and avoid cheap products loaded with chemicals.
How Long To Keep: Most creams comes with manuals that state how long they need to be left after application. If you have sensitive skin, avoid picking creams that require longer leave-in time.
Type Of Hair Remover: The most popular hair removers come in cream form. In India, there are some gels, sprays, and roll-on varieties too. Pick one based on your preference.
Note: Make sure you do a patch test. Apply the hair removal cream on a small patch of hair. If you notice any redness, rashes, or irritation, wash it off immediately with normal water and apply an astringent. Do not use the cream again.
Hair removal creams are the quickest and most inexpensive way to remove unwanted hair. So, what are you waiting for? Say goodbye to painful wax strips and epilators. Take your pick from our list of 6 best hair removal creams and let your skin feel silky smooth!
Frequently Asked Questions
Are hair removal creams safe to use?
Yes, they are safe. However, do a patch test before using one.
Are there any side effects of hair removal creams?
There are no side effects, but some hair removal creams can cause irritation and rashes if they do not suit your skin or are used on the wrong body part.
What is better – waxing, shaving, or hair removal cream?
Hair removal creams work well if you are running short of time. For longer effects, waxing is good. Shaving is not really recommended.
Is it safe to use hair removal creams on my private area?
There are special hair removal creams for the bikini line. Make sure to use those but avoid the genitals as it might cause severe burning.
Recommended Articles
The following two tabs change content below.