Hair Removal Sprays Of 2022 – Our Top 13 Picks
Convenient and easy-to-use sprays will rid your body of unwanted hair without any pain.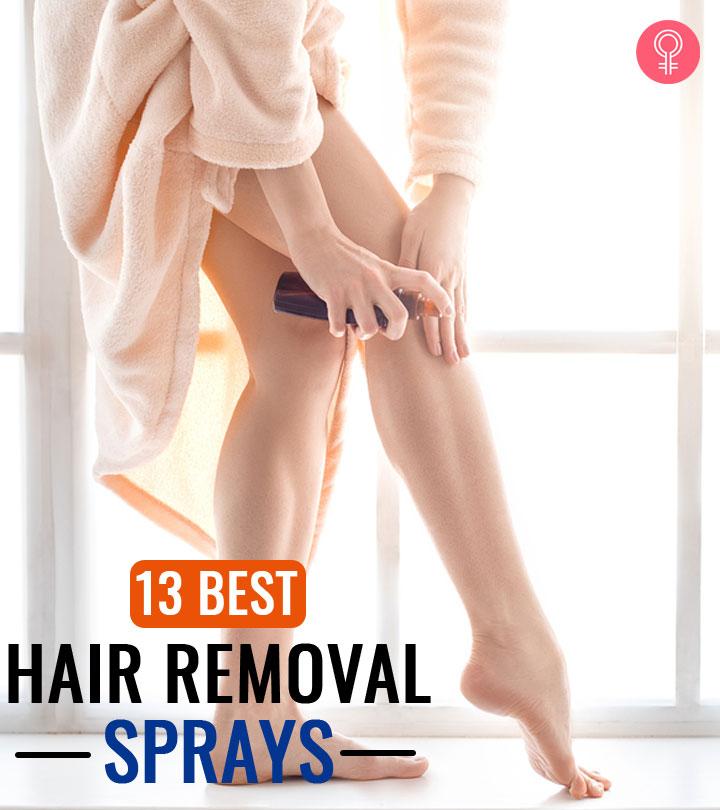 If you have not used the best hair remover spray already, this is the time to put it to the test. We love hair, as long as it grows on our heads! The pesky hair growth on our arms and legs only annoys us to the core, mainly because they grow out so fast. The conventional ways of removing hair like waxing, threading, shaving, and laser treatments are not always efficient, not to mention how painful and time-consuming they are. Hair removing sprays, on the other hand, is convenient, quick, and gives long-lasting results. Here are the 13 highest-rated hair sprays to pick from.
13 Best Hair Removal Sprays
Although several hair removal sprays are available on the market, you must choose a product keeping your particular needs in mind. Check out the following section to make an informed decision.
Things To Consider When Buying A Hair Removal Spray
Look for skin-friendly ingredients, and always begin with a small patch test to check how your skin reacts to the product. Choose sprays containing botanical extracts for a gentle experience and to prevent skin sensitivity. If you have dry skin, opt for products with humectants, hyaluronic acid, vitamin E, or argan oil to keep the skin moisturized after hair removal. For sensitive skin types, it is best to choose products with mild formulas containing aloe vera, chamomile, or green tea extracts.
Depending on the area of use, you can experiment with a gentle or mild to extra mild formula. Gentle formulas are suitable for the hands, legs, back, and underarms. But for intimate areas along the bikini lines or the face, you must invest in a non-irritating, extra-mild hair removal spray.
The best hair removal sprays are specifically formulated for thick, coarse, or fine hair types. Choose a product according to your needs and read the label to check for how long the results last.
Always check for added benefits offered by the hair removal sprays. While most products show quick results under 5-10 minutes, certain products have a soothing effect that lasts long after the hair removal process. For mature skin, opt for hair removal sprays with anti-aging benefits. Also, it is best to choose products with exfoliating properties to take care of dead skin cells and clogged pores.
The CidbestHair Growth Inhibition Hair Removal Spray effectively inhibits hair growth. It is infused with natural ingredients that are safe and gentle on the skin. It has white magnolia flower extract, lavender extract, and hyaluronic acid that smoothen and soften the skin after the removal of pesky hair. The active ingredients remove ingrown hair and delay further hair growth. They leave the skin feeling silky smooth and buttery with just a single application. This painless, hassle-free hair removal spray is effective in removing long, short, or coarse hair from the knees, arms, ankles, legs, underarms, and bikini lines. It is safe, gentle, and does not cause any irritation even in sensitive areas like bikini lines or underarms.
Pros
Natural ingredients
Softens skin after hair removal
Free from harsh chemicals
Safe for sensitive areas
No-peeling or pulling
Leaves no blackspots
Cons
None
The Neomen Hair Inhibition Premium Hair Removal Spray is natural and skin-friendly. It is suitable for removing hair from the body and face with no pain. The infused natural botanical extracts keep your skin from getting dry and dehydrated. Using the spray for 4 weeks can effectively inhibit and reduce hair growth. The spray is safe and gentle for face, arms, legs, back, underarms, and bikini lines. It works without causing any irritation.
Pros
Softens skin
Non-irritating
Permanent hair removal solution
Easy to use
Cons
None
The Nair Hair Remover Spray is infused with the goodness of orange blossom and Moroccan argan oil that help moisturize your skin while removing hair in as little as 4 minutes. The resulting smoothness of your skin lasts longer than it would after a shave. The ultra hair removal spray claims to be effective in removing even thick and coarse hairs. The bottle sprays upside down and is quite easy to use. It leaves no residue. Check out the product review by this YouTuber to understand its functionality better.
Pros
Easy to use
Long-lasting effect
Removes hair in less than 10 minutes
Leaves skin smooth and supple
Cons
Defective bottle nozzle
May irritate sensitive skin
The Scobuty Hair Inhibitor Hair Removal Spray has a unique formula that reduces hair regrowth after hair removal. Its organic botanical extracts with aloe vera penetrate hair follicles and gently remove hair from the shaft. The infused humectants nourish, smoothen, and hydrate the skin after depilation. The spray can heal the skin faster, leaving a healthier texture. The natural plant extracts in the spray remove all the unwanted hair growth without peeling, snagging, or pulling the skin. Using this spray for an extended period will help prevent the growth of unwanted body hair.
Pros
Natural ingredients
Moisturizes and repairs skin
No irritation, rashes, or cuts
Leaves skin soft, smooth
Suitable for most skin types
Clean hair without stubble
Easy to use
Cons
Not a soothing smell
Not suitable for sensitive skin
Remove your hair in no time with the Nair Hair Remover Sprays Away which is infused with moroccan argan oil and orange blossom. Moroccan argan oil helps to moisturize the skin and keep it healthy. This hair spray is ideal for full-body hair and is easily rinsed off in the shower. It is effective even on coarse hair and lasts longer than shaving. Additionally, the spray also nourishes your skin and delivers you beautiful-looking skin.
Pros
 Easy application
 Quick result
 Removes hair from roots
 Non-sticky
Cons
The PTKOONN Fine Hair Inhibition Spray is quite easy to use. It removes the tiniest, coarsest hair in just five minutes. It is made with natural botanical extracts that soften the skin after hair removal. It is mild, painless, and penetrates the hair follicles to gently remove hair from the root with no nicks or bumps on the skin. Just a few spritzes of the spray can help prevent hair regeneration and remove hair permanently, leaving no black spots.
Pros
Removes hair from the roots
Natural ingredients
Permanent hair removing solution
Leaves no blackspots
Softens and smoothens skin
Mild and non-irritating
Skin-friendly
Cons
None
The Okeny's Stop Grow Hair Growth Inhibitor is a mild formula that reduces and delays hair regrowth. The active botanical extract inhibitors penetrate the hair follicles, weaken the hair shaft, and gently remove hair from the root. The spray does not snag or pull the skin. It can be used on any part of the body, including the arms, legs, face, underarms, back, and bikini lines.
Pros
Made with natural hair inhibitors
Smoothens skin
Removes hair from the roots
Easy to use
Pleasantsmell
Cons
Not suitable for sensitive skin
The Veet Spray On Cream Hair Remover is specially formulated for women with sensitive skin. The unique creamy spray formula works close to the hair roots and keeps skin smoother for longer. It is infused with aloe vera and vitamin E that nourish, smoothen, and soften the skin after removing hair from the roots. The product comes with a spatula that makes application easy. It works within 5-10 minutes, depending on the thickness of your body hair. To understand the features of this product better, go through the YouTube video given below.
Pros
Leaves skin feeling moisturized
Removes hair in just 5-10 minutes
Suitable for sensitive skin
Dermatologist-tested
Removes hair from the roots
Leaves skin feeling softer
Cons
The WiRinefHair Inhibitor + Hair Removal Spray comes as two solutions that remove hair and stop hair regrowth permanently. The products make your skin smooth and soft in just 5-8 minutes by changing the structure of the hair follicles. The hair inhibitor is infused with natural plant enzymes that penetrate the hair shaft and remove the tiniest of hairs from the roots with no pain. They do not snag or pull the skin. They can be used on the face, arms, legs, back, underarms, and bikini lines.
Pros
Removes hair in 5 minutes
Prevents hair growth in just 4 weeks
Detaches hair and restores pores
Easy to use
Cons
None
Reduce hair regrowth with the Venus Visage Hair Growth Inhibitor. This inhibitor is specially formulated with botanical extracts and natural ingredients. It penetrates into the hair follicles, dissolves the hair, and detaches the hair. The White Magnolia Flower infused in the growth inhibitor promotes metabolism, maintains skin elasticity, and is wrinkle-resistant. In addition, Alchemilla Vulgaris prevents and blocks pigmentation. Moreover, it makes the hair silky.
Pros
Unisex
Easy to use
Smoothen the skin
Versatility
Cons
None
Enjoy pain-free and cut-free shaving with the Nair Hair Remover Bladeless Shave Cream. This whipped cream is specially infused with rose water to nourish, soothe, and hydrate the skin. This spray removes hair from the skin's surface in under 10 to leave you with feathery soft skin. You can use this spray on your arms, legs, underarms, and bikini area.
Pros
 Dermatologist-tested
 No skin irritation
 Easy to use
 Easy to rinse-off
Cons
 Sensitive skin may need to do patch test
The F.Zeni Hair Inhibitor reduces hair regrowth for up to four weeks after hair removal. It is enriched with white magnolia flowers that prevent wrinkles, Alchemilla Vulgaris that soothes skin inflammation, and hyaluronic acid that helps delay aging signs.
Pros
● Contains natural ingredients
● Delays premature aging
● Soothes theskin
● Shows quick results
● Value for money
Cons
None
The Pansy Hair Growth Inhibitor is a spray-on depilatory with a non-drip formula for a mess-free hair removal session. It effectively reduces, weakens, and delays hair regrowth. The hair inhibiting spray is made from natural botanical extracts that moisturize and soften the skin. This non-irritating inhibitor spray is safe and can be used daily to prevent hair regrowth. It is safe and gentle on the skin. It can be used both by men and women. The YouTube video given below will give you a better understanding of the features of this product.
Pros
Made from plant-derived extracts
Removes unwanted hair growth
Moisturizes the skin
Clinically tested
Does not leave any black spots
Prevents hair regeneration
Can be used by both men and women
Cons
None
These are the 13 best hair removal sprays you can buy online. We will further discuss these in the upcoming sections.
What Are Hair Removal Sprays? How Do They Work?
Hair removal sprays are, essentially, chemical depilatory creams that remove unwanted hair with no pain, snagging, or pulling of the skin.
These creams dissolve the disulfide bonds between the keratin proteins in the hair shafts with the help of chemicals like potassium thioglycolate and calcium hydroxide. This process delays hair regrowth (1).
Most hair removal sprays also leave your skin feeling smoother for longer periods. However, you must exercise caution while using these products as they can irritate sensitive skin. Doing a patch test first is recommended.
This step-by-step guide of applying hair removal sprays can give you effective results.
How To Use Hair Removal Sprays
Shake the hair remover spray bottle well and place it 4-inches away from the skin. Spray it evenly on the target area.
Allow the spray to set in for a few minutes without touching it further. Do not keep it on your skin for more than the said time, as it may cause irritation.
Remove the spray with a damp cloth or rinse off with lukewarm water.
Take a shower immediately after removing the spray. Dry the place and apply moisturizer to nourish and hydrate the skin.
You should also be aware of the possible side effects of applying hair removal sprays. Check them out.
Potential Side Effects Of Hair Removal Sprays
The side effects of using hair removal sprays include skin irritation, itching, dryness, rash, and sensitivity. Depilatory treatments can also cause chemical burns and allergic reactions. While these side effects are extremely rare, they may occur on extremely sensitive skin.
A more common side effect is the lingering odor left behind by the chemicals in hair remover sprays.
It is advised to conduct a patch test prior to avoid any adverse effects that your hair remover spray may cause.
Why Trust Stylecraze
Oyendrila Kanjilal, the author of this article, is a certified skin care coach. She likes exploring the world of the beauty and cosmetics to learn about new products and brands. She has conducted in-depth research to find the best hair removal sprays for her readers. The hair removal sprays mentioned in this list are convenient, quick, and give long-lasting results.
Frequently Asked Questions
How often should you use hair removal spray?
Depending on your hair regrowth, you can use hair removal sprays every 2 weeks to 3 weeks.
Is it safe to use hair removal spray during pregnancy?
Yes, it is safe to remove hair during pregnancy. However, during this time, it is always wiser to check in with your doctor first.
Can you use hair removal sprays in private areas?
Avoid using hair removal sprays directly on your private areas. It is essential to moisturize sensitive areas before and after hair removal.
Is it necessary to do a patch test for hair remover spray?
Yes. It is necessary to perform a patch test to avoid skin irritation or redness.
Recommended Articles: