12 Best Hair Serums For Frizzy Hair
Tame your frizzy tresses with chemical-free, non-greasy, and hydrating hair serums.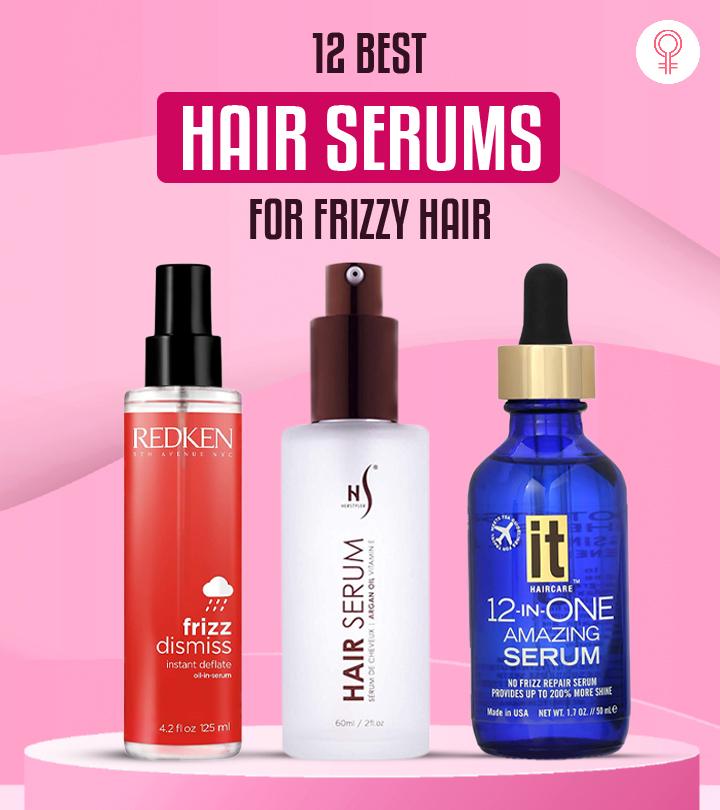 Maintaining frizzy and unruly hair is a struggle. And it is especially so during the monsoon or when you visit the beach. So, you must try the best hair serum for frizzy hair to tame your unruly mane and get sleek, smooth tresses.
Hair serums are an ideal way to make your hair manageable. They help to de-frizz your hair, detangle your tresses, and make them easy to style. Coupled with the right shampoo and conditioner, the right hair serum transforms the look and feel of your hair while also offering restorative care.
Check out our list of the 12 best hair serums for frizzy hair that will make your hair Insta-ready in a flash!
12 Hair Serums For Frizzy Hair
The Redken Frizz Dismiss Instant Deflate Oil-In-Serum minimizes the effects of humidity on your hair. It controls puffiness, frizz, and excessive volume, making your hair more manageable. This serum contains sustainably-sourced babassu oil that smooth the hair and adds shine. It is free of sulfates and chloride. According to multiple Amazon reviews, this product is ideal to manage frizzy hair.
Key Ingredients: Babbasu oil
Pros
Sulfate-free
Sodium chloride-free
Pleasant fragrance
Adds shine
Cons
None

The Biolage Smooth Proof Serum is a professional haircare formula that tames your frizzy mane and keeps your flyaways in place. The serum also provides maximum heat protection to prevent damage.
The serum conditions, smoothens, and adds shine to your dull tresses. It also works well on both dry and wet hair. Moreover, this vegan blend is enriched with camellia flower that protects your hair from humidity. Reviewers online highly recommend this product for those struggling with thick and coarse hair.
Key Ingredients: Camellia seed oil
Pros
Safe for color-treated hair
Lightweight
Vegan
Cruelty-free
Paraben-free
Recyclable packaging
Cons
The Garnier Fructis Sleek & Shine Anti-Frizz Serum tames frizz and moisturizes dry strands. The dermatologically-tested serum is infused with Moroccan argan oil that conditions your hair while boosting its shine.
It is powered by the Kera system that smoothens your hair. It also protects your hair against humidity, making it the perfect haircare product for all seasons. The shine-enhancing serum works for all hair types and can be applied to both dry and wet hair.
Key Ingredients: Argan oil and Plant keratin
Pros
Lightweight
Vegan
Cruelty-free
Paraben-free
Phthalate-free
DMDM hydantoin-free
Dermatologically-tested
Cons
The it 12-in-ONE Amazing Serum is infused with exotic oils that de-frizz and hydrate your hair. It protects the hair from damage, reduces split ends and breakage, detangles the hair, makes the hair more manageable, and restores the hair's natural texture.
This serum is clinically proven to add 200% more shine and hydration to dry, brittle, and limp hair. It contains sunflower seed extract that provides UV ray protection and thickens the hair. Abyssinian oil adds gloss to the hair, and silk amino acids strengthen the hair.
Key Ingredients: Sunflower seed extract, Abyssinian oil, and Silk amino acids
Pros
Non-greasy
Reduces hair breakage
Pleasant scent
Value for money
Lightweight
Cons
None

The Herstyler Marula Hair Nourishing Serum is your answer to sleek, moisturized, and rejuvenated hair. It adds a protective layer around the hair to prevent sun damage, fight against other environmental aggressors, and minimize the damaging effects of hot flat irons.
This serum contains Marula oil, which is rich in essential vitamins and minerals that nourish the hair and reduce split ends. Aloe vera offers a smoothing effect to the hair and adds shine, while vitamin E repairs damaged hair. This serum helps renew the hair and makes it more manageable without leaving any residue. Multiple reviewers highly recommend this product as it makes your hair manageable and effortlessly gorgeous all day.
Key Ingredients: Marula oil, Vitamin E, and Aloe vera
Pros
Pleasant scent
Value for money
Safe for daily use
Cons
None

The E Elixirme Shine Everyday Treatment Serum prevents frizz, dryness, damage, hair fall, and split ends. It contains nourishing ingredients like vitamin E, amino acids, proteins, Marula oil, avocado oil, and sweet almond oil, which strengthen the hair.
This hair treatment serum smoothens the hair, making it glossy and supple. It helps minimize the effect of humidity on the hair and repair damaged hair. This product is non-greasy and does not weigh the hair down. It does not contain SLS, SLES, parabens, or sodium chloride. This serum is cruelty-free and safe for keratin-treated hair.
Key Ingredients: Avocado oil, Marula oil, Sweet almond oil, and Vitamin E
Pros
Non-greasy
Lightweight
SLS-free
SLES-free
Paraben-free
Sodium chloride-free
Cruelty-free
Safe for keratin-treated hair
Cons
None
The Paul Mitchell Super Skinny Serum offers a quick solution to dry, frizzy hair. This vegan, humidity-resistant formula features lightweight silicones that seal moisture in your hair cuticles by forming a protective layer on your strands.
The leave-in hair serum improves the texture of your hair imparting it a silky smooth finish in no time. Moreover, its mild apple, berry floral scent keeps your hair feeling fresh all day.
Key Ingredients: Cyclopentasiloxane and Dimethicone.
Pros
Lightweight
Pleasant fragrance
Vegan
Gluten-free
Paraben-free
Cons
The Nature Nut Hair Serum restores natural shine in frizzy, dry, damaged, color- and chemically-treated hair. It is formulated with natural oils from five different nuts rich in vitamin E and antioxidants that hydrate the hair and reinforce hair fibers.
Argan oil strengthens and softens the hair and adds shine. Macadamia oil tames frizz and detangles the hair. Coconut oil moisturizes the hair and prevents hair breakage. Brazil nut oil boosts hair growth and eliminates split ends. This natural hair serum also contains shea butter with anti-inflammatory properties that make the hair healthy. It is cruelty-free, lightweight, and non-greasy. This product does not contain parabens, SLS, and dyes. So, what are you waiting for? Test it out today and add that much-need nourishment your hair craves.
Key Ingredients: Argan oil, Coconut oil, Macadamia oil, Brazil nut oil, and Shea butter
Pros
Paraben-free
SLS-free
Dye-free
Cruelty-free
Lightweight
Non-greasy
Color-safe
Cons
The TIGI Bed Head Control Freak Frizz Control & Straightener Serum helps fight humidity and define the curls. It can be used as a thermal protectant during styling to get salon-like hair with a glossy finish.
This serum for hair contains glycerin that moisturizes the strands. Mica imparts long-lasting shine to the hair, and PEG-12 dimethicone conditions the hair. Polyquaternium-11 forms a layer around the hair to tame frizz. This product is lightweight and non-greasy.
Key Ingredients: PEG-12 dimethicone, Glycerin, Mica, and Polyquaternium-11
Pros
Pleasant scent
Value for money
Non-greasy
Lightweight
Cons
None
The VITAMINS Keratin Serum Hair softens frizzy, dull, dehydrated, and color-treated hair. The Anti Breakage Transformative hair therapy gives salon-like voluminous, silky, and sleek hair. It is enriched with nourishing ingredients like Moroccan argan oil, vitamin E, and keratin protein that diminish split ends, tame frizz, and rejuvenate dull hair.
A gentle hair serum application makes the tresses bouncy and more manageable. It prevents hair damage from heat styling and enhances the hair's overall health. This product is unisex and safe for daily use. It is cruelty-free, non-greasy, and does not contain parabens, sulfates, and salt.
Key Ingredients: Moroccan argan oil, Vitamin E, and Keratin protein
Pros
Cruelty-free
Paraben-free
Sulfate-free
Salt-free
Alcohol-free
Pleasant scent
Lightweight
Non-greasy
Cons
None
The Herstyler Argan Oil Hair Serum reduces frizz, tames flyaways, prevents split ends, and hydrates dry, damaged hair. It is formulated with aloe vera that nourishes the scalp and stimulates healthy hair growth.
Argan oil enhances hair elasticity, protects against UV rays, and strengthens the hair. Vitamin E locks in hair moisture and repairs damaged hair, ensuring a healthy scalp and hair growth. This serum softens the hair and is suitable for daily use. This lightweight serum can also be used on hair extensions.
Key Ingredients: Aloe vera, Argan oil, and Vitamin E
Pros
Lightweight
Can be used on hair extensions
Suitable for daily use
Cons
None
The JOHN FRIEDA Frizz Ease Original Serum repels humidity and prevents frizz, dryness, and flyaways. It uses an innovative blend of silk proteins and silicones. This serum can be used as a heat protectant before hair styling with curling or straight iron. It holds your hairstyle without weighing your hair down. Multiple reviewers praised the serum for reducing frizz and detangling the hair without much hassle. This serum is lightweight, non-greasy, and leaves no residue. It is safe for color- and chemically-treated hair.
Key Ingredients: Silk proteins and Silicones
Pros
Lightweight
Non-greasy
Leaves no residue
Value for money
Cons
None
In addition to using these serums, opt for a dedicated haircare routine for frizzy hair or you can also follow a few tips to combat frizz. Scroll down for more information.
Tips To Keep Your Hair Less Frizzy
Never Use Alcohol On Your Hair: Alcohol sucks the moisture out of your hair, making it dry and frizzy. Hence, buy hair care products that do not contain alcohol.
Do Not Brush Dry Hair: Combing dry hair makes it dull and frizzy. Brush your hair when it is slightly wet or damp. Always use wide-tooth combs and brushes to help prevent frizz, particularly for those with curly or wavy hair. Also, if you are blow-drying your hair, use a round brush to tame the flyaways.
Apply Hair Wax: Hair wax can help smoothen frizz by waving down the hair into one place.
Only Shampoo Your Scalp: Shampoo must be applied only to the hair roots, as that is the place where all the gunk, dirt, buildup, and oil accumulates. Washing the ends may strip the hair's natural moisture.
Argan Oil Is A Holy Grail: Argan oil moisturizes the hair without weighing it down or making it greasy. Apply argan oil to shampooed hair once it is dry. Choose hair care products that contain argan oil as their key ingredient.
Why Trust StyleCraze?
Shiboli Chakraborti, the author of this article, is a haircare enthusiast and likes to help her readers purchase the most effective haircare products through her articles. To this end, she conducted extensive research and compiled a list of the best hair serum for frizzy hair. The products that have been listed down here can control your frizz and detangle your hair, making it easier for you to style your tresses.
Frequently Asked Questions
Does hair serum stop frizzy hair?
Yes, hair serum controls frizz to a large extent and makes the hair smooth and shiny.
Can I use anti-frizz serum every day?
No. Although it is not advisable to use anti-frizz serum regularly, you can apply it every alternate day to tame the frizz and get sleek hair.
What happens if we apply serum on dry hair?
Some serums can be applied on both wet and dry hair, but using the serum on slightly damp hair offers better results for a longer time than applying it on dry hair.
Is hair serum safe to use?
Yes, several brands offer safe, non-toxic formulas that help smoothen the hair and add shine and bounce.
How do I remove excess hair serum?
Quickly run down a hair towel along the entire length to soak the excess hair serum. You can also use a soft tissue to do the same.
Is serum good for hair fall?
Yes, some serums help strengthen the hair follicles and prevent breakage and hair fall.
Recommended Articles