15 Best Hair Serums In India That Hairstylists Swear By
Give your strands the extra nourishment they need with these leave-in elixirs.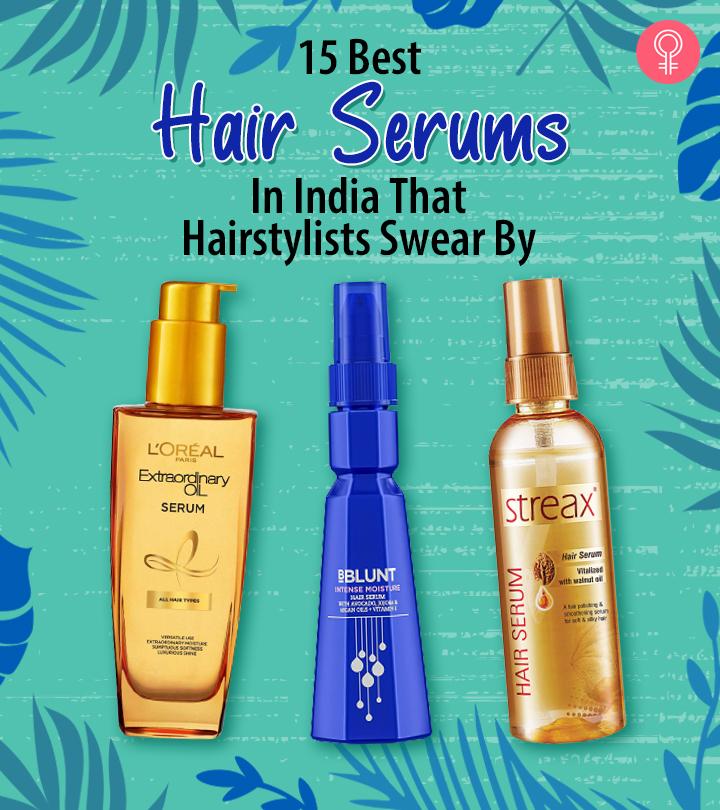 The serum is one hair care product that does it all for your tresses – detangling, conditioning, overnight repair, and heat protection. It is essentially a leave-in product made to instantly tame, hydrate, and nourish your hair, making them manageable. Hair serums lock shine and form a protective layer around the hair to protect it from heat and humidity. In addition, the essential oils and smoothing ceramides in serums help tame flyaways and give your hair a sleek and glistening look! A few serums also target hair ailments like hair fall and hair thinning, reviving curls back to health!
Since there are many serums readily available in the market today, finding the right one for your hair type can be troublesome. To make your day easy, we reviewed and put together a list of serums that we found worthwhile. Check out our list of the 15 best hair serums for women in India below and take your pick!
15 Best Hair Serums Available In India 2023
This lightweight, revitalizing hair serum by Biotique is specially formulated to improve hair growth while taming frizz and static at the same time. The natural formula is infused with botanical extracts that promote new hair growth, soothe irritation, prevent dryness, and strengthen your hair strands. In addition, the blend of mountain ebony, long pepper, and neem serves as a natural astringent to rejuvenate your scalp.
Key Ingredients: Kachnarstem, Pudina oil, Kusumbhioil, Neem bark, Pippalifruit, and Mulethistem
Pros
Lightweight
Paraben-free
Cruelty-free
Easy-to-use
Refreshing scent
Cons
Say goodbye to super coarse and hard-to-manage hair with this serum from Streax Professional. This serum gives salon-like glossy, shiny hair instantly. The macadamia oil and vitamin E in the serum make it a multi-tasker. It adds shine, improves vitality, strengthens, and nourishes your hair strands, leaving them perfectly frizz-free and manageable. The unique shine enhancers in the formula give a glossy finish to your hair strands. Massage a few drops of the serum on wet hair, and brush through. The serum untangles your hair and keeps them frizz-free throughout the day.
Key Ingredients: Vitamin E, Almond oil, and Macadamia oil
Pros
Thick serum
Non-oily
Non-greasy
Refreshing scent
Cons
The Smooth Intense serum by L'Oreal Paris gives your hair deep nourishment that lasts for up to 48 hours. It tames unruly hair and makes them more manageable and easier to style. This frizz-control expert is infused with argan oil and silk proteins that shield your hair against dry weather or humidity, making way for shiny, silky, and soft tresses. This creamy serum is suitable for all hair types.
Key Ingredients: Spinosa Kernel oil, and Silk proteins
Pros
Long-lasting effects
Non-drying formula
Soothing scent
Sulfate-free
Value for money
Cons
For sleek, frizz-free hair, pick up this hair serum from Livon. The formula instantly delivers a boost of hydration to your hair, making it glossier and smooth. It is infused with Moroccan argan oil, which provides deep moisturization to the tresses and aids in defusing frizz. Vitamin E prevents and protects your hair from heat damage, environmental aggressors, and free radical damages.
Key Ingredients: Moroccan argan oil and Vitamin E
Pros
Non-sticky
Soothing scent
Sulfate-free
Suitable for all hair types
Salon-like finish
Cons
This is yet another hair serum that has made our list from Streax. It is infused with the goodness of walnut oil that gives your hair a salon-like glossy and polished look. The formula coats each hair strand, minimizing frizz and dryness. You can even use this serum as a heat protectant before blow-drying, straightening, or curling your hair to minimize heat damage. With frequent use, the hair serum leaves your hair luminous and soft.
Key Ingredients: Walnut oil and Vitamin E
Pros
Works as a heat protectant
Long-lasting moisturization
Non-sticky formula
Non-greasy texture
Sulphate-free
Suitable for wet and dry hair
Cons
Get six times more shiny-looking hair with this luxurious oil-based hair serum by L'Oreal Paris. The lightweight formula instantly transforms your dry and lifeless tresses, making them soft and smooth. A nourishing blend of six rare flower oils and botanical extracts fortifies your hair against all weather conditions. The coconut oil, sunflower oil, and soybean oil deeply hydrates your hair strands and seals the cuticles to prevent moisture loss. Use this versatile formula before shampooing to prep your hair or post-shampoo to tame frizz. Just 2 to 3 drops of this serum leaves your hair frizz-free, manageable, shiny, hydrated, and fresh.
Key Ingredients: Chamomile oil, Coconut oil, Sunflower oil, Lotus flower oil, Glycine, Soja oil, Soybean oil, Tahitian gardenia flower extract.
Pros
Works as a heat protectant
Can be used as overnight hair treatment
Lightweight
Non-greasy
Suitable for all hair types
Cons
Overpowering smell
Expensive
This deep smoothing serum by Biolage is a definite must-have in your vanity! It is fortified with rich nourishing ingredients that give you instant and long-lasting results, making this serum a favorite among hair stylists. The serum smoothens rough ends, moisturizes dry hair, adds a boost of shine to the tresses, and protects your hair from humidity. Unlike regular serums, this formula contains lightweight oils like grapeseed oil and avocado oil, which instantly diffuses frizz without weighing the hair down. The product also claims to leave your hair frizz-free for up to 72 long hours. You can use this multipurpose product before or after shampooing to minimize frizz and tangles. Or, treat your hair with a few drops of the serum before heat styling to protect the tresses.
Key Ingredients: Avocado oil, Grape seed oil, Sunflower seed oil, Rosemary extract.
Pros
Instant shine
Works as a heat protectant
Non-sticky formula
Value for money
Paraben-free
Cons
Is your hair suffering from brittleness, dryness, and hair fall? Then, this onion hair serum by Mamaearth is your holy grail! The all-natural formula infused with sulfur-rich onion seed extracts and vitamin-rich biotin strengthens your hair while adding luster and volume to your tresses. It makes your hair thick and shiny, and smoothes the hair shaft to prevent frizz. The olive oil moisturizes the scalp and keeps itchiness at bay. This formula is suitable for all hair types, including color- or chemically-treated hair. With regular use, your hair will feel sleek, smooth, and healthy.
Key Ingredients: Onion seed extract, D-panthenol, Biotin, Olive oil
Pros
Dermatologically tested
Silicones-free
Sulphate-free
SLS-free
Mineral oil-free
Petroleum-free
Synthetic fragrance-free
Artificial colors-free
Cons
If you are someone who regularly styles your hair, then this oil-based hair serum by St Botanica is a must-have! The formula is infused with USDA-approved organic Moroccan argan oil, which boosts shine and fortifies your hair. The serum is lightweight and penetrates deep into your hair shafts to protect your hair against sun damage, heat styling, and environmental damages. When applied to wet hair, this serum speeds up the drying time and smooths your ends as they dry. It instantly controls frizz without weighing down your hair and keeps humidity and flyaway at bay.
Key Ingredients: Moroccan argan oil, Avocado, Olive oil, Grape seed oil.
Pros:
Cruelty-free
Non-sticky
Phthalate-free
Sulphate-free
Paraben-free
Mineral oil-free
Cons
This high-quality hair serum by Schwarzkopf Professional instantly transforms your hair into soft and silky tresses. Glycerin and silicone come together to tame frizzy hair while leaving it textured and adds shine. The serum spreads evenly to coat every hair strand.
Key Ingredients: Glycerin
Pros:
Frizz-free
Weightless hold
Washes out easily
Instant shine
Easy to use
Non-greasy formula
Long-lasting results
Cons
Looking for an all-natural alternative to hair serums? This herbal hair serum by Khadi Naturals is the perfect choice for you. It is formulated with essential plant extracts –brahmi, amla, and shikakai–that induce a natural shine and prevent premature greying. The jojoba and badam oil strengthen your hair roots and intensely moisturize your strands. It controls frizz and tangles while instantly rejuvenating your dry and withered hair.
Key Ingredients: Nariyal jal, Dudhal, Manjishta, Nimbu, Jojoba oil, and Badam tail
Pros:
Easy detangling
Value for money
Non-sticky
SLS-free
Paraben-free
Soothing scent
Cons
Tired of super dry and unruly hair? Give this hydrating serum by BBlunt a try! It is specifically formulated for extremely frizzy hair that needs an extra boost of nourishment. With regular use, it leaves your tresses manageable, smooth, and soft. The formula is packed with the goodness of argan oil, jojoba oil, and avocado oil that seal in hydration and strengthens your roots. The vitamin E in this serum protects your hair from heat damage, environmental damage, hard water, and sun damage.
Key Ingredients: Avocado, Vitamin E, Jojoba, and Argan oil
Pros:
Non-sticky formula
Easy-to-use
Sulphate-free
Cruelty-free
Paraben-free
SLS-free
Cons
This hair serum by Wow Skin Science revives your tired, dull, and dry hair back to health. The red onion seed oil, rich in flavonoids, helps improve blood circulation and induces new hair growth. Antioxidant-rich black seed oil helps relieve dryness, scalp irritations, dandruff, and hair loss. The essential fatty acids help condition, smoothen, and improve your hair texture. The pro-vitamin B5 helps strengthen your hair follicles and makes it softer. The Indian cress, which is rich in vitamin C, prevents hair breakage and strengthens your strands.
Key Ingredients: Red onion seed oil extract, Pro vitamin B5, Black seed oil, Saw palmetto seed oil, and Indian cress
Pros
Paraben-free
Sulfate-free
Artificial color-free
Silicone-free
Pleasant fragrance
Cons
None
This Ayurvedic hair serum by The Natural Wash is formulated with essential oils and natural ingredients. This frizz-controlling formula leaves your hair manageable without weighing down your hair. It helps seal your strands to lock out humidity and gives a fresh look throughout the day. The serum also protects your hair against dermal and heat damage while styling. The combination of almond oil, argan oil, and jojoba oil intensely moisturizes your strands, and tames flyaways. The black seed oil and fenugreek oil reverses hair thinning, itchy scalp and helps maintain the natural color of your hair. The banana and grape seed oil prevent split ends and condition your rough and damaged hair.
Key Ingredients: Fenugreek oil, Almond oil, Black seed oil, Banana oil, Argan oil, Jojoba oil, Grapeseed oil, and Olive oil
Pros:
100% natural and herbal
Non-sticky
Easy to use
Pleasant scent
Paraben-free
Can be used after shampoo or before hair styling
Vegan
Cons
This deep conditioning serum by L'Oreal Paris provides 13 times more resistance to hair damage. The Lipidium Complex Technology powered by lipids, phyto-keratin, and ceramides reconstructs the hair shafts to prevent breakage. The combination of wheat germ oil and rice bran oil seal your hair strands and strengthen them deep from inside. The nourishing formula hydrates your hair and repairs damaged hair. The serum is lightweight and does not leave a greasy residue or weigh down your hair. With regular use, your hair will feel softer and smoother to touch.
Key Ingredients: Wheat germ oil, Rice bran oil, and Linalool
Pros:
Lightweight
Good scent
Professional formula
Value for money
Cons
Apart from taming frizz, your hair serum does a lot more for your tresses. Let's check them out.
What Are The Benefits Of Using Hair Serum?
Benefits of using a hair serum:
They help tame static flyaways and leave your hair more manageable.
Serums also help smoothen your hair and polish your strands.
They help your hair to appear sleek.
Hair serums also leave your hair shiny.
Some serums with special formulae can help straighten your hair.
Serums specifically formulated for curly hair add an additional dose of moisture to the tresses, creating bouncier curls.
Regular use of serums can reverse hair damage from chemical processing, like straightening, perming, or coloring.
They coat your hair strands and help reduce mechanical stress due to repeated styling.
They protect your hair from heat damage caused by blow-drying or styling tools.
Serums equipped with UV filters protect your hair from sun exposure and environmental aggression.
What Are The Types Of Hair Serums Available In The Market?
Here are few hair serums readily available in the market:
1. Oil-Based Serum
Oil-based serums are infused with essential and carrier oils, like almond oil, argan oil, and coconut oil. They are super concentrated and rich, as they do not have any water content. They are best for very dry and untamable hair.
2. Curl-Defining Serum
Curl defining serums are super lightweight, as thick hair serums can weigh down your curls. They helped leave your hair bouncy and define your natural curls.
3. Spray Serum
Spray-type serums are the best option for on-the-go application. They give you a salon-like hair finish anytime and anywhere. Thus, they are perfect for carrying during vacations.
4. Water-Based Serum
If you have very thin hair, then a water-based serum is the best option for you. It does not weigh down your hair, and yet leaves it luscious and sleek.
5. Serums For Hair Issues
Many serums target specific hair issues like hair fall, low viscosity, fizziness, etc. These serums have nourishing and rejuvenating ingredients like avocado oil, vitamin E, argan oil, coconut oil, and essential extracts.
6. Silicone-Based Hair Serums
If you have very weak and brittle locks, silicone-based hair serums smooth your hair instantly and induce luster.
Here is a quick guide on how to apply the serum to your hair
How To Apply Hair Serum?
Here is a step-by-step guide on how to apply hair serums.
Make sure your hair is damp or clean for the best results.
Take 1 to 2 drops of hair serum in your hand, and rub it between the palm of your hands for roughly five seconds.
Now, part the hair into sections and work the hair serum from the middle to the end of each partition. Try to spread the product as evenly as possible. Also, stay away from the roots, as applying serum to the roots can make your hair look greasy.
Once you are done, use a wide-tooth comb to brush your hair from the middle to the ends to help evenly distribute the serum.
Style your hair as needed and reapply the serum anytime of the day if necessary.
Hair serums come in different shapes and sizes and addresses various hair concerns. The following guide will help you choose the right serum for your hair.
Things To Consider Before Buying A Suitable Hair Serum
While buying a hair serum, keep these pointers in mind. This can help you in choosing the right product for your hair.
1. Hair Concern
Hair serums are used for addressing different hair issues. You will get frizz control, volumizing, and heat protectant serums on the market. Some products add shine, reduce dryness, or repair hair damage. Pick a product that matches your hair concern
2. Check The Ingredients
For frizz control, look for a serum with dimethicone or any silicone-based hair serum. If you are looking for a hair repair serum, go for one that is rich in proteins. If you are looking for a serum to add gloss and shine to your hair, buy one that contains natural oils like argan oil or macadamia oil.
Adding a serum to your regular hair care routine makes your tresses manageable, nourished and hydrated. Make sure to invest in a serum that suits your hair type, length, and viscosity to obtain maximum results from your serum. Pick one of these best hair serums in India, and give your tresses a new lease in life.
Frequently Asked Questions
Can I use hair serum daily?
Yes, you can use hair serums daily on your hair. Using a serum, especially while drying or styling your hair, will protect your hair from thermal heat, allow your hair to retain moisture, and help tame frizz.
Can I use hair serum on my scalp?
No, using hair serums on your scalp can leave your scalp greasy and encourage dandruff on the long go. It also weighs down your hair and makes it look unappealing.
Recommended Articles: