11 Best Hair, Skin, Nail Vitamin Supplements For Women – 2023
Revive and rejuvenate your look with the best of the best available in the market.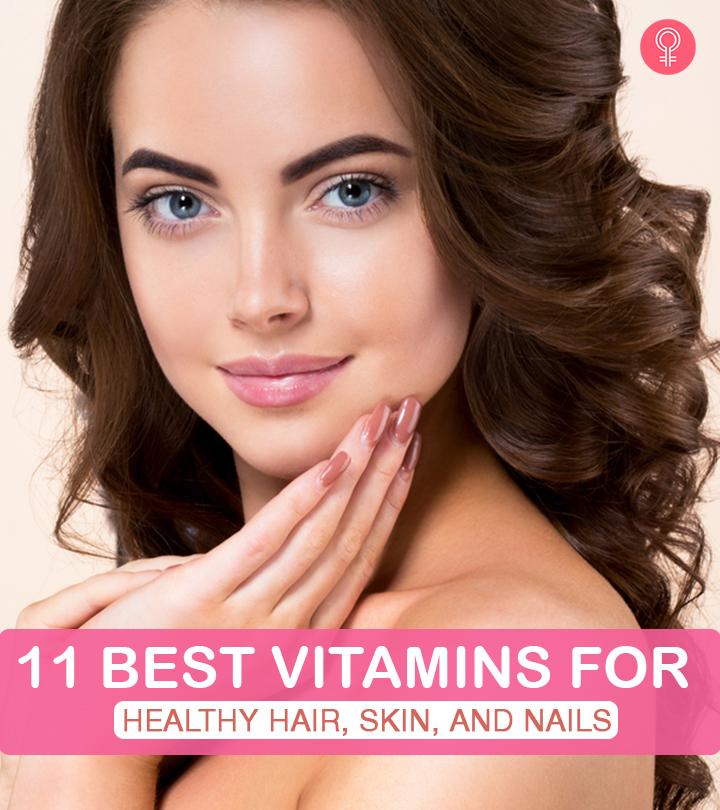 Having healthy, gorgeous, bouncy hair and shiny, strong nails is a statement look for women. But too much exposure to environmental stressors can cause dull skin, hair thinning, and brittle nails. That is why you need the best hair, skin, and nails vitamins. Additional supplements like vitamins can help revive and rejuvenate your look when combined with a proper diet and a healthy lifestyle.
These supplements will help strengthen your hair and nails while improving skin texture and tackling concerns like acne. Let's take a look at the 11 best supplements to boost your skin and hair health. Scroll down!
11 Best Supplements For Hair, Skin, And Nails
Vitamin B7 Or Biotin Supplements
Biotin is a water-soluble vitamin. It is also known as vitamin H or vitamin B7. It is an extremely important nutrientthat supports the healthy growth of hair, skin, and nails. Biotin helps in protein synthesis, especially keratin, which is a basic protein required for hair and nail growth (1). Several studies show that deficiency of biotin may lead to hair loss, brittle nails, and skin rashes(2), (3),(4).
A study in the Journal of Dermatology Research and Practice found that women who were on protein supplements in the form of biotin showed faster hair growth and a reduced rate of hair shedding (5). A study in the Journal of Cutis showed that supplementation of 2.5 mg of biotin for six weeks improved the symptoms of brittle nails (6). 

Pros
Non-GMO
100% vegan
Gluten-free
Easy to take
Cons
Contains nut allergen
May cause cystic acne
Price at the time of publication: $19.95
Pros
No added fillers
No binders
Clinically researched
FDA-registered
Third-party tested
cGMP Certified
100% vegan
Gluten-free
Cons
None

Price at the time of publication: $19.99
Pros
Nogluten
Now heat
No artificial colors
No fragrances
No added sugars
Sodium-free
100% vegan
Promotes energy
Cons
Price at the time of publication: $9.28
Pros
Provides immune support
100% vegan
No artificial ingredients
FDA-approved
Cons
Contains soy and nut allergens
Price at the time of publication: $11.21
Pros
Vegetarian
No artificial dyes
Easy to swallow
FDA Approved
Cons
Price at the time of publication: $24.73
Pros
GMO-free
Vegan
Hypoallergenic
Tested by multiple laboratories
Cons
Price at the time of publication: $29.71
Pros
Gluten-free
No artificial flavors
FDA-approved
Fast action
Cons
Unpleasant smell
May cause allergic reactions
Price at the time of publication: $10.59
L-Cysteine Supplements
L-cysteine is an amino acid and a building block of protein molecules. It can either be synthesized by the body or has to be taken through foods. It is a sulfur-containing amino acid and a precursor to keratin hair protein. It synthesizes and helps restructure the hair shaft and strengthens the hair roots (7).
A clinical trial by Hautarzt showed that cysteine, in combination with retinol, may reverse hair loss by lowering telogen (a stage when hair follicles are in their resting stage) rates and stimulating an agen (hair growth stage) rates (8).
 
Pros
Nut-free
Gluten-free
Daily-free
100% vegan
Non-GMO
Soy-free
Cons
Could be difficult to swallow
Price at the time of publication: $13.39
Vitamin A Supplements
Vitamin A or retinol is essential to improve skin appearance and boost overall skin health. Retinol helps blur the signs of premature aging and protects the skin from irritants (9).
The Journal of Toxicology and Research showed that retinoids stimulate collagen formation and reduce the appearance of wrinkles (10). Another study showed that supplementation with retinol helps protect the skin from environmental aggressors, delay the signs of aging, and prevent further skin damage (11).
 
Pros
Gluten-free
Wheat-free
Soy-free
Dairy-free
No added preservatives
No added artificial fragrances or colors
Boost immune system
Cons
Not suitable for those with severe acne
Price at the time of publication: $8.55
Collagen Supplements
Collagen protein is one of the structural peptides important for hair, nails, and skin. It is an extracellular matrix that seals water and promotes soft, smooth, and supple skin. One study showed that oral supplementation of collagen supplements could help improve skin conditions (12).
 The MAV Nutrition Extra Strength Collagen Gummies offer a delicious way to keep your skin, nails, and hair healthy. If you struggle to swallow pills and do not prefer powder supplements, these gummies are a fun way to get your daily dose of collagen. Each gummy contains 50 mg of hydrolyzed collagen (types I and III) along with other vitamins and minerals for the overall maintenance of your nails, hair, and skin. It also keeps your joints healthy and provides a stable collagen supply to your body. Its fruit flavor gives you the motivation to chew it every day. It also helps slow down the signs of aging. Besides hydrolyzed collagen, each gummy is filled with vitamins C and E, and biotin to sustain collagen levels and support the skin matrix.
Two gummies contain 3 mg of collagen.
 How To Use: Chew two gummies daily or as directed by the physician.
Pros
Non-GMO
Gelatin-free
GMP certified
Strengthen bones
Improve gut health and digestion
Cons
Price at the time of publication: $19.99
Pros
Gluten-free
No artificial flavors
Naturally sourced color
Laboratory-tested
No soy
No yeast
No fish
Cons
None
Price at the time of publication: $15.53
Without thorough inspections, you can't include any supplements in your routine. Vitamin supplements can do wonders for your skin, nails, and hair health. However, choosing the wrong supplements can also affect your body's health. So, we are providing a buying guide that you must follow before selecting any Vitamin supplements.
Things To Consider Before Buying The Best Hair, Skin, and Nail Vitamin Supplements For Women
You must look for products that include research-based ingredients and are free from artificial additives and fillers. The best ingredients that can be very effective are vitamin B7, collagen, vitamin C, omega-3s, vegan, biotin, etc. Always go for supplements that are free from gluten, artificial colors, fragrances, added sugars, sodium, binders, added fillers, lactose, and preservations. Also, check the ingredients on the label that you are allergic to avoid any kind of side effects.
Always get supplements from a reputable store and trustworthy brand as far as possible. It is crucial to conduct your own research before purchasing a new product because any individual or company can introduce a new supplement to the market but those might not be very effective.
Supplements for healthy hair, skin, and nails can include a variety of ingredients including vitamins and herbs that are supposed to promote skin, hair, and nail health. You can take doses of these supplements as per your needs. However, always consult your healthcare provider to confirm safety if you're willing to take these supplements daily.
Always inform your doctor when you take a new supplement, and keep an eye out for any negative side effects.
These are the 11 best vitamins for healthy hair, nails, and skin. Daily consumption of vitamins may not lead to immediate results. One needs to be consistent and patient to see the difference. You must be curious to know if taking supplements would make any difference. Keep reading.
Can Taking Supplements Promote Health Of Hair, Skin, and Nails?
Factors like age, genetics, and environmental aggressors affect the health of hair, skin, and nails. Eating healthy, nutritious foods can help. However, if you are not getting the needed nutrients through diet alone, taking supplements is ideal.
In a study in The Journal of Clinical and Aesthetic Dermatology, taking nutritional supplements for 12 weeks could reduce the appearance of wrinkles (13). Another study showed that taking oral supplements twice daily for 180 days may promote hair growth and reduce hair thinning (14). Another study in The Journal of Drugs Dermatology showed that vitamin supplementations could improve brittle nail syndrome (15).
Frequently Asked Questions
How does collagen help keep hair, skin, and nails healthy?
Collagen is a protein and a major component of healthy skin, hair, and nails. Several studies have shown that collagen may improve various skin conditions, slow down the aging process, and reduce skin dryness and wrinkles. Additionally, it also stimulates the healthy growth of hair and nails.
Do I need to speak to my doctor before taking supplements?
Water-soluble vitamins do not cause any harm to the body, as excess amounts are generally excreted through urine. However, it is always recommended to see professional guidance before you start taking health supplements.
How long do I need to take vitamin supplements?
Taking supplements for a few days will not bring you miraculous results overnight. Consistency is key. You need to take supplements for a minimum of 12 weeks to see any results.
Do hair, skin, and nail vitamins work?
Yes, they make your hair, skin, and nails healthy, smooth, and younger-looking. However, make sure to commit to a premium composition only.
How often should you take hair, skin, and nail vitamins?
Generally, the supplements are dosed as 1 tablet/capsule daily. But, always follow your doctor's recommendations.
Can you take hair, skin, and nail vitamins with a multivitamin?
No, unless your doctor specifically prescribes it, avoid taking too many multivitamins at the same time.
How long does it take hair, skin, and nail vitamins to work?
It takes roughly three to six months for these vitamin supplements to show satisfactory results.
What are the side effects of hair, skin, and nail vitamins?
Temporary side effects of these vitamins include constipation, diarrhea, digestive problems, and allergies.