15 Best Hair Straighteners Available In India – 2023
Glide your way to gorgeous tresses without worrying about heat damage.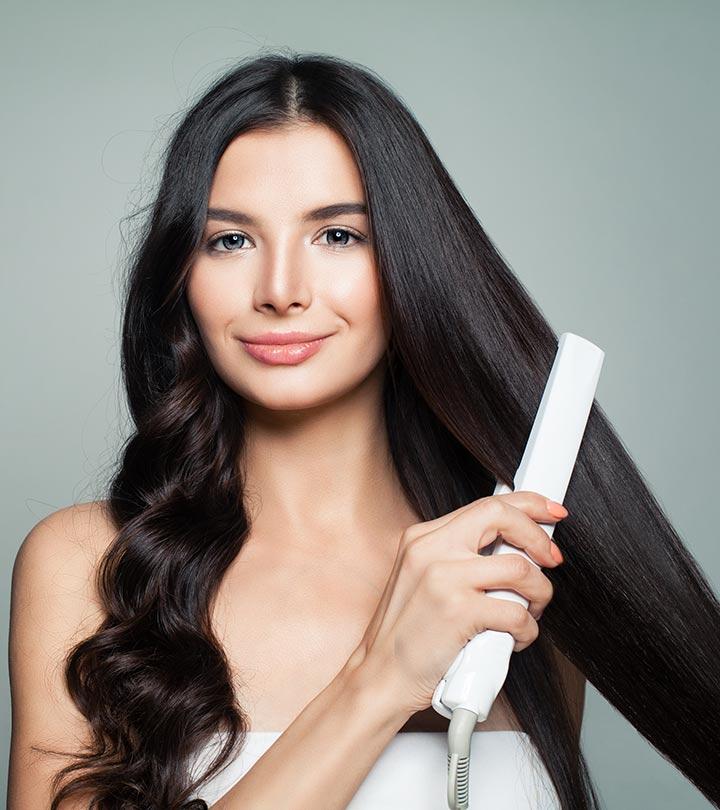 Tefal Premium Care Hair Straightener
Straight hair can go with any attire – be it ethnic, formal, or semi-western. While some women are blessed with naturally straight hair, there are others like me who dream of flaunting silky, flowing, straight hair. If you belong to the latter category, here's good news for you. We have curated a list of the 10 bestselling, top-rated hair straighteners on the market. With these amazing styling tools, you can get salon-like straight hair right at home. Take a look.
Top 15 Hair Straighteners To Buy In 2023
The hesley GLANZ Hair Straightener is equipped with micro-sensors that help prevent hair damage. The ceramic plates are coated with keratin that provides silky and shiny hair. This straightener heats up within 15 seconds and features adjustable temperature settings that range from 150-210°C. The lockable design supports easy storage, handling, and traveling.
Pros
Suitable for all hair types
Portable
Eliminates frizz
Heats up quickly
60-minutes auto-shutoff
Cons
[ Read – Top Rated Philips Products For Women ]
Get salon-like straight hair with this easy-to-use selfie straightener. Philips uses the new Silk Pro Care technology so that the plates are smoothened and glide through your hair without tangling. This straightener is ideal for thin and limp hair as it maintains the optimal temperature without burning out the strands.
Pros
6 m cord
Heats up in 60 seconds
Dual voltage
Lightweight
Travel-friendly
Cons
Takes time to straighten frizzy hair
This professional hair straightener is made with ultra-smooth ceramic tourmaline plates that reduce heat damage and improve shine. It has four temperature adjustment settings, 160℃ -220℃, to suit every hair type. It smoothes frizz and gives you silky, shiny, and sleek hair. It heats up in 30 seconds and delivers stable thermal performance. The wide plates can accommodate thick and coarse hair without tangling.
Pros
Can be used on all hair types and textures
Straightens your hair quickly
Imparts conditioning ions
Affordable
Cons
Get root to tip salon-like straight hair at home with Havell's Ceramic Coated Hair Straightener. With its ultra-smooth plates, this straightener delivers results to help you get beautifully straightened hair. The 25×120 mm wide plates adjust to the thickness of your hair without creasing or damaging the strands. It prevents hair breakage and gives you frizz-free straight hair. The maximum built-in temperature is 210°C, which is ideal for damage-free styling.
Pros
Heats up in 45 seconds
Has a plate lock system
Travel-friendly
360-degree rotating swivel cord
Reasonably priced
Cons
This straightener contains anti-static ceramic plates that give sleek, smooth, and silky hair with every stroke. It heats up quickly up to 230°C in just 15 seconds. The premium quality ceramic plates ensure even distribution of heat throughout the straightener with no hotspots. This styling tool claims to straighten your hair without flattening your cuticles. The 110 mm length plate enables you to straighten a big chunk of hair in one go. It also has a temperature wheel, which allows you to choose from 30 variable heat settings.
Pros
Auto shut-off
3 years guarantee
Minimizes heat damage
Cons
This hair straightener is fitted with ceramic plates that heat up in 30 seconds. It has four temperature settings to suit all hair types. This straightener claims to style your hair from wet to dry and frizzy to straight in just a few seconds. The smooth and damage control plates distribute the heat evenly without burning out your strands.
Pros
Auto shut-off
Long, flexible swivel cord
Affordable
Suitable for all hair types
Cons
Can make your hair rough.
This professional grade hair straightener claims to transform your hair from dull to glossy in no less than a minute. The ceramic coating plates glide smoothly, making it easy for you to achieve perfectly straightened hair. The heat balance technology provides uniform heat distribution on the plates for quick styling.
Pros
Travel-friendly
High-temperature ceramic plates
Heats up in 60 seconds
Sleek design with lockable handle
Cons
Get natural-looking straight hair with the Vega Flair Hair Straightener. It features 100% solid ceramic plates for healthier and glossy hair. It heats up in 2 minutes to a maximum range of 210 degrees. With 25 watts power, this straightener delivers excellent results in a short time. It smoothes even the driest parts of your hair in no time.
Pros
Creates shiny and straight hair
Dual voltage 110-240V
Maintains table temperature
Affordable
Cons
Doesn't do much for frizzy hair.
This unique straightener has a specialized comb that is placed on the sides of the plate. This helps detangle your hair while you straighten it. It also adds proper tension for precise straightening. The solid ceramic plates deliver a high shine finish for each strand. This straightener heats up in 30 seconds.
Pros
Compact size makes it easy to store and carry
Detangles your hair
Can be used for curling
Heats up to 200 degrees
Cons
Pros
13 temperature settings
Floating ceramic plates
Covers major chunk of hair in one swipe
Durable quality
Cons
This hair straightener from Wahl India has argan oil-infused plates that control frizz, giving you smooth and shiny, moisturized hair. The floating plates offer even heat distribution to provide you with sleek straight hair. The straightener comes with an auto-off feature that shuts down after 60 minutes of idle time. Moreover, the heat-resistant body ensures a comfortable grip while styling. It also comes with a hanging hook that makes it convenient for storage.
Pros
Effective Temperature control
3 temperature settings
Easy to use
Auto shut off
Comes with a lock button for safe travel
Cons
This sleek design with extra wide plates is ideal for medium to long hair. It features tourmaline ceramic plates that emit gentle infrared heat and eliminate frizz in seconds. It has an adjustable temperature range from 150°C to 230°C. This straightener is embedded with professional PTC and dual ceramic heaters for quick and safe styling. It also has auto adjustable floating plates with beveled edges for a voluminous look.
Pros
Straightens your hair in seconds
Glides smoothing on hair
One hour auto shut-off
LED display
Cons
Inalsa Hair Straightener is ideal for frizzy hair types. It heats up quickly in just 30 seconds. The solid ceramic plate uses high temperature to style your hair and cools down relatively fast within seconds. The ceramic plates prevent static in your hair. It also eliminates frizz and keeps your hair soft and silky. This straightener is suitable for daily use. 
Pros
Heats up to 200°C
Shockproof plastic body
360-degree swivel cord
Rapid heat recovery
Cons
The straightened effect doesn't last long.
Tefal Premium Care Hair Straightener is ideal for dry and damaged hair. The combination of ions, keratins, and argan oil coating plates help produce soft, silky, and manageable hair. It also makes your hair resistant to breakage. This straightener heats up in just 30 seconds. The ionic system helps eliminate frizz and static from hair.
Pros
Gives smooth and manageable hair with zero damage
Heats up to 200°C
Plate locking system for safe use
No burns or friction
Cons
Carrera 534 Professional Hair Straightener is made with high-quality aluminum plates coated with ceramic that evenly distribute heat to prevent hair damage. It is infused with keratin and argan oil that makes your hair soft, bouncy, and healthy. The 360-degree swivel cord and the LED display make the straightener more convenient to use. One of the striking features of this straightener is its dual temperature mode. The normal mode increases temperature by 10° to reach 220°, while the boost mode heats up in less than 30 seconds for quick styling.
Pros
Lightweight
Effective temperature control
360-degree swivel cord
Illuminated LED display
Heat-resistant storage pouch
Cons
Results aren't long-lasting
That was our round-up of the best hair straighteners available on the market right now. Now, check out what features to look for while buying a hair straightener.
Important Features To Look For In A Hair Straightener
1. Material
There are a bunch of options available when it comes to hair straightener material. Depending on your hair type, you can pick the following materials:
a. Ceramic
This is the most common material used in most styling tools. Ceramic is known for its ability to distribute heat evenly. It prevents accidental overheating or hotspots. It also eliminates frizz and adds long-lasting shine to your tresses. But it tends to chip out after a certain time.
b. Tourmaline
Tourmaline, like ceramic, tackles frizzy hair efficiently. It is a semi-precious stone, which is often paired with ceramic to enhance the straightening effect. Tourmaline helps create a smooth and uniform straightened look, leaving zero space for static and tangles.
c. Titanium
Titanium holds high heat like a pro. If you are someone who prefers to use a straightener on high temperature, titanium might be a good option. It heats up quickly with less waiting time. People with thick and coarse hair can pick this metal as it helps heat penetrate into the cuticles faster than other materials.
2. Temperature
Some hair straighteners come with only one temperature setting – on/off. Others have variable heat settings, and very few let you choose the exact temperature. However, choosing a tool according to your hair type can save a great deal of money. If you have coarse hair, choose a straightener with high heat. But if you are someone with sensitive and fragile hair, choose a straightener with multiple heat settings.
3. Size
a. Small
Small straighteners are suitable for people with short hair. They mainly target baby hair and bangs. The advantage of using a small straightener is that it has precise control.
b. Medium
These straighteners are suitable for people with mid-length hair. Though they can be used for short hair types, they work well for long hair as well. They straighten your hair without taking much time. They have high scope for creating a variety of looks.
c. Large
These straighteners are best for super thick, long, and coarse hair. Since the plates are extra wide, they cover a maximum section of hair in seconds. These also have a high temperature range.
4. Automatic Shut-off
This feature will turn your hair straightener off after a set duration to prevent overheating or burning.
5. Dual Voltage
This feature enables you to use your device overseas as they can accept both 110-120 V and 220-240 V.
6. Swivel Cord
360° swivel cords enable you to turn the straightener freely for an effortless styling experience.
7. Cost
It is tempting to purchase a cheap straightener and repeat the process of purchasing again after a few months. Low-quality straighteners dry your hair out and make it worse than before. Irrespective of how frequently you want to use a straightener, choose one that is reasonably priced. Don't hesitate to invest in slightly expensive straighteners as they are much safer than cheaper ones.
Flaunt your straight hair with any of these amazing hair straighteners. Did we miss out on any product here? Let us know in the comments below.
Frequently Asked Questions
Are there any specific hair straighteners recommended for individuals with damaged or color-treated hair?
Yes. You may opt for Wahl India Argan Care Hair Straightener and Tefal Premium Care Hair Straightener – 7/7 HS7460K0. These products are infused with ions and argan oil to prevent heat damage to your hair, making it silky soft, and manageable.
Can hair straighteners be used to create different hairstyles and textures, like loose waves or sleek styles?
You may use hair straighteners to create different curls, waves, and textures by simply adjusting the holding position. Hold it parallel to the ground for tight curls and at 90 degrees to the ground for loose wavy patterns.
What are the potential risks or side effects of using hair straighteners, especially with frequent use?
Frequent use of straighteners at high temperatures can damage hair cuticles, making your hair frizzy, dull, and dry. It may dry up the scalp and lead to hair fall, stunted hair growth, and split ends.
Can hair straighteners cause heat damage or breakage to the hair if not used properly?
Yes. Improper use of hair straightener even once can damage hair. Holding it for too long on hair or too close to the scalp can burn your tresses or cause instant hair breakage.
Are there any additional features or technologies in modern hair straighteners that improve performance or protect the hair?
Modern hair straighteners have plates made with pro-care and heat-balance technologies that reduce friction and evenly distribute the heat to prevent hair damage. The auto-shut off feature is also useful in maintaining ideal temperature without overheating.
Recommended Articles