15 Best Hair Straighteners And Flat Irons For All Hair Types – 2023
Whether you want straight poker hair or relaxed waves, these versatile tools can do it all.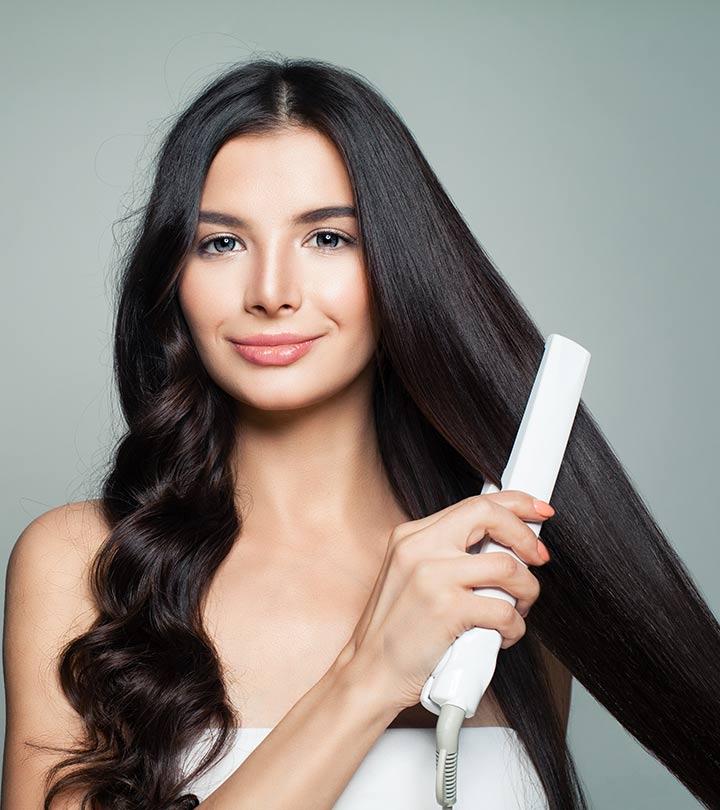 Nature has blessed you with gorgeous hair; whether it's curly, straight, thick, or coarse, you look beautiful as you are. However, if you wish to straighten your hair, you need the best hair straighteners for all hair types. With a plethora of brands and models at your disposal, choosing the perfect one that doesnt fry your hair and leaves you in a mess can be challenging. This is why we have a list of only the best because you deserve the best! Go check out our list now!
Top 15 Best Hair Straighteners And Flat Irons Of 2023
This HSI flat iron features ceramic and tourmaline plates, which give a smooth finish. This hair straightener includes an extra-long cord and is dual voltage for convenient travel. It comes with a pouch, glove, and argan hair oil treatment that makes it even more irresistible to buy. This product does wonders even on frizzy and coarse hair. It takes less time to straighten the hair and requires minimal effort to make curls. It features high-quality ceramic plates with microsensors that regulate the temperature as per requirement. The width of the plate is wide enough to work on all hair lengths. Protect your tresses and smoothen your hair in no time with this HSI Glider Hair Straightener. Check out this YouTuber's review of the product if you require more details.
Pros
Travel-friendly
Eliminates frizz
Simple design
Faster results
Includes HeatBalance microsensors
Cons
Might take time to warm up
Price at the time of publication: $39.95
Get beautiful straight hair within no time with this Remington Flat Iron that heats up at a high temperature in an instant. It ensures less damage to your hair and doesn't take much time to lend you a refreshing and natural look. It has 1-inch floating blades that provide a smooth glide while the titanium protection coating accelerates the heating. You can also check this YouTube video for a complete idea about the product.
Pros
Anti-static technology
Lightweight
Fast styling
Less hair damage
Turbo boost function
Cons
Might emit a burning smell
Price at the time of publication: $19.84
This NITION Professional Salon Hair Straightener features titanium plates infused with argan oil and a temperature control feature that can be viewed digitally. This flat iron automatically shuts down after 60 minutes of usage. The cord is 9 feet long and does not tangle — it is easy to handle and carry without any hassle. This hair straightener adds volume and shine to your hair and gives fantastic results instantly. This product is suitable for all hair types and works equally well on colored or fragile hair, making it one of the best straighteners or curlers for damaged hair. If you want to know more about the results, take a look at this review on YouTube.
Pros
2-in-1 hair styling tool
Adjustable temperature
Comes with a travel pouch and a heat-resistant glove
Dual voltage
Cons
Price at the time of publication: $63.99
This BaBylissPro straightening iron does wonders on thick or coarse hair. It has wider plates that can cover large chunks of hair at once. The plates are made of titanium that heat up quickly, making it an ideal buy for those who don't want to spend much time styling their hair. It is fast-performing and reaches the highest temperature quickly.
Pros
High heat level
Easy to use
Lightweight
Can create loose, beachy waves
Slim design reduces hand fatigue
Cons
Might not hold the hair in place
Price at the time of publication: $154.99
FURIDEN Professional Hair Straightener heats up quickly and saves energy and time. This durable flat iron has floating plates that balance heat evenly. It avoids snagging, thus giving more control over styling. This 2-in-1 straightener and curler comes with heat-resistant gloves, a flat iron bag, a salon comb, and salon hair clips. Straightening and curling hair is now simple and easy with this hair tool.
Pros
Heats up in 15 seconds
Ideal for all hair types
Extra-long cord
Travel-friendly
Protects from excessive heat damage
Cons
The plates might be too small.
Price at the time of publication: $69.99
This Conair Double Ceramic Flat Iron features 1-inch double ceramic coated plates. You can create a straight hair look or loose beachy waves as per your choice. Get frizz-free, shiny hair with this flat iron that delivers quick and even heat. Considered to be one of the best hair straighteners, it features 5 heat settings, helping you create a different hairstyles.
Pros
Auto-off function
Double ceramic-coated plates
5 LED temperature settings
Extra-long cord
Cons
The barrel might heat up.
Price at the time of publication: $19.58
This Vanessa Flat Iron And Curler is ideal for all hair types and has elongated plates made of nano titanium. This is a 2-in-1 hair tool that provides smooth, straightened mane and beautiful curls. It does not damage your hair; instead, leaves it shiny and silky-looking. In addition to that, this tool helps your hair retain moisture and enhances the health of your hair. This high-quality hair straightener is super easy to use and is convenient to carry.
Pros
For all hair types
Easy to use
Durable and handy
Controllable heat settings
360° adjustable swivel cord
Cons
May not heat on the sides
Price at the time of publication: $39.96
No more frizz; only a completely smooth experience is offered by this Revlon flat iron that has efficient heat control and works well on thick and coarse hair. The ceramic plates are coated with copper, which is an excellent heat conductor. It takes less time, works more swiftly, leaving your hair shiny. With superior heat transfer and a fast heating system, it is ideal for regular use.
Pros
Frizz control
Heats up fast
Digital LCD
Gloves and clips included
Suitable for color-treated hair
Cons
Price at the time of publication: $22.98
No more tugging or snagging while styling your hair! We have got the best hair straightener for you — Bestope Hair Straightener And Curler. This is an ideal choice for those who love to try out new hairstyles. It works efficiently, takes less time to heat, and cools down quickly. Plus, it reduces frizz and works smoothly without any friction. This hair iron heats up fast, and the cord can be swiveled 360 degrees and thus never gets tangled.
Pros
Travel-friendly
Auto shut-off function
Heats up in 15 seconds
3D floating plate
Heat-resistant glove included
Comes with 2 salon hair clips and a travel pouch
Cons
Might not be suitable for long and coarse hair
Price at the time of publication: $25.99
This ghd Platinum+ hair iron is perfect for all hair types. This flat iron takes very little time to reach its maximum temperature of 365°F. It leaves your hair in good condition with minimal breakage. Get healthier straight hair with this ghd Platinum Hair Straightener.
This product features precision milled, ceramic floating plates with a high gloss finish that makes styling effortless and smooth.
Pros
9-feet swivel cord
Takes 20 seconds to heat up
Minimal damage to hair
Heat-resistant protective plate
Universal voltage
Cons
The plastic casing of the plate has a seam that might trap hair.
Price at the time of publication: $279.0
This Deluxe Hair Straightener by Lily England is known to set a high standard, thanks to its hair smoothening and anti-frizz properties. It not only straightens your hair but offers shine that lasts all day long. This product is easy to use and features floating plates coated with ceramic that leaves your hair indent-free. The 360° flexible swivel cord rotates freely while the locking handle ensures safety during travel. This 2-in-1 straightener and curler is suitable for all hair types and allows you to create different styles.
Pros
Style lasts all-day
1-year warranty
For all hair types
Adjustable heat settings
Cons
Price at the time of publication: $29.99
This 2-in-1 straightener and curler is made of titanium and features tourmaline and ceramic-infused plates. It has 1-inch double ceramic round-edged S-shape plates that can create silky, smooth, and straight hair or bouncy dreamy curls within no time. The titanium iron allows you to control the temperature that ranges from 270°F to 450°F. Ideal for all hair types, it helps lock in moisture and reduces frizz. This titanium iron is ETL certified and hence can be bought without any worries.
Pros
Adjustable temperature
Reduces frizz
Long 360° swivel cord
Comes with 1 velvet pouch bag, 1 heat-resistance glove, 2 salon hair clips, and 1 salon comb
Cons
Might not be suitable for use on short hair
Price at the time of publication: $21.99
This 3- in-1 styling tool is a multifunctional flat iron designed to help you create numerous hairstyles with ease. This hairstyling iron features a combination of tourmaline and ceramic that provides even heat distribution, making it ideal for all hair types. Achieve gleaming hair and hairstyle of your choice with this tool. This highly versatile flat iron helps reduce frizz and adds smoothness. The inner plate has smooth silicone strips that help maintain a good grip while holding your hair strands. This ceramic-plated hair straightener shuts down automatically after 1 hour of use.
Pros
Heats up in 40 seconds
Extended plates
Ensures good grip
Works well on curly, straight, and poofy hair
Cons
Might not produce tight curls
Price at the time of publication: $68.46
Romando hair straightener is considered one of the best hair ironing tools for its excellent and versatile properties. This hairstyling iron comes with extra accessories that makes it an even better product. This ceramic-plated flat iron includes wide plates and different heating temperatures. The extra-long cord makes it easy to use and does not coil. This product is designed in a way that it provides protection from heat, hence, preventing burns.
Pros
Heats up fast
Digital temperature display
Durable and handy
2-in-1 hair tool
Suitable for all hair types
Cons
Might take longer to style thick hair
Price at the time of publication: $39.99
This Professional Straightening And Styling Iron provides a good hold on your hair while its ergonomic design makes it easy to use. Suitable for all hair types, it will lend you frizz-free hair and help you create a hairstyle of your choice in no time. This product is versatile enough to make curls and waves as well. This tool is very comfortable to hold and has a thick matte handle that provides an excellent grip.
Pros
Precise heat
Minimizes frizz
Adds shine to your hair
Adjustable heat settings
Lightweight
Works smoothly
Cons
Might take some time to turn on
Price at the time of publication: $169.99
Here's a buying guide that will help choose the best hair straightener apt for your hair.
How To Choose A Good Hair Straightener
Hair type: Thin and delicate hair damage easily; hence, you must avoid straighteners that have only one heat setting. A straightener with multiple heat settings will allow you to control the temperature. Too much heat isn't required for fine hair, hence it's more comfortable to straighten. Thicker hair requires more heat. Using low heat on thick hair is time-consuming as you need to repeat the process on the same strands, which increases damage. Curly hair is more frizzy; hence flat iron with wider plates is more ideal for this hair type.
Plate size: Straighteners come in various sizes. Small, thin straighteners are excellent tools for people with short hair. Small irons also work well for styling spikes and bangs. Large and wide straighteners cover more area and make for great choices for thick or long hair.
Plate material: Ceramic plates are ideal for fine hair as they smoothen the hair and get rid of frizz. Ceramic plates distribute heat, hold heat for longer, and control it too. Ceramic plates are best for thin and fine hair. Titanium plate flat iron heats up quickly and maintains the high temperature. Hence, flat iron is more suitable for thick hair. Tourmaline straighteners are also great for frizzy or curly hair and are highly effective even at low temperatures.
Temperature: If your hair is very thick, then the flat iron needs to be at a temperature ranging from 180°C – 240°C. For normal hair, 160°C – 180°C is sufficient, whereas, for fine hair, temperature between 140°C – 160°C is ideal. If you have brittle and weak hair, then between 100°C – 140°C is the ideal temperature to prevent damage to the hair.
The shape of the straightener: Flat irons are not meant for those who want curls and waves. Rounded flat iron is the best choice for curls. Crimped hair irons are ideal for those who want to add volume.
Tips For Using Hair Straightener
Here are ways in which you can prolong the life of the hair iron:
Turn off the iron before you do the final touch-ups on your hair. This will help conserve electricity and allow the iron to cool down.
Store the iron only once it has cooled down. Don't wrap the cords around as they can get damaged due to heat.
Clean the iron as there can be a build-up of products, dust, and dirt that can damage the plates and your hair too. Clean it with a damp cloth.
Why Trust Stylecraze
Kirtana Divakar, the author of this article, uses her deep knowledge and passion for hair care to bring you products that can solve your hair issues effectively. She went through product reviews online and composed this list of the best hair straighteners on the market. These straighteners are from reputed brands, reduce frizz, are travel-friendly, and protect your hair from heat damage.
Frequently Asked Questions
Do hair straighteners damage hair?
It depends on the hair type, the frequency of use, and the hair products used. If your hair is already coarse and dry, then it can damage easily. If you use it every day, then your hair will become dry. Some hair sprays do protect hair from the heat and can do some damage control. The way you use the hair straightener determines if it works well for you or not. Not cleaning the plates regularly can also cause damage as you would be exposing your hair to dirt.
Does straightening the hair make it look thinner?
It depends on the type of hair iron used. Flat irons could make your hair look thinner than it is. Heat temperature also makes a lot of difference; it should be set according to the hair type.
Is ceramic or titanium straightener better for hair?
It depends on your hair type. A ceramic straightener is better for your tresses if you have soft and thin hair. Use titanium straightener for thick and rough tresses.
Is titanium or ceramic better for frizzy hair?
Ceramic hair straighteners work wonders on frizzy hair. The ceramic plates evenly distribute the heat on your tresses, making them appear silkier and frizz-free.
What is the difference between a flat iron and a hair straightener?
Hair straightener is an umbrella term that describes straightening devices, including flat irons, blow dryers, straightening brushes, and hot hair combs. As stated, a flat iron is a hair straightener with two plates to straighten your hair.
Are more expensive hair straighteners better?
Yes, expensive straighteners last more and cause less hair damage than the cheaper ones. They also distribute heat evenly without pulling or tugging.
How often should you replace hair straighteners?
Replace hair straighteners every two to three years.