13 Best Hair Straightening Brushes – 2022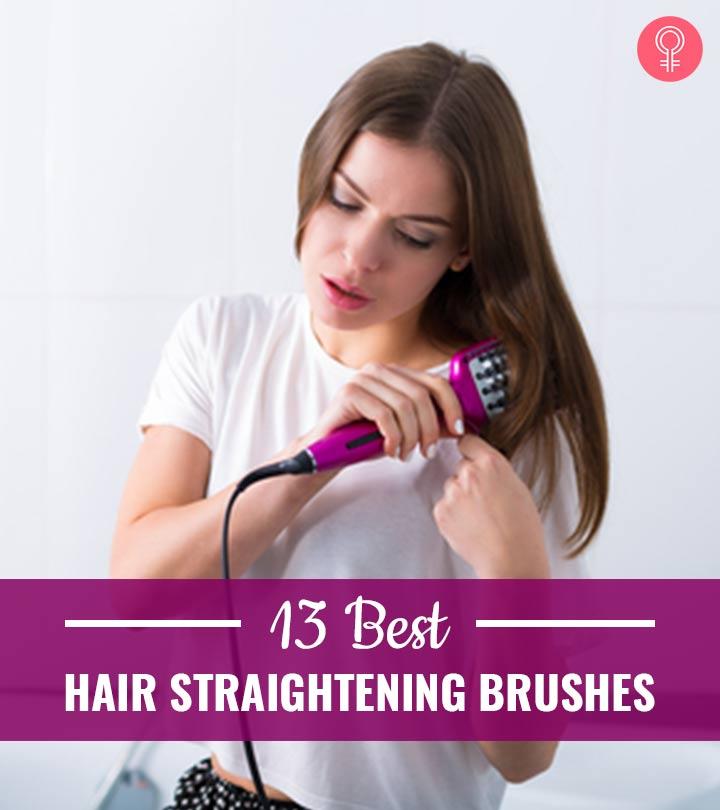 Every time you get your hair done at the salon, it gives you long-lasting silky-smooth results. But at the same time, it drills a hole in your pocket. For the same reason, many women opt to straighten their hair at home. However, using a straightening iron is a lot more finicky and time-consuming than it looks. This is where hair straightening brushes come in. A good hair straightening brush can straighten your hair quickly while toning down frizz. It is an investment that pays off in the form of fantastic hair.
We have put together a list of the 13 best hair straightening brushes available in India right now. Check them out below!
13 Best Hair Straightening Brushes Available In India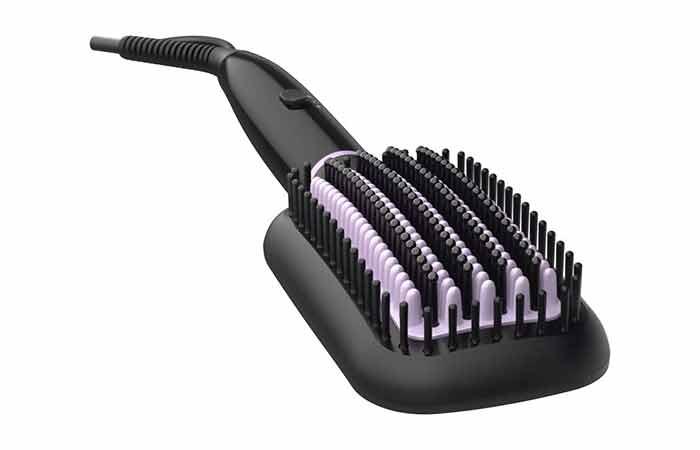 Philips BHH880/10 Heated Straightening Brush has a keratin-infused ceramic coating to give you smooth and frizz-free straight hair. Its ThermoProtect Technology maintains a constant temperature. This brush has 2 heat settings of 170°C and 200°C that suit all hair types. This advanced straightening tool also has a triple bristle design to detangle your strands while styling.
This straightening brush heats up quickly and is ready to use in 50 seconds. It is a big paddle brush that straightens a big section of hair in one go. Its Silk ProCare Technology prevents hair damage and maintains a consistent temperature.
Pros
Smoothens the hair
Reduces frizz
Maintains a constant temperature
Detangles the hair
Heats up quickly
Ready-to-use indicator light
Straightens hair quickly
Prevents hair damage
Cons
Not suitable for all hair types
Does not come with a heat-resistant glove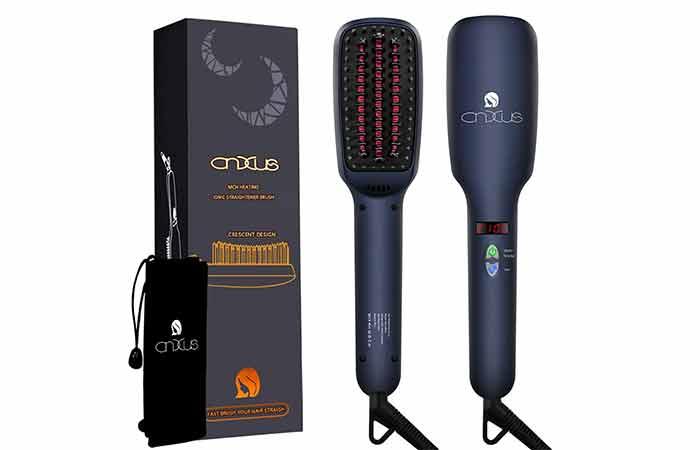 This hair straightening brush by CNXUS gives you gorgeously sleek salon-style hair every day in the comfort of your home. Its Metal Ceramic Heater (MCH) heating element is made of small ceramic stones with self-limiting temperature characteristics. This feature allows even distribution of heat without causing any hair damage. The built-in ionic generator emits negative oxygen ions that interact with the molecular particles of your hair to smoothen it. It thoroughly nourishes and strengthens your hair.
This tool has 5 temperature settings – 150°C (Level 1) for first-time users and people with thin and fine hair; 170°C (Level 2) for dyed or dark-colored hair; 190°C and 210°C (Levels 3 and 4) for wavy or moderately curly hair; and 230°C for thick, coarse, and curly hair. The brush comes with a black bag for easy storage.
Pros
Even distribution of heat
Smoothens the hair
Nourishes and strengthens the hair
5 heat settings for all hair types
Comes with a black storage bag
Cons
None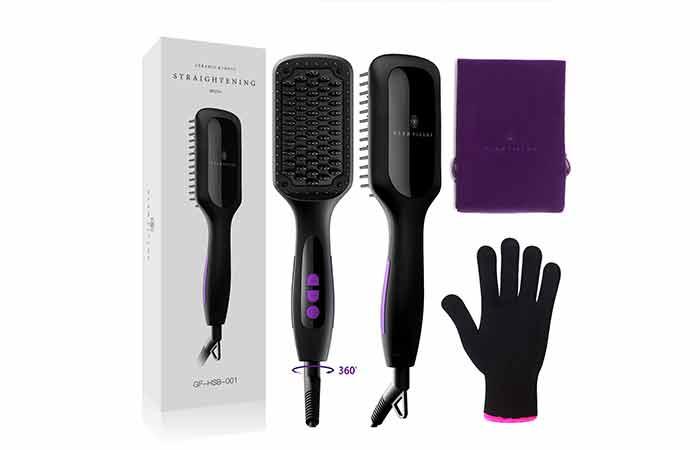 GLAMFIELDS Hair Straightening Brush is an easy-to-use hair straightening brush that straightens your hair effortlessly in minutes. It has 12 different heat settings – 120-160°C for fine hair, 170-200°C for slightly curly hair, and 210-230°C for thick, curly hair. It heats up in 30-40 seconds.
The Anion technology of this brush straightens your hair safely and eliminates all the frizz. It also has an automatic shut-off feature for added safety. The LED display shows the temperature and other functions.
Pros
Suitable for all hair types
Detangles the hair
Easy to use
Heats up in 30-40 seconds
Eliminates frizz
Auto shut-off feature
LED display
Comes with a storage bag and a heat-resistant glove
Cons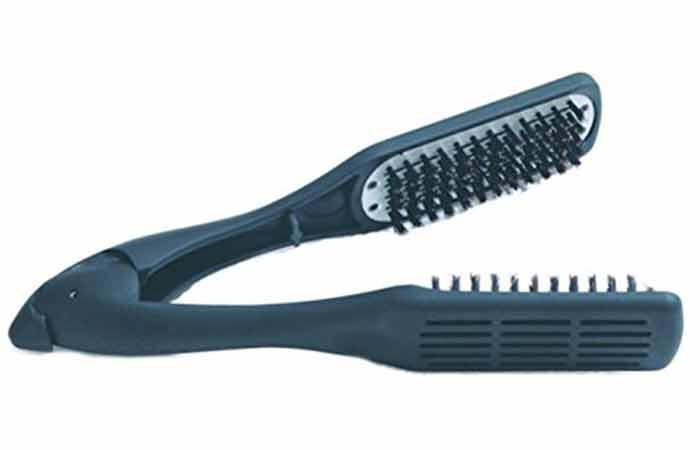 Denman Thermoceramic Straightening Brush is designed with vented ceramic-coated plates that transfer heat directly to give you smooth straight hair. It has natural boar bristles that glide through your strands easily and give your hair a professional look. The thermoceramic coating evenly distributes the heat and makes it easy to style your hair.
Pros
Conditions the hair
Glides smoothly through the hair
Suitable for all hair types
Distributes heat evenly
Cons
None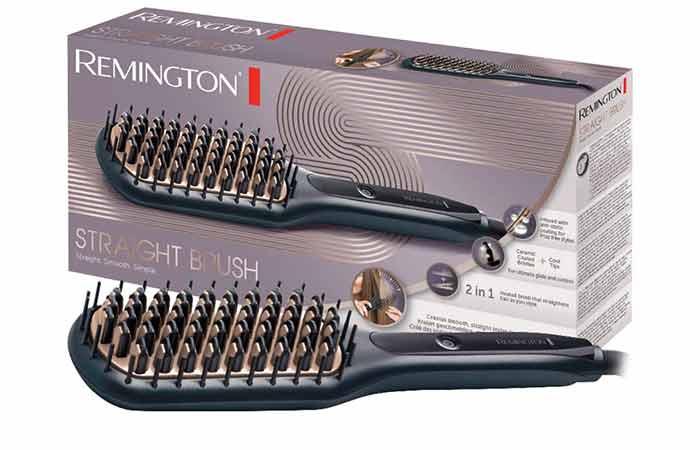 Get ready to enjoy effortless styling with the Remington Keratin Protect Sleek & Smooth Heated Brush. Its anti-static ceramic coating helps in preventing frizz and static, leaving your hair soft and sleek. It has 3 adjustable heat settings (150°C, 190°C, and 230°C) and an LED temperature display to help you choose the right heat setting for your hair type. The 60-minute automatic shut-off feature makes this straightening brush a safe option.
Pros
Prevents frizz
Adds volume
Smoothens the hair
Glides smoothly through the hair
Heats up in 30 seconds
60-minute automatic shut-off feature
Cons
None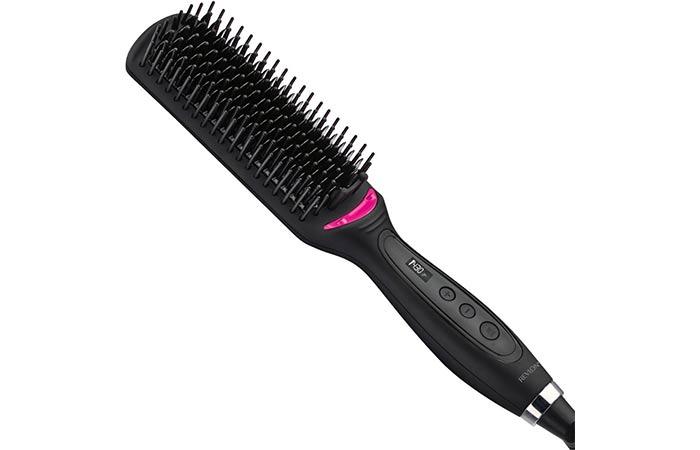 We all trust Revlon when it comes to hair-styling tools. The professionally designed Revlon XL Hair Straightening Heated Styling Brush glides effortlessly through your way to give you smooth and beautifully shiny hairstyles quickly. The extra-long, ceramic-coated surface has multidimensional bristles to detangle your hair while styling. This brush locks in moisture and delivers instant smooth and shiny results. Its superior ion generator controls frizz and makes your hair manageable. Get your desired hairstyle with this dual voltage, lightweight hair straightening brush.
Pros
Detangles the hair
Locks in moisture
Dual voltage technology
Controls frizz
Lightweight
Suitable for all hair types
Cons
None
Styling your hair properly can be time-consuming. But with the RYLAN 3-in-1 Electric Comb Brush, fast styling is at your fingertips. It is ready to use within 8 seconds of plugging in. It has 3 adjustable heat settings with a minimum temperature of 150°C, a thermostatic temperature of 185°C, and a maximum temperature of 230°C. It is designed with the latest technology silicone keys that make it safe and easy to use. It is also infused with anion technology that evenly distributes the heat all over your hair. The LED temperature display allows the user to see the temperature and other functions.
Pros
Multipurpose
Heats up in 8 seconds
Distributes heat evenly
LED temperature display
Cons
None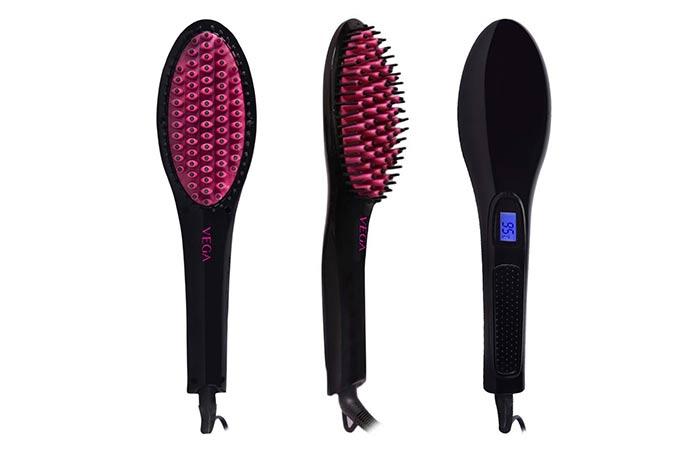 Looking for the perfect combination of a hair straightener and a hair brush? The Vega X-Glam Hair Straightening Brush is here to fulfill all your requirements. It glides smoothly through your hair while detangling it. The heat protective bristles are coated with silica gel that protects your hair from heat damage. The brush surface maintains a constant temperature to protect your hair from damage. It also has anti-frizz and anti-scald technology. The adjustable temperature settings range from 180°C to 230°C. This brush also has an LCD temperature display.
Pros
Prevents frizz
Prevents heat damage
Non-slip handle
Detangles the hair
Cons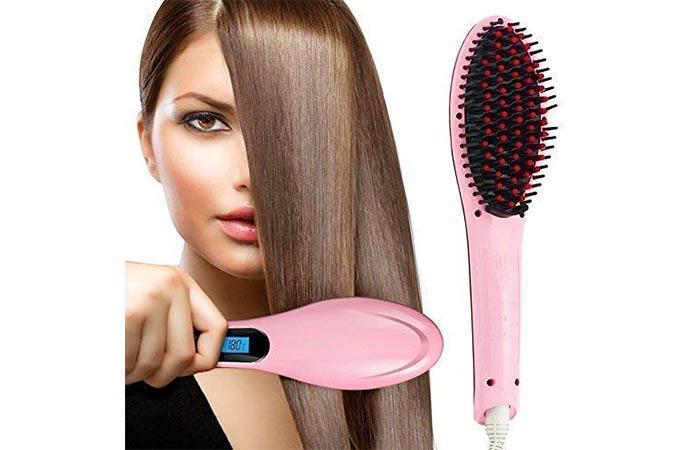 Worried about damaging your hair while straightening it? This hair straightener brush by ASPERIA operates at a low temperature to prevent hair damage. Its anti-static technology reduces the amount of negatively charged particles emitted during styling and keeps your hair frizz-free. This 3-in-1 hair straightening brush not only straightens your hair but also detangles it and works as a head massager at the same time. Thus, it gives you a comfortable hair-styling experience. It is recommended that people with thick and coarse hair keep the temperature between 210-230°C.
Pros
Prevents heat damage
Reduces frizz
Works as a head massager
Suitable for all hair types
60 minutes auto shut-off feature
Cons
None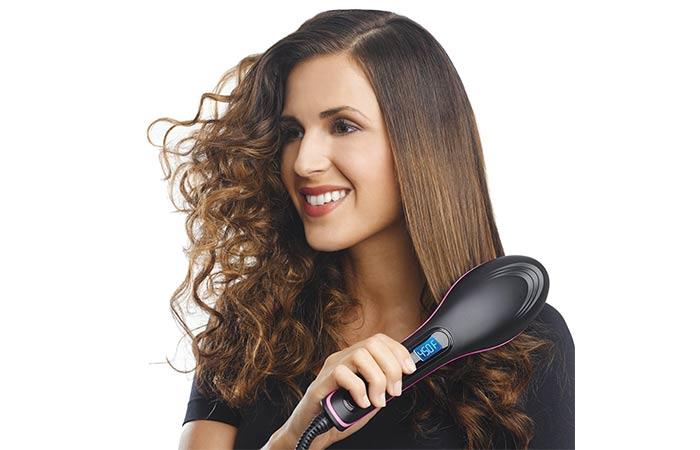 Do you love styling your hair regularly but find hair-styling tools to be expensive? Then, try out this budget-friendly option by FINIVIVA. This straightening brush works at moderate temperature settings to suit all hair types – 185°C for thin and fine hair, 185-210°C for natural hair, and 210-230°C for thick, curly hair. It has an LCD screen and a long-press button for switching on the tool.
Pros
Affordable
Suitable for all hair types
LCD display
60 minutes auto shut-off feature
Cons
None
The GRAPHENE TIMES Hair Straightening Brush features 15 temperature levels suitable for different hair types. It features MCH technology that heats up in just 30 seconds. The anti-scald design comb is comfortable to use. The heat-resistant plate dissipates heat evenly without overheating. The 360-degree swivel power cord lets you style from any angle.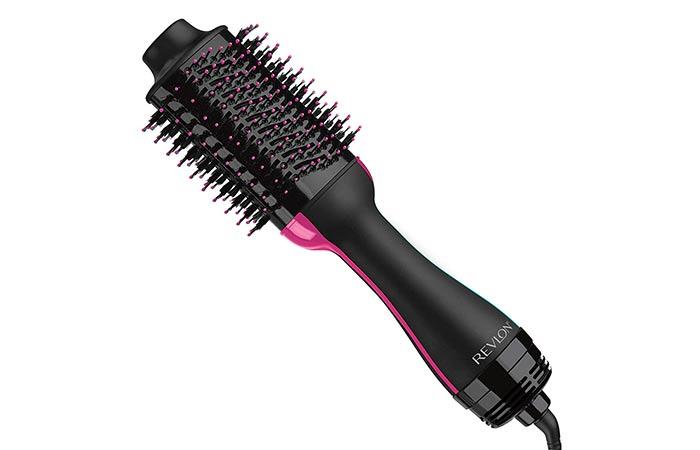 The Revlon One-Step Hair Dryer & Volumizer is a versatile tool that straightens, smoothens, and dries your hair. You don't have to wait for your hair to dry completely before straightening it with this tool. Just towel-dry your hair before using this tool. The oval-shaped brush has a ceramic coating and unique vents for easy and quick drying. It is designed with flexible bristles that detangle your hair in one go. The tool gets heated up within a minute and has 3 adjustable heat settings.
Pros
Versatile styling tool
Reduces frizz
Dries hair quickly
Detangles the hair
Heats up quickly
Lightweight
Cons
Not suitable for short hair
Expensive
You will fall in love with this hair straightening brush that comes in a kit along with a pouch and a heat-resistant glove. It has a double ionic generator that makes your tresses silky smooth as it glides through each section of hair. It also reduces frizz and split ends and makes your hair more manageable. The dense bristles of this comb straighten even the most unruly hair. It also has massaging benefits that are soothing for your scalp.
The 16 different heat settings range from 300°F to 450°F. It styles all types of hair, be it thick, curly, wavy, bleached, or thin.
Pros
Makes hair silky and smooth
Reduces frizz, split-ends, and tangles
16 different temperature settings
Suitable for all hair types
60-minute auto shut-off feature
Heats up quickly
Cons
Now, let's talk about who should be using a hair straightening brush.
Who Should Buy A Hair Straightening Brush?
Hair straightening brushes are usually preferred by people who have a head full of curls and want sleek, straight locks. Straightening your hair with a straightening iron early in the morning before heading off to work can be really time-consuming. Hair straightening brushes are an easier way of styling your hair in minutes. Just switch on the power, wait for a few seconds to let it heat up, and glide it through your hair just like a regular brush.
Straightening brushes are also a convenient option for people with wavy hair.
These brushes are designed with advanced technology to reduce frizz. They detangle your tresses and allows even distribution of heat. Straightening brushes can be used by men as well.
Hair straightening brushes have become popular among people who do not prefer flat irons because of how much time and effort they require. Check out the types of hair straightening brushes in the next section.
Types Of Hair Straightening Brushes
Paddle or flat brushes look similar to detangling brushes. Their bristles are coated with ceramic or tourmaline to straighten your hair and reduce frizz.
Barrel or rotating brush straighteners also detangle and straighten your hair at the same time. They are considered suitable for long hair. These ceramic or metallic barrels can be used to straighten as well as curl your hair.
Hybrid brushes that look like flat straightening irons with bristles on each side of the plates. Some of these hybrid brushes have a rotating barrel on one side and a plate with bristles on the other.
We all know that styling your hair is one of the most vital parts of dressing up. To help you choose the right straightening brush according to your hair type, we have put together a buying guide in the next section. Check it out!
How To Choose The Right Straightening Brush For Your Hair Type
If you have fragile and fine hair, a temperature between 210-350°F will be enough.
If you have thick and coarse hair, you'll need a temperature between 250-390°F.
If your hair volume is moderate, i.e., neither too thick nor too thin, go for a medium-level temperature between 230-375°F. 
Choose The Right Bristle Type
Make sure that the bristles of your straightening brush are firmly attached to the base. If the bristles are delicate or flimsy, there is a chance that they might fall off.
The shape of a straightening brush depends a lot on your hair type.
Flat straightening brushes are suitable for short to medium-length hair.
Roller brushes, also known as barrel brushes, are suitable for long hair.
If you have short hair, go for a slim, rectangular brush that can reach the roots of your hair and straighten them easily.
Choose One With An Ergonomic Handle
Opt for an ergonomically designed handle offers a firm and comfortable grip. This will enable you to use the tool for a longer duration.
Sometimes, you may forget to switch off your hair straightening brush after using it, which can be very dangerous. That is why you must get a hair straightening brush with an auto shut-off feature that switches off the tool after a certain amount of inactivity.
Now that you know how to choose the best straightening brush for your needs, let's check out how they actually work.
How Straightener Brushes Work
Straightening brushes mostly work with a direct power supply. Some run on batteries too, but those working with direct power supply are much more effective. Like any other regular curling wands or straightening irons, these brushes emit heat onto your hair strands and make them sleek and shiny.
These brushes have ceramic- or tourmaline-coated bristles that produce heat. There are also advanced hair straightening tools made with ionic technology that locks in moisture and reduces frizz. Just wait for a few seconds after switching on the power and glide it through your hair to achieve shiny straight hair.
Check out how to use a straightening brush in the next section.
How To Use A Straightening Brush
Wash your hair with a mild shampoo and let it dry.
Comb your hair properly after it has dried to remove all knots and tangles.
Apply a heat protectant serum or spray to ensure to prevent any damage caused by the extreme heat.
Divide your hair into small sections. This will make it easier for you to style your hair.
Plug om the straightening brush, and set it to your desired temperature.
Wait for it to heat up.
Glide the brush slowly through each section of hair. Repeat the process 2-3 times if required.
Continue doing the same on all the sections of your hair until you have straightened all your hair. 
Before purchasing a straightening brush for yourself, make sure that it is made with the latest technology that protects your hair from all sorts of damage. Don't waste any more time, and buy one now from the ones listed above!
Frequently Asked Questions
Are straightening brushes bad for your hair?
Hair straightening brushes have firm bristles that may snag or pull on your hair if not used carefully. Just like any other hair styling tool, straightening brushes also emit heat. So try not to expose your hair to too much heat regularly. Also, always use a heat protectant spray before straightening your hair.
Can I use a straightening brush on short hair?
Oval straightening brushes may not be a good option for very short hair. Go for a slim and rectangular brush instead.
Can straightening brushes be used on wet hair?
No, straightening brushes cannot be used on wet hair. Let your hair dry completely and comb it before using a hair straightening brush.
Do straightening brushes work for all hair types?
Hair straightening brushes work best on long hair. They are not suitable for short hair. However, they can be used on any hair texture – curly, wavy, or straight.
How hot should a straightening brush get?
The temperature of a straightening brush varies depending on the hair type:
210°-350°F is suitable for thin or fine hair.
230°-375°F is ideal for normal hair.
250°-390°F is ideal for thick, coarse hair.
What is the difference between a flat iron and an electric straightening brush?
There are many differences between a flat iron and an electric straightening brush:
A straightening brush maintains a lower temperature compared to straightening irons. This reduces the chance of hair damage.
A straightening brush works much faster than a straightening iron.
Heated hair brushes seal the cuticle, lock in scalp moisture, and reduce split ends.
A flat iron may burn your strands. But a straightening brush has special tips that prevent your hair from burning.
Straightening brushes are travel-friendly. You can carry them along with you wherever you want.
Recommended Articles
The following two tabs change content below.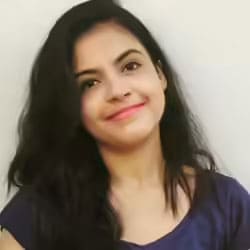 Oyendrila holds a master's degree in English Literature from the University Of Calcutta, West Bengal, and is a certified skincare...
more