Which Hair Straightening Treatment Is Best For You?
Learn all about different heat styling techniques in detail before spending the bucks!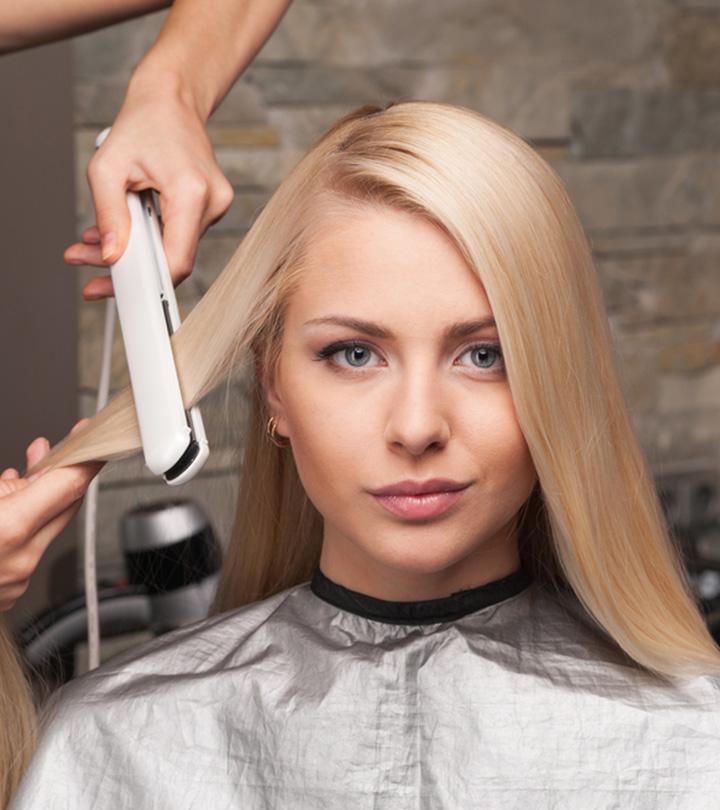 Busy or lazy, one of the ways to keep your hair looking sleek 24/7 is straightening your hair. Frizzy hair, flyaways, tangles, dull hair, and hours of styling  – hair straightening takes care of it all like a fairy godmother! And, thanks to modern advancements in hair technology, there are now five popular hair straightening treatments that you can try out. But, what's the price you pay – figuratively and literally? Which one is the safest? How long does your hair remain straight? Here's everything you need to know about various hair straightening treatments for silky straight hair. Read on to find out all about them!
5 Hair Straightening Treatments
1. Hair Rebonding
Your hair is made of proteins bound by disulfide bonds. This gives the hair its structure – straight, wavy, curly, coily, etc. Hair rebonding breaks these bonds to relax the hair. Then, a neutralizer is applied to rebond the natural structure to make it straight and silky. This treatment takes about 3 hours, depending on your hair texture, thickness, density, and length.
Cost: $200-$600
Results Last: Up to 6 months
Safety: Hair rebonding can weaken your hair. It is not suitable for people with thinning hair.
2. Keratin Treatment (Brazilian Straightening)
Your hair is made of keratin protein. But with age and due to poor nutrition, the keratin protein content decreases, resulting in dry and dull hair. Keratin treatment, also known as Brazilian straightening, adds a coat of keratin to your hair, thereby replenishing its nutrients and leaving it soft, smooth, frizz-free, and straight. Keratin treatment can take about 1-4 hours, depending on your hair length and texture. Dr. Emmanuel R Loucas, MD, Assistant Clinical Professor of Dermatology at Mount Sinai School of Medicine, adds, "Keratin treatments are often used to straighten hair. They work by smoothing out overlapping cells. Keratin also works as a "spackling agent", in the sense of it filling in gaps where breakage occurs. The treatments last anywhere between 2-6 months, depending on the quality of the products and whether they are done professionally or at home."
Cost: $200 – $500
Results Last: 2-8 months
Safety: It is a relatively safe hair straightening treatment. However, avoid frequent keratin treatments as it contains formaldehyde, which can cause hair breakage and damage if proper care is not taken post keratin treatment.
Did You Know?
Keratin treatment was developed in Brazil by a mortician who accidentally discovered that the formaldehyde from the embalming process strengthened the hair of corpses.
3. Chemical Straightening (Hair Relaxing)
Chemical straightening (or hair relaxing, as it is popularly known)refers to permanent hair straightening. The process is quite tricky and should be done by a well-trained professional. It involves the application of a chemical that helps break the bonds that provide your hair its structure. However, if too many bonds are broken, there's a risk that your hair may end up looking limp. And, if not the right number of bonds are broken, your hair might look somewhere between straight and wavy/curly.
When you are doing a relaxer, you have very limited time to apply and rinse off. Typically, you only leave a relaxer on for less than 10 minutes. If you leave a relaxer on for too long, you risk of over processing and melting your hair off. Hence, this service is recommended for thick curl/coiling hair.
Cost: $70 – $100
Results Last: Until you cut your hair
Safety: The formaldehyde in the chemical used in this straightening method is harmful and may cause hair breakage, weak hair, and hair fall. Unless you get an expensive treatment that does not contain harmful ingredients, you might end up causing some serious damage to your hair.
4. Japanese Hair Straightening
Japanese hair straightening or thermal reconditioning is also a permanent straightening treatment. It involves loosening the protein bonds and reshaping the hair structure. It takes 3-4 hours for this hair straightening treatment to complete. You might also need to visit the salon after a day or two for an hour or more for the final step.
Cost: $450 – $800
Results Last: Until you cut your hair
Safety: Japanese hair straightening can be quite damaging to the hair. If you do decide to go for it, make sure to use good products to maintain your hair and prevent hair fall. Also, avoid frequently opting for this straightening treatment.
Fun Fact
Japanese hair expert Yoko Yamashita developed the Japanese hair straightening treatment patented in 1995. It is also known as Yuko hair straightening.
5. Hair Botox
Hair botox is a non-chemical deep conditioning treatment. This treatment makes your hair smoother, shinier, and healthy-looking. It is an effective way to straighten your hair and make it less fussy. The ingredients in this treatment contain vitamin E, vitamin B5, collagen complex, argan oil, coconut oil, glyoxylic acid, and amino acids that replenish damaged hair without the harmful effects of other hair straightening treatments.
Cost:$100 (or lesser)
Results Last: 2-4 months
Safety: Hair botox is the safest deep treatment. It does not contain formaldehyde, a potent carcinogen, and other harsh chemicals that weaken the hair.
These are the 5 hair straightening treatment options available right now. But, which one should you choose? Safest or cheapest? Let's dig a little deeper in the following section.
Which Straightening Treatment Should You Choose?
To decide which straightening treatment should you choose, you should consider the following:
Your Hair Type: Do you have wavy, curly, or coily hair? Is your hair damaged? Is your hair thinning and prone to breakage? Stay away from chemical straightening and Japanese straightening if your hair is thinning, fine, and/or prone to breakage.
Chemical Ingredients: Chemicals are not good for your hair. But, certain ingredients like formaldehyde should be avoided at all costs. If you decide to opt for permanent hair straightening, make sure you do not get it done frequently or opt for the one that does not contain formaldehyde.
Your Budget: Hair straightening is costly. But, going cheap may put the health of your hair at risk. We recommend you save up if you want to opt for a straightening treatment that's a little above your budget but is probably the best for your hair.
A few of you might also be tempted to straighten your hair at home. Should you? Scroll down to know more.
Can You Straighten Your Hair At Home?
Yes, you can straighten your hair at home – with a flat iron. Do not try straightening your hair permanently with chemicals. The application of these chemicals depends on your hair type and texture, which an expert professional will be able to judge the best. Also, it can be dangerous if the chemicals come in contact with your skin. With that in mind, take a quick look at the dos and don'ts of hair straightening treatments.
Dos & Don'ts Of Hair Straightening Treatments
Do not wash your hair for 2 days after straightening, depending on the straightening treatment. For the keratin and Japanese treatments, you have to wait for 72 hours before washing your hair.
Do not tie your hair to avoid dents and crimping.
Do not pull your hair behind your ears.
Use argan oil to keep your hair shiny.
Use good-quality shampoo and conditioner.
Use a wide-toothed comb.
Use a leave-in conditioner to keep your hair moisturized.
Get a hair spa done once a month.
Trim your hair once every 3 months.
Eat plant or animal sources of protein.
Consume green vegetables, drink water, and sleep well.
Infographic: Top 5 Hair Straightening Treatments
Numerous straightening techniques are available today to help transform frizzy or unruly hair into smoother, sleeker strands. But it all comes down to picking the ideal hair straightening solution for your specific needs and hair type.
Check out the infographic to learn all you need to know about different hair straightening treatments for smooth straight hair.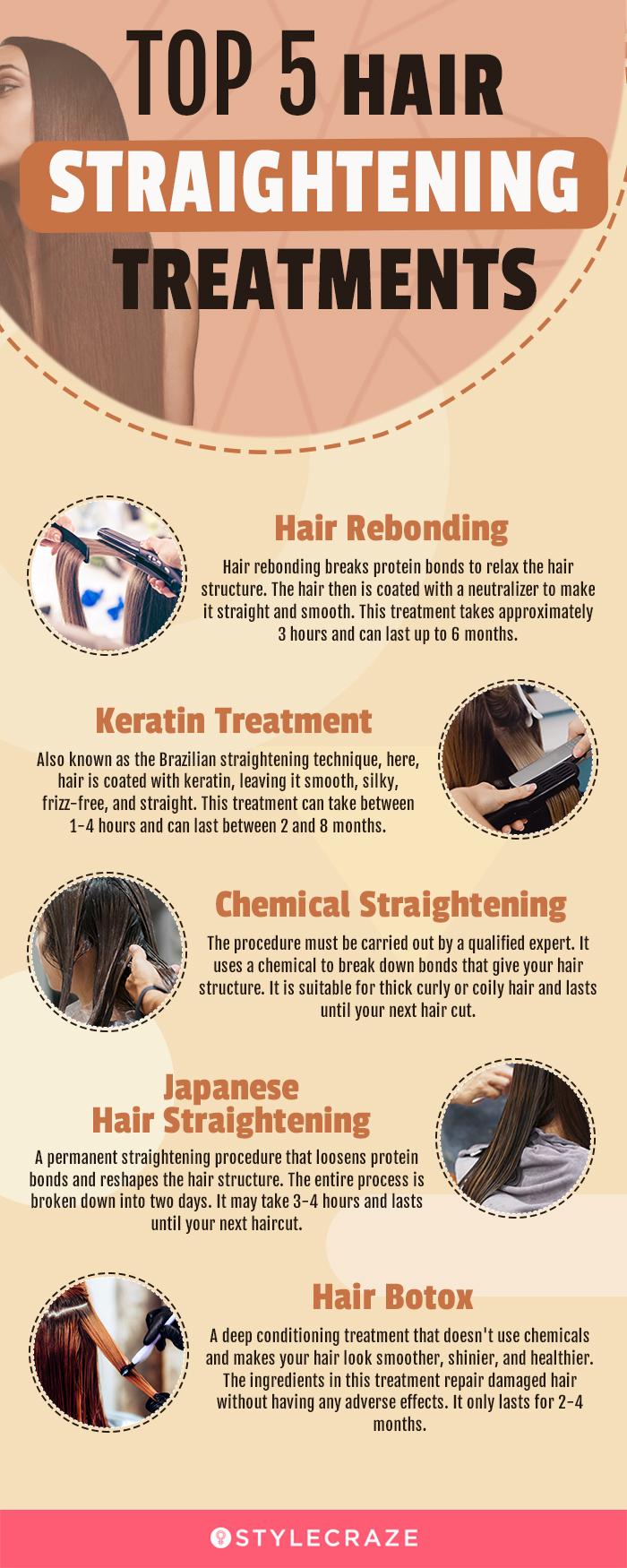 Conclusion
Now that you have a good idea about what each hair treatment is, its cost, how long its results last, and if it will cause hair damage, getting silky and smooth hair is just one decision away. Remember, your hair needs proper nutrition and care if you decide to straighten it permanently. So, if you do decide to straighten your hair, take good care of it, and your mane will look better than ever!
Frequently Asked Questions
What is the least damaging way to straighten hair?
Dr. Loucas says, "The most optimal way to straighten your hair to avoid damage is to do it without the use of heat. Use wide rollers and wrap hair tightly and then use hair straightening spray."
What is the most damaging hair treatment?
According to Dr. Loucas, "The use of excessive heat causes the most damage to the hair while straightening it. It can result in burns to the hair and skin, as well as hair breakage and dryness issues."
Why is my hair still frizzy after keratin treatment?
Liz L. Sowers, a professional hairstylist, says, "There are several reasons this could happen: the treatment could have been misapplied or expired, the hair could have been too damaged before the treatment (hair too porous), or the wrong product was used for your hair type (thicker coarse hair may require a different product or several treatments to achieve the desired look)."
Is permanent hair straightening good for hair?
No. Any kind of chemical treatment will alter the structure of the hair forever. Virgin hair is always the healthiest.
Is keratin or straightening better?
Keratin treatments are a healthier option as they may help repair damaged hair. Chemical straightening may worsen the structure of the hair.
Which lasts longer, straightening or smoothening?
Hair straightening gives a more defined effect and lasts longer with regular touch-ups. While hair smoothening might not result in your desired straightened look and wear off soon, it is less damaging to your hair. Using a flat iron is the only temporary hair straightening solution.
Does hair fall after straightening?
Yes. Hair fall is the most common and noticeable sign of hair damage induced by straightening treatments.
Can I wash my straightened hair every day?
Yes. You may wash your hair with water every day, but it is not recommended unless you have oily hair or sweat a lot. Shampooing chemically straightened hair every day may wear off the treatment. Therefore, hair experts recommend shampooing your hair once every 2-3 days with a sulfate-free product.
Can I oil my hair after straightening?
Hair experts suggest avoiding oiling only for a week immediately after the treatment to let the chemicals work through your hair. After that, oil proves to be the best nourishing solution for chemically altered hair.
Key Takeaways
The different types of hair straightening treatments are keratin treatments, chemical straightening, Japanese straightening, and thermal straightening.
Though straightening treatments give long-lasting, smoother hair, they can damage your hair.
Avoid washing your hair two days after your hair straightening treatment.
Use argan oil and good quality shampoo and conditioner to keep your hair hydrated and healthy,