11 Best Hair Styling Tool Organizers Of 2021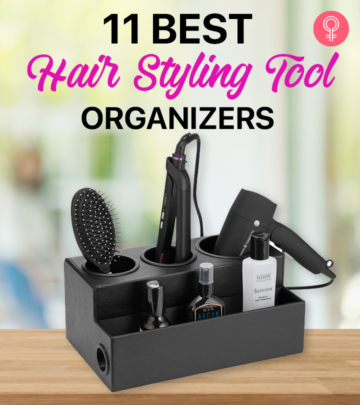 Thanks to the multitude of hair styling products available today, it has become extremely simple to style our hair from the comfort of our homes. But before you know it, you can have a clutter of styling tools and no space to keep them all. This is when a hair styling tool organizer comes to your rescue.
These units give you easy access to all your tools, along with providing space for hair care products. They also clear up space on the countertop while keeping hot tools and long cords away from the reach of small children and pets. Scroll through our list of 11 best hair tool organizers to spruce up your vanity while keeping your precious tools safe from damage.
11 Best Hair Tool Organizers Of 2021
The countertop rack from Polder is crafted with premium-grade stainless steel and heavy-duty plastic. It is designed with a heat-resistant mesh, which increases airflow to allow heating tools to cool down safely. There is an inner silicone liner that provides added safety and promotes quick cooling.
The convenient storage area on the rear is to place the cords while not in use. This lightweight station can also be hung on the towel bar or wall-mounted to save space. The three cups can accommodate hair dryers, straighteners, curling irons, and most hair styling tools. The compact shape also allows you to easily store it in cabinets or drawers.
Pros
Versatile design
Heat-resistant
Lightweight
Sturdy construction
Cons
Does not accommodate hair dryers with concentrators.
The modern, sleek black matte finish of the Jack Cube Design organizer makes it a welcome addition to any countertop at home or salon. It is crafted with high-grade synthetic leather that is durable. This three-cup storage unit allows easy organization of multiple hair styling tools. The cups are lined with a heat-resistant material to avoid damage. It has a unique front open drawer designed to store hair accessories and styling products for easy accessibility. This unit's stable rectangular build ensures it does not tip over and cause accidents.
Pros
Spacious
Additional front storage
Sleek matte finish
Durable construction
Cons
The Lmeison Styling Tool Organizer is made with superior-quality aluminum alloy that is rust-resistant and durable. It is fitted with a spiral hair dryer holder, which has a 360-degree rotation swivel for easy accessibility and an L-slot for storing the plug when not in use. This two-cup unit is designed to accommodate a straightening iron, curling wand, or various bathroom accessories and toiletries to clear up space on the counter. The holes in the cups allow optimal ventilation to ensure quick drying.
Pros
Easy to install
Rust-resistant
Multi-functional
Lightweight
Ventilation holes
L-slot for power cord
Cons
The versatile design of the YCOCO unit allows it to be kept free standing on the counter or can be mounted on the wall. It is constructed from durable steel wire that is resistant to heat and rust and easy to maintain. The organizer is divided into three compartments that can hold hair dryers, curling wands, straightening irons, and hair brushes. It has a thicker construction at the base to ensure the hot tools do not fall through. The open design also offers storage space for more than one tool in each compartment.
Pros
Convenient design
Easy maintenance
Durable
Versatile
Spacious
Cons
Does not include wall mounting hardware.
The hair tool organizer from Roloway is made of solid wood that is splinter-proof and makes an elegant addition to the room décor. It is equipped with three compartments that are lined with heat-resistant steel to accommodate hot styling tools, like a straightener, curling wand, and a blow dryer, while allowing them to cool down safely. This versatile unit is also designed with a front storage section, which is divided into three to offer easy organization for a variety of cosmetics, makeup tools, and brushes.
Pros
Solid wood construction
Compact design
Heat-resistant
Large storage capacity
Cons
Does not accommodate hair dryer with concentrator.
The ultra-modern and chic hair styling chest from Richard's Homewares provides a storage option for organizing all vanity items in one compact space. It is crafted with durable wood and features five compartments and a drawer. The three-round steel containers at the rear are ideal for storing styling tools, while the two sections in the front accommodate toiletries, hair brushes, and hairsprays. This portable organizer also has a slim drawer at the bottom to store jewelry, medication, and hair accessories. The solid wood construction offers easy maintenance and durability.
Pros
Large compartments
Sturdy wood construction
Durable
Compact
Portable
Cons
Not enough space for cords.
The two-tiered storage caddy from Alsonerby is crafted from durable metal, which is rust-resistant and can be wiped clean. It is designed with three sections on the top level to hold styling tools, while the bottom basket offers easy organization of hair brushes, sprays, and toiletries, or it can also be used to store the styling tool cords. This easy-to-install unit fits over a 1.77-inch-thick door. It can also be wall-mounted with the installation hardware provided.
Pros
Heat-resistant
Flexible installation
Large capacity
Easy to clean
Cons
Overhang is not suitable for cabinets.
The minimalist dark brown finish of the Besti organizer makes it fit in with any room décor or dressing area with ease. It is constructed from premium-grade wood and has heavy-duty components that are long-lasting. This multifunctional unit is equipped with three cups to store styling tools and a front storage section for holding shampoos, makeup hair styling products, and other accessories. It has a convenient extension cord slot on the side to allow placement of a board in the front compartment.
Pros
Spacious slots
Durable
Multipurpose
Stable
Extension cord slot
Cons
Tools must be cooled before storage.
The Terra Home Hair Styling Tools Organizer is constructed from Paulownia wood that is durable and lightweight. It is designed with three front and three rear compartments for easy storage and display of all types of styling tools and sprays, lotions, and hair accessories. The heat-resistant cups are deep enough to allow safe storage of hot tools. This compact unit has a stable base that allows portability and minimizes the risks of the rack tipping over.
Pros
Lightweight
Durable construction
Compact
Cons
Not enough space for cords.
The over the cabinet door organizer from mDesign is equipped with metal rings sized to accommodate all hair styling tools like hair dryers, straighteners, and curling wands with ease. The lower basket keeps the cords in place or offers storage for brushes and styling products. This easy-to-install unit is fabricated from heat-safe sturdy steel wire that is rust-resistant and easy-to-clean. The elegant stainless steel finish fits in with any decor, while it frees up precious space.
Pros
Durable
Heat-safe material
Cons
The Unistyle Styling Supplies Organizer is crafted with eco-friendly wood that is sturdy and durable. It is designed with a stylish white surface with a rustic finish and "Hello Gorgeous" printed on the front to make an inspirational addition to the vanity table. The three cups at the rear are equipped with stainless steel liners to provide safe storage of hot styling tools. The front section eliminates beauty care product clutter from the countertop and provides storage for cords. The extension cord opening allows easy placement of the board in the front compartment.
Pros
Eco-friendly
Compact
Multipurpose
Smooth edges
Extension cord opening
Cons
Metal cups are not deep enough.
A hair tool organizer not only saves space but also keeps your styling tools safe. Now that you know how easy it is to declutter your vanity table, go ahead and choose from our list of the best hair tool organizers that will keep your styling tools within easy reach.
Recommended Articles