11 Best Hair Styling Tool Organizers For Brushes & Dryers – 2023
Keep all your essentials hair styling equipment in suitable storing solutions.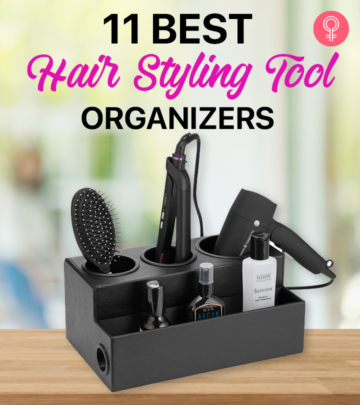 With a growing collection of dryers, sprays, and more, it's no surprise that your counter looks like a train wreck. When things get untidy and disorganized, that is when owning the best hair tool organizer is inevitable. These organizational tools provide easy access to your tools without compromising on space and structure. They can also be mounted behind your cabinet door or wall and away from your furry babies and little ones. Whether you're tight for space or looking for a place to store all your tools neatly away, these hair tool organizers provide multiple solutions to your organizing problems. Check out our list of 11 top hair tool organizers that can keep your precious tools safe from any damage!
11 Best Hair Tool Organizers Of 2023
Pros
Versatile design
Heat-resistant
Lightweight
Sturdy construction
Cons
Does not accommodate hair dryers with concentrators.
Price at the time of publication: $24.95
Pros
Spacious
Additional front storage
Sleek matte finish
Durable construction
Cons
Cannot be wall mounted.
Can't accommodate all dryers
Price at the time of publication: $33.9
Pros
Sturdy design
Lever-activated design
Easy to use
Cons
None
Price at the time of publication: $24.99
Pros
Ergonomic design
Durable
Portable
Space-saving
Non-slip foam feet
Multi-storage option
Cons
None
Price at the time of publication: $29.99
The hair tool organizer from Roloway is made of solid wood that is splinter-proof and makes an elegant addition to the room décor. It is equipped with three compartments that are lined with heat-resistant steel to accommodate hot styling tools, like a straightener, curling wand, and a blow dryer, while allowing them to cool down safely. This versatile unit is also designed with a front storage section, which is divided into three to offer easy organization for a variety of cosmetics, makeup tools, and brushes.
Pros
Solid wood construction
Compact design
Heat-resistant
Large storage capacity
Cons
Does not accommodate hair dryer with concentrator.
Price at the time of publication: $24.25
Pros
Durable
Padded brackets
Easy to install
Scratch-resistant
Cons
None
Price at the time of publication: $20.24
The two-tiered storage caddy from Alsonerby is crafted from durable metal, which is rust-resistant and can be wiped clean. It is designed with three sections on the top level to hold styling tools, while the bottom basket offers easy organization of hair brushes, sprays, and toiletries, or it can also be used to store the styling tool cords. This easy-to-install unit fits over a 1.77-inch-thick door. It can also be wall-mounted with the installation hardware provided.
Pros
Heat-resistant
Flexible installation
Large capacity
Easy to clean
Cons
Overhang is not suitable for cabinets.
Price at the time of publication: $24.99
Pros
High-quality build
Anti-scald
Waterproof
Wear-resistant
Convenient heat insulation
Adjustable dividers
Easy to carry
Cons
None
Price at the time of publication: $62.99
Pros
Lightweight
Durable construction
Compact
Cons
Not enough space for cords.
Does not accommodate dryers with long barrels or concentrators
Price at the time of publication: $30.95
Pros
Durable
Heat-safe material
Cons
Price at the time of publication: $20.49
The Unistyle Styling Supplies Organizer is crafted with eco-friendly wood that is sturdy and durable. It is designed with a stylish white surface with a rustic finish and "Hello Gorgeous" printed on the front to make an inspirational addition to the vanity table. The three cups at the rear are equipped with stainless steel liners to provide safe storage of hot styling tools. The front section eliminates beauty care product clutter from the countertop and provides storage for cords. The extension cord opening allows easy placement of the board in the front compartment.
Pros
Eco-friendly
Compact
Multipurpose
Smooth edges
Extension cord opening
Cons
Metal cups are not deep enough
Price at the time of publication: $24.79
Organizers make your everyday life much easier. A specific organizer is essential if you're a hair stylist or own various hair-styling tools such as dryers, combs, brushes, and straighteners. But how to choose the best one? Before buying the best hair styling tool organizers, here are some important things to consider to keep all your equipment safe and segregated.
Things to Consider Before Buying Best Styling Tool Organizers for Brushes and Dryers
The best styling tool organizer must have a design that fits anywhere and ensures convenient storage. The organizers can be tabletop or wall-mounted but must safely store the combs, brushes, and flat irons without the chance of tipping over or colliding. In addition, the inner drawers and cabinets must be adequately set up to ensure smooth airflow and prevent overheating of styling accessories.
Choose a hair styling tool organizer that is made of premium quality material. This may include heavy-duty plastic, stainless steel, high-grade synthetic leather, solid wood, or aluminum. The material you choose must be durable, sturdy, and resistant to heat or rust. It should be easy to clean, require less maintenance, and be fit to accommodate hot styling equipment. The material must be eco-friendly and lightweight to ensure easy portability.
Ensure that your hair styling tool organizers have separate holders for dryers, flat irons, combs, and cosmetics. They should be easy to install, assemble, and have separate slots to fit power cords. Many organizers have open designs and separate compartments to provide better storage options. It also allows you to segregate cosmetics, makeup tools, and styling equipment. The hair styling tool organizer must look elegant to enhance the feel of your dressing room. In addition, it should be budget-friendly and multifunctional.
Why Trust StyleCraze?
The author of this article, Shiboli Chakraborti, has a keen interest in hair care and styling. She loves to explore various hair care products. She has compiled the list of hair tool organizers after reading customer feedback from the trusted online forums and thorough research. These tools are a must-have to save space, and they provide easy access to your hair care tools.
Frequently Asked Questions
How do you organize hair products and tools?
You can organize your hair products and tools by storing them away in any cabinet in your house. Alternatively, you can invest in a hair styling tool organizer such as the Roloway Wooden Hair Tool Organizer.
How do you keep the curling iron cord from tangling?
You can keep your curling iron cord from becoming a tangled mess by using foam pipe insulation or a paper towel roll and inserting the folded cord into the tubing before storing it away.
Can I use a regular organizer as a hair tool organizer?
Yes, you can use regular organizers such as the cabinet over your sink, magazine holders, wall-mounted organizers,s etc. as hair tool organizers.
How can I organize my hair tools without zip ties?
If you don't have zip ties, you can organize your hair tools with twist ties or velcro loops.
How do you organize a hair dryer in a cabinet?
You can hang your hair dryer mounted on the cabinet door and use stainless metal boxes to store your various equipment and styling products separately.