11 Best Hair Treatments For Damaged Hair In 2023
There is no need to mourn damaged hair as you can transform it now from blah to wow!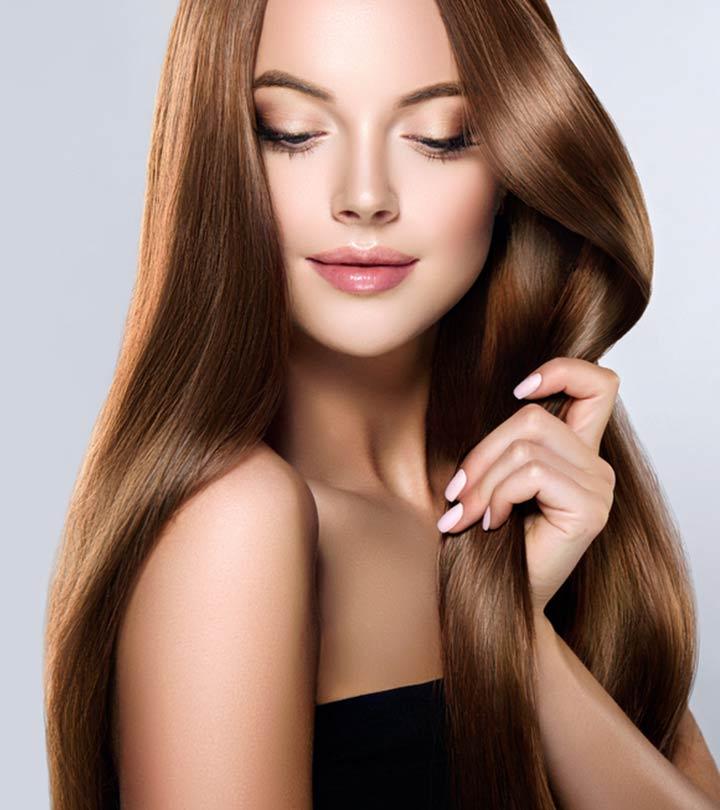 Over-styling, pollution, seasonal changes, improper diet, and nutrition can all result in dry damaged hair. To help protect your hair from further wear and tear, you would need to opt for the best hair treatment for damaged hair. Everyone likes to have good, healthy, long, and strong tresses, but you need to make time and effort to keep your hair nourished and damage-free. The best hair treatment options not only help cleanse and nourish your scalp, but also help lock in the moisture to get back the texture, smoothness, and shine of your hair strands.
Laura Dale, licensed cosmetologist, says, "As a hairstylist, I have seen the transformative effects that the right hair treatment can have on damaged hair. Whether it is from heat styling, chemical treatments, or environmental factors, damaged hair requires specialized care. From nourishing hair masks to restorative leave-in treatments, there are a variety of options to help repair damaged hair."
To know which hair treatment is most suitable for your hair, you need to be aware of your hair type and concerns first. Thin brittle hair, thick dry hair, hair prone to breakage or excess hair fall, frizz, itchy scalp, color-treated hair, or heat-damaged hair, you need to narrow down your hair woes and then select the required hair treatment accordingly. To make the task easy for you, we have shortlisted the 11 best hair treatments for damaged hair in this article.
11 Best Hair Treatment Products For Dry Damaged Hair Reviews Of 2023
Repair and strengthen your hair with the Olaplex Hair Perfector. This hair perfector repairs damaged hair and broken hair bonds. The hair perfector can also work effectively on chemical, thermal, and mechanical damaged hair. It restores damaged hair and strengthens the structure of hair For more information about the product, click this video.
Pros
Vegan
Nut-free
Gluten-free
Cruelty-free
Paraben-free
Sulfate-free
Phthalate-free
Phosphate-free
Cons
None


Quick Tip
Prolonged sun exposure can damage hair follicles, leading to brittle, discolored, and textural changes. Use hats and SPF-loaded hair care products to avoid the sun during peak hours and minimize hair damage.
Price at the time of publication: $30
Botanical oil from hairfinity is truly a blessing for dry hair. This oil is a blend of many wonderful oils like coconut oil, almond oil, jojoba oil, olive oil, etc. that contribute towards better hair growth and intense nourishment. You can use this oil just like a regular hair oil in order to derive the benefits of a serum, conditioner, and hair rejuvenator. The product suits all hair types including chemically-treated hair and acts as an effective hair treatment for damaged hair. With regular usage, you can expect less hair breakage, improved shine, and faster growth. Check this video to learn more about the product.
Pros
Chemical-free formulation
Natural ingredients
Versatile product
Advanced haircare treatment
Cons
The smell might be too strong for some
Price at the time of publication: $25.99
Vitamins Hair cosmetics serum is a unique formula that lets you repair your damaged hair easily. It is a keratin induced 24 carat hair serum that revives your mane and gives you shinier, fuller, and smoother hair. The formula is water based and non-sticky to touch. Just like a regular serum, this one can be applied after washing your hair or before using a heated styling tool on your hair. For hair that gets ruined in humid weather, this is a suitable hair treatment product. Also, it is a unisexual product and can be used by both men and women. Take a look at this video to get more information on the product.
Pros
Non-oily
Light-weight formula
Leave-in formula
Good to use in humidity
Cons
Might not work on frizzy hair

Did You Know?
Keratin is derived from food, animal wool, feathers, and even horns. Our nails, hair, and skin are composed of keratin, and it can also be found in internal organs.
Price at the time of publication: $17.58
Tea tree oil has always been a true hair friend. Keeping that mind, Maple holistics has come up with this tea tree special formula shampoo. It is a great blend of oils like lavender, rosemary, and tea tree oil that makes the scalp healthy and hair shiny smooth. The shampoo works as one of the best hair treatments for dry and damaged hair with its mild formulation and stimulating properties. This tea tree shampoo removes scalp build up dirt, makes hair less greasy, and works as an anti-breakage hair treatment. It also tackles dandruff and lets you enjoy a healthy non-flaky scalp.
Pros
Herbal formula
Makes hair dry
Good for itchy scalp
For both men and women
Cons
Price at the time of publication: $11.95
As the name suggests, this is undoubtedly the most suitable and healing haircare treatment for damaged hair. The product works as a color damaged hair treatment and repairs hair especially the ones that are damaged due to frequent coloring. It even works towards protecting your color and keeping the good health of over-processed hair. Enriched with cornflower, yellow rose, calendula, and echinacea, this leave-in-hair treatment prevents color from fading and improves hair texture. Plus, it is very easy to apply this light-weight formula.
Pros
Nice fragrance
Multifaceted product
Good for color-treated hair
Works for all hair textures
Cons
Leaves hair greasy when overused
Price at the time of publication: $31.93
Shea Moisture Raw Shea Butter Deep Treatment Masque infused with sea kelp and argan oil, is highly nourishing for dry and damaged hair. This natural hair mask restores natural lipids to damaged hair and performs the role of a natural hair breakage treatment. Application of this hair breakage product is super easy. All you need to do is apply the product generously on clean wet hair. Spread the formula evenly with a wide tooth comb. Let it rest for 5 minutes and rinse thoroughly.
Pros
Super hydrating
Great for damaged hair
No silicons
No sulfates
Cons
Price at the time of publication: $12.43
Recamier Salon In Leave On Treatment gives you the much-needed care that your hair needs. It is an immense nourishing formula that rejuvenates your damaged hair and gives them salon finish. This unique product is enriched with Moroccan argan oil, and amino acids that nourish hair making them silky smooth. Treating over-processed or dry hair is simple with this leave-in conditioner for curly and straight hair. It makes hair shiny and healthy and helps you evade dryness just like a good hair treatment for damaged hair.
Pros
Moisturizing formula
Good for curly hair
Tames frizz
Effective on dyed hair
Cons
Might not work on straight hair
Price at the time of publication: $14.99
If you want a hair-strengthening and thickening treatment, try the Luseta Biotin & Collagen Hair Mask. It is infused with argan oil that can hydrate your hair naturally and restore frizzy and damaged hair. The biotin and collagen in the formula help induce hair growth by strengthening the hair follicles. If you have damaged hair caused by excessive styling, heat, and bleach, this hair mask is a must-try to make your hair healthier and glowing.
Pros
Color-safe
Gluten-free
Paraben-free
Sulfate-free
Suitable for thin, dry, and over-processed hair
Cons
None
Price at the time of publication: $16.49
This keratin-enriched leave-in conditioner is what you need to detangle dry hair easily without stressing your hair strands. It is a non-stick damaged hair treatment that is deeply nourishing in nature. You can enjoy healthy hair after every single application without weighing your hair down. This leave-in conditioner is to be used after you clean your hair properly. It controls frizz and adds luster to your hair without taking much time. 
Pros
Light-weight
Heat protectant
Leaves no residue
Easy-to-apply
Cons
Might not help with easy detangling
Price at the time of publication: $16.9
Nature Nut hair serum is a unique blend of natural oils like macadamia oil, coconut oil, argan oil, shea butter, and Brazil nut. Loaded with herbal ingredients, it is a storehouse of complete nutrition for hair care. Whether you have dry or damaged hair, bleached hair, or color-treated hair, it works for all. This herbal formula when applied properly forms a coating on your hair and protects against elements that destroy hair quality. It needs to be applied in a very less amount all over hair strands for a silky smooth finish.
Pros
Versatile product
Suits chemically treated hair
Dye-free formula
Paraben-free
SLS-free
Cons
Smell might not be pleasing to all
Price at the time of publication: $17.99
The Bold Uniq Boldplex Bond Restore Hair Oil 7 is a potent hair oil for dry and damaged locks. It helps reverse signs of severe damage and split ends and boosts natural shine. The unisex formula locks in moisture and conditions your hair inside out. It also provides thermal protection, increases manageability by minimizing flyaways and frizz, and improves overall hair texture. The weightless styling oil contains a blend of argan oil, avocado oil, jojoba seed oil, and camellia oil that deeply nourishes your hair strands and scalp for strong, lustrous hair. Though the hair oil is suitable for all hair types, it is best suited for excessively dry, damaged, color-treated, and bleached hair types.
Pros
Vegan
Lightweight
No residue
Provides heat protection
Easy to use
Cruelty-free
Paraben-free
Sulfate-free
Phthalate-free
Mineral oil-free
Formaldehyde-free
Environment-friendly
Cons
Not suitable for fine hair
Price at the time of publication: $19.99
There comes a time when your hair can't keep up with your funky personality anymore, and the frequent changes you make it go through start causing serious damage. But thanks to the beauty revolution, gone are the days you had to chop off the damaged parts! All you need to do is get a treatment product for damaged hair and offer your tresses some TLC. But, before you purchase one, you need to go through these guidelines that will help you find the right match for your hair.
Points To Keep In Mind Before Purchasing Treatment Products For Damaged Hair
You cannot heal your tresses by putting more chemicals on it. Avoid any product that has parabens, silicones, sulfates, phthalates, or phosphates. The best thing to do would be to go for a non-toxic, chemical free formula. Opt for formulas with ingredients like argan oil, shea butter, coconut oil, or olive oil that can retain moisture and keep your tresses well-nourished.
If you continue to heat style your hair despite the damage, choose leave-in products over ones that you will have to wash off. This will provide added nourishment and heal your tresses. Opt for the ones that come with heat protection as well.
If you have greasy hair, choose a formula that is lightweight and leaves no residue after it is cleansed off. This will reduce your chances of developing scalp itching or dandruff.
Those with curly hair will need different treatment products than those with straight hair. Check your hair texture and determine individual needs before making a purchase.
As a rule of thumb, those with wavy and curly hair should get nourishing hair treatment products that tend to define your locks and hydrate them well. Those with straight, thin, or fine hair need to choose water or gel-based products. However, if you have specific needs, such as extremely frizzy, dry but straight hair, you can go for creamy formulations.
Opt for fragrance-free products whenever possible as added fragrances may be damaging to the tresses. However, if you decide to use a perfumed product, choose mildly-scented ones.
When it comes to treatment products, most of the good ones are available at a higher price. However, you can go for mid-priced ones and see if they suit your hair. It is a good idea to stick to branded products when it comes to buying hair treatment products. This way, you can trust their quality and be sure that your hair won't be damaged any further.
How To Repair Dry Damaged Hair?
Hair damage is generally caused due to lack of nourishment, moisture, and good care. Usually the hair cuticle opens when there is hair damage and the shaft gets more damaged. With the passage of time, hair damage tends to get deteriorated if not taken good care of. Below are a few steps that can help you repair dry damaged hair. With these tips, you can actually repair strands and make your hair healthy.
Try using hair oils to nourish your hair and scalp deeply.
Use mild shampoos, or shampoos free from sulfates to avoid ripping off scalp oils needed for nourishment.
Never ever skip a conditioner. A conditioner is required to lock in moisture in your hair. Also, it helps to keep your hair tangle-free.
Use creamy conditioners that can work quickly. Creamy conditioners work way better than runny textures.
Opt for hair masks at least once a week. Masks are great for that deep nourishment that hair needs.
Do not comb your hair when wet. It can lead to stressing hair roots resulting in hair fall and damage.
Use a serum to detangle hair instead of combing them through.
Try to use heat styling tools less or avoid using them at all.
Use homemade hair masks including ingredients like banana, honey, or olive oil.
Apply eggs and essential oils at home to nourish your hair deeply.
Go for a good shampoo that can reduce damage.
Choose a hair care treatment especially designed for dry and damaged hair.
Do not sleep in tight hairstyles. It can cause stress on hair strands.
Always use a wide tooth comb to brush your tangles.
Give your hair towel wrap hot treatments at home.
Use oils that are good for hair and scalp health like argan oil, almond oil, coconut oil, etc.
Infographic: Tips On Purchasing The Best Treatment Products For Damaged Hair
Your hair goes through a lot. Pollution, hair styling, stress, and improper diet contribute to hair damage. Keeping your hair healthy and shiny takes time, effort, and products. Check out the infographic below for tips to remember when buying the best treatment product for damaged hair.

Damaged hair looks dull and lifeless. It is caused due to various reasons like pollution, styling gels or creams, climatic conditions, and overuse of heat styling tools. There are various hair treatment options available for damaged hair. These treatments help lock in the natural moisture and hydrate your strands to keep them frizz-free. In addition, the treatment helps in regaining the texture and adds shine to the hair. These treatments are suitable for all hair types including color-treated hair, heat-damaged hair, and thin hair. Understand how to repair damaged hair before picking the product that addresses your condition.
Why Trust StyleCraze?
The author of this article, Vaishnavi Kothuri, is a hair care enthusiast who actively looks out for hair care products and reviews them. She has carefully browsed through online reviews and considered choosing these hair treatments for her readers. These treatments will protect your hair from further wear and tear, lock in the moisture in order to restore your hair's texture, smoothness, and shine.
Frequently Asked Questions
Can Keratin treatment fix damaged hair?
Yes, a keratin treatment can repair damaged hair. It strengthens the tresses and makes them less prone to breakage. This treatment also smoothens the hair and seals in enough moisture.
How long does it take to repair damaged hair?
If you take care of your tresses religiously, it will take six months to a year to repair damaged hair completely.
What are the tips for using a hair treatment for damaged hair?
Wash your hair with lukewarm water before the hair treatment. Do not forget to comb your hair thoroughly and detangle your tresses after the process. Finally, keep your hair protected by applying a leave-in conditioner after the treatment.
Can damaged hair still grow?
Yes, damaged hair can grow but at a slower rate. However, after indulging in hair treatments and combating damage, your tresses might start growing at a normal speed.
Which treatment is best for frizzy and damaged hair?
The Recamier Professional Salon In Leave On Treatment is great for frizzy and damaged hair. It helps seal in moisture and makes your tresses appear shiny.