The 9 Best Hair Brushes For Toddlers That Are Gentle – 2023
As soft as your baby's cheeks, these bristles can help you comb their hair gently.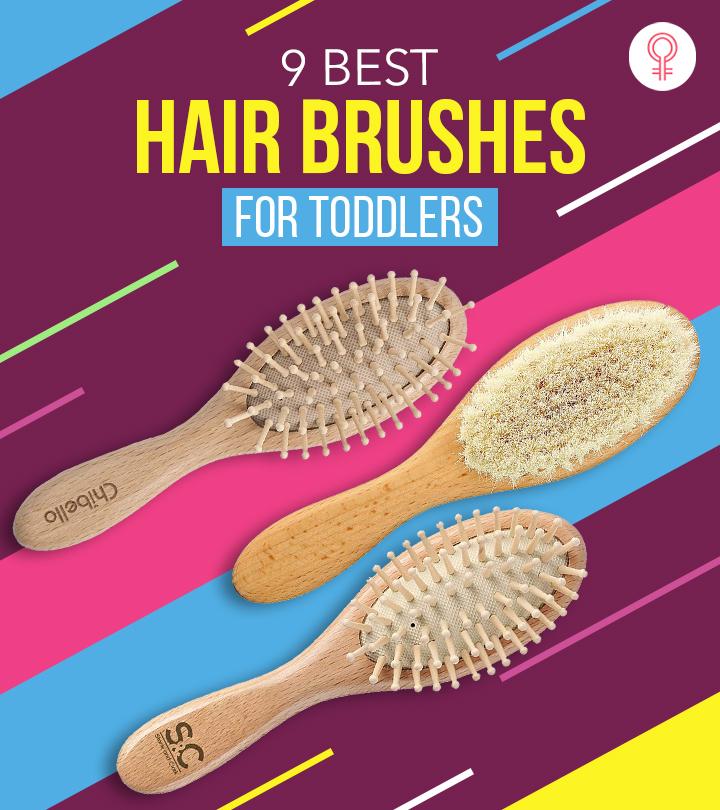 It's already a challenge to keep your toddler sitting in one place while you brush their hair. What makes it worse are regular hairbrushes that tug and pull at their roots, making them detest taming their tresses. This is why you need to invest in the best hairbrush for toddlers that are gentle enough for your precious one's delicate strands. They are made using soft bristles that don't get tangled in your baby's hair, and your child will also enjoy the process, making it more pleasurable for you and them. Below we've listed the 9 best hairbrushes for toddlers that will help vanish all their hair woes.
9 Best Hair brushes For Toddlers
The natemia Wooden Baby Hair Brush has fine, all-natural, goat hair bristles that glide gently and offer a relaxing experience. The soft and safe bristles redistribute the natural hair oils without pulling on the hair or damaging the scalp. Regular massaging with the brush helps prevent the buildup of cradle cap. This hair brush is made from natural beech wood that reduces static and frizz while smoothening the hair.
Pros
Soft bristles
Gentle
Natural material
Cons
Price at the time of publication: $12.95
The Chibello Baby Wooden Hairbrush Set includes a pure goat hairbrush, a wooden massage brush, a wooden comb, and a bonus soft silicone massager. The gentle goat hair brush provides intensive care to prevent buildup, cradle cap, and frizz. It softly detangles the hair and promotes hair growth. The beach wood massaging brush has relaxing benefits, enhances blood circulation to the scalp, and improves sleep. The soft detangling wooden hair comb comes with rounded teeth to painlessly detangle hair without producing static. The soft silicone massager exfoliates the scalp and softens cradle cap. Watch this YouTuber's honest review to get a better idea about the product and its features.
Pros
Eco-friendly
Suitable for all hair types
Glue-free
Plastic-free
Toxin-free
BPA-free
Cons
Price at the time of publication: $19.97
The Yarramodes Wooden Comb And Brush set is made with safe and eco-friendly material that helps prevent cradle cap. The soft and natural mountain wool bristles are gentle on the scalp. The natural wood prevents static, promotes blood circulation, provides better sleep, and relaxes your child. This toddler brush set is hypoallergenic and BPA-free.
Pros
Soft bristles
Hypoallergenic
Eco-friendly
Value for money
Cons
Not suitable for thick hair.
Price at the time of publication: $11.69
The FIORA NATURALS Detangling Hair Brush works for both kids and adults to easily detangle wet or dry hair. This all-natural biodegradable hairbrush has nylon bristles that reduce split ends and breakage without any pain or hair pulling. Its non-slip handle has a comfortable grip, making hairstyling easy. The flexible bristles evenly distribute natural oils to your toddler's strands. The quality material suits coarse, curly, wavy, straight, and coily hair.
Pros
Non-static
Long bristles
Non-slip
Suitable for all hair lengths
Cons
Not suitable for thick hair.
Price at the time of publication: $8.47
5. Best Soft Bristles: HA&DA Good Hair Day
The HA&DA Good Hair Day wooden natural baby hair brush and comb set is extremely soft and safe. It is made with premium quality material like soft goat hair, beach wood bristles, and maple wood comb.
The gentle bristles glide smoothly over tender baby hair to detangle the hair, eliminate flakes, and reduce cradle caps. The rounded wooden bristles offer massaging effects and increase blood circulation to relax the child. The non-slip wooden handles of the brushes are made of natural beech wood without any chemical coating to prevent releasing harmful fumes. This grooming kit works for all hair types.
Pros
Includes a nail filer
Gentle
VOC-free
Smell-free
Soft bristles
Hypoallergenic
Non-irritating
Cons
The LotFancy Wooden Baby Hairbrush and Comb Set includes a soft bristle brush, a wooden massaging brush, and a comb made of high-quality wood. The goat hair brush prevents cradle cap, removes flakes and buildup, and soothes an irritated scalp for deep relaxation and good sleep.
The beech wood handle is durable, safe, easy to clean, and handy for kids. The wooden bristle brush is ideal for massaging. Ithas a hole in the center for airflow, and it promotes blood circulation and stimulates the scalp for healthy hair growth. The peach wood comb gently detangles the hair without snagging or pulling.
Pros
BPA-free
Toxin-free
Non-static
Hypoallergenic
Cons
Bristles lose form quickly.
Price at the time of publication: $11.99
The IE. CareWooden Hairbrush Set includes a beechwood massaging brush, a gentle goat hairbrush, and a maple wood comb to groom and detangle your toddler's hair. These brushes help reduce dryness, flakes, and cradle cap while relaxing and improving sleep.
The silky soft goat brush bristles condition the hair while distributing the natural oils. The wooden bristled brush and comb detangle the hair and stimulate blood flow to the scalp. The silicone brush exfoliates your baby's scalp while bathing. This set is free of chemicals and BPA, making it safe for toddler grooming.
Pros
Hypoallergenic
Durable
Lifetime guarantee
Toxin-free
Includes a nail file and silicone brush
Comes with a storage pouch
Cons
Price at the time of publication: $10.59
The Stone and Clark Wooden Baby Hairbrush Set includes a wooden bristles brush, a goat hairbrush, and a wooden comb to prevent cradle cap and detangle your toddler's hair. It is gentle on your child's soft spots and provides a healthy scalp and happy hair.
The soft goat bristles brush soothes and relaxes the scalp and prevents flakes and buildups. The wooden bristle brush activates hair growth by stimulating blood flow to the scalp. It also has calming and relaxing effects. The detangling wooden comb removes knots without pulling the hair.
Pros
Non-static
Hypoallergenic
Natural material
Cons
Price at the time of publication: $18.99
The Jambo Baby Wooden Hair Brush manages your toddler's soft hair, relaxes them, and promotes hair growth. This eco-friendly and detangling hairbrush set is made of beech wood and natural goat hair bristles to soothe the scalp keep it irritation-free and healthy. The gentle hair brush lightly massages the scalp to increase blood circulation and detangle the hair. It makes the best choice for the soft scalp of babies up to 4 years of age.
Pros
Eco-friendly
Non-static
Irritant-free
Money-back guarantee
Durable
Cons
Not suitable for thick hair.
Price at the time of publication: $13.99
Why Trust StyleCraze?
The author Shiboli Chakraborti is a certified skin care coach with considerable expertise in hair care. Toddlers need soft specialized hair brushes that are gentle to the hair, and she knows what to look for in them. She has meticulously researched the best brush to help her readers choose the perfect one for their children. Soft bristles prevent your child's hair from getting tangled, which is pleasing to the child as well.
Frequently Asked Questions
Should you brush toddlers' hair?
Yes, you must brush toddlers' hair to keep the scalp and hair healthy.
What kind of brush should I use for a 2-year-old?
A hairbrush with soft bristles is the best for a 2-year-old.
Should you comb or brush baby hair?
You can comb and brush your baby's hair to keep the scalp and strands healthy. However, use a soft-bristle brush that will not snag or tug your baby's hair. Also, avoid using headbands or ponytails as they pull the hair back too tightly.
At what age should a child brush their hair?
You can start brushing your baby's hair anytime after birth. Use a soft, soft-bristle brush for your regular grooming routine.
Are toddler brushes necessary?
Yes, toddler brushes are necessary to detangle the hair and stimulate the scalp, promoting healthy hair growth.
Recommended Articles