The 9 Best Anti-Humidity Hairsprays
Keep your beach waves in place even in the most humid of climates with these products.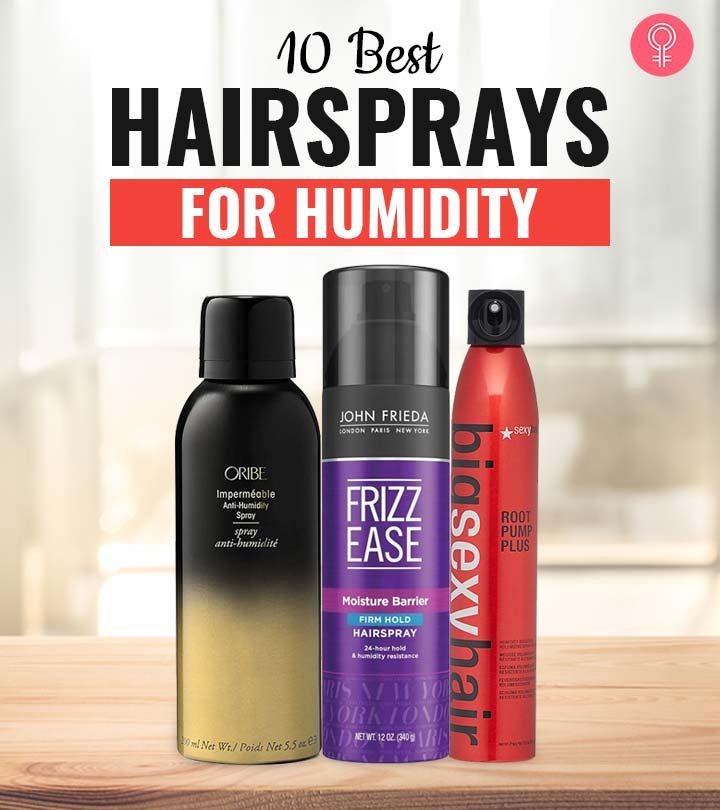 Ah, humidity — the numero uno perpetrator of bad hair days. Often, the weather can be so damp that only the best hairspray for humidity can save your locks from wilting. Seven Yu, Senior Hairstylist and Chief Beauty & Creative Officer at Glam Set Go., says, "Anti-humidity hair sprays work by tightly sealing the hair shaft, the cuticle layer of the hair. This acts as a barrier over the hair and eliminates and reduces frizz. The major benefits of an anti-humidity spray include locking in natural moisture, manageability, and giving high shine to the hair." Read on to find out how these sprays work and which of the 10 options listed here would make the perfect fit for you.
What Are Hairsprays? How Do They Work?
Hairsprays are formulated with a mix of holding ingredients that help you with long-lasting hairstyles. Besides offering an all-day hold, they also volumize the locks, address other issues like frizz and flyaways, and keep the hair shiny.
Hairsprays are of two types: aerosol and non-aerosol. Aerosol hairsprays are meant for widespread application. Non-aerosol hairsprays contain more water than alcohol and have a pump-like nozzle for a more targeted spray.
Anti-humidity sprays are a must-have in your hair care routine for beautiful, shiny, and sleek hair. Yu clarifies, "Anti-humidity sprays act like sealants and topcoats to the hair. They create barriers to block out the moisture in the air to prolong a frizz-free hairstyle."
Instead of freezing the hair in place like traditional hairspray, the mist-like anti-humidity sprays form a flexible, hydrophobic film over each strand to prevent the moisture in the air from entering the hair cuticles. These sprays can be layered over your regular hair styling products as the final step in your routine.
Ahead, we have the 9 best anti-humidity hairsprays for all hair types that will help fight frizz and flyaways. Let's check out!
The 9 Best Hairsprays For Humidity For All Hair Types
The Color Wow Dream Coat Supernatural Spray prevents humidity or static from damaging the locks. This hairspray contains a heat-activated polymer that tightens, compresses, and seals your hair strands to give them a shiny, silky smooth texture. The UV filter in this lightweight hairspray protects your hair color from fading. The effect lasts even after 2-3 hair washes, so the hair remains frizz-free despite the humidity. The non-greasy spray does not leave residue or weigh your hair down. If you want to know more about this product, check out this video on YouTube.
Pros
Lightweight
Non-greasy
No residue
Mild fragrance
Cons
May make your hair brittle
Contains DMDM
Price at the time of publication: $28.0
If you want a workable hold without crunchy stiffness, the Garnier Fructis Style Flexible Control is the best pick for you. Its formula is infused with bamboo extract to enhance the color of your hair. It makes the hair bouncy and provides a 24-hour long-lasting hold in 90% humidity. This hairspray keeps your hair in place without frizz and flyaways. The UV Color Shield formula maintains the radiance of your hair color. Go ahead and check out this YouTuber's video for more details about the product.
Pros
Refreshing fragrance
Cruelty-free
Lightweight
No residue
Non-sticky
Cons
None
Price at the time of publication: $3.71
The Design Essentials Reflections Liquid Shine transforms dull, dry, lackluster hair with its scientifically advanced formula. It eliminates frizz and controls flyaways. This lightweight, alcohol-free hairspray gives your hair a silky, luminous shine without drying it out or leaving behind any greasy residue. The oil-free hairspray does not weigh your hair down and is suitable for all hair types. It protects your hair from heat damage and can be used on damp and dry hair. To get a better understanding of the product, you can check out this video on YouTube.
Pros
Oil-free
Lightweight
No residue
Provides thermal protection
Cons
Price at the time of publication: $14.33
The Elnett Satin Extra Strong Hold Hairspray from L'Oreal Paris uses micro-diffusion technology to protect your hair from humidity and frizz. This long-lasting hairspray provides resistance against humidity for 24 hours. It coats the hair uniformly, controls flyaways, and locks your hairstyle in place without leaving behind any flakes or residue upon brushing or styling. It is also available in the extra strong hold variant and works well on colored and damaged hair.
Pros
Long-lasting
Brushable texture
Safe for colored hair
No residue
Cons
Contains artificial fragrance
Price at the time of publication: $12.99
The Sexyhair Big Spray & Stay Intense Hold Hairspray provides intense hold and humidity resistance up to 72 hours. It has a flake-free and transparent formula that ensures high shine. The formula contains volumizing and thickening ingredients and is specifically formulated for fine and thin hair.
Pros
Volume control
Non-sticky
Pleasant fragrance
Cons
Price at the time of publication: $20.95
The Living Proof No Frizz Humidity Shield Hairspray protects your hair from moisture, frizz, and static. It is formulated with the patented Healthy Hair Molecule – a humidity-resistant polymer, high-refractive emollient, and conditioning agent that provides six times more humidity protection on finished styles. It protects your hair from high temperatures (450°F/230°C) and harmful UV rays and is safe for color-treated hair.
Pros
Provides heat protection
Prevents static
Lightweight
Color-safe
Cruelty-free
Paraben-free
Phthalate-free
Silicone-free
Cons
Contains artificial fragrance
Price at the time of publication: $25.0
The IT Haircare Mega Freeze Extreme Hold Hair Spray contains vitamin B5 and hydrolyzed wheat proteins that repair and renew damaged hair. It adds thickness and volume to your hair, while the optical brighteners boost shine. This hairspray provides a strong hold for up to 24 hours without feeling sticky or leaving behind any residue. In addition, this flake-resistant hairspray contains UV and weather protectants that protect your hair from harmful ultraviolet rays and humidity.
Pros
Dries quickly
Non-greasy
Provides heat protection
Imparts shine
No residue
Provides UV protection
Adds volume
Color safe
Cons
None
Price at the time of publication: $13.45
The Oribe Impermeable Anti-Humidity Spray is formulated with unique copolymers and antioxidants like tocopheryl acetate, retinyl palmitate (vitamins E and A derivatives), and pro-vitamin B5. Panthenol swells the hair shafts, adding thickness and volume to your hair, while vitamins A and E prevent external damage. This anti-humidity finishing spray shields your hair from humidity, minimizes frizz, and adds texture and shine to your hair. It protects blowouts and hairstyles in most climates. The UV protectants in this spray prevent color damage and fading and protect keratin-treated hair.
Pros
Lightweight
Provides heat protection
Provides UV protection
Paraben-free
Sulfate-free
Gluten-free
Vegetarian
Cruelty-free (PETA approved)
Color safe
Cons
Contains artificial fragrance
Price at the time of publication: $42.0
The ColorProof HumidityRx Anti-Frizz Weatherproof Hairspray contains a blend of proteins from soy and potatoes to strengthen your hair and botanical extracts of rosemary, yarrow, and geranium to protect and nourish it. It is developed with FlexiShield Technology that provides heat protection up to 450°F and prevents color fading. This anti-humidity spray contains cold-pressed sunflower oil that provides sun protection and offers an ultra-dry, glossy finish without any hold.
Pros
Lightweight
Non-sticky
Color safe
Heat protection
Suitable for all hair types
Cons
None
Price at the time of publication: $29
Humid weather conditions can ruin your hairstyle and make your locks frizzy. You can avoid that with any of the anti-humidity hairsprays on the list. Some may work as traditional hairsprays and hold the hairstyle in place for hours. However, since anti-humidity hairsprays are designed to provide multiple other benefits, consider the following points before choosing one.
Things To Consider Before Buying A Hairspray
Additional Benefits
Anti-humidity hairsprays provide multiple other benefits apart from protecting the hair from moisture. Some may work as a heat protectant or hold the hairstyle in place for hours, just like traditional hairsprays. Some sprays are also designed to add a glossy sheen to your tresses. Check the additional benefits before picking a product.
Hair Texture And Type
Hairsprays are customized according to the hair type and texture. For instance, hairsprays for fine hair may have volumizing properties and are oil-free. So, buy one that works for your hair type and texture.
Check The Ingredients
Most hairsprays contain a proprietary blend of ingredients (including alcohols) to protect the hair and hold the style. Some may contain botanical extracts, natural oils, and additional fragrances. Check the list before buying one.
Maintaining a hairstyle and keeping the hair frizz-free in humid weather conditions can be tough. Here are a few tips to help you.
Hair Care And Styling Tips For Dealing With Humidity
Pick The Right Shampoo And Conditioner
Choosing hair products made specifically for your particular hair type is important. For example, if your hair is naturally frizzy, chemically treated, or you use heat styling tools, you will need a sulfate-free, hydrating, and nourishing shampoo and conditioner.
Use A Leave-In Conditioner
Leave-in conditioners coat the hair strands to lock in moisture and nourishment. This helps your hair withstand humid weather conditions and stay healthy.
Always Use A Heat Protectant Before Styling
When using heat styling tools like a blow dryer, straightener, curling iron, or wand, make sure you apply a heat protectant first. It creates a barrier between the hot tools and protects the strands from heat damage and dryness.
Include A Hair Oil In Your Routine
To avoid the dreaded frizz on your hair, incorporate a good hair oil into your hair care routine. This will offer the right amount of nourishment to your scalp and hair and help minimize frizz.
Use An Oil-Based Serum
Preventing frizz in humid weather is all about keeping your hair sufficiently hydrated. In addition to your leave-in hair cream and hair oil, consider using an oil-based hair serum for frizz control and humidity protection. It will also add shine to your hair strands.
Do Not Step Out With Wet Hair
Heading outdoors with wet locks can be a disaster as the strands are vulnerable to damage and breakage when wet. So, take the time to dry your hair before stepping out.
First and foremost, avoid excessively hot water when shampooing and always use a conditioner. This helps to preserve the hair's natural moisture and balances the pH. This naturally reduces frizz.
Use lukewarm or cool water to rinse your conditioner. The hair contracts and allows the cuticle layer hair to seal more tightly like skin. This also means less frizz.
When towel drying the hair, dab, scrunch and squeeze instead of rubbing and creating too much friction. Friction roughs up the hair leading to more frizz.
Always blow-dry with a concentrator/nozzle. This allows for even airflow, giving a smoother and sleeker finish.
Now, let's look at some tips on using hairsprays for humidity.
How To Use Anti-Humidity Hair Spray: The Do's And Don'ts
Hold the spray nozzle at least 30 cm (12 inches) away from your hair while spraying.
Spray your hair in a continuous motion.
Ensure that the spray nozzle is not gummed up. This is because you will want a fine mist rather than spurts.
Hold your head upside down and shake your hair while spraying to volumize your hair. Alternatively, you can lift the hair segments and spray underneath.
Be careful with hairsprays if you have a sensitive scalp. They contain alcohol, which may dry the scalp and cause irritation.
To tame unruly strands, frizz, and flyaways, you can spray the product onto your hands and smooth your hair down. Alternatively, spray it on the hair brush before running it through your hair.
Here are some common hairspray mistakes you should avoid.
Common Mistakes To Avoid When Using Hairspray
Choosing The Wrong Texture
Always prefer light and impalpable formulas, which do not leave traces and residues, possibly without fragrance.
Applying It Before Heat Styling
One of the most common mistakes that many of us tend to make is using hairspray before using a straightener. This increases the risk of damage and may burn your hair.
Spraying Too Close To The Hair
Spraying the hairspray too close to your hair can ruin it and not guarantee an even distribution of the product. Place the spray can at least 12 centimeters away from the hair. Angle the nozzle to gently direct the jet upwards to get a light mist that will settle delicately and evenly over the entire hair.
Using It Frequently
This is a big NO-NO as using hairsprays multiple times a day may cause dryness, dullness, and weigh the hair down.
Applying It On Wet Hair
For best effects, your hair should be at least 70% dry before using hairspray. Using hairspray on wet hair can weigh it down.
Humidity-resistant hair sprays repel water and keep moisture from damaging your hair. This helps eliminate frizz and flyaways, especially in places with high humidity. If you want sleek and shiny hair, you can try the COLOR WOW Dream Coat Supernatural Spray. If you want an alcohol-free option, the Design Essentials Reflections Liquid Shine is the best, and the IT Haircare Mega Freeze Extreme Hold Hair Spray provides UV protection and holds your hairstyle all day long.
Why Trust StyleCraze?
The author, Oyendrila Kanjilal, is a certified skin care coach. She prefers using anti-humidity sprays to tame frizz and flyaways. She loves the COLOR WOW Dream Coat Supernatural Spray as it adds a glossy sheen to her tresses besides protecting it from humidity. Baishali has reviewed each product on the list carefully and consulted experts to help her readers make the best choice.
Frequently Asked Questions
Does hairspray protect against humidity?
Yes, anti-humidity hairsprays repel water and keep moisture from damaging your hair.
What is the best non-sticky hairspray?
The Sexyhair Big Spray & Stay Intense Hold Hairspray is the best non-sticky hairspray for humidity.
What can I put on my hair to prevent the effects of humidity?
The Oribe Impermeable Anti-Humidity Spray is one of the best anti-humid products that fight frizziness and tame flyaways.
Why is my hair so affected by humidity?
Humidity is moisture in the air that is caused due to breakage of hydrogen bonds, causing the hair to become frizzy and wavy and dry out completely.
Why does my hair get frizzy when it's humid?
Humidity enters your hair and rearranges the bonds of each hair fiber, turning a smooth look frizzy.
Do you shake hairspray before using it?
Yes. Shake the hairspray upside down before use to achieve more hair volume.
Recommended Articles