10 Best Hairsprays For Humidity – 2021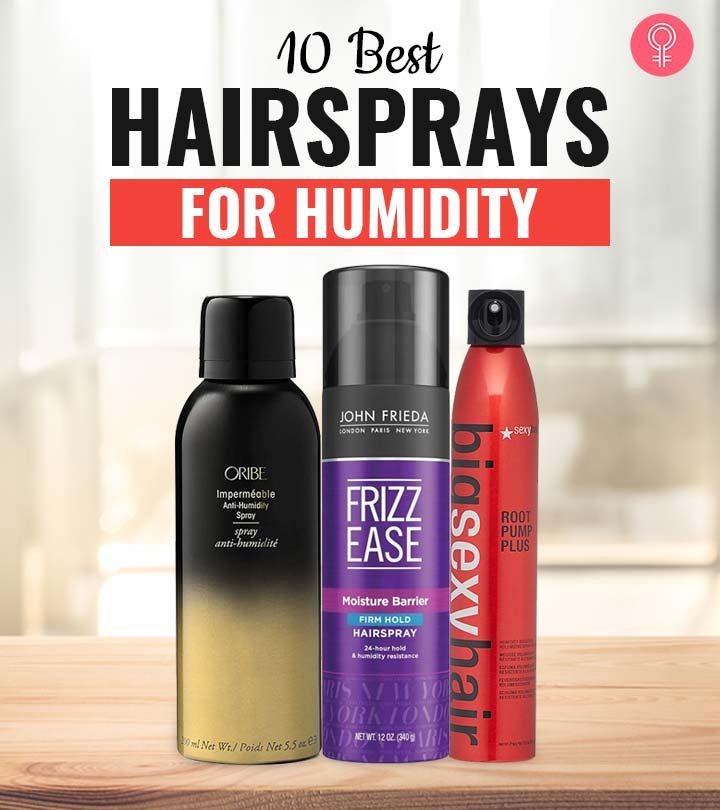 Humidity can wreak havoc on your hair! The moisture and static can damage your hair cuticles, which makes your hair frizzy, dry, and unmanageable. Hairsprays made with specially formulated polymers or water-resistant barriers bind to hair shafts, seal the hair strands, and shield your hair from frizz. These anti-humidity hairsprays protect your hair while nourishing it. They add volume and texture, so you can style your hair easily. These hairsprays also work as finishing sprays to hold your hairstyle in place for 24 to 72 hours. These hair products also contain shine boosters that make your hair look glossy and beautiful.
Check out this article if you want to combat humidity and weatherproof your hair. We have curated the 10 best hairsprays that will help you get silky smooth hair instantly!
10 Best Hairsprays For Humidity
COLOR WOW Dream Coat Supernatural Spray coats the hair strands individually to prevent humidity or static from damaging them and causing frizz. This hairspray contains a heat-activated polymer that tightens, compresses, and seals your hair strands to give them a silky smooth texture. It adds supernatural shine to your hair for a sleek styled look. The UV filter in this lightweight hairspray protects your hair color from fading. The effect lasts even after 2-3 hair washes, so your hair remains frizz-free despite the humidity. It is non-greasy, so it does not leave any build-up or weigh your hair down.
Pros
Eliminates frizz
Lightweight
Does not weigh your hair down
Makes hair shiny
Prevents static
Non-greasy
No build-up
Prevents hair color from fading
Lasts even after shampooing
Cons
May make your hair brittle or dry
Similar Products:
Oribe Impermeable Anti-Humidity Spray is formulated with unique copolymers and antioxidants like Tocopheryl Acetate and Retinyl Palmitate. Apart from Vitamin A and E derivatives, it also contains pro-vitamin B5 or panthenol that provides nourishment to your hair. Panthenol swells the hair shafts, which adds thickness and volume to your hair. This anti-humidity finishing spray shields your hair from frizz and adds texture and beautiful shine to your hair. It protects blowouts and hairstyles in most climates. The UV protectants in this spray protect hair that has been color- or keratin-treated, preventing color fading or stripping. It is free from parabens, sulfates, gluten, and other harsh chemicals. 
Pros
Lightweight
Adds texture to the hair
Provides heat-styling protection
Protects against the environment
Prevents sun damage
Paraben-free
Sulfate-free
Gluten-free
Vegetarian
Cruelty-free
Approved by PETA
Suitable for color- or keratin-treated hair
Cons
Contains artificial fragrance
Similar Products:
SEXYHAIR Big Spray & Stay Intense Hold Hairspray provides your hair with intense hold and humidity resistance up to 72 hours. This humidity-resistant spray offers long-lasting strength and moisture protection to the hair while adding a beautiful shine. The stronger and durable hold keeps hairstyles in place. Both men and women can use it to add texture to their hair.
Pros
Humidity resistance up to 72 hours
Long-lasting hold
Non-sticky
Cons
Similar Products:
No products found.
ColorProof HumidityRx Anti-Frizz Weatherproof Hairspray eliminates frizz and humidity with its proprietary ingredient technology. It uses a blend of proteins from soy and potatoes to strengthen your hair, while botanical extracts of rosemary, yarrow, and geranium protect and nourish the hair. The cold-pressed sunflower oil provides sun protection. It offers an ultra-dry finish without any hold. Additionally, it makes your hair glossy and also provides color and heat- protection.
Pros
Lightweight
Non-sticky
Safe for colored hair
Provides heat protection till 450 F
Suitable for all hair types
Cons
None
Similar Products:
Living proof No Frizz Humidity Shield Hairspray is a lightweight hairspray that protects your hair from moisture, frizz, and static. It is formulated with the patented Healthy Hair Molecule – a humidity-resistant polymer, high-refractive emollient, and conditioning agent that provides six-times more humidity protection on finished styles. It protects your hair from high temperatures (450°F/230°C) and harmful UV rays. It is safe to use on color-treated hair. This hairspray does not contain parabens, phthalates, and silicones and is cruelty-free.
Pros
Eliminates frizz
Works as a heat protectant
Provides UV protection
Prevents static
Lightweight
Protects hairstyles
Color-safe
Cruelty-free
Paraben-free
Phthalate-free
Silicone-free
Cons
Contains artificial fragrance
Similar Products:
The Garnier Fructis Style UV Color Shield Anti-Humidity Hairspray contains UV filters and bamboo extract that enhance the color of your hair. It makes the hair bouncy and provides a 24-hour long-lasting hold in 90% humidity. This hairspray keeps your hair in place without frizz and flyaways. The UV Color Shield formula maintains the radiance of your hair color.
Pros
Suitable for color-treated hair
Makes the hair bouncy
Contains UV filters
Lasts for up to 24 hours
Cons
Design Essentials Reflections Liquid Shine's Brilliant Shine Formula transforms dull, dry, lackluster hair with its scientifically advanced formula. It eliminates frizz and controls flyaways. This lightweight, alcohol-free hairspray gives your hair a silky, luminous shine without drying it out or leaving behind any greasy build-up. This oil-free hairspray does not weigh your hair down and is suitable for all hair types. It protects your hair from heat damage while using heat styling products or tools. It can be used on both damp or dry hair while styling.
Pros
Imparts a luminous shine
Oil-free
Lightweight
No residue
Eliminates frizz
Controls flyaways
Provides thermal protection during heat styling
Cons
John Frieda Frizz Ease Firm Hold Hairspray has a moisture barrier formula that offers humidity resistance and frizz-free hold for up to 24 hours. This lightweight and quick-drying hairspray holds a hairstyle in place without any product build-up. This texturizing spray is suitable for fine hair as it does not weigh your hair down even in extreme humidity. It provides firm hold hairspray and a UV filter for protection from sun damage. It dispenses a fine mist around the hair shafts, creating a protective barrier that seals in moisture, locks out frizz, and boosts instant shine.
Pros
Lasts up to 24 hours
Provides firm hold
Dries quickly
Lightweight
No residue
Provides UV protection
Imparts instant shine
Suitable for normal to fine hair
Cons
Contains artificial fragrance
The Elnett Satin Extra Strong Hold Hairspray from L'Oreal Paris uses micro-diffusion technology to protect your hair from humidity and frizz. This long-lasting hairspray provides resistance against humidity for 24 hours. It controls flyaways and locks your hairstyle in place. It coats your hair uniformly and disappears without leaving behind any flakes or residue upon brushing or styling. This hairspray provides a strong hold ideal for holding curls or popular hairstyles.
Pros
Long-lasting
Controls flyaways
Provides strong hold
Brushable texture
Safe for colored hair
No product build-up
Cons
Contains artificial fragrance
IT Haircare Mega Freeze Extreme Hold Hair Spray contains vitamin B5 and hydrolyzed wheat proteins that repair and renew damaged hair. It adds thickness and volume to your hair while the optical brighteners in it boost shine. This hairspray provides a strong hold without feeling sticky or leaving behind any residue. This flake-resistant hairspray contains  UV and weather protectants that protect your hair from the harmful ultraviolet rays and humidity.
Pros
Lasts up to 24 hours
Dries quickly
Non-greasy
Prevents heat damage
Repairs damaged hair
Imparts shine
No residue
Provides UV protection
Adds volume
Protects hair color
Cons
None
Humidity-resistant hairsprays repel water and keep moisture from damaging your hair. This helps in eliminating frizz and flyaways, especially when you are in places with high humidity. Anti-humidity products are a must-have in your hair care routine for beautiful, shiny, and sleek hair. Try out one of the hairsprays listed above to get gorgeously frizz-free hair.
Recommended Articles