The 11 Best Hairsprays To Style All Hair Types – 2023
Tame your rogue locks and combat frizz with non-sticky and lightweight hair care products.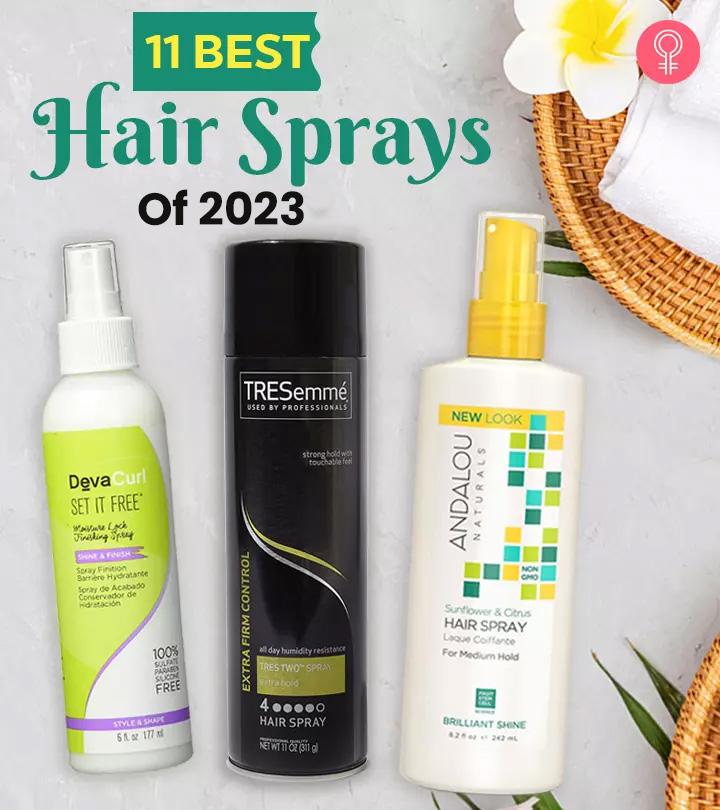 A hair spray is absolutely essential in your styling kit if you want to maintain your hairstyles after spending hours getting them just right. But you have to carefully look at the best hair spray for every hair type before you pick one out. That's because the wrong hair spray can leave your hair looking stiff and crunchy. So, if you are aiming for a hair spray that can miraculously tame your flyways, bring the bounce and hold your hairdos for as long as you want, check out our list of the top 11 hairsprays on the market. Keep scrolling for the best high-end and affordable hairsprays curated considering the formulation and reviews!
11 Best Hair Sprays For Styling And Volume
The BOLDIFY Hair Thickening Spray is packed with minerals and nutrients. It absorbs excess oil and moisture. Apply it to damp hair lightly and evenly to add a layered texture to your hair that lasts all day long. The formula is lightweight and does not have a sticky feel. It also leaves no residue. It can be easily washed and is humidity-resistant. This specialist-approved hairspray is perfect for men and women to use as a pre-styler as it gives a light hold, effortless finish, and natural definition. This volumizing spray and hair thickener is suitable for all hair types and lengths. Check this video detailing a tester's experience of using this product, before buying it.
Pros
Dermatologist-tested
Absorbs excess oil
Adds bounce
Lightweight
Non-sticky
Provides a light, buildable hold
For men and women
Suitable for all hair lengths
No residue
Easy to wash
Lasts all day long
Cons
Price at the time of publication: $23.95
Humidity and rain can cause frizzy hair that would be tough to style and tame. But the TRESemmé TRES Two Extra Hold Hair Spray can help. It controls frizz and keeps your hairstyle in place. It is a flexible hair spray and does not make your hair feel crunchy or stiff. The locking polymers in this hair spray have proven efficacy in making the hair strands humidity-resistant, taming the flyaways, and holding your hairstyle all day long. The spray will not weigh your hair down. This salon-quality aerosol hair spray has a floral and fruity scent and is recommended for all hair types and styles, including straight hair, curly hair, and color-treated hair. Check out this video to explore a reviewer's experience with this product.
Pros
Controls frizz
Holds hair in place all day long
Non-sticky
Does not make hair stiff
Does not weigh hair down
Tames flyaways
Suits all hair types
Suits all hairstyles
Reasonably priced
Cons
May not suit people with thin hair
Price at the time of publication: $24.67
The John Frieda Frizz Ease Flat Iron Spray is meant to be added before straightening your hair. This hairspray for a long-lasting style not only provides heat protection but also gives a smooth and fully straight finish to your hair. The proprietary blend of polymers with keratin protein helps remove frizz from each strand. This is the spray is weightless and does not weigh the hair down. It also makes the hair smoother and glossier.
A handy pump dispenser makes it easy to spray on the partitioned hair in large volumes. It also helps straighten your hair quickly. The spray lasts on your hair for up to 3 days and washes off easily. Apply it to damp hair and comb before you use your flat iron. Take a look at this video featuring a reviewer's experience with this hairspray to know more about it.
Pros
Lightweight
Controls frizz
Protects hair from heat styling
Lasts up to 3 days
Washes off easily
Does not weigh hair down
Affordable
Cons
Contains parabens
Contains alcohol
Price at the time of publication: $9.97
The Andalou Naturals Sunflower & Citrus Hair Spray offers a medium hold. This is a flexible hair spray that also adds texture and volume to give your hair lift and bounce. It controls static and shields against humidity, frizz, and flyaways. The formula is color-safe, gentle, and is suitable for all hair types.
Pros
Gentle on hair
Humidity-resistant
Combats frizz and flyaways
Controls static
Suits all hair types
Cons
Price at the time of publication: $6.8
The GIOVANNI Shine of the Times Finishing High Gloss Hair Mist smoothes our frizz and holds the hairstyle in place. The proprietary blend of antioxidants, vitamins, and omega fatty acids nourishes hair and protects color-treated hair. It is cruelty-free and comes in sophisticated recyclable packaging. It is free of parabens, sulfates, and other harsh chemicals.
Pros
Smoothes frizz
Adds shine
Holds hair in place
Color-safe
Recyclable packaging
Paraben-free
Sulfate-free
Cruelty-free
Affordable
Cons
Not suitable for oily hair
Price at the time of publication: $8.99
The Nexxus Comb Thru Finishing Mist is lightweight and provides superior hold without making the hair stiff. This hairspray offers a flexible hold to your hair, keeping it in place for the rest of the day. It is infused with the signature Fluid-Fix Technology for a flexible hold and natural movement. The Nexxus Shine Spray also has refreshing notes of rose and jasmine that make your hair smell amazing throughout the day. The micro-fine finishing spray keeps hair fresh and can be brushed and touched. If you need a hairspray to fight humidity, pick this one. It can protect your hairstyle from humidity and wind. It keeps your hair beautifully styled all day long.
Pros
Lightweight
Provides superior hold
Flexible hair spray
Allows natural movement
Protects from humidity and wind
Affordable
Cons
Price at the time of publication: $11.99
Your search for a hairspray that will boost your hair volume ends here. The got2b High Hold Hairspray is infused with hydrolyzed wheat protein. It can hold your hair perfectly in place without making it crunchy or stiff. It is lightweight, and the formula is color-safe. It leaves no residue and can be easily washed off. Shake well and apply it about 8 inches away from dry hair. It instantly adds gorgeous volume, body, and shine to limp and lifeless hair. It is sulfate-free and paraben-free.
Pros
Provides high hold
Does not make hair crunchy or stiff
Lightweight
Color-safe
Leaves no residue
Can be easily washed off
Sulfate-free
Paraben-free
Cons
May have an off-putting smell.
Price at the time of publication: $8.99
The Aussie Instant Freeze Hair Spray is enriched with the goodness of nourishing ingredients like aloe vera, Australian jojoba seed oil, and sea kelp. It helps keep the hairstyle in its place and tames flyaways. It also helps smooth out the hair strands for 24 hours. It will become your favorite hairspray for fine hair as it adds amazing bounce, volume, thickness, and texture to the hair. Spray on dry, styled hair to get the desired look. It is suitable for all hair types.
Pros
Strong hold
Tames flyaways
Smoothens hair strands for 24 hours
Suits all hair types
Affordable
Cons
May not allow the hair to be flexible
Price at the time of publication: $10.47
The KICK Sea Salt Spray for Hair is perfect for getting that wavy bob or back-from-the-beach hair. It tames baby-fine hairs and flyaways. This sea salt hair spray is natural and nutrient-rich. It quickly transforms damp or dry hair into a gorgeous wavy hairstyle. It holds a tousled, textured look all day while leaving hair flexible enough to be re-worked on. The antioxidants, sea herbs, magnesium, and amino acids protect the hair from UV rays and keep the hair color from fading, making it one of the most versatile hair-finishing products.
Pros
Adds texture to hair
Stronghold hair spray
Tames baby-fine hair and flyaways
Protects hair from UV rays
Keeps hair color from fading
Sulfate-free
Alcohol-free
Cruelty-free
Reasonably priced
Cons
Price at the time of publication: $19.95
Uncover the celebrity hair secrets with the She's A Tease Volumizing Hairspray by Not Your Mother's. It is infused with nourishing ingredients like natural apple blossom and bamboo. Used by salon hairstylists, this professional-grade formula fights humidity, hair frizz, and flyaways. It makes your hair appear thicker, fuller, and healthier. It smells good, does not leave your hair sticky, and can be brushed or styled again. This lightweight hair spray lasts all day and holds styled hair in place. It does not make your hair stiff or crunchy and does not leave a film of residue. Many reviewers have praised the lightweight feel and firm hold that the product delivers to the hair.
Pros
Volumizing hair spray
Fights humidity
Reduces frizz and flyaways
Smells good
Does not leave your hair sticky
Lightweight
Strong hold
Does not make your hair stiff or crunchy
No residue
Affordable
Cons
Price at the time of publication: $13.14
The Maple Holistics Sea Salt Texturizing Spray is a root lifter formula that instantly volumizes hair and changes the overall look. It is infused with nourishing ingredients like sea kelp and argan oil that moisturize the hair and enhance the shine, giving definition and structure to your hair. Truly the best hairspray for curls, this texturizing spray helps you achieve heatless waves and curls anytime, anywhere without damaging your hair.
Pros
 Nourishes hair
 Adds moisture
 Enhances shine
 Adds texture to curls
 Lightweight
 On-the-go styling spray
 Easy to use
Cons
• May leave residue
Price at the time of publication: $12.95
These are the 11 best hair sprays that help hold any hairstyle in place. They are suitable for all hair types. But before you make your purchase, take a look at the benefits of using a hair spray.
Benefits Of Using A Hair Spray
Keeps your hair styled all day long.
Adds volume, bounce, and texture.
Helps retain curls and waves.
Reduces frizz.
Tames flyaways.
Adds life to oily, limp hair.
If you want to buy a hair spray to use at home, good for you! But are you aware of how to use it? The following section lists some hair styling tips. Scroll down.
How To Use A Hair Spray Effectively
Step 1: Get the right hair spray. Do you want to use a hair spray on wet or dry hair? Do you want to add texture, volume, or shine to your hair? Decide on what kind of hair spray you want before you make a purchase.
Step 2: Flip your hair down so that you can spritz the hair spray effectively. Reach every nook and corner of your scalp while protecting your eyes, nose, and lips.
Step 3: Spray about 8-12 inches away from the roots. If you have an itchy or sensitive scalp, avoid applying the hair spray to the roots.
Step 4: Give your hair a good shake and flip your head up.
Note: If you want to tame flyaways, spray the product on your palm and apply it to the hair strands. This will smoothen the baby hairs and flyaways. Use a scrunching motion to add volume and texture to your hair.
Rebekkah O'Neill, hair and beauty master stylist, says, "Hairsprays are part of my daily life. I use them on nearly every single client I have. My tip to prevent that "crispy" look is to make sure you're holding the can at least 30 cm away from the hair and spraying in big circular motions. This stops the spray from settling on one area, which usually gives that crispy look."
Conclusion
Why Trust StyleCraze?
Oyendrila Kanjilal is a certified skin care coach and often relies on hairsprays to style her tresses. She checked online reviews and user feedback to compile this list of the best hair sprays available on the market. These carefully curated products offer good hold and keep your hair bouncy and shiny for long.
Frequently Asked Questions
Which is the best hair spray for curly hair?
To keep your curls tangle-free, shiny, and super bouncy, you can use the DevaCurl Set It Free Finishing Hair Spray.
Which is the best hair spray for adding volume?
One of the best uses of a hair spray is to effortlessly add volume and bounce. You can use Best Overall:BOLDIFY Hair Thickening Spray or Not Your Mother's She's A Tease Volumizing Hairspray to add volume.
Which is the best drugstore hair spray?
Drugstore hair sprays do an elegant job when it comes to adding volume and texture. A few good drugstore hair sprays include L'Oreal Paris Elnett Satin Hairspray, Schwarzkopf Ultime Styliste Biotin & Volume Hair Spray, etc. Here is a list of high-quality drugstore hair sprays you can buy.
Which is the best hair spray for fine hair?
Try KICK Sea Salt Spray to add volume and texture to fine hair. This sea salt spray has a strong hold and instantly transforms fine hair into big, fuller, and thicker hair.
Recommended Articles