The 11 Best Hairsprays To Style All Hair Types – 2023
Tame your rogue locks and combat frizz with non-sticky and lightweight hair care products.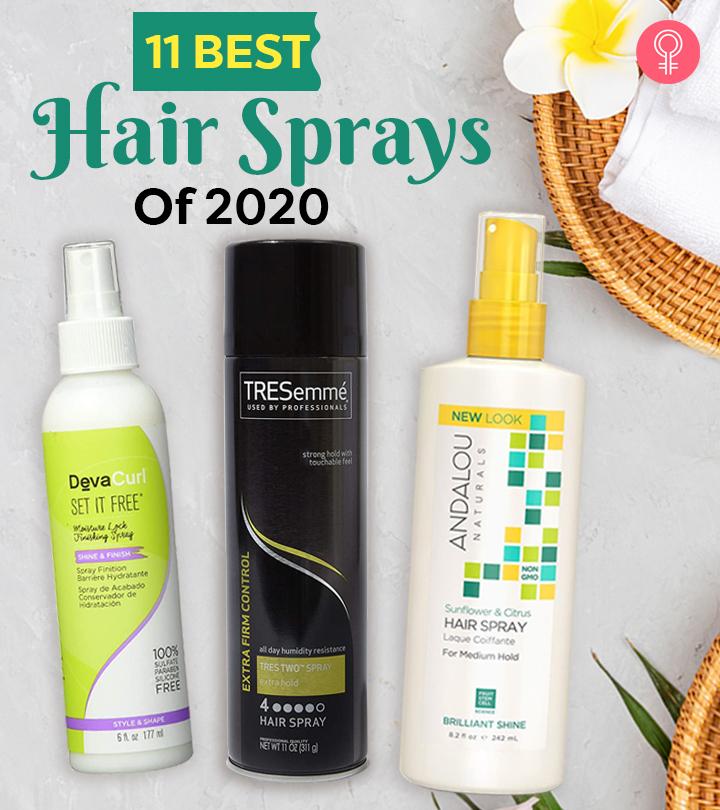 A hair spray is absolutely essential in your styling kit if you want to maintain your hairstyles after spending hours getting them just right. But you have to carefully look at the best hair spray for every hair type before you pick one out. That's because the wrong hair spray can leave your hair looking stiff and crunchy. So, if you are aiming for a hair spray that can miraculously tame your flyways, bring the bounce and hold your hairdos for as long as you want, check out our list of the top 11 hairsprays on the market.
Top Picks
11 Best Hair Sprays For Styling And Volume
Pros
Absorbs excess oil
Adds bounce
Lightweight
Non-sticky
Provides a light, buildable hold
For men and women
Suitable for all hair lengths
No residue
Easy to wash
Lasts all day long
Cons
Price at the time of publication: $23.95
Pros
Controls frizz
Holds hair in place all day long
Non-sticky
Does not make hair stiff
Does not weigh hair down
Tames flyaways
Suits all hair types
Suits all hairstyles
Reasonably priced
Cons
May not suit people with thin hair
Price at the time of publication: $24.67
Pros
Lightweight
Controls frizz
Protects hair from heat styling
Lasts up to 3 days
Washes off easily
Does not weigh hair down
Affordable
Cons
Contains parabens
Contains alcohol
Price at the time of publication: $9.97
Pros
Gentle on hair
Humidity-resistant
Combats frizz and flyaways
Controls static
Suits all hair types
Cons
Price at the time of publication: $6.8
Pros
Smoothes frizz
Adds shine
Holds hair in place
Color-safe
Recyclable packaging
Paraben-free
Sulfate-free
Cruelty-free
Affordable
Cons
Not suitable for oily hair
Price at the time of publication: $8.99
Pros
Lightweight
Provides superior hold
Flexible hair spray
Allows natural movement
Protects from humidity and wind
Affordable
Cons
Price at the time of publication: $11.99
Pros
Provides high hold
Does not make hair crunchy or stiff
Lightweight
Color-safe
Leaves no residue
Can be easily washed off
Sulfate-free
Paraben-free
Cons
May have an off-putting smell.
Price at the time of publication: $8.99
Pros
Strong hold
Tames flyaways
Smoothens hair strands for 24 hours
Suits all hair types
Affordable
Cons
May not allow the hair to be flexible
Price at the time of publication: $10.47
Pros
Adds texture to hair
Stronghold hair spray
Tames baby-fine hair and flyaways
Protects hair from UV rays
Keeps hair color from fading
Sulfate-free
Alcohol-free
Cruelty-free
Reasonably priced
Cons
Price at the time of publication: $19.95
Pros
Volumizing hair spray
Fights humidity
Reduces frizz and flyaways
Smells good
Does not leave your hair sticky
Lightweight
Strong hold
Does not make your hair stiff or crunchy
No residue
Affordable
Cons
Price at the time of publication: $13.14
Pros
 Nourishes hair
 Adds moisture
 Enhances shine
 Adds texture to curls
 Lightweight
 On-the-go styling spray
 Easy to use
Cons
• May leave residue
Price at the time of publication: $12.95
These are the 11 best hair sprays that help hold any hairstyle in place. They are suitable for all hair types. But before you make your purchase, take a look at the benefits of using a hair spray.
Benefits Of Using A Hair Spray
Keeps your hair styled all day long.
Adds volume, bounce, and texture.
Helps retain curls and waves.
Reduces frizz.
Tames flyaways.
Adds life to oily, limp hair.
If you want to buy a hair spray to use at home, good for you! But are you aware of how to use it? The following section can help.
How To Use A Hair Spray Effectively
Step 1: Get the right hair spray. Do you want to use a hair spray on wet or dry hair? Do you want to add volume, texture, or shine? Decide on what kind of hair spray you want before you make a purchase.
Step 2: Flip your hair down so that you can spritz the hair spray effectively. Reach every nook and corner of your scalp while protecting your eyes, nose, and lips.
Step 3: Spray about 8-12 inches away from the roots. If you have an itchy or sensitive scalp, avoid applying the hair spray to the roots.
Step 4: Give your hair a good shake and flip your head up.
Note: If you want to tame flyaways, spray the product on your palm and apply it to the hair strands. This will smoothen the baby hairs and flyaways. Use a scrunching motion to add volume and texture to your hair.
Rebekkah O'Neill, hair and beauty master stylist, says, "Hairsprays are part of my daily life. I use them on nearly every single client I have. My tip to prevent that "crispy" look is to make sure you're holding the can at least 30 cm away from the hair and spraying in big circular motions. This stops the spray from settling on one area, which usually gives that crispy look."
Why Trust StyleCraze?
Oyendrila Kanjilal is a certified skin care coach and often relies on hairsprays to style her tresses. She checked online reviews and user feedback to compile this list of the best hair sprays available on the market. These carefully curated products offer good hold and keep your hair bouncy and shiny for long.
Frequently Asked Questions
Which is the best hair spray for curly hair?
To keep your curls tangle-free, shiny, and super bouncy, you can use the DevaCurl Set It Free Finishing Hair Spray.
Which is the best hair spray for adding volume?
One of the best uses of a hair spray is to effortlessly add volume and bounce. You can use Best Overall:BOLDIFY Hair Thickening Spray or Not Your Mother's She's A Tease Volumizing Hairspray to add volume.
Which is the best drugstore hair spray?
Drugstore hair sprays do an elegant job when it comes to adding volume and texture. A few good drugstore hair sprays include L'Oreal Paris Elnett Satin Hairspray, Schwarzkopf Ultime Styliste Biotin & Volume Hair Spray, etc. Here is a list of high-quality drugstore hair sprays you can buy.
Which is the best hair spray for fine hair?
Try KICK Sea Salt Spray to add volume and texture to fine hair. This sea salt spray has a strong hold and instantly transforms fine hair into big, fuller, and thicker hair.