Top 14 Hairsprays Available In India As the month progresses, your calendar gets filled with social events. And you sure need to sport trendy hairstyles at each to look your best. During these frenzied moments, achieving the perfect hairstyles can be tough – which is why you need one tool that can help you get your desired hairstyle. We are talking about hairsprays! They can help you create glamorous and chic styles without worrying about any damage. In this post, we have listed the top 14 hairsprays available in India. Take a look!
Top 14 Hair Sprays Available In India
TIGI's bed head masterpiece massive shine hairspray will help you achieve a salon-styled look in just minutes into the application. This hairspray promises to hold every hair type of any length without making it stiff. It claims to add body and resists humidity. It imparts excess shine to your hair while guarding it against dryness.

Pros
Easy to use
Non-greasy
Great fragrance
Holds any style
Cons
Tresemme Thermal Creations Heat Tamer is formulated with moisture-locking vitamins that stand up against heat and friction. It is specially designed to protect your hair against heat damage from flat irons and blow dryers. This hairspray claims to impart excess shine to your hair, making it inevitably soft. It promises to dislodge dryness and reform the texture of your hair.

Pros
Adds volume and body to hair
Controls frizz
Suitable for daily use
Provides strong hold
Great fragrance
Cons
The product dries out quickly
Price at the time of publication: ₹2463
Schwarzkopf's Osis + Sparkler Finish Shine Spray gives your hair a glossy finish within seconds. It claims to detangle your locks and provide a sparkling shine to it. Besides styling, this hairspray contains conditioning properties that keep your hair soft and add fullness to every hair strand. The spray helps in sculpting your hair into different styles.

Pros
Controls frizz and manages flyaways
Does not weigh your hair down
Adds volume
Does not get built up
Non-sticky formula
Cons
Price at the time of publication: ₹850
The St. Botanica Pro Keratin & Argan Oil Hair Nourishing Spray is great for instantly conditioning and nourishing the hair. It will instantly hydrate dry hair and will leave it smooth and shiny. The spray is ideal for controlling frizzes, taming flyaway hair, and removing tangles. The spray contains hydrolyzed keratin that repairs and strengthens damaged hair. The hydrolyzed keratin also helps minimize hair breakage and split ends. The spray contains lightweight Moroccan argan oil that moisturizes and nourishes hair. The argan oil also forms a protective coating against the harsh environmental elements.

Pros
Hydrates dry hair
Hydrolyzed keratin minimizes hair breakage and split ends
Moroccan argan oil moisturizes and nourishes hair
Mineral oil-free
Silicone-free
Great for daily use
Cons
Price at the time of publication: ₹17.1
This anti-static and anti-humidity protection hairspray gives definite hold to your locks with a long-lasting shine. It claims to control frizz and flyaways. Without weighing your hair down or turning it stiff, this hairspray provides a structured look that is ideal for updos. This gentle hairspray is suitable for daily use and promises to make your hair look sleek and smooth instantly.

Pros
Lightweight
Adds volume and body to hair
Little amount required
Suitable for any hair type
Long-lasting
Cons
This unique hairspray contains palm kernel glycerides that help add volume and texture for thicker, fuller, and voluminous hair. Besides styling, this hairspray deeply conditions your hair, giving it a soft and smooth texture. It provides long-lasting hold to support your perfect hairdo.

Pros
Adds volume
Makes your hair soft
Improves hair texture
Delivers results as promised
Cons
Enliven Ultra Hold Hairspray contains amino pro-vitamin B5 that helps strengthen and maintain healthy hair. It claims to manage flyaways and hold hairstyles for long hours. It gives a salon-like finished look and imparts a sparkly sheen to your hair. It also adds volume and body to your hair while imparting a fresh fragrance to it.

Pros
Lightweight
Easy to rinse off
Does not weigh your hair down
Affordable price
Cons
Not suitable for dry hair
Toni & Guy Glamour Moisturizing Hairspray gives the perfect shine and long-lasting softness to your tresses. It provides finesse to various hairstyles. The moisturizing components help detangle and condition your hair without weighing it down.

Pros
Ideal for any hair type
Controls frizz and flyaways
Gives a natural look to your hair
Does not build up
Cons
Popular among celebrities, L'Oreal Paris Elnett Satin Strong Hold Hairspray offers a clean, soft, and shiny finish to your tresses. It provides long-lasting effects with a brilliant shine and a satin finish. The lightweight formula makes it easy to brush through styled hair. It claims to hold hairstyles in place without damaging your tresses.

Pros
Controls frizz
Holds your hair for up to 7 hours
Non-greasy and non-sticky
Does not build up residue
Suitable for daily use
Cons
Price at the time of publication: ₹28.09
Schwarzkopf Heat Protection Spray protects your hair from damage by providing moisture and care protection. It claims to smoothen hair while controlling frizz for up to 24 hours. It is specially formulated to protect your hair from heat (up to 220o C). It claims to hydrate your hair without weighing it down. Its anti-damaging properties help cover dry outs.

Pros
Convenient product design
Non-greasy
Light consistency
Affordable price
Cons
Tresemme Extra Hold Hairspray helps you achieve maximum hold and controls frizz and flyaways. This hairspray leaves no stiffness and has humidity resistant properties. It offers flexible movement that makes it easy to brush through your locks. Be it curls or sleek straight hair, your locks will be in place with this hairspray.

Pros
Not sticky
Does not build up
Effects last long
Great fragrance
Cons
Price at the time of publication: ₹24.67
The very first hairspray with bamboo extracts that gives long-lasting hold and natural looking hair. Bamboo is known for its strength and resilience, and this formula keeps your hair frizz-free and adds bounce to it. This volumizing spray boosts flat hair from the roots to the tips.

Pros
No stiffness
A little product goes a long way
Controls frizz
Suitable for any hair type
Cons
Does not provide effective hold for styling
Price at the time of publication: ₹10.17
This professional styler helps protect your hair against humidity and heat. The UV protection technology protects your hair from the sun. It imparts a pleasant fragrance to your tresses.

Pros
Easy to use
Can be washed out easily
Suitable for fine and medium hair type
Affordable price
Cons
Nova Gold Super Firm Hold Hairspray gives long-lasting natural shine to your locks. It controls flyaways and makes your hair manageable. It claims to add shine and protects your tresses from humidity. It promises to fix any hairstyle and keeps every strand in place.

Pros
Long-lasting effects
Provides strong hold
Nice fragrance
Pocket-friendly
Cons
Does not offer effective grip
Price at the time of publication: ₹419
Using a hairspray can be quite confusing, more so for the first-timers. Hence, here are the steps to guide you through the process of application.
How To Use A Hairspray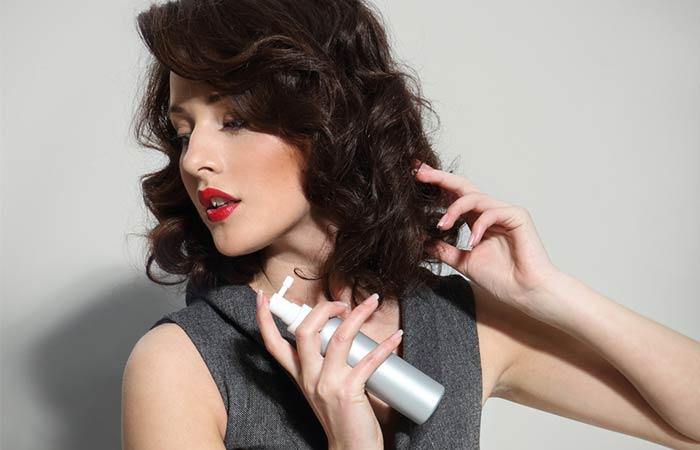 But why should you use a hairspray in the first place? Find out below!
Benefits Of Hairspray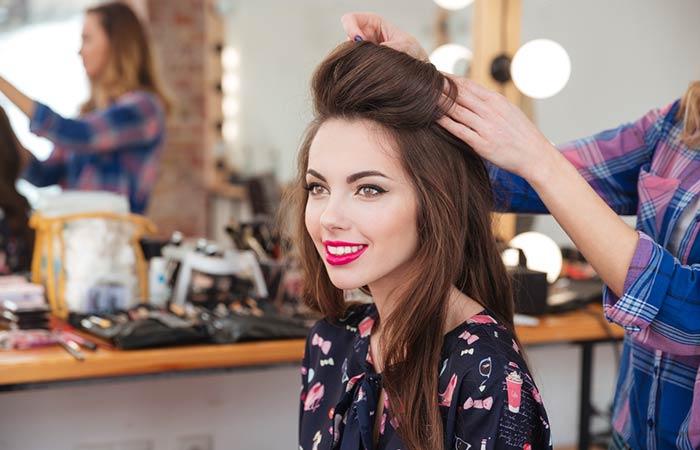 It helps tame unruly strands.
It holds the shafts, allowing the hair to stay put.
You can form curls and different hairstyles.
It protects your hair against heat.
You can get a definite brow line by spraying a little amount on your eyebrows.
Choose a product from this list and give it a try and follow the tips and methods mentioned above. Let us know about your experience by leaving a comment in the section below.
Now you know how a hairspray is beneficial for protecting your mane. But before you buy one, here are a few things to consider
Things To Consider Before Buying A Hair Spray
Hair sprays differ according to different hair textures. If you have thick hair, go for a firm-hold hair spray. For thin and fragile hair, a lightweight hair spray works the best, whereas, for colored or chemically treated hair, choose a spray that has healing and hydrating properties.
Always check for the usage of the hairspray you want to buy. If your requirement is for daily use, opt for a hair spray meany for regular use without damaging your hair.
Quality is another vital factor to be considered when buying a hair spray. The quality is directly linked to the type of ingredients used. Pick a hair spray that contains high-quality or clinically tested ingredients.
Always check the quantity of the product you want to buy.  There is no point in purchasing a spray that does not last long. Compare the quantity of the hair spray with that of the other sprays in the same price range before purchasing.
A high-quality hair spray will cost more as it offers extended wear and a strong hold. However, you may get similar benefits from mid-range hair sprays as well. Compare the sprays before purchasing.
The brand is also important.  Reputed brands do not compromise on the quality and trust of the customers. Therefore, it is suggested to go through the user reviews before buying any hair spray. Additionally, avoid opting for cheap hair sprays as they may harm your hair and cause scalp irritation and dryness.
Frequently Asked Questions
How do I remove hairspray from my hair?
Wash your hair thoroughly with a clarifying shampoo to remove hairspray from your hair. You can also mix baking soda with your regular shampoo and wash your hair with it to remove hairspray buildup.
Can hairspray help with taming flyaways or baby hairs?
Yes. Hairspray tames flyways and sets baby hairs in place. Simply mist hairspray over flyaways and gently smooth them with a comb or brush to get a clean hair look.
How long does hairspray typically hold a hairstyle?
It depends on several factors like hair type and amount of product used. In general, a good quality hairspray can hold a hairstyle for an average of 6 to 8 hours.
Is there a difference between aerosol and non-aerosol hairsprays?
Yes. An Aerosol hairspray is a liquid formula that releases a fine mist and is ideal to set curly hair. Whereas, a non-aerosol hairspray usually is a gel-based formula that is suitable for smooth blowouts.
Recommended Articles:
Best Hair Products For Indian Hair To Try