15 Best Hairsprays For Fine And Thin Hair That Provide Strong Hold
Greasy, frizzy, and dull are not the adjectives that will describe your hair anymore.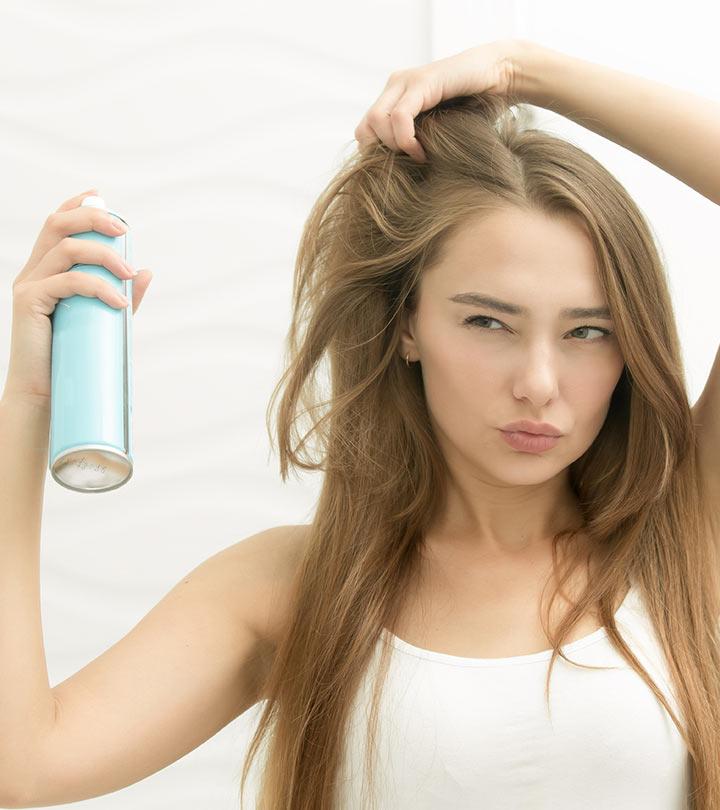 For all those struggling with frizzy, greasy, or fine hair, they will tell you in no uncertain terms that finding the best hairspray for fine hair is a herculean task. Why hairspray? Let us tell you why. Hairspray is the best way to make sure your fine strands are fuller and appear more voluminous. But how do you know which one is the right one for you? Don't worry. Our list of hair sprays can successfully end your search for the perfect hairspray once and for all! Scroll down to check them out!
Top Picks
15 Best Hairsprays For Fine Hair – 2023 Top Picks
Price at the time of publication: $20.99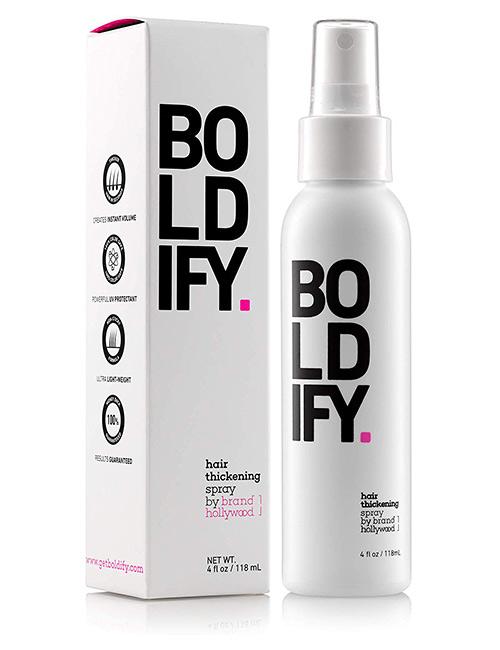 Consider Boldify Hair Thickening Spray your fairy godmother on bad hair days as it will help you get through one like a diva. Just spray it through damp hair to get incredibly thick and voluminous hair. It gives you a layered finish with a strong hold that lasts the entire day. This lightweight formula will not weigh your hair down or leave a sticky build-up on your scalp. It also acts as a thickening tonic and hair texturizer. This medium-hold spray offers natural definition and effortless finish. Its formula is packed with minerals and nutrients that promote healthy hair. Kiss your oily scalp goodbye, by using this spray as it absorbs excess oil and moisture instantly to keep your scalp clean and healthy. To find out more about this product, check out this video.
Price at the time of publication: $23.95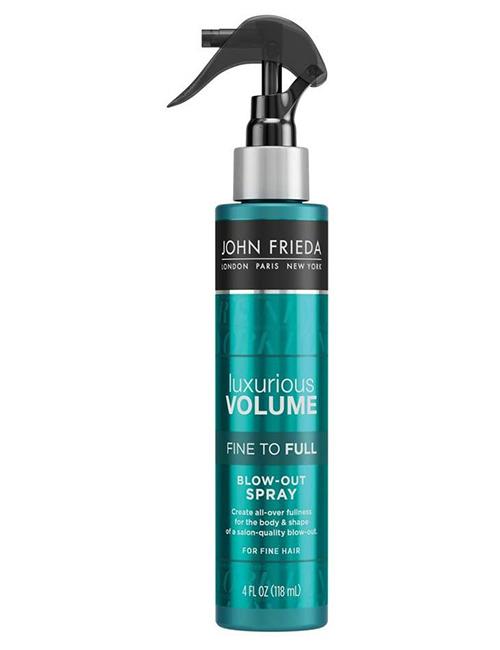 Transform dull, flat, and fine hair into full-bodied, salon-style hair with this expertly formulated "blow-out" spray. It contains a blend of lightweight polymers that amplify the natural body of your hair instantly. Its formula is infused with volume-enhancing components that prep fine hair for a flexible and touchable soft look. It lifts fine strands from the roots to create a long-lasting voluminous style.
Pros
Creates natural fullness
Provides full coverage
Safe for color-treated hair
Prevents heat damage
Price at the time of publication: $8.99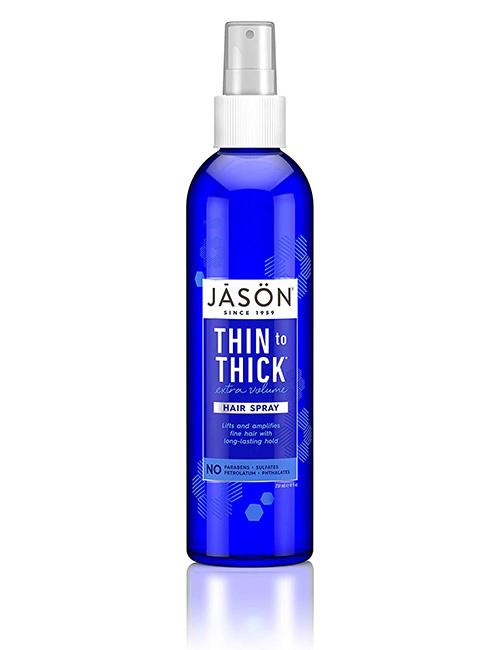 If you are looking for a mild hairspray that keeps your hair healthy and stylish, try Jason Thin-To-Thick Extra Volume Hair Spray. It lifts and amplifies fine hair with long-lasting hold. It is a weightless body-building formula that provides flexible hold for thin hair. Its formula is infused with biotin, panthenol, and green tea. These ingredients boost your hair to look stronger and thicker while improving its elasticity and flexibility.
Price at the time of publication: $9.79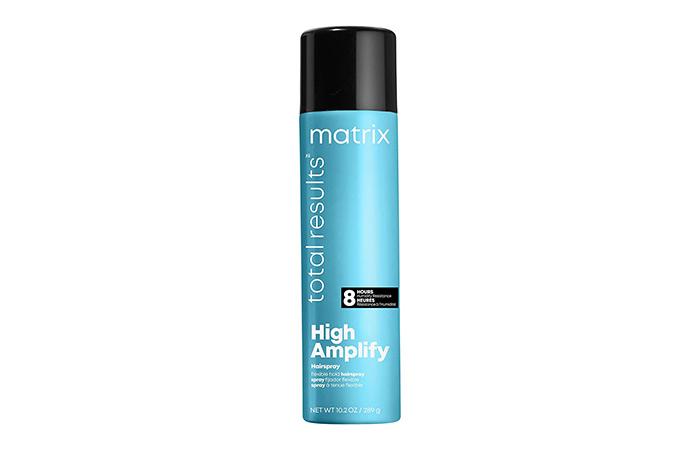 Volumize your fine hair in the desired style with the Matrix Total Results High Amplify Hairspray. It has protein that helps to give structure to limp hair. This flexible and strong-hold hair spray provides continuous lift and leaves the hair static-free and manageable. In addition, this hairspray offers up to 35% instant lift by providing root lift and adds a shine to your locks. Check out this review for a detailed understanding about the product.
Price at the time of publication: $22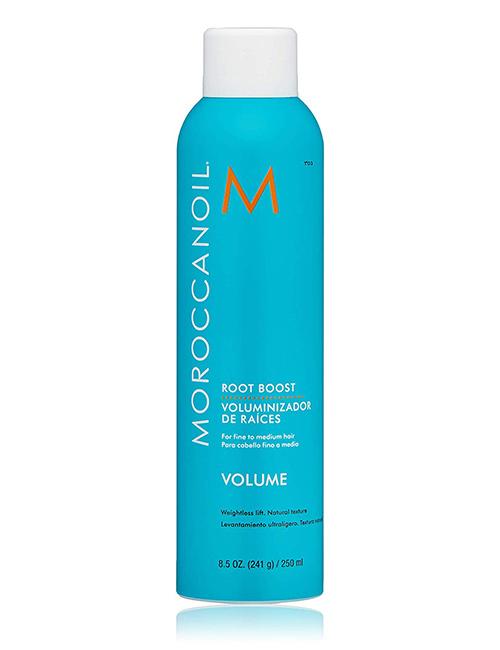 Can't decide if you need a volume-boosting hairspray or a nourishing hair treatment that improves the texture of your tresses? Moroccanoil Root Boost gives you both in the form of a lightweight hairspray! It creates texture at the root prior to styling. This hairspray claims to provide a natural, touchable finish that lasts all day. Its formula is infused with antioxidant-rich argan oil that is extremely rich in tocopherols (vitamin E) and essential fatty acids that nourish and rejuvenate each strand. It also contains PVP/VA copolymer that helps extend your hair's ability to hold styles by preventing moisture from being absorbed by the hair shafts, and polyquaternium-7 which is an excellent anti-static agent.
Price at the time of publication: $30.0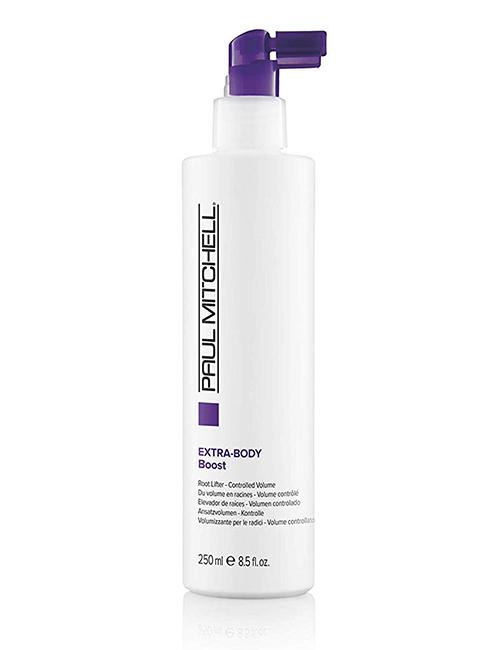 Give fine and limp hair, a much-needed volume boost with Paul Mitchell Extra-Body Boost Hair Spray. Its precision sprayer allows for controlled volume that helps transform dull, flat, and lifeless hair into shiny and fuller locks. Its formula contains panthenol that protects your delicate strands from damage. Enjoy attractive, long-lasting body and bounce that lasts all day without weighing your hair down.
Price at the time of publication: $8.5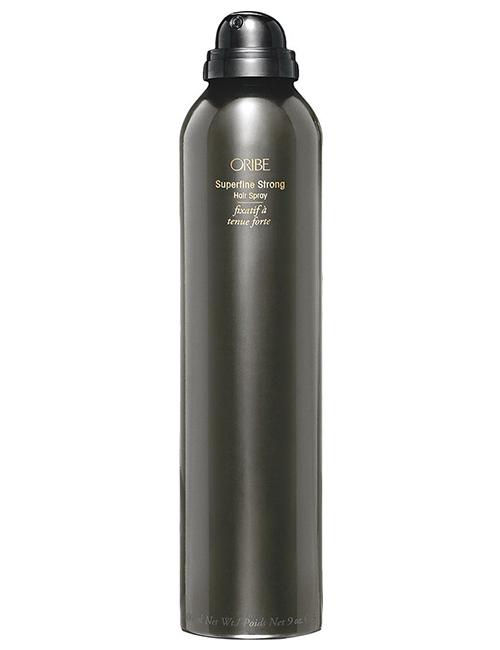 Oribe Superfine Strong Hair Spray is formulated to lock and hold styles in place. It imparts a natural shine that lasts all day. Its formula contains plant-derived humectants that add shine and body to your hair while repairing damaged cuticles. It also contains hydrolyzed wheat protein that conditions and renews damaged tresses, and pro-vitamin B5 that helps thicken and build volume in your hair.
Price at the time of publication: $42.0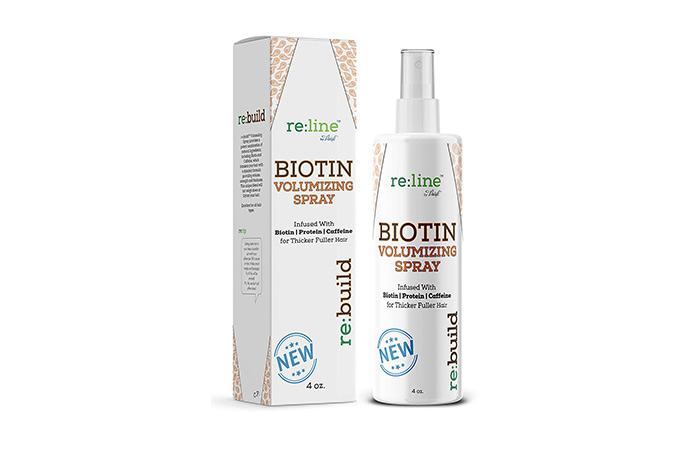 Rejuvenate thin hair with the Paisle Re:line Biotin Volumizing Spray. This hair spray is infused with biotin, protein, and caffeine to provide an envious lift to your fine hair. The 3-in-formula adds shine, thickens thinning hair, and adds volume to your flat hair. It washes out easily without causing any build-up. Biotin helps deal with the split ends, thinning hair, dull color, and porosity, while wheat protein and naturally derived caffeine fortify damaged hair strands to provide volume to fine hair strands. Additionally, this hair spray works effectively for your chemically-treated hair.
Price at the time of publication: $19.97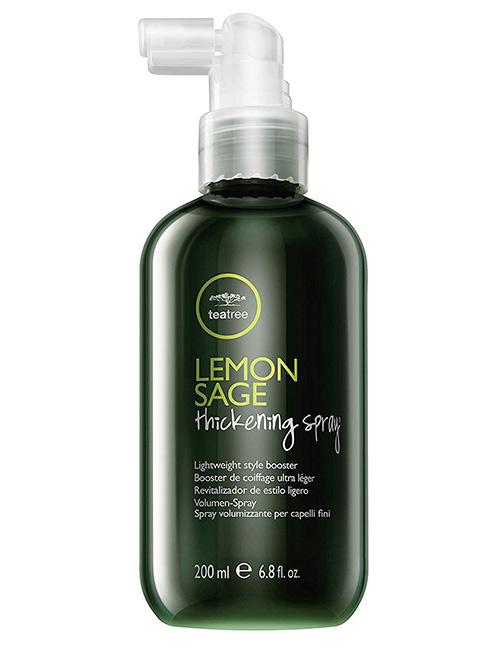 Add natural-looking volume to your locks with this lightweight thickening hair spray. It pumps up fine strands while protecting them against humidity and UV rays. It provides medium hold with a fresh, no-product feel. It contains panthenol and high-performance resins that provide long-lasting volume.
Price at the time of publication: $8.5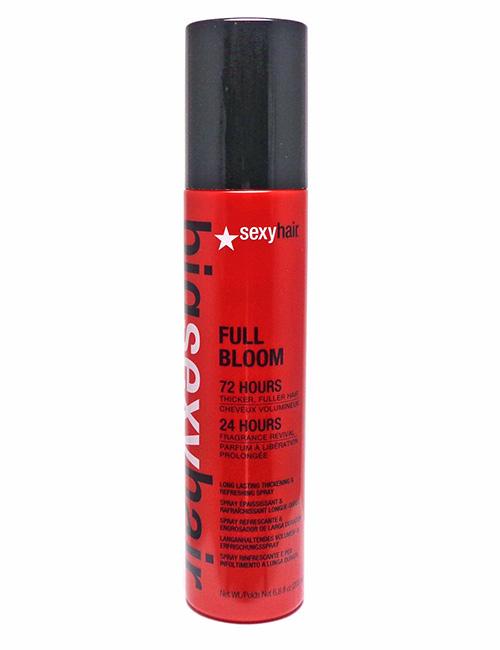 Create versatile styles with outrageous volume using this professional-grade thickening hair spray. Big Sexy Hair Full Bloom Thickening & Refreshing Spray provides volume for up to 3 days and aromatic fragrance for up to 24 hours. It also claims to protect your hair from humidity and fight frizz.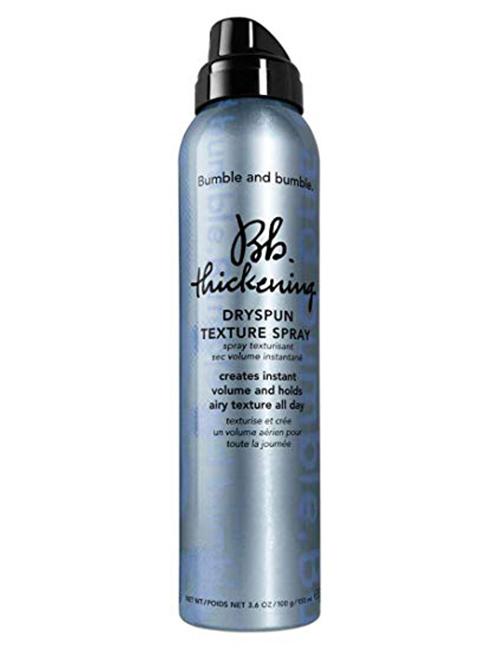 Bumble And Bumble Thickening Dryspun Texture Spray is a translucent dry finishing spray that adds volume and light and airy texture to your hair instantly. It contains PVP, VP/VA copolymer that provides light to medium hold, and PEG-12 dimethicone and hydrolyzed wheat protein that nourish your hair. To give you that perfect airy texture, its formula is infused with zeolite and silk powder.
Price at the time of publication: $33.0
Price at the time of publication: $8.99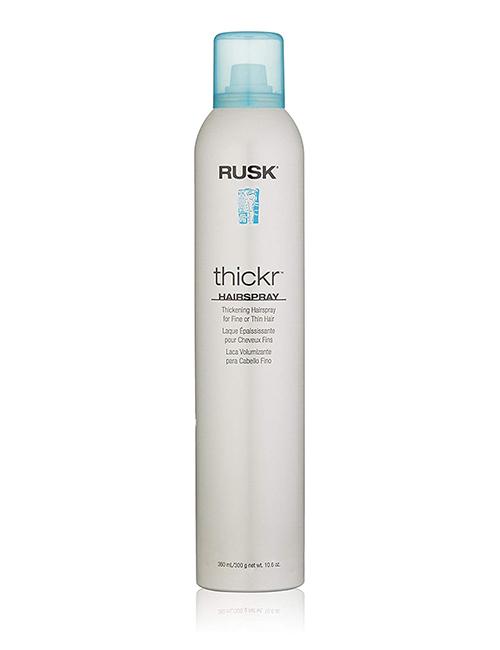 Get outrageous volume and powerful texture with Rusk Thickr Hairspray. It is infused with lusterizers, conditioning components, and moisturizers that provide body, texture, shine, and touchable hold to fine and flat hair. It also contains UV blockers to protect color-treated hair from damage.
Price at the time of publication: $15.5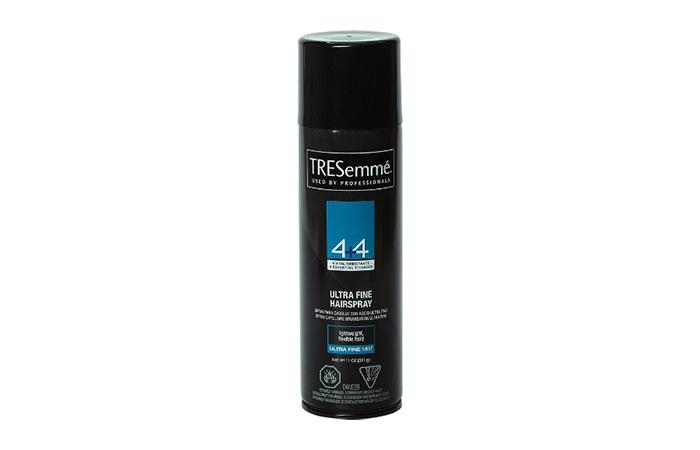 The Tresemme 4 Plus 4 Ultra Fine Hairspray is enriched with vital vitamins and 4 humectants, ensuring a non-sticky hair style. In addition, it is uniquely formulated with locking polymers that keep your hairstyle in place without damaging the hair strands. You can use this before you blow-dry your hair to have the perfect volume or with a brush to style your hair as you desire. Use this spray on your hair section by section and keep it 8 to 12 inches away from the hair.
Price at the time of publication: $9.17
If you need to style your thin, fine hair and are looking for a strong hold spray, we got you. Before buying a hairspray for your hair, it is important to keep the following pointers in mind. These will help you make the best decision when it comes to investing in an efficient spray for your hair type.
Things You Need To Know Before Buying A Strong Hold Hairspray For Thin Hair
When it comes to hair care products, it is important to opt for the ones that are free of sulfates, parabens, silicone and alcohol. All these substances ruin your hair health in the long run. Some generic brands also add sodium chloride to their hairsprays for added volume. It is better to avoid this ingredient because it dries out your hair excessively.
Since fine hair tends to be lanky, it is important to choose a hairspray that does not weigh your hair down. In fact, a spray that would add volume without making your hair too heavy would be awesome! Go for products that are light on your hair and easy to wash out as well. This will prevent product-build up. Also, avoid products that leave a sticky residue. They tend to make the hair shafts stick to each other, giving off a greasy, sticky look.
If you are someone who heat-styles their hair every single day, it is better to invest in a hairspray that will provide heat protection. This will lessen the damage and add shine. If you have dandruff issues, make sure you do not use spray anywhere near your scalp. It will not only aggravate the issue, but also cause itchiness and dryness. If you have color-treated hair, it is possible that your hair could react to the ingredients in the spray. In that case, go for a product especially marketed for colored hair.
If you spend a lot of time outdoors in the sun, it is a good idea to invest in a spray that provides UV protection. This will not only protect your hair from the sun's rays but shall also ensure the product does not go through chemical changes because of excess heat.
If you have dark hair, you need to make sure your hairspray does not leave a light residue on it. Those with lighter hair color can get away with it, but the residue appears as dandruff or dust on dark hair.
Avoid products with added perfumes as much as possible. However, if you wear a hairspray occasionally for special events or have normal hair – neither dry, nor greasy – you can go for one with a light fragrance. Avoid overpowering fragrances as they can not only give you a headache but also be harsh on the hair.
Add instant volume to your fine hair with these amazing hairsprays. Pick your favorite product from this list, try it out, and let us know about your experience in the comments section below.
Why Trust StyleCraze?
The author, Pooja Karkala, has a keen interest in hair care. She researched multiple products thoroughly and read numerous customer reviews on trusted online forums to compile this list of the best hairsprays for fine hair. These hairsprays are the best way to make fine hair look fuller and manage frizz effectively. They are also flake-free, quick-drying, and non- greasy.
Frequently Asked Questions
Does hairspray work on fine hair?
Yes. A hairspray efficiently adds volume and body to fine hair. It gives the necessary bounce and texture making the hair look thicker and fuller.
What is the best hairspray that doesn't leave a residue?
The best hairspray that is least damaging and does not leave residue is the L'oreal Paris Elnett Strong Hold Hairspray. If you want a no-residue experience, spray the formula on cleansed hair, devoid of any dirt, grime, or other product residues.
Why does hairspray make my fine hair frizzy?
It is possible that your hair type, being finer or weaker, may get static or frizzy very easily upon spraying. In order to avoid this, you can spray the formula on your fingers instead and skim it over the tresses.
Does hairspray make hair thicker?
Hairspray works towards making the hair look thicker and healthier by adding volume and bounce to your hair. It adds body to the hair which makes the hair appear to be fuller.
How can I prevent hairspray from weighing down my fine hair?
Invest in a lightweight formula like the Boldify Hair Thickening Spray, John Frieda Luxurious Volume Fine To Full Blow-Out Spray, etc. that works towards volumizing the hair without weighing it down.
How can you prevent fine hair from feeling crunchy after applying hairspray?
You can avoid the crunchy texture by applying a heat protectant before styling. It will keep the hair moist even after styling and using hairspray.