5 Best Hairsprays For Wigs
Tame your wigs with the help of these hairsprays that are safe and affordable.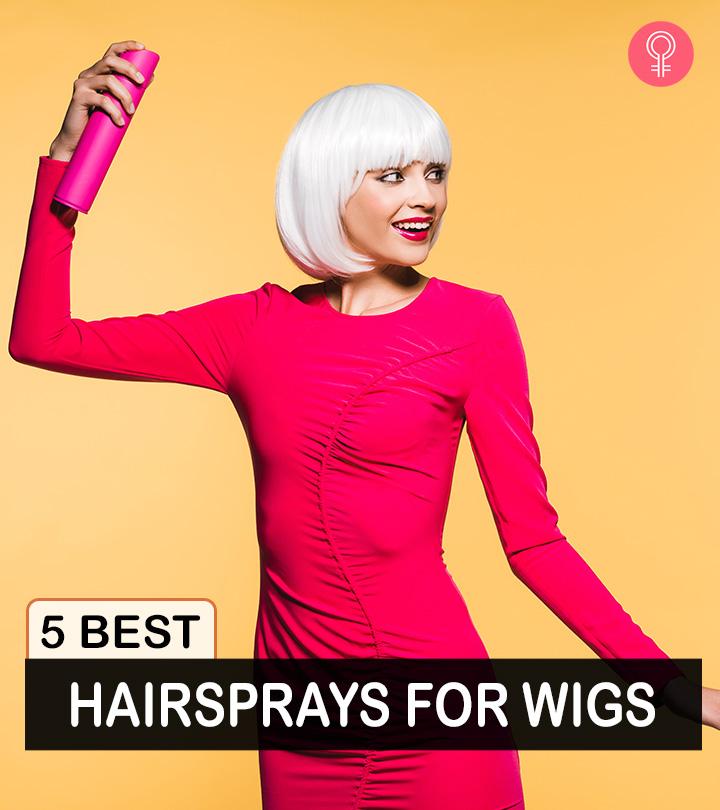 Wigs allow you to transform your hair instantly and are a must for everyone willing to experiment with their hairstyles often. While buying a wig is only the first step, using the best hairspray for wigs is the next to tame and set your mane. If you did not know already, regular hairsprays would never work on wigs as they require a more potent and effective formulation. Moreover, normal ones will only end up damaging the strands of the wigs, so it's best to go for ones that are water-soluble and safe for your fave wig. To help you pick the perfect one, we've listed the 5 best hairsprays for wigs for you to choose from.
5 Best Hairsprays For Wigs
The Brandywine Wig Spray provides a firm hold when styling wigs and makes the hair manageable. It enhances the look of synthetic and natural hair wigs and other hair pieces. It is a water-soluble holding spray that dries quickly. It leaves your hair looking beautiful without added color, residue, or flaking. It is a natural propellant and does not make the hair sticky and gummy.
Pros
Strong hold
No residue
No flaking
Cost-effective
Adds sheen
Prevents flyaways
Cons
Might make the hair heavy.
Unpleasant smell
May dry synthetic hair.
The HairUWear Shape is a medium hold styling spray for short to mid-length wigs. It provides a soft and flexible shape to the wigs. It can also be used to create spikes and other piecey textures. It is a gentle, nourishing formula designed especially for synthetic and human hair. It is a good alternative to aerosol styling products. It is cruelty-free, environmentally safe, and contains no animal products.
Pros
Strong hold
Washes out easily
Easy styling
No build-up
Softens the hair
Cruelty-free
Environmentally-safe
Vegan
Cons
The dispenser may not work.
The Demert Wig & Weave Firm Hold Spray is specially formulated for natural and synthetic hair. It can hold any hairstyle firmly and gently in place.  This quick-drying formula protects the hair color from fading. It does not leave any buildup or residue. It also adds texture and shine to wigs and weaves.
Pros
Firm hold
Washes out easily
Easy styling
Adds shine
Enhances the hair texture
Cons
Strong smell
Might leave white flakes.
Might stiffen the hair.
The Jon Renau Fiber Love Hair Spray is a synthetic wig hair spray that is created exclusively for synthetic fiber wigs and extensions. This paraben and sulfate-free formula provides a long-lasting, firm hold without making the hair stiff. It leaves no residue or buildup. It adds and preserves the hair's shine and body.
Pros
Firm hold
Long-lasting
Prevents flyaways
Reduces frizz
No stickiness
No flakiness
No residue or build-up
Cons
Might dampen the wig.
Might make the wig heavy.
The Rene Of Paris Protect Holding Spray acts like a final step in maintaining and styling synthetic hair. It provides a firm yet gentle hold to synthetic hair to achieve your desired hairstyle. It also adds shine to synthetic hair.
Pros
Firm hold
Gentle formula
Cost-effective
Adds shine
No buildup
No flaking
Cons
Might stiffen the wigs.
Might cause stickiness.
Wigs not only add style and spy-level masquerading, but also protect the hair from the damaging effects of styling tools, UV rays, and color treatments. Here are a few sprays to help you detangle wigs and add shine to them.
The African Essence Control Wig Spray is made with a 3-in-1 formula designed specially to give wigs and synthetic hair a natural and beautiful look. This crystal clear formula adds sheen, softness, and natural hair texture to synthetic hair. It conditions and moisturizes the hair and can also be used for detangling.
Pros
No oily residue
Adds shine
No buildup
Softens the wig
Detangles synthetic hair
Moisturizes the hair
Cons
The Bonfi Wig Shine Spray is specially formulated for dull and dry human and synthetic hair. It protects the hair from UV rays. It contains vitamin E that adds shine to the wigs and hair pieces. The special light complex blend of ingredients imparts shine to your hair. It penetrates the hair, making it soft for styling without any greasy film or residue.
Pros
Conditions the hair
Prevents matting
Pleasant smell
Adds natural glow
No buildup
Reduces frizz
Cons
Might cause greasiness.
Hair might look damp.
Might form an oily film.
The EBIN New York Wig Shine Spray offers 24-hour oil-free shine to dull and dry wigs. It is lightweight and can be used daily to freshen the hair. It is formulated with a unique blend to provide shine to synthetic and human hair. It also protects the hair color from fading. It contains argan oil, which softens, moisturizes, and conditions the hair.
Pros
Adds instant shine
Lightweight
Freshens the hair
Prevents color fading
Softens the hair
Conditions the hair
Moisturizes the hair
Cons
The Bobos Remi Wig & Weave Detangle Spray is formulated especially for human and synthetic hair. The formula contains nano silver and green tea extract that keep the hair clean. It makes synthetic hair smooth and shiny, even in humid weather conditions. It retains moisture in natural and synthetic hair. 
Pros
Detangles the hair
Pleasant scent
Softens hair
Makes hair manageable
Cons
Might cause breakouts.
Might stiffen the hair.
The HairUWear Restore is a detangler and heat protectant for synthetic hair. It can also be used as a protectant when using heat styling tools like curlers and irons. The special formula nourishes synthetic hair and makes it soft. It is environmentally safe, contains no animal product, and is cruelty-free.
Pros
Detangles the hair
Conditions the hair
Softens the hair
Pleasant scent
Environmentally safe
Vegan
Cruelty-free
Cons
Might leave a white buildup.
The On Natural Weave & Wig Conditioner And Detangler is an all-organic and oil-free formula that conditions synthetic hair. It also helps to detangle the hair for better manageability and styling. It uses mango, olive, shea butter, and tea tree extract to condition the hair. It makes the hair soft, moisturized, and shiny. It is odorless, reduces frizz, and does not cause itching.
Pros
Pleasant smell
Detangles the wigs
Softens the wigs
Conditions the hair
Reduces frizz
Cons
Might dry out the hair.
Might harden the hair.
Why Trust Stylecraze
Shiboli Chakraborti is a certified skin care coach and enthusiast of hair care products. She articulately presents objective, research-backed information on the products she recommends. She has compiled this list of the best hairsprays for wigs based on many consumer reviews and data from related forums. In addition, she has included a buying guide to help you make the right decision.
Frequently Asked Questions
Is hairspray good for wigs?
Yes. Water-soluble hairsprays for wigs are extremely useful. They hold the style in place and improve the look of the wig. However, excessive use of hairspray can be damaging as well.
Can you use hairspray on a wig every day?
Yes. Using hairspray on a wig every day will not damage it, but take care to spray the product from a distance and wash the wig occasionally to prevent product buildup.
Can you use regular hairspray on a wig?
No, regular hair sprays can ruin the synthetic fibers of the wig and make them dull. Therefore, skip using regular hairspray on a wig.
How long does hairspray last on a wig?
The effect of a hairspray lasts a few hours to a whole day on the wig, depending on the product's potency.
How can I remove hairspray from a wig?
• Brush the wig from the ends to the root and disentangle the strands.
• Fill the sink with warm water. Add a cap of shampoo.
• Immerse the wig in the shampoo water and soak it for five minutes.
• Rinse the wig with warm water and get all the residues out of it.
• Pat the wig dry with a clean towel and hand it on a wig stand to let it air-dry overnight.
Recommended Articles