50 Best Hairstyles of This Wedding Season
The wedding season has just started this year and there is absolutely no doubt that all bride-to-bes have geared up for the preparation of the special day of their lives. While getting the right bridal outfit of our choice seems to be quite easy for many of us, it is really tough to decide on the perfect hairstyle to suit that dress. Well, let us be your way-shower. Explore 50 most beautiful hairstyles of this wedding season that you can't help but love:
50 Best Hairstyles of This Wedding Season
1. Loose Messy Waves with Twisted Side:
Let us start with a very casual hairstyle that is easy to wear as well as chic in appearance. Leave your naturally wavy hair loose and add a messy flair to it. Now, twist up one side and secure it at the back.
2. Low Side Bun with Side Part and Textured Curls:
This is a perfect wedding hairstyle for women with short curly hair. Give it texture with hairspray, part it to one side and make a low side bun at the other side. Also, let a few coily strands rest on your forehead.
3. Relaxed Center-Parted Waves with Spiral Ends:
Enjoy the celebration of your marriage the most with this relaxed and comfy hairstyle. Create soft waves on your colored hair and define them with texture. Finally, add some spiral curls at their ends.
4. Low Side Bun with Puffy Crown and Side Sweep:
Look at your best on your big day with this utterly gorgeous hairdo. Tease up the crown in order to puff it up and make a small low bun with rest of the hair. At last, turn the front hair into a nice side sweep.
5. Short Wavy Bob with Messy Wispy Layers:
If you have a short bob, you can adopt this style for a trendy bridal look. Create waves on your off-centered layers and turn their ends into wispy points. The shortest layers should swing over your forehead carelessly.
6. Simple Wavy Locks with Side Part and Pinned Sides:
This is one of the most common wedding hairstyles for women having delicate natural waves. Just make a side part and pin the sides at the back, while letting rest of your hair flow down your shoulders.
7. Polished Low Semi-Circular Bun with Volumized Crown:
Complement your stunning wedding dress with this out of the box bun hairdo. Start with giving your locks a smooth polished finish by applying serum. Then, add considerable volume to your crown and make a semi-circular bun resting at the nape of the neck.
8. Messy Low Side Hairdo with Free-Ended Bun and Side Sweep:
This beautiful side half hairdo will look awesome with an embellished bridal gown. Part your slightly messy hair to one side, sweep it over the other side of your forehead and turn it into a low side bun. The end hair should be placed over the shoulder to give a free-ended look.
9. Messy Waves with Tight Front Braid and Puffy Crown:
Start making a side part and section off the hair up to the opposite ear as you go half the way. Add a little volume to the front hair, braid it up and tuck it behind the ear. Also, puff up the crown and gather rest of the waves over one shoulder, while retaining the natural messy look. Absolutely stunning!
10. Loop Hairdo with Hair-Wrapped and Knotted Ponytail:
Divide your hair into two segments and make hair-wrapped ponytails with each of them separately. Now, fold the lower pony up and create a knot by tying it with the upper one. This will form two decent loops at the back of your head. A very innovative way to jazz up your bridal look!
11. Semi-High Side Ponytail with Random Textured Curls:
Give your hair a neat and smooth look by applying lots of mousse to it. Side-part it and come up with a high side ponytail at the other side. Finally, use your curling iron and add random textured curls to the ends of the pony.
12. Medium-Length Waves with Double buns:
Add a touch of cuteness to your glamorous wedding look with this simple yet adorable hairstyle. Brush your medium-length wavy hair back and create two fluffy side buns by taking a thick section of hair from each side. At last, glam it up with a nice hair accessory.
13. Loose Waves with Braided and Hair Wrapped Ponytail:
Here is another pretty half hairdo that will go perfect with any bridal look. Brush your wavy hair back and divide it in two sections. Braid up the upper section up to the center-back of your head and turn it into a ponytail wrapped by hair. A hair brooch will spice up the look to a great extent.
14. Ombre Waves with Pinned Sides and Twisted Front:
This is the best way to show off your striking ombre waves on your big day. Smoothen up two sides and pin them at the back. Roll the front section to any one side and secure it there. Now, tease the crown area a little bit and allow your waves cascade your shoulders elegantly.
15. Layered and Textured Bob with Hair Band and Spiral Ends:
If you have thick short bob with intense layers, here is your way to doll up your wedding appearance. Texturize the layers a lot and curl up their ends with a small barrel iron. Now, adorn it with a hair headband and you are all set to go.
16. Tight Low Braided Bun with Smooth Finish:
No other bridal hairstyle looks as classy as a braided bun. Here, the entire hair is made smoother and secured with an elastic band at the nape of the neck. Braid the hair up in small sections and finally, twist and fold all of those braids into a low tight bun.
17. Puffy and Textured Low Bun with Rolled Side Bang:
Look highly sophisticated with this unique hairstyle on the very special day of your life. Volumize as well as texturize the top hair and turn it into a low bun. Then, roll back the front section to one side and secure it there.
18. Smooth Textured Low Hairdo with Twists and Folds:
Divide your hair into upper and lower sections and give them a polished look by applying serum. Make a small bun resting at the base of your neck with the lower section of hair. Now, twist up the upper section and wrap it around the bun properly. Here is an elegant you!
19. Simple Low Bun with Mini Bouffant and Side Sweep:
This hairstyle combines a mini bouffant, a small low bun and a perfectly swept bang over the forehead. Add a zing to it with a metal headband and look traditionally beautiful on the day of your wedding.
20. Sleek Center-Parted Hair with Thick Braided Headband:
Create a long center part starting from the forehead up to the base of the neck and give it a flat polished look by applying serum generously. Now, braid up the entire hair and secure it from ear to ear with bobby pins. A very sweet hairstyle for a neat bridal look!
21. Shiny Straight Highlighted Locks with Puff and Headband:
If you have long straight highlighted hair, this will be your ideal choice for an urbane wedding hairstyle. Brush it back and let it cascade your sexy back in a classy manner. A monochromatic headband will balance off the whole thing flawlessly.
22. High Voluminous Pony with Pouf and Ombre Waves:
This is a romantic hairdo for a new bride with long ombre hair. Create a small pouf at the top and pull the locks back at your crown to form a high ponytail. Curl up the pony intensely and give it enough volume to look extremely sensational.
23. Tight High Updo with Pouf and Curved Front Bang:
Separate a thin section of hair at the front and create a small pouf right at the top. Pull the hair back at the crown and make a tight high updo. Now, curl up the front bang softly and secure it into your pouf. Isn't it an awesome style for your wedding day look?
24. Side-Parted Bob with Volumized and Rounded Back:
Who says that a short bob doesn't suit a dreamy bridal hairstyle? Check out this shoulder-length bob with tidy side part. You need to create volume at the crown and smoothen up the back hair properly in order to achieve this look wholly.
25. Short Textured Hair with Long Spiral Side Bang:
This is basically a short hairstyle with exceptionally long side bang. At first, part your hair to any one side and lots of texture to it. Now, curl up the side bang to give it a nice spiral shape and let it embrace your face. Quite edgy, right?
26. Curly Flowery Updo with Puffy Crown and Side Braid:
In this hairstyle, the curly hair is texturized intensely so that you can wear a precise hairdo without putting much effort. Add a little puff to your crown and create a large flowery updo at the back of the head. Now, braid up the side hair and secure it into the updo with bobby pins.
27. Shoulder-Length Retro Bob with Textured Curls:
When it comes to putting on a retro bob hairstyle on the day of wedding, the season really doesn't matter. Just texturize as well as curl up your shoulder-length bob and give its ends a rounded shape. You are ready to stun your guests with your killer look!
28. Long Waves with Curly Ends and Layered Side Bangs:
If you prefer to keep your smooth and shiny locks loose with your bridal outfit, give this simple and sexy style a try. Side-part your long wavy hair and create a puff at your crown. Add a spiral effect to the ends of your hair and curl up the layered side bangs slightly in the outward direction.
29. Tight High Twisted Updo with Polished Finish:
This magnificent twisted updo goes perfectly well with the wonder and splendor of the marriage celebration. Brush back and smoothen up your top hair and form a huge tight updo at your crown just by twisting the hair precisely.
30. Casual Low Bun with Side Sweep and Loose Strands:
Go casual on your big day and look differently beautiful from all the aspects. You can simply side part your hair and make a small twisted bun at the nape of your neck. A deep side sweep and a few loose hair strands at the other side of the head will add definition to this style.
31. Volumized Ombre Waves with Front Fringes:
This wavy ombre hair will raise your oomph factor spectacularly, if worn with a heavy embellished wedding dress the right way. Do not forget to add those relaxed front fringes and a little volume to your crown.
32. Low Messy Flower Bun with Side Part and High Volume:
Such a gigantic flower bun itself will make you the true center of attraction of the ceremony. However, you must create a side part, volumize the crown and add texture to your hair before turning it into a wonderful low bun.
33. Puffy Textured Waves with Highlighted Ends and Side Bang:
This is a wavy side hairdo, which will match the vibe of a romantic wedding ceremony flawlessly. Tease the top and add lots of hairspray to it. Now, gather all your side-parted hair to one of your shoulders and let it rest there. Opt for a highlighted ends and a simple side bang to perk up the look.
34. Shoulder-Length Voluminous Bob with Very Thin Curls:
Add oodles of volume to your shoulder-length bob hair by taking it in very thin sections and curling them up with a small barrel curling iron. It will frame your face nicely and give you a distinct look on your big day.
35. Neat Center-Parted Low Bun with Smooth Finish:
A neat smooth finish is the secret to this striking wedding hairstyle. Start with creating a middle part and apply serum all over the hair liberally. Now, pull the smooth sleek hair back at the nape of your neck and twist it up into a small decent bun.
36. Bouffant with Wavy Side Sweep and Messy Finish:
This is a modified version of the conventional bouffant hairdo and needless to say, it will go very well with your bridal appearance. Just add a deep side sweep to the bouffant and give it a slightly messy finish.
37. Messy Twisted Ballet Bun with Pouf:
A ballet bun might seem to be a mismatch for the gorgeous event of wedding. But if you can wear it properly, it will turn out to be the ideal pair off hairstyle for your sexy backless bridal gown. All you need to do is create a pouf and give a little tangled flair to the hair.
38. Short Textured Hair with Folded Front and Puffy Tucked In Back:
Start with making a short side part and texturizing the hair nicely. Now, puff up the back hair to some extent and tuck it in for a vintage look. Also, fold up the front and the side hair in the inward directions and secure them into the tucked-in back hair with bobby pins. You'll definitely love it for your big day.
39. Soft Romantic Spiral Curls with Middle-Part and Texture:
Add slight texture to your glossy highlighted hair and curl it up softly, while giving the ends a beautiful spiral shape. Now, middle-part those luscious locks and let them flow down your well-defined shoulders. You are looking just like a princess.
40. Smooth Textured Loop Hairdo with Twists and Folds:
Here, the angular loop is created by twisting and folding the textured hair in the right manner. However, you must smoothen up your locks and brush it back neatly prior to sporting this hairstyle on your wedding day.
41. Massive and Super High Bun with Polished Finish:
Add height to the crown of your head by opting for this super high bun updo. Smoothen up your hair and pull it a little back at the crown. Then, fold it into a massive bun and apply hairspray to give it a polished finish. An exclusive bridal hairstyle – all we can say!
42. Straight High Ponytail with Pouf and Hair Wrap:
This is quite a simple hairstyle that can surprisingly give you an outstanding look on your wedding day. Create a small pouf at the top-front of your head and come up with a hair-wrapped high ponytail by pulling all your smooth straight hair back at your crown.
43. Loose Side Braid with Textured Waves and Curly Bang:
Look dazzling on your wedding day just by braiding up your wavy blonde hair. Create an off-center part and make a loose side braid with your textured waves. A slightly tangled flair and a spiral side bang will enhance the look even more.
44. Half Hairdo with Straight Layers and High Hair-Wrapped Pony:
Straighten up your long layered hair first. Now, take a thick section from the front and make a high ponytail with it right at the top. Wrap its base with hair and let remaining hair rest on your shoulders stylishly.
45. Layered and Outward Feathered Locks with thick Fringes:
Outward feathers look highly attractive on layered hair and here, the look is jazzed up with the help of thick front fringes. Adding volume to your crown will help you glam up even more on your marriage ceremony.
46. Messy Loose Textured Waves with Braided Headband:
Create waves on your medium-length hair and give it a messy textured finish. Now, braid up a thick section of hair and secure it from ear to ear as a headband. This hairstyle will boost the beauty of your wedding attire nearly ten times.
47. Straight Loose Hair with Big Pouf Pinned at Back:
We love this simple yet impressive hairstyle, especially for a gorgeous bridal look. Tease up the front and top sections of your head extensively in order to create a huge pouf. Now, pin it at the middle of the back and leave rest of the hair loose.
48. Intense Waves with Textured Messy Finish:
If you like relaxed beachy waves, you will love this one too. It features a deep side part and intense flowy waves, cuddling the face as well as the shoulders. Allow a thin section of hair to sweep over your forehead and add messy textured finish to your waves.
49. Rolled Back and Braided Side Hairdo with Spiral Curls:
Make your hair smoother by applying serum and roll it back to one side of your head. Braid up the front section loosely and secure it into the hair present at the side with bobby pins. Finally, turn the end of your hair into a dense spiral curl. You are ready with your unusual bridal look.
50. Low Straight Pony with Puffy Crown and Layered Fringes:
This is a low side ponytail created on straight and silky smooth hair. But, semi-circular front fringes and uneven puffy crown have made it different from other similar pony hairdos. Give it a try on your big day and get appreciated by your guests.
So, which one of these striking hairstyles are you going to sport on the day of your wedding? Why did you like it by the way? Do let us know by commenting below.
The following two tabs change content below.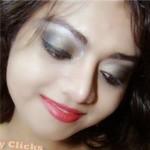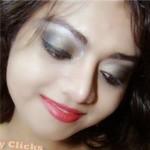 Zinnia
I love makeup,dance,dressing up,singing,writing ,acting (stage drama),eating and nail arts. I live life to the fullest and enjoy every moment as it comes.