15 Best Hand Creams And Lotions For Nurses – 2023
Prioritize your safety along with skin care with moisturizing products that protect your hands. Nursing and healthcare professionals have high standards about the products they use on their hands. Some of the best hand lotions for nurses can help keep their skin hydrated. People in the nursing profession are constantly on the alert to prevent infections from spreading. Their hands are sanitized, over-washed, over-disinfected, or they wear gloves for too long. Unfortunately, these may dry out your hands. Therefore, you need to look for the ideal hand creams and lotions.
These skin care products rejuvenate the skin, create a protective barrier, and moisturize the hands. Here are the 15 best hand creams and lotions specifically designed for nurses. Check them out.
15 Best Hand Creams And Hand Lotions For Nurses
The O'Keeffe's Working Hands Hand Cream is one of the popular hand care creams that help heal dry, dehydrated skin and cracked hands. The concentrated cream is clinically proven to instantly replenish moisture levels and relieve damaged and dried hands by instantly sealing hydration. The glycerin and mineral oils in the cream offer intense hydration. They act as humectants that draw in skin moisture and keep the hands smooth and soft. The mineral oils also act as a protective barrier and prevent moisture loss. For best results, apply the intense relief hand cream after every hand wash. This video offers a more detailed explanation of the reviewer's experience with the product.
Pros
Heals dry and cracked skin
Grease-free
Seals hydration
May offer relief from eczema and psoriasis
Cons
May cause allergic reactions
May contain silicones
Price at the time of publication: $8.48
This one is a widely-known dermatologist-recommended brand. A drop of the Neutrogena Norwegian Formula Moisturizing Hand Cream turns extremely dry, cracked skin smooth and soft. It is rich in glycerin that provides moisturization. Glycerin is a humectant that pulls water to the outer layer of the skin and seals hydration. This moisturizing hand cream contains stearic acid that acts as an emollient and emulsifier. It creates a waxy protective barrier on the skin and prevents moisture loss.
Pros
Nourishing
Long-lasting
Dermatologist-recommended
Suitable for eczema and cradle cap
Clinically proven
Has no added fragrances
Hypoallergenic
Non-comedogenic
A small amount would suffice
Cons
Contains parabens
Little greasy
Price at the time of publication: $22.08
Eucerin is a well-renowned dermatologist-recommended skin care brand. The Eucerin Intensive Repair Lotion is a 3-in-1 solution to moisturize, exfoliate, and condition dry, dehydrated, flaky hands. It contains alpha-hydroxy acid that gently exfoliates the skin and natural moisturizing factors (NMF) that deeply nourish your hands. The natural moisturizing factors also help create a protective coat for locking adequate hydration, leaving soft and smoothened skin. It also protects the underlying cells from infection, dehydration, and chemical damage. AHA is a mild exfoliant that buffs away dead skin to restore the skin's radiant glow. It also acts as a humectant that adds life to dry, chapped skin.
Pros
Paraben-free
Dermatologically-tested
Fragrance-free
Safe for sensitive skin
Useful for eczema and keratosis pilaris
Cons
Greasy
May dry the skin out
Price at the time of publication: $11.77
Camille Beckman Cream is a restorative moisturizing therapy. It is infused with glycerin, vitamin E, aloe vera, almond oil, and other invigorating botanical extracts. This high-performance formula restores skin hydration and moisturization and leaves your hands softer and silky smooth. Aloe vera is a cooling ingredient and an anti-inflammatory that heals dry skin. Almond oil is rich in fatty acids and acts as a protective shield. It helps treat dry, cracked, and painful skin. Additionally, conduct a small test on a patch of your skin to check for any irritation.

Pros
Vegan formula
Non-greasy
Gluten-free
Made with 100% plant-derived ingredients
Blurs the signs of aging
Paraben-free
Phthalate-free
Free from artificial fragrances
Cons
Consistency could be too thick
May dry hands out
Price at the time of publication: $7.99
The Ahava Dead Sea Mineral Hand Cream is infused with nutrient-rich dead sea minerals and smoothening witch hazel. It also contains 21 essential minerals like magnesium, calcium, and potassium that replenish the skin's texture. Witch hazel acts as a toner to condition dry skin and reduce inflammation. This intense moisturizing hand-cream can be used daily to elevate skin moisture. You may check this video for a better understanding of this product.
Pros
100% vegan formula
Paraben-free
Hypoallergenic
Refreshing aroma
Can be used daily
Cons
Strong smell
Consistency could be too thick
Price at the time of publication: $18.0
The Burt's Bees Ultimate Care Hand Cream acts as a moisturizer and a gentle exfoliant to revitalize dry, cracked hands. The clinically proven, allergen-free formula nourishes and hydrates dry, chapped hands by gently removing the dead cuticles. The cream is a natural blend of baobab oil, watermelon seed oil, pumpkin oil, shea butter, and green tea extracts that seal moisture all day. The natural fruit acid complex removes dead and dry cuticles and revitalizes rough skin. The hemp seed oil in the cream is rich in vitamin E. It also has a balanced blend of omega-3 and omega-6 fatty acids that moisturize the skin.
Pros
Paraben-free
Phthalate-free
Provides a day-long moisturization
Lightweight
Fast-absorbing
Long-lasting
Dermatologically-tested
Hypoallergenic
Non-comedogenic
Non-grease
No added fragrances
Cons
None
Price at the time of publication: $7.39
The Yareli hand cream is the perfect solution for dry, cracked hand skin. This powerful formula contains dead sea minerals and plant extracts to nourish and protect your skin without leaving a greasy residue. The quality of Yareli hand cream meets European standards with clean ingredients that are 100% free harmful additives, and the non-greasy formulation absorbs quickly so you can get on with your day with soft and smooth hands. For those looking for an effective way to combat their dry hands while also protecting their skin from harsh chemicals, this is a perfect option!
Pros
Nourishing
Long lasting
Paraben-free
Phthalate-free
Artificial fragrance-free
Vegan
Cons
None
Price at the time of publication: $11.9
The Gloves In A Bottle Shielding Lotion helps reverse the damage done to over-sanitizing hands. It keeps hands feeling soft and looking healthy. If your hands are exposed to home and work irritants, alcohol sanitizer, or surgical scrubs, this long-lasting, intense hydrating hand cream is the right choice. It is made of glycerine, stearic acid, and dimethic one. These help condition the skin and improve its texture. The unique formula also offers a protective shield against eczema and psoriasis. It also revitalizes dry, cracked, and chapped skin. It gently sloughs off dead skin cells without clogging the pores. This video review will help you learn more about the reviewer's experience with the product.
Pros
Non-comedogenic
Provides sun protection
Perfect for sensitive skin
Lasts for 4-12 hours
Dermatologist-recommended
Cons
Price at the time of publication: $26.95
The Curél Extreme Dry Hand Relief offers relief from rough and dry patches in your hands. The gentle and soothing formula consists of eucalyptus extract that offers intense moisturization and long-lasting protection to your skin. The non-greasy formula also contains vitamin E and monoi oil. These soothing ingredients offer added softness and smoothness to your hands and provide skin's moisture barrier protection.
Pros
Moisturizing formula
Non-sticky formula
Long-lasting
Fragrance-free
Dermatologist-recommended
Cons
None
Price at the time of publication: $3.97
The L'Occitane Moisturzing Hand Lotion has a delicate, soothing aroma to refresh your hands after each wash. It is enriched with lavender essential oil and she a butter that deeply nourish and moisturize dehydrated skin. Shea butter is rich in essential fatty acids that act as a protective barrier. It seals hydration and makes your hands smooth and soft. It has anti-inflammatory and healing properties that protect your hands after each wash. Also, ensure that it is tested beforehand on your skin to determine its overall effectiveness.
Pros
Moisturizes hands
Seals hydration
Anti-inflammatory
Soothing aroma
Long-lasting
Absorbs quickly
Cons
None
Price at the time of publication: $30.0
The Gold Bond Healing Hand Cream comes with aloe vera, seven intensive moisturizers, and vitamins B, C, and E. The aloe vera in the formula helps comfort and soothe the skin. Vitamin B, or niacinamide, helps improve the appearance of the skin. Vitamin C protects the skin from harmful environmental aggressors. Vitamin E successfully helps prevent moisture loss. The cream lasts through intense handwashing and keeps your skin from getting rough and dry.
Pros
Lightweight
Non-greasy
Quick-drying
Long-lasting
Fragrance-free
Dermatologist-tested
Cons
None
Price at the time of publication: $3.99
Protect and condition your skin with the intensely hydrating Olive Leaf Lotion by Thymes. It is infused with shea butter and vitamin E that smoothes your skin and makes it soft and supple. It nourishes your overworked hands and also protects them. This lotion has a unique fragrance with fresh laurel leaf, sunny lavender, crisp balsam, and rich patchouli notes.
Pros
Non-greasy
Fast absorbing formula
Pleasant fragrance
Refreshing
Paraben-free
Cruelty-free
Petrolatum-free
Cons
Price at the time of publication: $16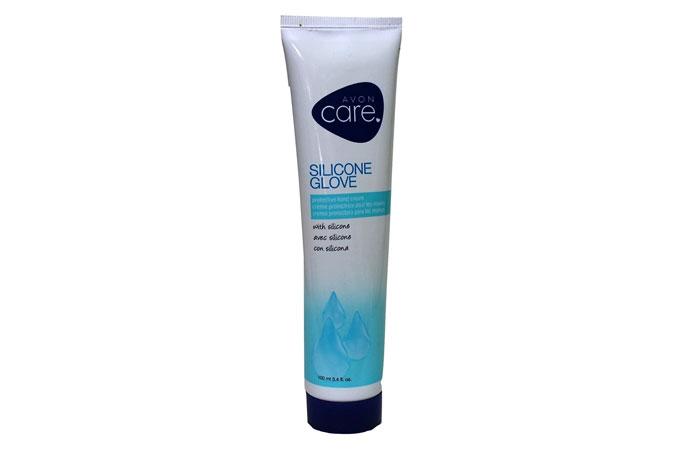 The Avon Care Silicone Glove Hand Cream is a protective gel that seals hydration and moisture and keeps hands soft and supple for longer. It is infused with dimethicone and mineral oils that protect against skin irritants. Dimethicone has a skin-conditioning effect. It minimizes water loss from the skin by sealing hydration. It improves skin smoothness. The mineral oils alleviate skin redness and protect the skin from the aggressors.
Pros
Long-lasting hydration
Protects the skin from irritants
Reduces skin redness
Smoothens the skin
Cons
Price at the time of publication: $6.75
The Glysomed Hand Cream contains glycerine, silicone, and chamomile that help restore the skin's moisture balance. They also soothe and calm dry, itchy, and irritated skin. The antioxidants in chamomile protect the skin from free radical damage and promote beautiful skin texture. However, it is best to test the product on a small area of the skin to check for allergic reactions.
Pros
Soothing smell
Seals moisture
Ultra-hydrating
Dermatologist-recommended
Cons
Price at the time of publication: $14.25
The Palmer's Hydrating Hand Cream is the perfect solution for those seeking a luxurious, moisturizing experience. It is formulated with natural ingredients like coconut oil and green coffee that hydrates and replenishes skin for 48 hours of moisture. It also uses fair trade certified organic extra virgin coconut oil to make sure that it's free from any animal ingredients or testing.
Pros
Lightweight
Absorbs quickly
Long-lasting
SLS-free
Paraben-free
Cruelty-free
Dermatologist approved
Cons
None
[multi_buy_now_btnasin="B09C6NPF71″amz_affilate="tsr-skincarepro-20″walmart_affilate=""]
These are the fifteen top-quality hand creams and hand lotions for nurses. The following section discusses the need nurses have for such products.
Why Do Nurses Need A Good Hand Cream?
Nurses and other healthcare professionals regularly deal with several patients. Hence, they have a higher risk of contracting infectious diseases. They need a wider range of protection, and hence, they often wash their hands with soaps or heavy-duty sanitizers. However, excess hand washing, although mandatory, may lead to dry, cracked, and chapped hands. It may lead to skin irritation and cause the skin to go dry. Hence, a high-quality hand cream is essential for nurses and other healthcare professionals.
Dr. Ahmad Fayyaz Chaudhry, MBBS, RMP, Dermatology, says "Nurses are on the front lines of patient care, and they need to take care of themselves in order to provide the best possible care for their patients. One important way to do this is to avoid getting dry, chapped hands. Dry hands can make it difficult to perform delicate tasks, and they can also lead to infection. To help prevent dry hands, nurses should use hand cream regularly. Hand cream helps to lock in moisture and protect the skin from the harsh chemicals that are often found in hospitals."
The next section enables you to choose the right product to protect your hands. Go through the checklist.
The Buying Guide
Check for the texture of the hand cream. It should be lightweight and non-greasy to protect your hands for a longer duration.
Check for the natural humectant ingredients that seal hydration. Glycerin is a natural humectant that hydrates all the layers of the skin and seals hydration in the topmost layer of the skin.
Check for natural botanical extracts like shea butter and cocoa butter. These are emollients and essential ingredients that can make hands soft, smooth, and supple.
Check for fatty oils. They offer a protective shield that can seal moisture on the skin. They also provide intense hydration and nourish dry skin. You may also check for avocado oil, almond oil, and coconut oil for additional benefits.
The hand cream should be free of chemical ingredients. It is best to opt for professional-grade formulas with skin-loving ingredients for best results.
Your favorite pick should contain vitamin E, a natural antioxidant that protects your hands from aggressors.
Why Trust StyleCraze?
Oyendrila Kanjilal is a certified skin care coach. She believes that though everyone is conscious about caring for the skin on the hands, nurses need special care as their hands are often exposed to adverse reactions from medications and infections. In this article, Oyendrila has conducted thorough research and carefully reviewed some of the best hand creams and hand lotions for nurses. The products are selected based on excellent user reviews and feedback.
Frequently Asked Questions
Why do nurses have dry hands?
Nurses have dry hands due to frequent handwashing or the constant use of sanitizers, soaps, and handwashes. The formulas strip their hands of natural oils making them dry and rough.
What is the difference between hand lotion and hand cream?
The major difference is that hand creams have a thicker consistency and high oil content whereas hand lotions have a thinner consistency and high water content.
How many times a day can you use hand lotion?
Apply a hand lotion every time you wash your hands or every two hours to make your hands remain soft and supple.
Do hand lotions make hand hygiene less effective?
No, in fact, hand lotions help in keeping your hands soft and supple while catering to their overall hygiene. It is important to use a hand cream or a lotion after washing your hands as the repairing formulas make sure that your hands are not turning rough.
Why does it burn when you put hand lotion on dry skin?
Dry skin may burn when you put lotion on it due to the pH difference between your hand and the lotion. This may also mean that the hand lotion formula is not compatible with your skin.
Recommended Articles