Keep Your Hands Soft With The 10 Best Hand Soaps For Sensitive Skin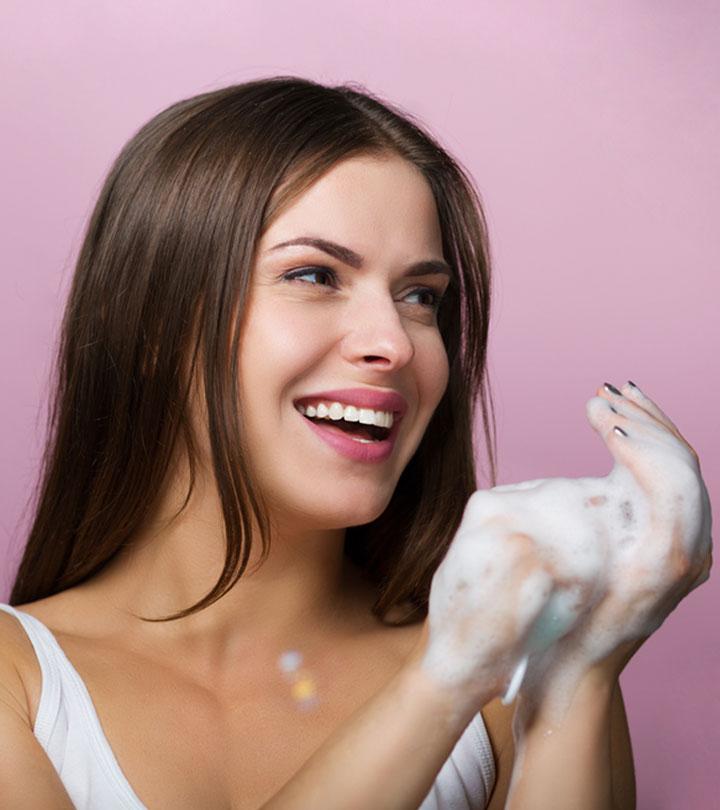 Hand soaps are a crucial sink accessory, especially during the pandemic. However, if you have sensitive skin, it can be tedious to find one that won't leave your hands itchy, dry, and flaky after every wash. So, when you're looking for the best hand soap for sensitive skin, you need one that kills germs while providing hydration and nourishment to your skin.
Moisturizing hand soaps infused with ingredients like glycerin, olive oil, aloe vera, and vitamin E are a great choice because they prevent moisture loss by retaining water in the skin. They also remove dirt, grime, and oil while maintaining the skin's natural pH levels. If you've had no luck narrowing your choice down to one, don't worry. With our list of the 10 best hand soaps for sensitive skin, we are sure you will get your hands on the perfect one for your gentle skin. Happy shopping!
Top 10 Hand Soaps For Sensitive Skin In 2021 – Reviews And Buying Guide
If you are looking for a cruelty-free, plant-based formula, this hand soap is the one for you. Its gentle formula eliminates oil, dirt, germs, and grime while moisturizing dry hands. It includes hydrating ingredients like vitamin E, aloe vera, lavender, and vanilla essential oil to tackle dry and itchy skin. Its liquid formula also contains sea salt to neutralize your skin's pH balance for soft, supple hands.
Pros:
Natural ingredients
Vegan formula
Cruelty-free
Hypoallergenic
Free of harmful chemicals
Suitable for all skin types
Cons:
Some may find the scent overwhelming.
The Seventh Generation hand soap is excellent for sensitive skin because of its gentle plant-based formula. It includes ingredients like citric acid, glycerin, and coco glucoside, which leave the skin feeling soft and clean after every wash. It also contains aloe vera to soothe and moisturize sensitive skin. If you're worried that it possesses a strong, overwhelming scent, don't be! Made from essential oils and botanical ingredients, this hypoallergenic hand wash has a light and pleasant fragrance that is loved by many.
Pros:
Plant-based ingredients
Light fragrance
Hypoallergenic
USDA-certified
Suitable for sensitive skin
Cons:
If you suffer from eczema and are on the lookout for an antibacterial hand soap for sensitive skin, the Free & Clear Liquid Cleanser is perfect for you! Rather than stripping away moisture from your skin, this hand soap will hydrate your hands with replenishing ingredients. It contains glycerin, sodium chloride, and citric acid, which rid the pores of dirt and grime, leaving you with smooth and nourished hands.
Pros:
Gluten-free
Sulfate-free
Non-comedogenic
Dermatologist-tested
Suitable for sensitive skin
Free of parabens, betaine, dyes, and synthetic fragrances
Cons:
What makes this a great hand soap for sensitive, dry skin is its unique formula that balances the skin's pH levels while preventing your hands from getting dry or itchy. It has a plethora of skin-friendly ingredients like aloe leaf juice and vitamin E, which eliminate dirt and grime without irritating your sensitive skin. It is also enriched with glycerin to retain moisture and clear dead skin cells. The unscented formula ensures that your hands feel clean, soft, and smooth.
Pros:
Fragrance-free
Does not contain any dyes
Suitable for sensitive skin
Moisturizing ingredients
Cons:
It may take a long time to wash off completely.
This natural hand soap for sensitive skin contains a powerhouse of ingredients like chamomile extract and oatmeal that will clean and nourish your hands, especially if you are suffering from eczema. The plant-based formula also has glycerin and citric acid that work well on dry, itchy hands to eliminate dirt while replenishing hands from lost moisture. Free from dyes and fragrances, this gentle hand soap for eczema is suitable for all skin types.
Pros:
Plant-based formula
Hypoallergenic
Cruelty-free
Unscented
Cons:
When dry and itchy skin gets the best of you, all you need is a moisturizing hand soap like this one from EO Essential Oils! Whether it's eczema or sensitive and dry skin, this hand soap will naturally soothe and cleanse your hands. It is formulated with French lavender and lemon eucalyptus essential oils that leave behind an indulgent fragrance. This liquid hand soap for sensitive skin also contains amino acids, aloe vera, and white tea extracts, which work together to moisturize the skin and remove dirt and grime.
Pros:
Vegan
Cruelty-free
Mild fragrance
All-natural ingredients
Gluten-free
Free of parabens, sulfates, phthalates, or dyes
Cons:
May contain a type of sulfate
Ditch that aggravating hand soap that leaves your skin dry and itchy, and switch to organic hand soap for eczema like this one. This hand soap for sensitive skin filled with plant-derived ingredients like lemongrass and grapefruit will gently cleanse your skin with their restorative properties. The liquid formula has nourishing components like vitamin E and antioxidants that balance pH levels while ensuring smooth and soft hands.
Pros:
Hypoallergenic
Suitable for sensitive skin
Plant-based ingredients
Free of dyes, parabens, phosphates, or phthalates
Cons:
Some may find the consistency slightly runny
If you are looking for a hypoallergenic formula, you should give the Natralia Dry Skin Wash a try! This hand soap for eczema-prone skin has a mild formula that contains natural cleansing ingredients like coconut oil and glycerin to exfoliate the skin gently while replenishing its moisture levels. The combined power of citric acid and almond oil maintains the skin's pH levels without stripping it of its natural oils. Say goodbye to flaky and itchy skin, forever!
Pros:
No artificial scent or colors
Sulfate-free
Mild formula
Ideal for sensitive skin
Cons:
May not be best suited for dry skin
This gentle hand soap for sensitive skin dives deep into your skin and removes any dirt or grime from the pores. Dead Sea mud in the soap detoxifies and exfoliates the surface layer for soft, smooth skin. Don't worry about painfully dry hands because its formula also contains active ingredients like salt minerals and witch hazel extract that purify and hydrate the skin. It has a gentle, non-comedogenic formula that treats skin conditions like acne, rosacea, eczema, and psoriasis.
Pros:
Cruelty-free
Paraben-free
Non-comedogenic
Suitable for all skin types
Cons:
Touted as the best sensitive hand soap for eczema, this is a must-have product on every bathroom shelf. The luxurious formula contains oregano oil, which lathers up like a dream, leaving your skin feeling soft and refreshed. It also includes moisturizing components like almond oil and glycerin to exfoliate the skin without stripping it from its natural oils. Free of harmful chemicals like parabens and sulfates, it is ideal for everyday use.
Pros:
Vegan
Cruelty-free
Paraben-free
Sulfate-free
Free of mineral oils
Non-GMO
Cons:
Some might find that this soap doesn't lather enough.
Now that we have looked at the top 10 hand soaps for sensitive skin, here are some things to note before buying the best hand soap.
What To Look For When Choosing The Best Hand Soap For Sensitive Skin
When picking a hand soap for sensitive skin, look for natural, safe ingredients like cocoa butter, olive oil, aloe vera, jojoba oils, and avocado oil. They eliminate grime and dirt from the pores and provide hydration without irritating your sensitive skin. Vitamins A and E also replenish the skin with moisture while maintaining its natural pH levels.
Some soaps contain harmful chemicals like parabens, sulfates, and phthalates, which may aggravate your sensitive, eczema-prone skin. Hence, it is crucial to steer clear of these chemicals and look for natural, organic ingredients. Additionally, we recommend not using hand soaps with synthetic fragrances and alcohol as they can be overly drying and may worsen your sensitive skin problems.
Look for mild formulations that balance your skin's pH levels and ensure that they are non-comedogenic, fragrance-free, and lightweight. Your sensitive skin will thrive with gentle hand soaps because they keep the skin soft without stripping away any moisture.
Now that you know about the top 10 hand soaps for sensitive skin, you are one step closer to achieving your dream of soft, smooth, supple hands. While it is easy to be swept away in the frenzy of fancy hand soaps, it is important you steer away from harsh hand soaps filled with chemicals like parabens, sulfates, and betaine. Always opt for gentle, mild, non-comedogenic formulas that nourish and hydrate your sensitive skin without damaging the surface layer. We hope that our list helped you narrow it down to the one taking your handwashing game to the next level.
Recommended Articles