11 Best Handheld LED Light Therapy Devices Of 2022
Use these light therapy gadgets to rewind the clock and renew your skin at home.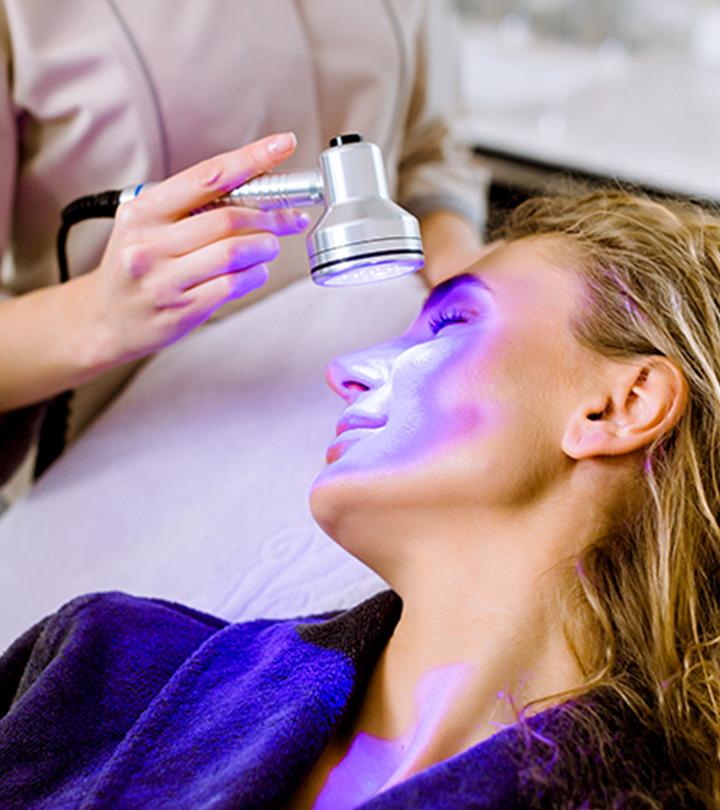 Technology has enabled several brands to develop devices that keep your skin game on point. One of them is a handheld LED light therapy device. These devices emit low-intensity red light that increases collagen production and reduces the sign of visible aging. The best handheld LED light therapy device comes with a slew of benefits. These include reducing acne, hyperpigmentation, improving your skin's elasticity, and healing body tissue. They have also been used to reduce pain and help in relaxing your mind. If the thought of having some rays on you feels dangerous, don't worry. Keep the wavelength and type of device in mind when buying the product, as that can greatly influence your skin quality. While the dozens of options out there seem confusing, we have done some research to save you the time and hassle it takes and have compiled a list of the top handheld LED light therapy devices out there to help you get beautiful and glowing skin. Scroll down for more information!
11 Best Handheld LED Light Therapy Devices To Help Fight Acne
This 4-in-1 LED light therapy machine by Pure Daily is crafted to give you an all-in-one skincare solution that saves you a trip to your dermatologist's office. This handheld light therapy tool comes with 4 modes to suit your skin concerns that outline anti-aging, acne-treating, skin tightening etc. The first 2 settings of the Luma Skin Therapy Wand makes use of Wave Penetration technology that uses powerful red, blue, and green lights that aid in fighting the signs of aging, stimulating collagen, and preventing acne. The third and fourth modes include ionic or galvanic channeling and massage. This helps in pulling out dirt and impurities out of the skin and in faster absorption of serums and ampoules into your skin. Check out this Youtube video to know more about the product benefits and features of the Pure Daily Care Luma Skin Therapy Wand
Pros
4-in-1 LED therapy machine
Uses Wave Penetration technology
Rechargeable battery
Built-in timer for default treatment
Cons
Manual might seem a little incomprehensible
Price at the time of publication: $67.95
The Rika LED facial handheld led light therapy device for acne is equipped with a 3 Color Photon Light Therapy feature to prevent and treat acne. The red LED light helps increase blood circulation and boost collagen for smooth skin. The blue light not only cures acne and kills bacteria but also adjusts skin sebum secretion. The green light on the other hand reduces the appearance of fine lines and wrinkles. This handheld light therapy device lets you quickly shift from one light to the other to treat your skin concerns. It also features 2 intense vibration modes that can be used for full body LED light therapy. Go through this video to better understand this handheld light therapy device.
Pros
3 Photon Light Therapy
2 vibration settings for massaging face and body
Ultrasonic
Cleans pores
Cons
Price at the time of publication: $72.99
Reduce inflammation and pain with the dpl Nuve Pain Light Therapy. It relieves stiffness and pain associated with arthritis and other physical pains and aches. The infrared and LED light therapy penetrates effectively and stimulates blood circulation, relaxes muscles, and offers quick relief. This device is FDA-cleared and has 880nm infrared and 660nm red. It is ideal for everyday pains. Watch this honest review of the dpl Nuve Pain Light Therapy to know the product in details.
Pros
Safe for all skin tones
Larger treatment area
Handheld design
Lightweight
Cons
Price at the time of publication: $126.34
You'd be incorrect if you thought these light treatment devices were only meant for skin rejuvenation and correction as they're also used to relieve chronic pain across the body. This handheld LED light therapy device for pain  by Exerscribe is the only product that incorporates a Tri-Spectrum Technology with wavelengths of 630, 660, and 850. This means that the rays emitted from this device are able to penetrate deeper into your delicate skin using red and infrared lights. The best thing about this gadget is that you can also use light therapy on your pet animals to ameliorate their quality of life!
Pros
Red light pen with rechargeable lithium batteries
Uses Tri-Spectrum Technology of 630, 660, and 850
Helps in relieving body pain
Can be also used on animals
Cons
Battery might die out quickly
Price at the time of publication: $37.58
The Red LED+ Anti-Aging Therapy by E Beauty is designed using natural light waves, which activate photoreceptors in skin cells. This helps in beautifying your complexion as the red light increases blood circulation and enhances production of collagen. The red LED light also helps in stimulating fibre cells and improving blood circulation to reduce wrinkles. This anti-aging device has 2 modes, one that provides a constant light energy for 10 minutes and one that provides a short specific pulse of light light energy. A bonus that comes with this professional handheld LED light therapy machine is it automatically activates only when the device touches your skin.
Pros
Red LED light for treating age-spots, reducing wrinkles
2 modes – constant and pulse
Automatically activates when device touches your skin
Helps improving fibre cells, and blood circulation
Cons
Price at the time of publication: $123.0
This is yet another red LED light therapy device that reduces fine lines and crow's feet while improving skin texture. FDA-cleared, this device assures maximum results within 7 weeks of regular use. This handheld LED light therapy device for wrinkles uses NASA-developed light therapy technology at the optimal power to help alleviate skin problems caused by aging or sun damage. It uses red, non-coherent LED light that seeps into the skin.
Pros
FDA-cleared
97 red LED lights to treat aging skin
3 minute treatments to be used thrice a week
Assures results in youthful skin within 7 weeks
Cons
Could possibly feel drying after use
Price at the time of publication: $74.0
This unique LED machine could easily be your best at home led light therapy.   Designed with a 4-Color LED light system, the device houses pink, red, yellow, and blue wavelengths. The pink light helps brighten and improve skin texture while yellow serves to refine pores. This LED light-charged therapy machine is great for enhancing skin elasticity, cell function, and also helps in increasing blood flow. The vibrations employed in the functioning of this therapy tool also helps in penetrating moisture into the deep layers of your skin.
Pros
4-color LED light system
Best led light therapy machine for home use
Results in 60 days of use
Cord-free, rechargeable
Cons
Not suitable for all skin types
Price at the time of publication: $75.99
XNUO's light therapy device features a 4-in-1 functionality that is ideal for acne-prone skin. It incorporates Ultrasonic Technology, Photon Rejuvenation, Ionic +/- Technology, and Micro-vibration that help to rapidly revive and rejuvenate skin to produce long-lasting results. It also helps in improving uneven skin tone and noticeably reduces fine lines. This skin renewal tool restores elasticity, prevents acne, and promotes skin with the help of red, green, and blue photon LED lights. The ultrasonic mode helps stimulate cell activity while the cleansing mode releases positive ions for deep cleaning.
Pros
4-in-1 function to deep clean and prevent acne
3 LED lights for broad spectrum skin concerns
Stimulates cell activity, releases positive and negative ions
User-friendly
Rechargeable
Cons
Results may take time to show
The Karloz 5-in-1 Facial Massager is one of the best LED facial devices. This multifunctional device uses high frequency, EMS (electronic muscle stimulator), LED light therapy, and sonic vibrations. The EMS function is used to help lift skin. Use this for 10 minutes a day to keep your skin looking young as ever with its different modes that help restore skin's flexibility, blur out wrinkles, accelerate blood circulation, and reduce pigmentation or dark spots. The machine comes with green, red, yellow, pink, and blue LED lights.
Pros
5-in-1 facial massager
Includes green, red, yellow, pink, and blue lights
Helps permeate serums into the skin
Softens and firms skin upon regular use
Cons
Not suitable for those with sensitive skin
Price at the time of publication: $59.99
The CLARO by Spa Sciences is a 2-in-1 professional-grade device that is designed to clear acne. It is FDA-approved and chemical free with innovative blue and red LED light technology that helps all skin types. This device kills all kinds of acne-causing bacteria ranging from mild to moderate. The calming red LED light helps speed up the blemish healing process while the blue light kills and prevents breakouts. Due to its compact size and rechargeable aspect, it is travel friendly.
Pros
2-in-1 light therapy device
FDA-cleared
Prevents acne and breakouts
Soothes skin and heals the blemishes and marks
Cord-free
Cons
Battery life may not be impressive
Price at the time of publication: $29.99
This handheld LED infrared light by Sinoriko is designed to stimulate healthy cellular function with its optimal wavelengths of light that helps in permeating into the deeper layers of the skin. This device targets wounds and inflamed parts that require attention to relieve you of the pain. It is a lightweight apparatus that is easy to use and is rechargeable. The infrared LED light which is emitted from the system is harmless and cannot be felt.
Pros
Handheld LED infrared light therapy helps relieve pain
Ideal for wounds, joint, and tendon pain
Portable
Rechargeable and cord-free
Can be used on animals and pets
Cons
Price at the time of publication: $165.99
How To Choose The Best Handheld Light Therapy Device?
As mentioned in the beginning of this article, choose the LED light that will benefit your skin conditions. Generally we have red, blue, and green lights for specific issues though there are a few brands that combine these lights to help combat more than one skin concern.
This can be a personal preference, though it is advised to opt for one that is rechargeable to save you the hassle of repairing or opting for a spare battery. Rechargeable devices are cordless and are easy to manage without any tangled wires or cords.
Conduct a patch test on your skin before using the item on a bigger skin surface to avoid rashes, or burns, or any side effects. If you have sensitive skin then do check with your dermatologist before buying such devices.
How To Use A Hand held Light Therapy Device?
These handheld devices come with thoroughly scripted manuals, so following what the manuals suggest is key. However we do have a few tips on how you can perfect your skincare routine with a light therapy machine.
For a successful session, remove any trace of makeup. If needed, double cleanse before beginning.
Apply any cream or serum that is recommended or is compatible to be used for light therapy treatments in order to help suffuse the product deeper into the skin.
Adjust your LED light settings, if it is a multi-light device, then check for buttons that will switch from one light to the other.
Set a timer for the session, check the manual for the recommended time frame. Make sure to invest the same for your next sessions.
Protect your eyes with protective goggles first before you begin.
Once your session is completed, apply a serum or cream that is formulated to reserve the effects of the LED treatment.
Facial light wands are on the rise and are soon becoming new additions to skincare routines. Due to their added benefits to help restore and restructure the skin's texture and quality, majority of the brands are catering to design home use technology that would save you time and money. This is where we help you decide the best handheld LED light therapy device with all the LED light therapy machine reviews so that you can choose your best pick and incorporate it into your skincare regime for a flawless, youthful, and smooth skin.
Why Trust Stylecraze
Vaishnavi Kothuri, the author of this article, is a skin care enthusiast. Her detailed research and thorough understanding of the products used in skin care bring the best compilation for the readers. The list of best handheld led light therapy devices is curated after thorough exploration and reading user feedback on various trusted online forums. These devices are the best way to boost collagen production and keep the signs of aging at bay.
Frequently Asked Questions
Is using LED Light therapy safe?
Yes, using a light therapy device with LED is completely safe and has met the standards of FDA. LED light differs from UV light therefore it is deemed safe. It is however recommended to wear goggles when using one as they could give headaches. Do apply sunscreen when you go out.
How often should I use the LED therapy device?
The ideal time to use an LED device on your skin is about 2 to 3 times a week for 10 to 15 minute long sessions.
Are there side effects of using a handheld light therapy device?
No, these lights do not utilize ultraviolet rays and therefore aren't prone to big risks. However, slight chances of rashes or irritations are possible, so always perform a patch test.
Can we use LED light therapy everyday?
No, since LED therapy deconstructs and cleans your skin, it already becomes sensitive and prolonged or daily usage may make your skin abrasive.
Can pregnant people use LED light therapy masks/therapy devices?
Yes, pregnant or breastfeeding people can go under an LED light therapy session as they are non-invasive and harmless.
What are the advantages of handheld led light therapy devices?
Apart from being portable, these LED light therapy devices effectively reduce wrinkles and acne and improve skin elasticity.
How long does it take for led light therapy to work?
LED light therapy conducted at home requires proper commitment, as you need to use them daily for an hour for about four weeks to see results.
Recommended Articles