14 Best Handmade Soaps Available In India – 2023 Update
Opt for these gentler options and preserve your body's natural oils for hydrated skin.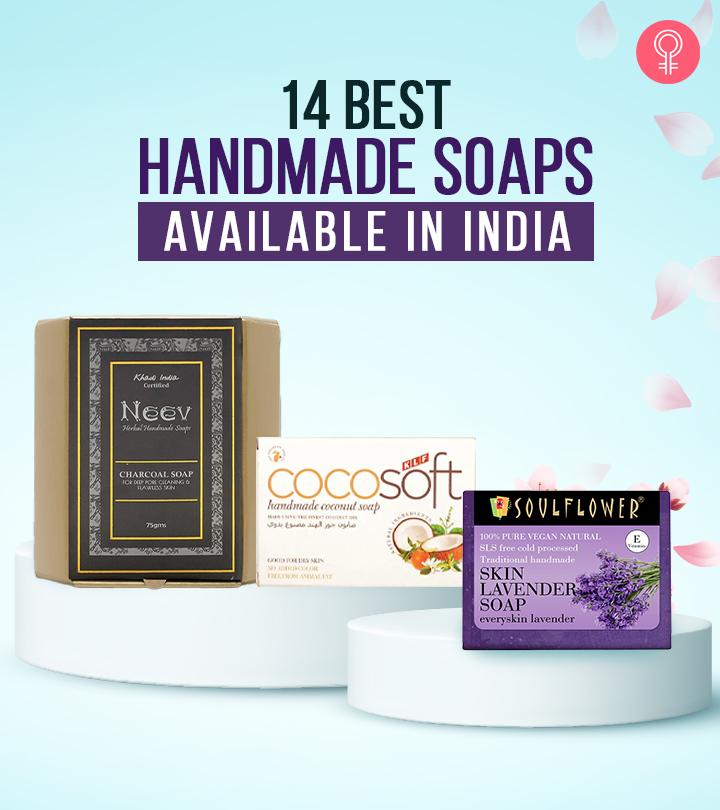 Did you know that commercially available soaps can be harmful for your skin? They contain chemicals and artificial preservatives that may dry out and damage your skin. This is where handmade soaps can help. They are made from skin-friendly and organic ingredients and are gaining tremendous popularity these days.
Handmade soaps are gentle on your skin, eco-friendly, and a great alternative to traditionally used chemical soaps. They help retain the essential oils in your skin to keep it fresh, young, and soft. If you want to switch to organic soaps, you have landed on the right page. We have reviewed the 14 best handmade soaps that cleanse and nourish your skin. Scroll down to know more!
Top Picks
14 Best Handmade Soaps Available In India – 2023 Update
The Ancient Living Luxury Handmade Soaps are loaded with the secrets of nature and expertise of ages to refresh your skin. The combo pack consists of Tulasi Soap, Multani Mitti Soap, and Kasturi Turmeric Soap.
Tulsi has antibacterial, antifungal, and anti-inflammatory properties that help prevent skin breakouts and impart a healthy glow. The blend of kasturi turmeric and ylang ylang essential oil even tones the skin, reduces blemishes, and slows down facial hair growth. The multani mitti soap is enriched with orange oil, which promotes radiance and rejuvenates the skin. These handcrafted bars deeply nourish and moisturize your skin.
Pros
 Lather well
 Vegan
 Non-toxic
 Cruelty-free
 Chemical-free
 Fragrance-free
Cons
 Overpowering herbal scent
The Soulflower Juicy Red Tomato Soap rejuvenates your skin with every wash. It is enriched with tomato, which is rich in lycopene that repairs damaged skin cells and restores a natural and healthy glow while exfoliating the skin. The soap contains vitamins A and C that prevent skin breakouts and promote natural moisturization. It offers deep cleansing and removes unwanted blackheads.
Pros
 Refreshing scent
 Long-lasting
 Cold-processed
 SLS-free
 Fragrance-free
 Synthetic color-free
 Chemical-free
Cons
None
The Neev Homemade Charcoal Soap is certified by Khadi India and made with an Ayurvedic formula that is more than 3000 years old. It is handcrafted by the rural women of India. The soap is enriched with charcoal that unclogs the pores and removes dead skin cells. It traps the environmental pollutants, excess oil, and chemicals that cause breakouts and help your skin breathe.
Pros
 100% organic ingredients
 Vegan
 Cruelty-free
 Paraben-free
 SLS-free
 Tricyclosan-free
 Urea-free
 Formaldehyde-free
Cons
The cold-pressed Lavender Soap from Soulflower has a pleasant scent and is made from 100% natural ingredients. It contains dried lavender flowers and oil to reduce skin inflammation. The refreshing fragrance of the soap aids in uplifting your mood. It is also infused with castor, coconut, and olive oils that increase collagen and give you healthy and hydrated skin inside out. The antioxidants present in the formula remove dried, flaky dead cells to restore a youthful appearance.
Pros
 Lathers well
 Non-drying
 Vegan
 Cruelty-free
 SLS-free
 Silicone-free
 Paraben-free
 Sulfate-free
 Phthalate-free
Cons
The Khadi Natural Handmade Soap is enriched with natural ingredients that make your bathing experience truly delightful. This collection features 12 soaps with different natural ingredients like aloe vera, rose water, chandan, haldi, saffron, neem tulsi, mint and lemongrass, orange, and mixed fruit. These handmade soaps keep your skin fresh and healthy. The ingredients have antiseptic, healing, and deeply moisturizing properties. These handmade soaps lather well and make your skin feel soft and smooth. The essential oils impart a new lease of life to your skin.
Pros
 Non-drying
 Lather well
 100% vegan
 Paraben-free
 Cruelty-free
Cons
None
The TNW handmade natural soap is enriched with a rich mix of potato, papaya, cucumber, and rice. Potato reduces sun tan and diminishes fine lines and dark circles, while rice brightens skin and acts as a natural toner. Papaya and cucumber help control excess sebum production and minimize pores. This handmade soap contains vitamins B6 and C to impart an instant glow to your skin. The blend of natural ingredients cleanses your skin and helps get rid of tanning, dark spots, and excessive oil on your skin.
Pros
 Lathers well
 Smells good
 Sulfate-free
 Paraben-free
 Mineral oil-free
 Silicone-free
 Artificial color-free
Cons
Price at the time of publication: ₹12.99
This set includes four handmade soaps encased beautifully in areca nut leaves. The soaps are made from 100% virgin coconut oil and a mix of organic ingredients, such as red sandal, turmeric, fuller's earth, aloe vera, and green gram powder. These ingredients make your skin healthy and glowing and prevent issues like acne and itching. The unique 15-herb formula in these soaps nourishes your skin and helps treat skin ailments.
Pros
 Nice fragrance
 Vegetarian
 Cruelty-free
 Paraben-free
 Sulfate-free
 Mineral oil-free
 Artificial color-free
Cons
 Not suitable for sensitive skin
 May dry the skin out
Want to restore the natural glow of your skin? Speaking Tree's Coffee Handmade Soap is the ideal choice for you. It is enriched with natural coffee extracts that impart an enticing scent. The soap contains natural glycerin and is made by the cold-pressed method to ensure pristine and perfect preservation. It is infused with coffee that reduces cellulite, fine lines, and wrinkles. It has natural deodorizing properties and is suitable for sensitive skin. This handmade soap also exfoliates your skin and leaves it healthy and glowing.
Pros
 Naturally scented
 Contains natural glycerin
 Preservative-free
 Chemical-free
Cons
 Doesn't last long
 Expensive
The Kayakalp Nagajothi Ayurveda soap contains natural ingredients like coconut oil, ginger, lemon, red sandalwood, and cumin seeds. Coconut oil seals in moisture and prevents aging of the skin. Its anti-inflammatory properties relieve chafed, irritated, and dry skin. The mix of 23 herbs infused in the soap reduces acne, pimples, and blackheads. The pack includes 10 soaps that clears blemishes and reduce spots.
Pros
 Pleasing fragrance
 Gentle
 Vegan
 Cruelty-free
Cons
These six handmade soaps are made with ingredients like khus, peach, lavender, lemongrass, rose, and kiwi. The herbal formulas help get rid of dead cells and make your skin radiant and refreshed.
The Peach Soap boosts blood circulation and imparts a natural radiance to your skin. The Kiwi Soap is rich in vitamin C that deeply cleanses your skin and gets rid of excess oil, dirt, and debris from the pores. The Lavender Soap contains a mix of lavender and rosemary that boost blood circulation and cellular renewal and keep your skin moisturized. The Lemongrass Scrub Soap cleanses and detoxifies your skin and makes it smooth and glowing. The Rose Soap is enriched with a powerful anti-pigmentation formula that fades pigmentation marks, while the Indian Khus Soap rejuvenates the skin and makes it soft and smooth.
Pros
 Pleasing scent
 Non-drying
 Cost-effective
Cons
Price at the time of publication: ₹24.55
The Good Vibes Charcoal Detox Handmade Soap deeply cleanses your skin and improves its texture. It contains charcoal that draws out dirt, oil, and makeup buildup from the pores to leave you with squeaky clean skin. This soap hydrates your skin, makes your skin feel soft, and brightens its tone. It also reduces acne and imparts a refreshing fragrance to your skin.
Pros
 Made with real herbs
 Vegan
 Paraben-free
 Cruelty-free
Cons
The Seer Secrets Handmade Gemstone Bath Soap gives you a therapeutic bathing experience to enhance your skin and calm your mind. It contains glycerin that hydrates the skin and seals in moisture and rosewood oil that helps fight skin impurities and regenerates the skin. This soap is uniquely textured as a rock and looks like crystal when wet. It also has a rich fragrance that lasts long and improves your mood.
Pros
 Rich fragrance
 100% organic
 Lathers well
 Non-drying
Cons
None
The KLF Cocosoft Handmade Coconut Soap is rich in fragrant and organic ingredients that make your skin soft and smooth. It contains 100% pure and natural coconut oil for deep and lasting moisturization. It also minimizes fine lines and wrinkles and protects your skin against environmental changes. The soap is mild and very gentle and is also suitable for babies. It produces rich lather even in hard water and is ideal for dry and chapped skin.
Pros
 Smells good
 Lathers well
 Gentle
 SLS-free
 Paraben-free
 Animal fat-free
 Artificial color-free
Cons
The Just A Soap Goat Milk Soap is enriched with the benefits of goat milk that hydrates the skin and regenerates healthy skin cells. It is enriched with orange and clove as herbal ingredients, which acts as an antiseptic, antioxidant, exfoliating, and anti-wrinkle agent. The blend of other ingredients like glycerin, shea butter, oat protein, coconut oil, and sunflower oil cleanses and repairs the skin and reduces fine lines and wrinkles.
Pros
 Smells good
 Non-drying
 Sulfate-free
 Paraben-free
Cons
None
Natural soaps with pure and organic ingredients help keep your skin fresh and improve its texture and tone. They are gentler on the skin than their chemical counterparts and offer a plethora of skin care benefits. Grab one today from the list above and give your skin the care it deserves!
Recommended Articles