12 Best Hands-Free Pumping Bras, According To Parenting Experts – 2022 Moms-to-be have a lot on their plates as they need to prep every single thing before the mighty baby makes their appearance. Among cribs, clothes, and formulas, a hands-free pumping bra is also something to look out for. If you hate the idea of adding yet another baby-related item to your to-buy list, think again. For busy moms that will be pumping at work or working from home, this bra is a clever invention. You can be experimenting around with formula or adding a bottle to your stash — our list of the best hands-free pumping bras will only make things easier for you.
Looking just like bandeau bras, pumping bras feature fabric holes or flaps around the nipples. This is where you simply insert the flanges of the pump and proceed to eat, read, or work completely hands-free. The bra keeps the pump tight and secure so there are no issues with milk spilling. With a wide array of colors and designs available, you can choose a couple to use while some are in the wash.
10 Best Hands-Free Pumping Bras To Multitask Like A Pro
Momcozy's hands-free breast pump bras are somewhat of a lifesaver for new moms with their convertible straps and detachable clips. You can simply wear it the whole day without having to change as it is comfortable with a 93% cotton and 7% spandex blend. Flexible and easy to deal with even with a single hand, this bra can also be crisscrossed at the back if you want to reduce pressure across your shoulder blades.
Pros
Available in 3 colors
Breathable fabric
Convertible and adjustable straps
Detachable clasps
Skin-friendly
Wireless
Cons
Might stretch out slightly for some
Composed of 85% nylon and 15% spandex, the Medela hands-free pumping bra supports both breast shields and bottles. The reinforced openings are non-slip and feature an integrated top hook to keep the zipping process smooth. Adapting to your body shape without being lumpy, the front zipper makes for easy wear and removal with no annoying straps to deal with. Also available in nude, these bras are a must-have if you like to multitask!
Pros
2 color options available
Front zipper closure
Breathable
Moisture-wicking
Non-slip openings
Ample stretchability
Cons
Some might find the openings slightly snug.
With a flexible fit that accommodates most sizes, Simple Wishes brings you a hands-free pumping and nursing bra that won't cause any loss of suction. With an adjustable velcro back panel, this bra keeps your flanges tightly sealed. The zipper closure in the front is not only comfortable but also makes it super convenient to slip on top of your own favorite bra as well.
Pros
Available in 2 color options
Maintains seal and suction
Front zipper closure
Adjustable velcro back
Convertible and adjustable shoulder straps
Can be layered with other bras
Cons
Some might find it a bit bulky.
German technology is used to make HOFISH's hands-free pumping bra 30% lighter so you can relax without the bulk. The sturdy nylon combines with 34% spandex to support your bust with a generous amount of stretchability. The 3D non-slip and adjustable shoulder straps also feature a clasp to transition for nursing. With the wide underband, skin is smoothed down and the breasts are contained without any unnecessary compression.
Pros
Pack of 2 neutral colors
Skin-friendly fabric
Non-slip adjustable shoulder straps
Wide underband
Easy clasps
Breathable
Cons
Might be bulky under clothing
Lupantte's hands-free breast pumping bra has a unique X-shaped structure to keep the bottles held securely. The easy-to-use nursing clip is super convenient as you can go about your day while pumping with no hassle. Tailored to adapt to any body type, this bra is soft against the skin while also wicking away sweat to keep you comfortable. The cups are full coverage with a few extra pads included in the package.
Pros
Breathable
Moisture-wicking
Adjustable shoulder straps
Full coverage cups
Wide underband
Extra pads included
Cons
Some might find the shoulder straps thin.
This top-notch hands-free pump bra by Kindred Bravely utilizes 84% nylon and 16% spandex to stay super-soft against your skin. EasyClip makes clasping and unclasping a one-hand job, especially for busy mommas. There are 2 clips used in this system, one for nursing and the other for pumping. With adjustable shoulder straps and hook-and-eye closure, this pumping bra is a must-have for postpartum.
Pros
Available in 3 colors
2-layer clip system
Soft and stretchable fabric
Breathable
Moisture-wicking
Adjustable shoulder straps
Cons
Might not be pill-resistant
The best hands-free breast pumping bra from PUMPKIN PUMP is both adjustable and wireless. Deep yet flattering, the V-neckline supports your breasts through feeding, pumping, and everything in between. Shapely with a wide and thick bottom band, the bust is lifted up to prevent sagginess. Comfortably worn solo and under your favorite bras, this one sits smoothly for all-around support.
Pros
Wire-free
Adjustable and convertible shoulder straps
Wide bottom band
Adjustable hook-and-eye clasp
Deep V-neckline
Smooth fabric
Cons
None
Rumina's versatile hands-free pumping sports bra is made with a blend of cotton and spandex, giving you optimum flexibility. For quick and easy pumping, the bra only requires you to insert the flanges and go about your business. Pumping time is also reduced, while you don't have pesky straps and clips to deal with either — a win-win, we think! The moderate support feels soothing on the skin and allows for a better nursing experience.
Pros
Available in 3 colors
No straps, wires, or clips
Reduced pumping time
Moderate level of support
Gentle on sensitive skin
Soft and stretchable
Cons
Some might find the underband slightly constricting.
This hands-free breast pump bra comes in an array of prints to make your postpartum nursing journey a tad bit more fun and colorful. Careful not to constrict, this piece of clothing is soft and cozy with superior moisture-wicking and quick-drying properties. PumpEase also allows you to adjust the fit with a hook-and-eye closure while the absence of straps helps with layering as well.
Pros
Available in 7 colors
Moisture-wicking
Quick-drying
Accommodative flange opening
Soft and smooth
Can be layered
Cons
Might not offer adequate support
With a combination of 95% cotton and 5% spandex, this is the best hands-free pump bra. This multifunctional bra allows you to work while still being able to nurse and pump without any interruptions. No wire is used to keep you feeling comfortable and the smooth fabric lies against skin sans irritation. Broad shoulder straps are used to keep the bra secure without any slippage while the push-up design helps bring your breasts back to their pre-pregnancy shape.
Pros
Seamless fit
Adjustable rear hook-and-eye clasp
Wire-free
Broad and adjustable shoulder straps
Push-up effect
Soft and breathable
Cons
Some might find the flange openings a bit tight.
With a composition of 60% cotton and 40% polyester, Abergele's hands-free bra rids you of the annoyance of straps. Working like a giant wraparound, this bra features a front closure with a 3-line hook-and-eye closure that is convenient to access. The smoothness and lightness of cotton are combined with the sweat-wicking and breathable benefits of polyester. You can also easily wear this band over a regular bra for added comfort.
Pros
Front adjustable closure
Also available in black
Moisture-wicking
Breathable
Quick-drying
Soft and smooth
Cons
Might not have much stretchability
This functional hands-free pumping bra by iloveSIA can be easily unclipped for drop-down access for feeding or pumping. Compatible with all kinds of pumps, the bra also features a deep V-neck to support your bust and help it hold its shape. The design is wire-free and seamless and you have no poking or stabbing situation to deal with. Molded cups with removable padding offer convenience while the bottom mesh construction keeps airflow constant.
Pros
Available in 3 colors
Pullover style
Adjustable and convertible straps
Seamless and wireless
Molded cups with removable pads
Mesh bottom
Cons
Might not be ideal for women with larger breasts
Now that we've gone over the best hands-free pumping bras out there, let's learn how you can choose the right one for yourself.
How To Choose The Right Hands-Free Pumping Bra
If you're thinking of wearing the bra even when not pumping actively, the size range must be kept in mind. Look for adjustable straps as your breast size is sure to change over your postpartum journey. A bra that accommodates your body by fitting like a glove without being too snug is what you're looking for.
Not every pumping bra can accommodate all kinds of pumps, so look for a bra that can fit the flanges you already own. You can also opt for pumps that come as a set with the bra as they ensure a perfect fit. A few have a universal design that fits any pump, which is quite ideal.
The correct fabric is smooth and soft against the skin, is easy to clean, and resists stains. A little bit of elasticity, usually in the form of spandex, gives you a good amount of flexibility for wearing and removal. Polyester, cotton, and nylon blended together are a great choice as they are skin-friendly, moisture-wicking, and dry quickly.
You do need a tight pumping bra so that it stays secure and offers good suction. But if it is too tight, your milk ducts can be blocked. The material chosen must keep breast shields in their place while still being amply stretchable.
Why Trust StyleCraze?
Priyam Gupta is an ardent fashion enthusiast. She used her in-depth knowledge about this domain and conducted thorough research to curate this list of the best hands-free pumping bras a new mother can try. These bras contain flaps where the pumps can be inserted, providing support and comfort to the new mommies while allowing them to go about their daily chores.

A newborn comes into this world amidst a lot of love, happiness, and functional gear. While you already have most of the items you need (or not, for that matter) in rotation, skipping on a special bra might seem inviting. But if you happen to be a mom that juggles work and home tasks on the daily, our proposition of a hands-free pumping bra is something you'll definitely like. Not only do these picks allow you to multitask stress-free, but they are also available in a plethora of styles for your kind of comfort. You can wear them like a regular bra, clip down for pumping, or move it around for nursing. Hugging you like a second skin, these versatile bras ensure coziness for both you and your beloved baby.
Frequently Asked Questions
How to maintain hands-free pumping bras?
To take the best care of your hands-free pumping bras, read the washing instructions on the label. This is because each one is made of different fabric blends and needs to be maintained in a way suitable to it without causing any damage.
Can we wear a hands-free pumping bra for any type of clothing?
Some hands-free pumping bras are designed in a seamless manner and can be worn under clothing without showing through. A few might be bulky owing to the construction of more than one layer, so you can choose depending on your needs and the occasion.
Is it good to wear a hands-free pumping bra regularly?
You can definitely wear a hands-free pumping bra all day long as it can also be used for nursing, transitioning into a regular bra at other times. Molded cups, padding, and a thick underwire can help with supporting the bust.
How often should a pumping bra be washed?
You can wash your hands-free pumping bra after 2 to 3 times of wearing or if it is stained after each use.
The following two tabs change content below.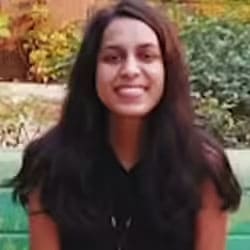 The day Priyam learned that having strong opinions about everyday products can be a full-fledged writing career was the greatest...
more