30 Best Thoughtful Hanukkah Gifts For Your Family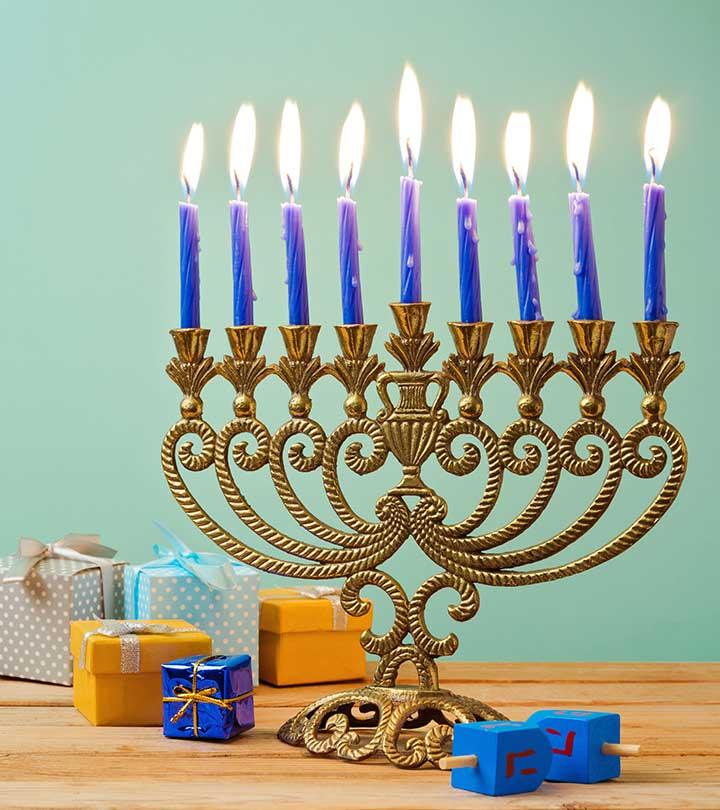 It is the time of the year again when you meet and greet family members and share joys and laughter. Hanukkah has a special place in our hearts, and to make it even more special, we buy and exchange gifts with our loved ones. Whether you are looking for Hanukkah gift ideas for your colleagues, coworkers, boss, hostess, parents, or children, we have it all covered here.
What Is Hanukkah, And How Is It Celebrated?
Hanukkah, also known as Chanukah or Chanukkah, is the Jewish festival of lights. It is celebrated around November or December. Jewish people all over the world celebrate this festival for eight days. Adults and children equally participate in this to make it memorable.
 It marks the victory of the Jews against the Greeks in a battle that took place over 2,000 years ago to practice religious rights without restriction. The Greeks forced the Jews to worship the statue of King Antiochus and Greek Gods against their religious practices and vandalized the Jewish temple. As the Ten Commandments forbid the Jews to worship idols or statues, they fought against the imposed restrictions. To mark their victory, they repaired the Jewish temple and lit a menorah with oil. Although there was not enough oil in it, the menorah still managed to burn for eight days.
Ever since, the Jewish people celebrate this auspicious occasion by lighting one candle each day on a candelabra with nine candles after sunset or at night. Each candle represents the original oil lamp. The ninth candle, which is placed slightly higher than the rest, is lit first and used for lighting all other candles. Apart from observing the religious practices, families cook and eat food, especially potato latkes or pancakes and other food items.
Let's now take a look at the best Hanukkah gift ideas.
30 Best Hanukkah Gift Ideas For Your Family
With this cute Artland's Press and Measure Glass Herb Oil Infuser, you can store dried thyme, rosemary, oregano, and other herbs in olive oil or vinegar. It is easy to dispense your favorite flavored oil as and when necessary to make salads or cook. You can easily measure the amount of oil you want to use as it comes with tablespoon and teaspoon measurements for pumping the right amount of oil. It has a capacity of 10 ounces. You can also clean it easily after use. 
Key Features
10-ounce storage capacity
Separable base
Easy to clean
Easily track measurements for serving 
Hanukkah is synonymouswith food and family gatherings. Brentwood's Mini Donut Maker is one of the best gifts you can give to a family member or friend. Also, with this mini donut maker, you can bake varieties of delicious donuts for your family and kids. Other than donuts, you can also make brownies, muffins, and cakes. The inner surface of this machine is made of non-stick plates, which help to separate the donuts and clean easily after the use.
Key Features
Automatically shuts off when overheated
Bakes 7 donuts at once
Non-stick plates
Power and preheat indicator lights 
Whether you are decorating your own home or gifting your family, these Hanukkah hanging ball lanterns are sure to create the perfect ambiance. These lanterns are made of paper and are biodegradable. You can easily mount them without having to move mountains. The package contains a 6-piece set of lanterns, especially made for Hanukkah. For extra effects, fix bulbs inside the lanterns and spread the brightness across.
Key Features
Classic Hanukkah-themed lanterns
Made of paper
Easily mountable with scotch tape
Comes with 6 beautifully colored paper lanterns 
Go for this garden kit to spread the word of healthy living. Encourage kids and family members to take part in tree planting activities and grow organic herbs and teas. This kit includes organic herb seeds, a stainless steel tea infuser, peat potting soil discs, burlap grow bags or pots, pruning shears, and bamboo plant markers. It comes with easy-to-follow printed instructions. All of these come in a beautifully crafted wooden gift box. 
Key Features 
All-in-one indoor garden starter kit
4 seed packets of chamomile, lavender, lemon balm, and mint
Vegan
Ideal for indoor kitchen gardening 
Hanukkah is about involving family members and kids and sharing good memories. And what could be better than teaching children about their own traditions? This 22-piece wooden Chanukah set brings loads of joy and allows them to have fun. Teach kids about the sacred tradition and spread awareness of the customary stories of Chanukah. The set includes a menorah with colorful candles, dreidel, potato latkes, pan and spatula, gelt coins, and a storage bag. 
Key Features 
22 pieces
Safe for children
Requires no assembly
Great learning experience while having fun 
Bring your loved ones comfort during cold winter nights with these Hanukkah-themed socks. It is one of the most affordable and useful Hanukkah gifts for women. The socks are made of 63% cotton, 21% polyester, 14% nylon, and 2% spandex, which is why they are really comfortable to wear. They can be washed in the machine andprovide a good grip and stay warm.
Key Features 
Available in different sizes
Comfortable to wear
Keep the feet warm
Can be washed in machines 
Decorate your dining table with theembroidered table runner from DII and enjoy a traditional Hanukkah dinner with your family members. It is elegant and comes with the Star of David delicately embroidered on the edges. This Hanukkah-themed table runner is made from polyester. The size is 14×70″and fits most tabletops easily. The quality of this product is superior and is made to last long. 
Key Features 
Made from 100% polyester
Measures 14×70″
Embroidered edges 
This all-inclusive essential gift set can be considered as one of the traditional Hanukkah gifts. Whether you are looking for Chanukah gifts for kids, friends, or family, this complete package can be a good option. It comes with a guide, a menorah made of solid metal body with rubber underneath for added safety, colored candles, gelt coins made of Belgian milk chocolate, and dreidels. 
Key Features 
9" tall menorah made of metal
Sack of nut-free Belgium milk chocolate gelt coins
6 dreidels and 44 colored candles
Hanukkah guide 
This cool and pretty women's sweatshirt is a nice gift for Hanukkah. The material is gentle on the skin and does not cause itching and is made of cotton and polyester. If you are looking for gifts for Hanukkah that are cheap and of good quality, this sweatshirt won't disappoint you. It also comes in various sizes and color options, so you can choose the appropriate one for your friends, coworkers, hosts, or family members. 
Key Features 
Hanukkah-themed sweatshirt
Excellent fabric quality
Designed and printed in the US
Warm, cozy, and soft 
Hanukkah reminds us of the time of the year when you eat loads of fried food, potato latkes, and varieties of delicious food items. This compact deep fryer from Oster is our all-season favorite. It could be one of the most useful Hanukkah gifts you could give to your parents, siblings, or partner. The appliance comes with a fry basket with an insulated handle. It has a large viewing window, so you can easily monitor it. It also has an adjustable temperature control panel and a non-stick coated stainless steel frying pot.
Key Features 
Requires 900 W of power
5 liters capacity
Non-stick cooking pot with a fry basket
Temperature control and power indicator light 
This simple-looking and elegant vase is made of glass and wood and can add glamor to your Chanukah home decor. The vase comes with a separable wooden base with LED lights. The cylinder-shaped glass jar is hand blown and about 6.7" tall. You can grow plants or keep flowers in the glass jar with water. Switch the LED lights on to make it look more adorable. It also has a timer so that you can set how long you want the lights on. 
Key Features 
Package includes 1 glass vase and 1 wooden base
Grooved base to hold the vase
LED lights 
Onycha is considered one of the sacred oils with mentions in the ancient holy books. It was one of the important ingredients alongside frankincense, stacte, and galbanum to make the consecrated ketoret as mentioned in Torah book of Exodus and also used in Jerusalem's Solomon's Temple. This product makes your aromatherapy all the more effective with its essence and powerful ability to fight infections. The essential oil gets absorbed into the skin easily and works to protect you against airborne diseases. 
Key Features 
Comes in 15 ml bottles
Protects skin against scratches and common airborne diseases
Heals the skin
Makes a great combination in aromatherapy 
During the festive season and holidays, family members and children gather to play games that keep the tradition alive. This set includes blue and white wooden dreidels that adults and children can play with. The package also includes instructions to play. The dreidels have foil embossed Hebrew letters with English translations. From kids above the age of 3 to adults, this dreidel set can be fun for all. 
Key Features 
Available in 2, 4, and 10-pack dreidels
Made of wood
Ideal for family time
Instructions included in the package 
The seed sprouter is unique. You can grow sprouts indoors without having to put soil. The transparent baskets make it easy to monitor and track the growth of seeds. Give this to your loved ones on the occasion of Hanukkah so that they can enjoy a healthy life. Grow your own sprouts at home and eat fresh, crunchy microgreens and sprouts every day! 
Key Features 
Comes with 2 trays
Does not require soil or sunlight
Ideal for indoors with small spaces
Keeps sprouts crunchy and fresh for days 
This aroma oil diffuser is made of bronze. Add your preferred essential oils in the diffuser and set the misting mode. It has an auto shut-off function. It also works as a humidifier to help you avoid dryness. As the season is now dry and cold, retain the moisture in the room, and stay comfortable while enjoying this festive season. It also works as a night lamp with 7 different colors. 
Key Features 
Comes in different sizes and capacities
7 different colors of the light
Auto shut off feature
Dual-misting mode 
No products found.
Want to teach your children about your own tradition in a playful manner? Go for this board book. It is fun and easy-to-understand for kids. This book is written by Naomi Kleinberg, who has included many illustrations to engage children. It is one of the most adorable Hanukkah gifts for children. It is sturdy and does not get damaged easily and can be used for years and generations to come. Read stories from the book and encourage your toddlers to learn reading while keeping them engaged. 
Key Features 
Sturdy material
Lots of colorful illustrations
Also available in hardcover and Kindle versions 
This adorable and elegant table lamp from HAITRAL complements any home decor in the holidays. The stylish nightstand lamp is made of silver-toned metal frame and gives good support. This rectangular table lamp is stylish and beautiful, and the dimensions are 10.8" x 4.3" x 4".  It creates a warm and cozy environment in cold winter nights. It also comes with a 2-year manufacturer guarantee. 
Key Features 
Elegant silver-toned wire design
Compact and stylish
Size: 10.8" x 4.3" x 4"
Can be used with LED bulbs, incandescent bulbs, Edison bulbs, or clear glass bulbs 
No products found.
Aromas of lavender, rose, and bergamot essentially uplift your mood. It is one of the perfect Hanukkah gifts for adults. These candles come in decorative tin containers that definitely set the festive mood. Each candle contains 2.5 oz of natural soy wax scented with different aromas and lasts for about 18-20 hours. 
Key Features 
Does not emit smoke when burning
Made of natural soy wax and pure cotton thread
Available in 8 different aromatic scents – Mediterranean fig, lavender, vanilla, lemon, jasmine, bergamot, spring, and rose
Each candle burns for 18-20 hours 
If you want to give a gift that is useful and memorable, this shawl wrap cum scarf is a good idea. It is available in various designs and colors. It is lightweight, feels soft, and goes with casual and traditional outfits. Its vibrant hues make it a perfect gift for Chanukah. It is made from good quality fabric and stays warm. 
Key Features 
Ethnic-looking scarf cum shawl wraps
Soft and quality material
Medium weight 
This set has 4 glasses that are durable and last long. They can also be used for drinking any other beverages and fruit juices. One glass can contain up to 15 ounces of beverage. It is designed for a comfortable hold, and the flat bottom ensures it is safely placed on a surface. The high-quality glass material is sturdy and shatter-resistant. These glasses can be washed easily. 
Key Features 
Stemless design for better stability
Flat bottom
Volume: 15 ounces
Made from high-quality, shatter-proof glass 
Traditional Hanukkah gifts, like this silver-plated menorah, are never out of fashion. This geometric style candle menorah has a simple traditional structure but is sturdy. It has rubber attached tothe bottom for firm support and protection. Let this menorah be part of your celebration and spread happiness. 
Key Features 
Dimensions: 2.5 x 8.8 x 8.8 inches
Silver-plated non tarnish geometric menorah
Fits standard Chanukah candles 
Buy this adorable pair of gloves for your loved ones this Hanukkah. The gloves are made of soft fabric that stays warm. The wrist is decorated with folds and three buttons. The fingertips are made of highly sensitive conductive material, which is why you can work on touchscreens without having to take the gloves off. The gloves are stretchable. 
Key Features 
Free size and stretchable
Made of good-quality fabric
Three-button design on the wrists
High-sensitive fingertips for easy operation on touchscreen devices 
Whether you are looking for Hanukkah gifts for adults or kids, this beautiful gingerbread house table piece is sure to bring joy. It is a 7" Hanukkah gingerbread house table piece made of clay dough. You can give this gift to your friends, children, and family members. It is nicely made andhas a clean design that looks really pretty. 
Key Features 
Dimensions: 5.5 x 5.2 x 7 inches
Made of clay dough
Easy to carry and compact design 
Himalayan salt tea light holders are quite popular Hanukkah gifts. These are basically handcrafted and made from superior quality rocks. The set includes 4 pieces of tea light holders. Himalayan salt crystals are known to have many health benefits, including healing properties. You can keep them anywhere in the house or office. As these are handcrafted and made from rocks, the size may vary. 
Key Features 
4-piece set of Himalayan salt tea light holders
Purifies room air
Emits soothing pinkish light that elevates mood
Handcrafted for the best experience 
If you are looking for Hanukkah gift ideas for men, consider giving them this pair of socks. These Hanukkah-themed socks are made of85% cotton, 10% polyester, and 5% spandex that keep your feet warm. The reinforced heels and toes offer better grip and durability. The socks stretch upon wearing and stay warm throughout. They fit feet sizes from 7 to 12. 
Key Features 
Made of cotton, polyester, and spandex
Easily stretchable
Reinforced heels and toes
Hanukkah-themed 
If you are wondering what Hanukkah presents you could buy for your family, opt for this blanket from AmazonBasics. It is made from polyester microfiber shell and fill and isavailable in different sizes and sets. The diamond stitches help to keep the fill in place and add to the blanket's durability. It is reversible, andthe quality and fabric meet environmental and safety standards. 
Key Features 
Reversible comforter blanket
Sturdy and durable
Made from polyester
Diamond stitches keep the fill in place 
These unisex snowflake-patterned knit gloves are surely adorable and useful for winter. The gloves are cold-resistant and help you stay warm. Three fingertips are made with high-sensitivity conductive yarn to allow you to operate touchscreen devices conveniently. It is also designed to prevent slippage while enhancing grip and friction. The fabric is breathable, and the gloves come with double-elastic cuffs. 
Key Features 
Unisex
Anti-slip rubber design for enhanced grip
Elastic cuffs to fit better
Stays warm
Allows touch screen operations with three-fingertips touch design 
These unique Hanukkah-themed dish towels are perfect Hanukkah gifts for your family. DII is a major brand that is associated with the best quality and durability of all the products it sells. These dish towels are made of 100% pure cotton and embroidered with various Hanukkah-themed designs. The size of each towel is 18 x 28″. 
Key Features 
Hanukkah-themed embroidered kitchen towels
Pleasant colors
Made with cotton fabric
Machine washable 
This useful skewer rack set is made from high-quality stainless steel and a detachable wooden handle. Grill delicious kebabs or make barbecues on a charcoal grill or gas stove. There are four non-stick skewers that are easy to clean after use. You can use this at home or carry it along for a backyard barbecue or outdoor cooking. 
Key Features 
Detachable handle with wooden grip
4 non-stick skewers
Stainless steel skewer rack for easy flipping and grilling
Lightweight and compact design
Dimensions: 2.4 x 10.4 x 12.8 inches 
Let the good vibes of Hanukkah flow and remind you of good times. Buy this snowman ornament to gift your friends, hostess, parents, or loved ones. This uniquely designed ornament can be used for Hanukkah and Christmas. It is made from molded resin and features one snowman with Christmas wreath and the other with a Hanukkah menorah. The metallic cord loop on top helps you hang it easily. 
Key Features
Dimensions: 4 x 0.5 x 3.5 inches
Features a snowman with Christmas wreath and another with a menorah
Serves as a great gift for both Christmas and Hanukkah 
Hope you find this list of 30 Hanukkah gift ideas helpful. We have curated this list, keeping in mind the budget, aesthetics, and durability. Select your favorite product from this list and share the love and warmth. Happy Holidays!