6 Best Hats For Women With Big And Wide Heads – 2023
Stop the sun rays with accessories that are both stylish and functional.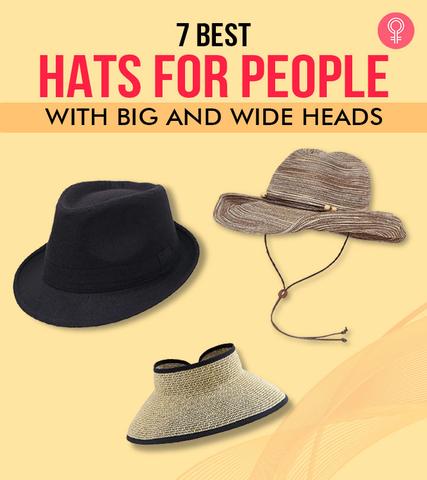 Hats are classic accessories that never go out of fashion. But finding the right hat can be a challenge for a bigger head. The market now offers the best hats for big heads that provide a great deal of protection from the sun, wind, and snow. These timeless pieces of fashion are extremely versatile and go along with a number of different ensembles. The fashion world now has brands that produce stylish, adjustable, and extra-wide hats to fit bigger or wider heads.
Check out our collection of the six best hats for big heads that are both functional and fashionable. Read on and find out more.
6 Best Hats For People With Big And Wide Heads
Extra sunny and sweaty days can leave you feeling uncomfortable in a hat. This hat by Camoland has an open top, along with a 4.8-inch-wide brim to provide ample shade from UV rays while allowing you to stay comfortable and cool, no matter how sweaty or humid the weather gets. It is made of 100% soft, pure cotton, which is quick-drying, odor-free, and environment-friendly. The hat features an elastic buckle, chin strap, and adjustable headband, which can be adjusted from 21 inches to 24 inches according to your convenience. Unlike normal sun hats, this one is versatile and breathable as it has a panel liner to stop sweat from streaming down your face. It is also lightweight and foldable, which makes it a perfect companion during traveling. You can wear this hat during outdoor events, camping, hiking, golf, jogging, running, walking, or any other sport activities.
Pros
Lightweight
Odor-free
Foldable
Quick-drying material
Soft on skin
Adjustable
Stylish design
Stays in place
Protects against UV damage
Cons
None
Price at the time of publication: $18.99
Nothing spells classy like this Manhattan fedora hat by Simplicity. It has a short brim and comes with a teardrop crease and a short crown for a classic look. It is a perfect dress hat and a must-have wardrobe staple to complement any outfit. The hat is made of a blend of polyester and cotton, which makes it soft, durable, breathable, and comfortable. You can wear this timeless fedora hat for special locations and formal affairs like weddings, dances, theater performances, and musicals.
Pros
Breathable
Super soft
Comfortable
Classy look
Durable
Cons
None
Price at the time of publication: $18.99
Are you worried about getting sunburned even after lathering a layer of sunscreen? Take a look at this large brim visor hat by San Diego Hat Company. It has a 4-inch brim, which provides ample sun coverage and ultimate sun protection for your head, face, and neck. This chic hat also comes with SPF and UPF 50+ sun protection fabric, perfect for outdoor adventures. It also features a ribbon binding and ribbon sweatband, which keeps your face cool and dry even with the blazing sun. The convenient hook and loop closure ensures you get the most comfortable fit every single time. When not in use, the visor hat can also be easily rolled up and tucked away in your luggage or purse, making it perfect for traveling.
Pros
Trendy design
Adjustable fit
Lightweight
Sweat-wicking
Wide color range
Extra-wide brim
Durable
Cons
None
Price at the time of publication: $21.69
Most of us refrain from wearing hats as they tend to ruin our hairstyle. But this one by TrailHeads has a subtle ponytail opening, which accommodates your braids or ponytails for a stylish look. It is made of a stretchy polyester and spandex fleece blend that delivers a fabulous fit and offers a cozy feel. The interior elastic band stretches to fit almost all head sizes and measures about 22.5 inches. It features a drop-down design, which protects your neck and ears from snow and cold winds. When it gets warmer, you can flip it up to regulate your body temperature, making it perfect for any climate condition. It also features reflective stitching for enhanced visibility in low-light situations.
Pros
Lightweight
Low-light visibility
Soft
Stretchable
Perfect fit
Versatile
Ponytail compatible
Cons
None
Price at the time of publication: $36
The gorgeous, textured sun hat by Sunday Afternoon is made of 100% polyester and is lightweight and breathable. Even with excessive folding, this hat retains its shape for a long time. The wide brim measures 3 ¾ inches and protects your face and neck from the harsh UV rays of the sun. The sweatband on the inner side of the hat keeps your head dry, comfortable, and cool. It also allows you to customize the shape of the hat according to the circumference of your head.
Pros
Moisture-wicking
Comfortable to wear
Customized fit
Extra-wide brim
Easily shapeable
Lightweight
Cons
None
Price at the time of publication: $32
Make a statement with this elegant and charming dress hat by Vecry. It features a leaf flower design on the brim that adds a touch of grace. The double-layer design and organza and gauze provide added comfort and convenience. The inner sweatband keeps your face cool and dry, while the adjustable drawstring ensures you get the perfect fit. The hat suits head circumferences from 21.3 inches to 22.8 inches, while the extra-wide brim, which measures 4 inches, provides ample sun protection. This hat is perfect for weddings, church functions, tea parties, race day events, and other formal occasion.
Pros
Stylish design
Lightweight
Quick-drying material
Soft on skin
Adjustable
Versatile
Protects against UV damage
Cons
None
Price at the time of publication: $34.87
You may end up investing in a hat that may not fit your wide head structure quite well. An ill-fitted hat leads to sweating and headaches and may make you feel uncomfortable. But, don't you worry. Here's a quick guide to help you select the best hats for your size and fit.
How To Select The Best Hats For People With Big And Wide Heads
Here are a few features to consider for selecting the best hats for big and wide heads:
In case you are choosing a hat for sun protection, pick one with a larger brim. Your hat's brim should be wider than 4 inches and angled downwards for ideal sun protection. If you are not comfortable with a wider brim, you can choose a hat with a brim of at least 3.5 inches. Also, make sure that you choose a hat that is not too tight, as it can give you a headache. It is better to opt for hats that are adjustable. This way, they can be worn by everyone in the family.
Along with a wide brim, choose a hat made of sun-protective fabric if you are looking for one to wear during summer. Also, summers can leave you feeling super sweaty. Hence, get a hat that is moisture-wicking and breathable. During winters, look for hats made of thick, thermal regulating materials, like wool or fleece.
Next to protection and effectiveness, you would also want a hat that is fashionable. You can choose from a wide variety of colors or designs to match your style and attire. If you are looking for a hat to wear for weddings and parties, you can choose a statement piece with floral and stone embellishments.
Many companies have come up with various versions of hats with multiple features like sweatbands to keep your head cool and dry, as well as adjustable drawstrings to keep the hat in place during heavy winds.
Hats are a classic, and they never run out of fashion. Whether you want to protect yourself from the harmful effects of the UV rays or your ears from the icy cold winters, you can trust your hats to do the job. But, if you have a big head, finding a hat that fits you perfectly might be difficult. The hats mentioned above in this article are versatile and can be paired with a variety of outfits. In addition, you get to choose from a range of stylish, adjustable, and extra-wide hats to fit bigger or wider heads. These hats are stylish, breathable, and durable that offers an adjustable fit.
Why Trust StyleCraze?
The author, Baishali Bhattacharya, is a certified image consultant who loves to review new trends in fashion. She has listed the best hats for women with big heads based on numerous user reviews on trusted online forums and websites for this article. The shortlisted hats come with stylish designs and provide a great deal of protection from the sun, wind, and snow.
Frequently Asked Questions
How do you make a hat fit a big head?
Some of the ways you can make a hat fit a big head are:
•  Stretch your hat and wear it continuously. This way, the material will loosen up and ultimately fit a big head.
•  Fill a spray bottle with lukewarm water and spray it on the inside and outside of the crown and the inside band. Dry the hat with a blow dryer, then let it air dry.
•  Place the hat over a soccer ball and leave it there overnight.
Do fitted hats stretch or shrink?
Usually, fitted hats stretch and comfortably fit your head structure.
How do you know what size fitted hat you will need?
Take a measuring tape and measure your head about half an inch above your brows where your hat usually rests. Then buy a fitted hat size similar to your measurement.
How can I make my hat fit better?
You can insert hat sizers or size-reducing sweat bands on the insides of your hats to make them fit you better. These inserts give your hat a snug fit.
Recommended Articles
The following two tabs change content below.