12 Best Hats For Chemo Patients of 2023
You've been so brave already, now it's time to be fashionable while staying comfortable.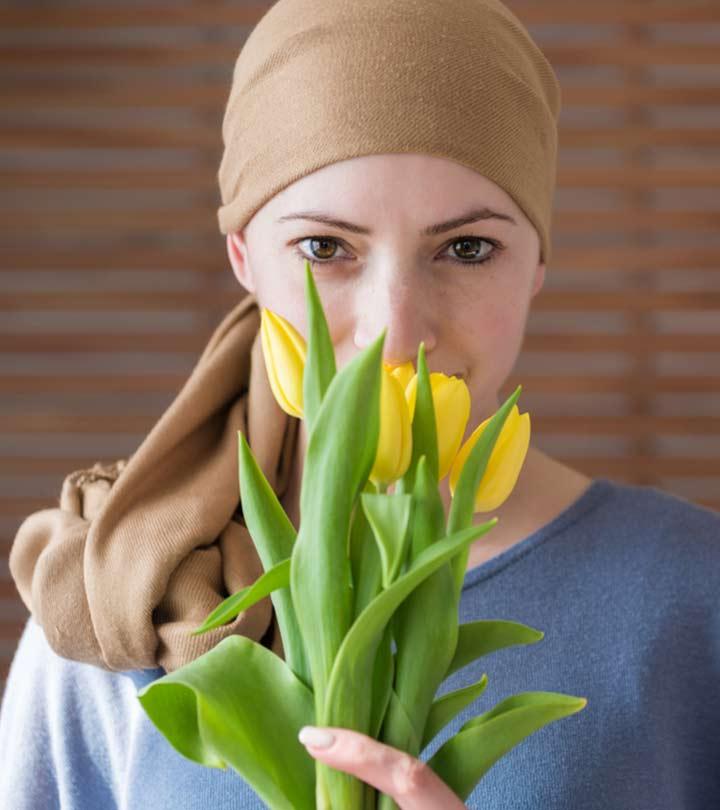 If you have been looking for the best hats for chemo patients, you are at the right place. Cancer patients undergo a lot of mental and chemical changes due to the heavy doses of radiation and chemotherapies. Even though once these therapies are done, the hair grows back, the process can be slow as the medication is done in an extended period of time. One way to make sure you feel better through the treatment is by wearing hats. These hats protect the sensitive scalp of cancer patients and also help you beat the thinning hair with confidence. Dedicated to all the heroes who have concurred over the disease, here are 12 hats that every patient recovering from cancer should own.
Why Do You Wear A Hat During Chemo 
Wearing a hat during chemo is recommended by oncologists to help the patients protect their scalp. There are two categories of hats to choose from- beanie hat or scarf and a cooling cap.
Why a cooling hat- A cooling hat is worn during chemotherapy to reduce hair fall during the sessions. This is done by wearing a tight strapped-on cap that narrows and slows down the activity of the hair follicles so that less hair falls out as a result of strong medications.
A cooling hat works on the principle of freezing the scalp to match a hypothermic condition and reduce the blood flow to the scalp, thus reducing the chances of extensive hair fall in the process. These caps are tight but comfortable and worn during and after the chemo sessions to divert the ill-effects of treatment.
Why a beanie cap- A beanie hat or cap is worn during and after the sessions to conceal hair fall. These hats offer a trendy look apart from serving the obvious purpose. They perk up the mood of the patients as they are available in vibrant colors and styles.
How To Wear A Chemo Hat 
A chemo hat is initially kept in a freezer and filled with a cold liquid that is stored in a fridge at -40°F.
These hats are comfortable yet constricting and cover the natural hairline, offering a full-head coverage.
These caps are worn first before the session to prepare the hair for the treatment.
It is then worn during the chemo procedures but replaced every 30 minutes.
It is worn again after the treatment.
Let's now take a look at 12 of the best hats that you can choose to look your very best every day.
12 Best Hats For Chemo Patients of 2023
This hat is a multipurpose cap that can be used as a headband, scarf, turban, or neckwarmer. It is convenient for those who feel cold during their chemotherapy sessions. This hat is available in one size that fits all head sizes, providing comfort to the head and ears. It makes an ideal nightcap due to its breathable cotton material with an elastic closure, allowing the cap to hug the head shape comfortably. Additionally, it is available in multiple prints to match your many moods.
Pros
 Soft breathable fabric
 Multipurpose
Available in various prints
Cons
Price at the time of publication: $12.99
This range of caps by Headcovers focuses on keeping up the confidence after the loss of hair due to chemo. They are therefore designed in a way to give the appearance of a fuller head with full coverage. These sophisticated hats are trendy and are sure to pair well with any attire. It comes in a universal size for all. It is also available in a variety of colors to match your mood and #OOTD! They can be worn in three different ways to take your style game up a notch. 
Pros
Made using cotton to offer maximum comfort
Can be worn in many ways
Comfortable to wear
Cons 
May come off while sleeping
Price at the time of publication: $22.99
This hat is the perfect option for women undergoing chemotherapy. It is made from polyester and is almost as light as a feather! Couple that with an exquisite style and finish, you can team this hat with any attire. Its design resembles that of a fedora hat with just the right amount of style. The material makes it comfortable to wear during winter and offers full head coverage. 
Pros
Light-textured with immense comfort
Very comfortable for newly shaved heads
Made of Fleece and polyester
Provides full coverage to the head
Easy to was
Cons
Not suitable for hot weathers
Price at the time of publication: $23.99
Cardani Bamboo Couture Cap is made from 100 % handpicked, high-quality cotton fiber. Its soft and minimal seams are ideal for sensitive scalp. It offers a one size fit that accommodates all head sizes. These bamboo caps provide comfort and unmatched softness. It can be used for a long time as the 95% Bamboo Viscose, and 5% spandex makes it quite resistant to wear and tear. If you are still unsure, check out this honest review.
Pros
Provides unmatched comfort
Can be worn anytime
One size fit
Provides a full head appearance
Cons 
Not suitable to be worn during winter
This headgear provides complete head coverage and is elegant, soft, and comfortable to wear. The turban is suitable for women undergoing hair loss owing to cancer treatments or any other hair loss related condition. The turban design gives fullness for a hair beneath look. The headgear is suitable to be worn with bangs, full wig, and halo wigs. It can be worn directly and is a stylish alternative to wigs.
Pros
Fantastic fit and feel
Can be worn as a turban or a bandana
Can be teamed up with wigs
Available in a multitude of colors
Cons
Not suitable for the winter season
Price at the time of publication: $18.99
These unisex chemo caps come in a pack of two solid colors that fit all head sizes and offers a snug fit. This bamboo viscose beanie cap is versatile, can be worn by men and women, and is suitable for all seasons. Featuring a trendy design, these go with any outfit and can be worn for hours at a stretch.
Pros
Full head coverage
Offers comfort and style at the same time
Can be worn in all seasons
Available in a variety of colors
Cons
Doesn't absorb any sweat due to a single layer of lining
Price at the time of publication: $13.99
This beanie hat is breathable, skin-friendly, lightweight, and suitable for use all year round. The material is naturally stretchy that fits snugly. It provides full coverage with the appearance of hair hanging at the back of the beanie cap. Unisex in design, it gives a trendy and elegant appearance to the wearer. Suitable for sensitive scalp, this cap is the perfect pick for all those looking for a comfy cap. This hat is ideal for outdoor activities, hiking, riding, and casual wear as well.
Pros
Full head coverage
Comes in a plethora of designs
Very comfortable to wear
Contains a fleece lining for the winters
Cons
Price at the time of publication: $9.88
This beanie cap from Honenna comes as a pack of 2 hats of different styles, giving you a stylish look every time you wear it. This cap is made from polyester and gives one size fit that offers a snug yet comfortable fit. Complete your chic look with these lightweight, super-comfortable beanie caps, and thank us later!
Pros
Made from polyester
Lightweight and trendy
Easy to clean and wash
Universal size for all
Cons
May not offer a snug fit for smaller head sizes
Price at the time of publication: $14.99
These incredibly soft and delicate lace turban hats are skin-friendly and wick moisture away from the scalp. The stretchable baggy caps come in free size and are suitable for all head sizes. Designed with intricate, elegant patterns, this soft headgear comes with a stretchy seam that can be used as daily wear. Its lightweight nature and complete head coverage make it a perfect pick for patients.
Pros
Comfortable fit
Trendy and stylish look
Lightweight for enhanced comfort
One-month money-back guarantee
Cons
Not suitable for cold weathers
Made more for style than comfort
Price at the time of publication: $14.99
FocusCare Chemo Headwear Headwrap Scarf is made of natural, lightweight, and stretchy bamboo viscose material that keeps sensitive scalp warm in winters and cool in summers. Offering full head coverage, this is perfect for women undergoing chemotherapy. Its unique wrinkled design gives the feel of hair underneath. You can style yourself with this hat by putting it on or behind the ears. This band provides a fitted bandana look, and its no-slip, pre-tied feature makes it perfect for traveling.
Pros
Made of bamboo viscose material
Crumpled enhances the appearance of hair
Available in a variety of colors
Does not slip off the head
Cons
Not suitable for cold weathers
Price at the time of publication: $18.99
These lightweight, breathable hats are well-known for their soft and comfortable fit and feel. This dual-use hat will keep your scalp free from itch and sweat. They are made from cotton and spandex that allows it to stretch to fit any head size. The cotton material makes it lightweight and allows it to be worn continuously for regular periods. It is designed to offer two-layer protection that enables it to stay on while sleeping.
Pros
 Keeps you warm throughout
Spandex allows it to stretch easily
Easy to wash and maintain
Provides full head coverage
Cons 
Not suitable for use in hot weather
Price at the time of publication: $17.99
This is a four-piece cap that comes in 2 different styles. These hats are suitable for all seasons and are comfortable to wear. These flower turbans are made from polyester and are lightweight. It is ideal for sensitive scalp, keeping it warm in cold days and cool in summers. Each hat is around 22-23 inches with good elasticity. It doesn't fit too tight, nor does it cause headaches or any other discomfort.
Pros
Comes in different styles
The elasticity accommodates all head sizes
Comes in vivid colours
Lightweight and stylish
Cons
Not suitable for harsh winters
Price at the time of publication: $15.99
Chemotherapy makes a patient's scalp extremely sensitive. Head caps are not just trendy, but can help protect against external pollutants. Here are some of the important things to consider before buying a hat or cap for chemo patients.
Things To Consider Before Buying The Best Hats For Chemo Patients
Chemo patients experience hair fall due to intense medication and therapies. The skin also feels weak and sensitive thus needing a cap with good quality fabrics. It is recommended to get a soft, lightweight, and breathable cap that can be worn for long hours without feeling uncomfortable. In summer, prefer caps that absorb sweat quickly. Some people like to sleep with the head cap on, especially during the winter. Hence, look for good fabrics like high-quality cotton, light polyester, and bamboo viscose.
Buy hats and caps that fit just perfectly and are not too tight or loose. They must provide full coverage to the head along with being comfortable for all-day wear. Some chemo patients prefer to put on wigs after losing hair. The size and fitness of the cap are very important for the wig to stay intact.
Caps with vibrant colors can induce a feel-good factor in the patient. Hats are available in multiple designs, colors, and prints to cater to all tastes and preferences. Although the focus should be more on comfort and material rather than color and style, choose a product that offers all these benefits in one.
The choice of a good head cap for chemo patients will depend a lot on the external temperature. For summers a cooling hat or sports cap could prove a great pick. It doesn't just conceal hair fall but also keeps the skin protected from UV rays. In winter one can go for beanie caps made of fleece or cotton or a headgear. These are warm and shield your skin from cold winds to keep you cozy.
Why Trust StyleCraze?
Stylecraze brings you research-backed articles. The author of this article has conducted in-depth research and went through many websites, forums, and reviews to curate this list of the best hats for chemo patients. These hats may aid in minimizing hair fall in people undergoing chemotherapy and offer you maximum comfort. Apart from providing full coverage to the head, they are breathable and make you appear stylish.
Frequently Asked Questions
Why do people wear hats during chemo?
People wear hats during chemo to protect their scalp from the sun and cold, to stay comfortable, or for aesthetic purposes.
What should I wear to my head during chemo?
Chemo patients can either wrap a scarf around their heads or choose a chemo hat.
How often should I wash my hair during chemo?
If you are undergoing chemo treatment, you can wash and condition your hair 1-2 times a week.
How can I speed up hair growth after chemo?
You can speed up hair growth after chemo using minoxidil, which promotes hair growth. Also, make sure you intake vitamin- and protein-dense food.
Recommended Articles: