12 Best Headwear For Chemo Patients – 2023
Remain comfortable while combatting cancer with head gears suitable for chemotherapy.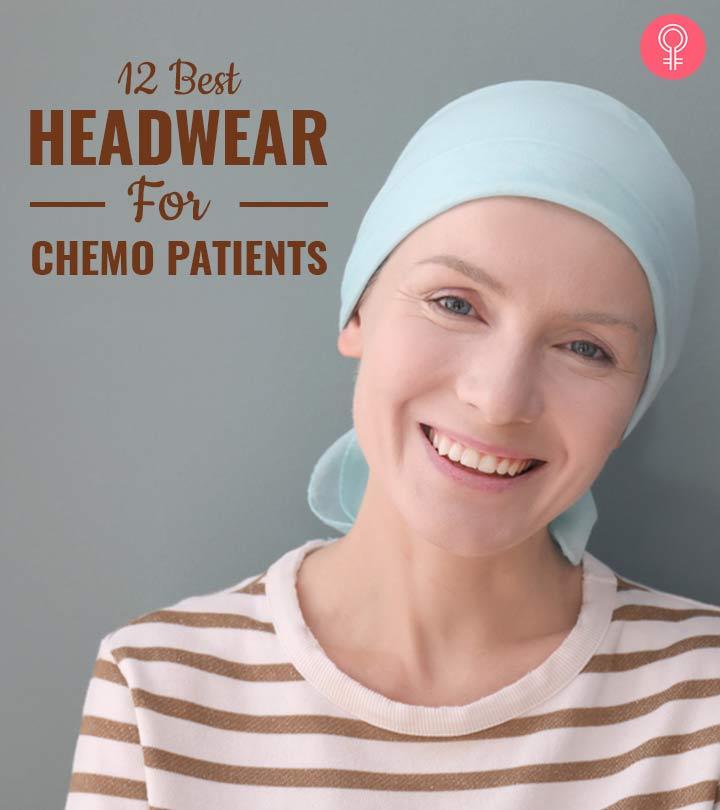 Hair loss and hair thinning are common side effects of chemotherapy. While there are a wide variety of wigs that can be used to cover hair loss, a lot of people complain that they can be itchy and uncomfortable. Using headwear like scarves and hats is a good option. They not only protect the sensitive scalp from being exposed but also add a stylish touch of fashion. In this article, we have listed the 12 best headwear for chemo patients. Check them out!
What To Look For
If you are not used to wearing hats, picking one can be difficult. Here are a few pointers that can help:
Chemotherapy can make the scalp sensitive. Choose a soft cap with comfortable cotton lining.
If you have a small head, consider padding. It prevents itchiness or aggravating a sensitive scalp.
Ensure your headwear offers full head coverage to stay protected from the weather and sun irritation. Look for fleece hats for cancer patients during winter.
Opt for the best hats for chemo patients with seams on the outside. This way, the soft, seamless side of the cap touches your scalp without aggravating it.
Consider a cap with an adjustable fit. It will fit snugly without room for slippage.
Look for headwear with stylish designs.
Now, let's check out our top picks!
12 Best Headwear For Chemo Patients
The unique and wrinkled design provides fullness and makes it appear like there is hair underneath
. It can be worn with halo wigs, bangs, or full wigs. It can also be used as a fitted bandana tichel and worn over or behind the ears. It is non-slip, pre-tied, and easy to wear. It can be hand or machine washed cold but cannot be used with bleach. It comes in 80 colorful patterns.
Pros
Soft fabric
Full coverage
Comfortable fit
Stylish
Available in various colors
Lightweight
Non-slip
Cons
Does not wrap at the back.
May cause itching.
Price at the time of publication: $18.99
Pros
Easy to wear
Comfortable fit
Available in a variety of colors
Includes back ruffle
Does not slip off
Full coverage
Soft fabric
Stretchy
Cons
Color may stain.
Uncomfortable elastic band
Price at the time of publication: $25.99
The headwear fabric is soft and comfortable, breathable, and stretchy
. It is easy to clean and comes in multiple solid colors. It has a circumference of 21.26 cms, is lightweight, and can be worn in all seasons.
Pros
Helps with migraines
Full coverage
Soft fabric
Lightweight
Can be worn in different styles
Does not slip off
Cons
The stitching may come off.
May be slouchy.
Price at the time of publication: $12.99
Pros
Stretchable
Soft fabric
Comfortable
Available in a variety of colors
Full coverage
Lightweight
Non- slip
Personalized packaging
Cons
May slouch
Shrinks on machine wash.
Price at the time of publication: $23.95
It has a firm elastic grip that does not fall off while sleeping.
The cap circumference is 60.96 cm, and it can be worn during outdoor activities like hiking and running.
Pros
Comfortable fit
Soft fabric
Lightweight
Available in a variety of colors
Full coverage
Does not come off while sleeping
Cons
Not closed at the top.
Seams may come off.
Price at the time of publication: $13.99
The color does not fade away, and it can be worn as daily wear or a sleep cap.
It offers a comfortable fit and comes in one size that fits all.
Pros
Soft fabric
Available in Good color various colors
Comfortable
Full coverage
Works on sensitive skin
Cons
Price at the time of publication: $11.99
It is soft, lightweight, and comes in multiple prints and solid fabrics
. This scarf fits all and has a good grip. The outer fabric can be silken and matte chiffon, solid cotton, cotton eyelet, blended knit and denim chambray. The scarf is designed for women undergoing hair loss due to chemotherapy or illness like alopecia.
Pros
Comfortable fit
Soft fabric
Fuller looking lining
Pre-tied
Adjustable
Lightweight
Available in different colors
Cons
Might cause itching.
Threads might loosen.
Thin padding
Price at the time of publication: $24.99
treatments like chemotherapy
. It uses soft and minimal seams that do not agitate sensitive scalps and can be used as sports hats for chemo patients. The cap has a pleated accordion detailing that falls low in the back to add a fuller look.
Pros
Sporty
Good coverage
Soft material
Comfortable
Stylish
Good variety of colors
Stretchable
Cons
The elastic band may loosen.
May get slouchy.
Price at the time of publication: $29.99
Pros
Soft fabric
Bedazzled design
Comfortable
Lightweight
Available in different colors
Long-lasting color
Easy to carry
Cons
Price at the time of publication: $9.99
Pros
Soft fabric
Lightweight
Available in different colors
Full coverage
Works as a sleeping cap
Stretchable
Cons
Price at the time of publication: $21.99
The Kingree Cap Headwear is double-layered and cotton blended and does not agitate or cause discomfort to sensitive scalps. It can be used as a headband, beanie, mask, and neck warmer. It can be hand or machine washed in cold water on a gentle cycle but should not be bleached. It is pre-tied, fuss-free, and non-slip. It comes in one size that fits all, and the top is open and adjustable for better fitting. It is designed with flat feminine seam accents that offer stretch for a comfortable fit. It comes in more than 30 solid colors and 20 printed designs.
Pros
Comfortable
Soft fabric
Breathable
Full coverage
Easy to carry
Stretchable
Good for casual wear or sleeping
Cons
Defective sewing
May leave stains.
Price at the time of publication: $5.99
soft and comfortable
to wear, without causing any itchiness for sensitive scalps.
Pros
Full head coverage Stylish
Comfortable
Cons
The hat may be too big for some people.
Price at the time of publication: $21.99
Why Trust StyleCraze?
The author, Shiboli Chakraborti, is a certified skin care coach who is well-versed in hair care. She knows the fact that sometimes wigs are not the best solution, in which case a great headgear will add some flair to your look. After conducting extensive research and reviewing numerous online reviews, she compiled this list of the best options available on the market. Soft fabric makes these headgears comfortable and feels good to wear.
Frequently Asked Questions
How to select the best chemo hat?
The two important factors to keep in mind are – hat material and coverage. The cap material you choose should be soft and comfortable. Check the reviews to make sure the cap does not cause itching or discomfort. The cap should fit the season, so it does not make you feel cold or sweaty. Chemotherapy can leave the scalp feeling exposed and sensitive. Therefore, make sure the hat covers your head fully to keep it protected and not exposed.
What are the different types of chemo headwear available?
There are a variety of headwear available, like sleep caps, basic beanies, tailor-made hats or turbans, sun protection hats, lined hats, and slip-on or pre-tied scarves.
Can wearing a hat lead to hair loss?
According to the American Cancer Society, there is no study to show that people who undergo chemotherapy have more hair loss with hats (1).
Can I wear a chemo hat during a session?
It is suggested to wear a cold cap during chemo sessions as they help to cool down the scalp.
Why do you wear a hat during chemo?
Chemotherapy causes hair thinning and hair loss. During cancer treatment, patients cover their scalps with hats to keep the area cool in the summer and warm in the winter.
What kind of hats do chemo patients wear?
Chemo patients wear hats made of lightweight and breathable material. The hat must be of soft and comfortable fabric and not itchy on the scalp.
Sources