21 Best Healthy Snacks Under 100 Calories To Curb Hunger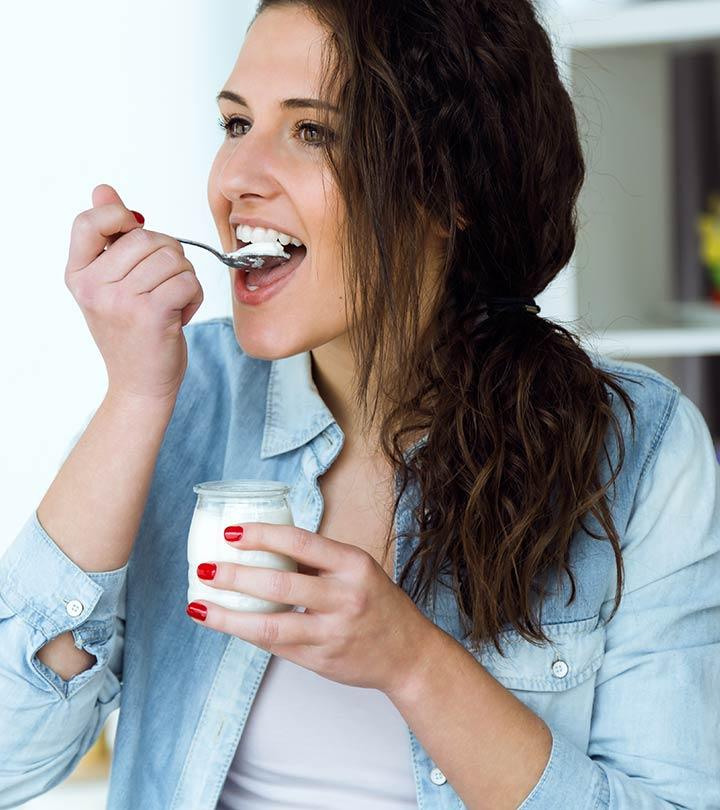 Unhealthy snacking contributes to one-third of the daily calorie intake, leading to weight gain (1), (2). High-calorie, salty, and sugary snacks also put your health at risk (3). So, is there a way to make snacks healthy and tasty? Yes!
Fitness coach at  RAL Fitness says, "The secret to staying full between meals (and supporting your fat loss goals) is switching to low-calorie snacks rich in fiber and water. These keep you full, hydrated, and have many other health benefits like maintaining bowel health." This post enlists 21 delicious low-calorie snacks to curb your cravings. Scroll down!
21 Best Snacks Under 100 Calories
1. Full-Fat Yogurt And Blueberries
Serving – ½ cup yogurt and 15 berries; Calories – 94
Full-fat yogurt is a rich source of probiotics, proteins, calcium, potassium, magnesium, and healthy fats. Blueberries are loaded with vitamin C, folate, and dietary fiber. Consuming full-fat yogurt is more beneficial than consuming skim milk yogurt and may help lower the risk of depression (4), (5). You will remain full for a long time and get all the benefits of nutrients in this delicious combo.
2. Hard-Boiled Egg And Tomato
Serving – 1 large egg and 1 small tomato; Calories – 95
Hard-boiled eggs are amazing sources of water-soluble and fat-soluble vitamins, proteins, and healthy fats. Tomatoes are storehouses of antioxidants. Consuming these as a snack will give you energy and keep you full for at least an hour. It will also help strengthen your immunity and bones, lower LDL cholesterol, and improve heart health (6), (7).
3. Strawberries And Semi-Sweet Dark Chocolate
Serving – ½ cup strawberries and 1 tablespoon dark chocolate; Calories – 85
Strawberry and chocolate is a timeless combination. You can enjoy half a cup of strawberries and semi-dark chocolate if you are craving for something sweet and yet not fall off the "healthy" wagon. Buy semi-dark chocolate chips and melt a tablespoon of them. That's all you need to do to get a good dose of vitamin C, dietary fiber, and feel good hormones from this yummy snack.
4. Apple And Almond
Serving – 1 cup apple and 4 almonds; Calories – 85
At 85 calories, apple and almonds are a good way to keep your tummy filled for at least an hour. Apple is loaded with nutrients that help protect the heart and prevent the risk of diabetes, cancer, and asthma (8). Almonds are rich in monounsaturated fatty acids, dietary fiber, magnesium, and copper. Research has shown that almonds may reduce cholesterol levels, inflammation, oxidative stress, and risk of diabetes (9).
5. Celery With Yogurt And Sour Cream Dip
Serving – 1 large celery stalk, 1 tablespoon yogurt, 2 tablespoons sour cream; Calories – 82.01
Celery is touted as a negative calorie food, meaning, you expend more energy digesting it than the number of calories you get by consuming it. Celery's crunchy texture complements the soft and delicious dip made with yogurt and sour cream. Try it! It's great for curbing all that craving for salty munchies.
6. Carrot And Hummus
Serving – 50 g carrot and 3 tablespoons hummus; Calories – 92
Baby carrot and hummus is a yummy and healthy combo that contains good carbs, protein, and healthy fats. Carrots are good sources of vitamins A, K, and folate and minerals like calcium, potassium, phosphorus, and magnesium. Chickpeas, the main ingredient of hummus, contain about 3 g of protein and are good sources of other vitamins and minerals. You will not feel hungry for at least two hours if you have this snack.
7. Cantaloupe And Pepita Tossed In Lime Juice
Serving – 1 cup cantaloupe, 15 pepita seeds, and 1 tablespoon lime juice; Calories – 77
Cantaloupe is a mildly sweet and juicy fruit belonging to the melon family. A cup of it contains protein, vitamins A, C, K, and folate, calcium, magnesium, phosphorus, potassium, and omega-3 fatty acids. Combining it with pepita and lime juice will not only add texture to your snack but also make it yummy. You can also juice or make a smoothie if you are on the go.
8. Pumpkin Spice Almonds
Serving – 15; Calories – 96
Have 15 pumpkin spice almonds, and you will be set to rock that meeting or workout session in 30 minutes. Almonds are loaded with dietary fiber and healthy fats that help keep you satiated for a long duration and help reduce inflammation in the body (10).
9. Boiled Corn And Mung Sprouts
Serving – 100 g sprouts and 2 oz boiled corn; Calories – 85
Boiled corn and sprouts are good sources of dietary fiber and protein. It is best to consume this salad before your workout session. It is a good antioxidant as it contains vitamins C and A and minerals like calcium, magnesium, and phosphorus. Scientists have found that consuming corn and mung sprouts can help reduce cellular damage, risk of cancer, and kidney stones and improve joint motility and antioxidant activity (11), (12). Toss the boiled corn and sprouts with salt, pepper, and a bit of lime juice to have a quick snack and re-energize your body.
10. Navy Beans Salad With Pomegranate
Serving – ½ cup white beans and 2 tablespoons pomegranate; Calories – 65
Navy beans are loaded with protein, dietary fiber, folate, calcium, iron, and magnesium. Pomegranate is a storehouse of antioxidants and helps lower oxidative stress, LDL cholesterol, and glucose levels. It is a potent anti-inflammatory and anti-cancer fruit (13). Consume a cup of homemade (preferably not strained) pomegranate juice as a snack to keep your hunger pangs at bay and give your body a dose of antioxidants.
11. Full-Fat Milk And Dates
Serving – 1 cup milk and 2 dates; Calories – 115
A cup of full-fat milk with two dates is a good option when you do not have the time to make a juice or fix a quick snack. Pour the milk into a glass, toss in two chopped dates, and drink it. Milk is great for your bones, and it reduces the risk of diabetes, obesity, cardiovascular disease, and cancer (14). Dates may act as anti-tumor, anti-inflammatory, and antioxidant agents (15).
12. Watermelon And Feta
Serving – 1 cup watermelon and ¼ cup feta cheese; Calories – 105.4
Have a cup of watermelon with feta cheese when you are hungry just about an hour before lunch or dinner. Feta cheese is a good source of protein, dietary fiber, vitamins A, C, and folate, and minerals like magnesium, calcium, phosphorus, and potassium (16). Watermelon gives you a super dose of lycopene, an antioxidant that helps flush out toxins and protects from cancer, Alzheimer's, and cardiovascular diseases (17).
13. Chicken Breast And Homemade Raita
Serving – 1 oz chicken breast and 2 tablespoons raita; Calories – 99
Grilled, skinless chicken breast and homemade raita are perfect for curbing hunger and craving when you have to rush in the morning and do not get time to have a fulfilling breakfast. Heat the chicken breast and add some seasoning and herbs. Chop the cucumber and carrot. Add them to yogurt, add salt and black pepper, and mix well. Consume two tablespoons of raita with chicken breast, and you'll get a good dose of protein and good carbs.
14. Dark Chocolate With Almonds
Serving – 2 Squares; Calories – 85
Dark chocolate (70-80%) has innumerable benefits. Yes, it tastes bitter, but it is amazing for your health. According to the Harvard T.H. Chan School of Public Health, the flavonols in dark chocolate help protect the heart, improve blood circulation, lower blood pressure, and reduce the risk of diabetes and cancer (18). If you are craving chocolate and feel hungry at the same time, go for dark chocolate with almonds.
15. Banana
Serving – 1 medium; Calories – 105
Banana fills you up, gives you a good dose of dietary fiber, potassium, vitamin A, folate, carotenoids, phenolics, and phytosterols that help lower the risk of many chronic diseases. It also gives energy, strengthens the bones, and reduces oxidative stress (19). You can have a banana 30 minutes before your workout. The good carbs in it will provide energy for you to rock your workout session.
16. Dry Roasted Bengal Gram And Cucumber
Serving – 25g Bengal gram and 1 whole cucumber; Calories – 107
Bengal gram is a good source of protein and dietary fiber that helps lower blood pressure and reduces the risk of diabetes, heart disease, and stroke (20). Cucumber will keep you hydrated and has lipid-lowering, antidiabetic, and antioxidant properties (21). Toss dry roasted Bengal gram with chopped cucumber, add some salt, pepper, and lime juice. Have it when you want to snack on a nutrient-dense and low-calorie food.
17. Ricotta Cheese
Serving – 50 g; Calories – 98
Did you know that 50 g of unsweetened ricotta cheese can provide you with 6 g of protein, fill you up for the next hour, and give you instant energy (22)? It is best to consume homemade ricotta cheese. If possible, drink the whey that separates from the milk solids for an extra dose of nutrition. You can also have it before working out. To know more about pre and post-workout drinks, click here.
18. Pistachios
Serving – 25; Calories – 100
Pistachios, especially the unsalted variety, are great for weight loss. The healthy fats present in them reduce inflammation and obesity and the risk of diabetes and cardiovascular diseases. They are also good sources of tocopherols, carotenoids, and phytosterols that help reduce blood sugar levels (23).
19. Baked Beetroot Chips And Hummus
Serving – 20g baked beetroot chips and 1 oz hummus; Calories – 99
Home-baked beetroot chips are the best if you are craving for potato chips. Beetroot is a good source of antioxidants. It has anti-inflammatory properties, reduces hypertension, prevents skin problems, and improves stamina (24). Hummus improves insulin and glucose regulation and may help reduce the risk of cardiovascular disease (25). Make sure you do not add too much salt while baking the chips.
20. Kale Chips And Homemade Guacamole
Serving – 1 cup homemade kale chips and 4 tablespoons homemade guacamole; Calories – 43
Like beetroot chips, you can also make kale chips at home and eat as a snack. Kale is a nutrient-dense dark leafy green. You can bake it with some seasoning and olive oil. The antioxidants in kale help lower postprandial glucose levels, preventing the risk of obesity and diabetes (26). Homemade guacamole is loaded with nutrients and may boost heart health and improve blood lipid levels (27).
21. Popcorn
Serving – 1 cup; Calories – 31
Air popped popcorn is an amazing snack – especially when you have it while watching your favorite show. According to Joe Vinson, Ph.D., "Popcorn may be the perfect snack food. It's the only snack that is 100 percent unprocessed whole grain. One serving of popcorn will provide more than 70 percent of the daily intake of whole grain." But make sure you have the unsalted, unbuttered, or no-cheese variety (28).
There you have it – 21 yummy and nutritious snacks under 100 calories. Snacking is an integral part of your eating habits, and tweaking it a little can help improve your overall health. Once you make it a habit of choosing healthy snacks, you will stop craving for all that unhealthy and trans-fats-loaded snacks out there on the market. Have any questions? Leave a comment in the box below. Take care!
References
The following two tabs change content below.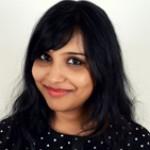 Latest posts by Charushila Biswas (see all)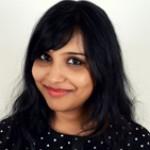 Charushila Biswas
Charushila Biswas is a Senior Content Writer and an ISSA Certified Specialist in Fitness & Nutrition. She is an alumni of VIT University, Vellore and has worked on transgenic wheat as a part of her Masters dissertation from NRCPB (IARI), New Delhi. After completing her Masters, she developed a passion for nutrition and fitness, which are closely related to human psychology. This prompted her to author a review article in 2015. She has written over 200 articles on Fitness and Nutrition. In her leisure time, Charushila loves to cook and enjoys mobile photography.