Pamper Your Tresses With 13 Best Heat Caps for Hair!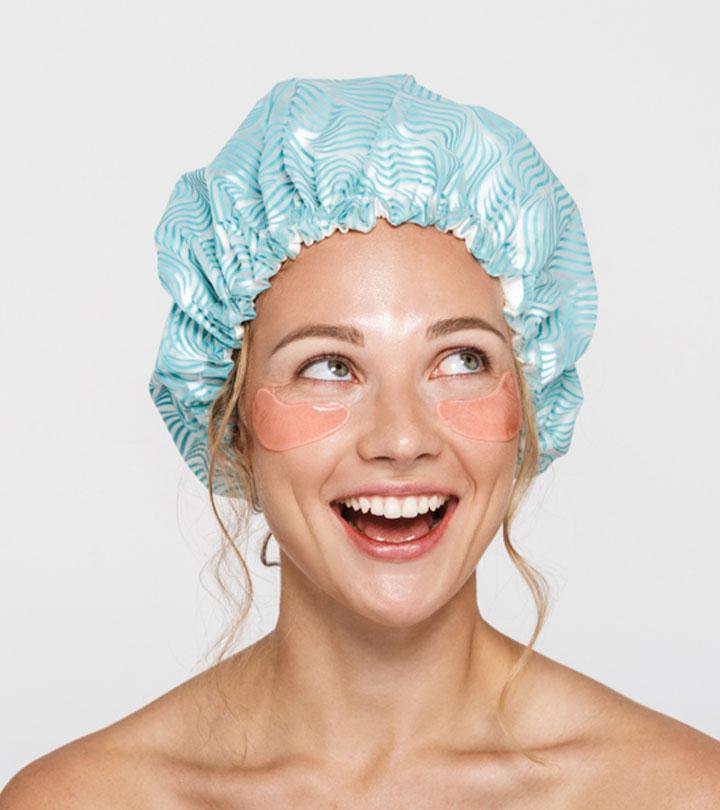 Sometimes, all your hair needs is a pamper session to rejuvenate and heal. And now, heat caps are totally making it doable for women in the comforts of their home! Yep, no more expensive salon trips to make when these heat caps (more like a mini sauna!) are making salon-like intense conditioning an easy task for everyone. Rejuvenating, repairing, and healing the tresses to look gorgeously stunning again, these caps allow deep penetration and diffusion of serums with the help of direct heat. Now, if you are looking for the best heat cap for hair, we have some top choices for you!
Beauties, are you ready to give your hair a red-carpet shine at home? Check out our list of 13 best heat caps for hair below:
Read on to know more!
Top 13 Best Heat Caps for Hair That You Must Not Miss!
When we say a heat cap can make intense conditioning easy, we meant this one by Tifara Beauty! Sleek black and reusable, it is insulated with heat-activated gel to stand the microwave heat, so you can use it as many times as you want. With no need for electricity and batteries, this cordless cap is ideal for deep conditioning and to moisturize damaged and chemical-treated hair. Also, it ensures no heat damage, breakage, or split-ends! Get yours now.
Pros:
Suitable for all hair types
Guarantees styling in minutes
Activates oils and locks in moisture
Ideal to use at home or salon
Universal size, eco-friendly, and durable
Cons:
Heating may not be uniform
The elastic rim may be uncomfortable for large heads.
A heating cap your hair will thank you for— not kidding! Be it split-ends, damaged, chemically-treated or permed hair, this heat cap will ensure a therapeutic session for your tresses to heal and rejuvenate. Ideal to fit one and all with an adjustable cord, this cap comes with 2 temperature modes so you can control the heat as per your needs. Made of premium-quality and double-layered plastic lining to offer optimum heating, it is also anti-tear and easy-to-clean. Besides this, the heat cap is travel-friendly, which means you can enjoy your hair spa anywhere, anytime!
Pros:
Easy-to-use hair heating cap
Ensures maximum comfort
Auto-shuts off after reaching 65 degrees
Durable and safe to use
Ideal for thick, curly, and dry hair
The fabric is fire-proof and waterproof.
Cons:
Do you know what's best about cordless heating caps? You can multitask while the heat cap repairs and conditions the scalp and tresses. So naturally, it is ideal for all the workaholics out there! Safe to use and microwavable, the infused flaxseed layer guarantees optimum and even distribution of heat too. One of the best ways to make your scalp and hair enjoy the goodness of the nutrients intensely, watch your tresses go from dull to shiny and manageable within minutes with this steaming cap. Also, it is super-easy to clean! Don't miss it.
Pros:
Made of microfiber cotton
Portable and travel-friendly
Safe, reusable, and reversible
Storage bag and 10 disposable shower caps included
Suitable for curly, thick, long, and natural hair
The elastic rim is made of nylon and offers a snug fit.
Cons:
May not stay heated for long
Are you obsessed with salon treatments, or does your hair need conditioning often? Then you must try this hair steamer by Vicarko that claims to provide salon-like experiences at home! Other than saving all those salon trips, this heating cap also gives you the liberty to choose the heating temperature (2 modes) as per your conditioning requirements. But what really makes this one unique is that it shuts off automatically if the heating cap gets too hot and turns on when the temperature drops! Yep, taking hair care to a whole new level— give this cap a try if you haven't already.
Pros:
Leaves hair soft, shiny, and supple
Improves hair texture and manageability
Provides intense conditioning and moisture
Ensures uniform and even heat distribution
Prevents split-ends and breakage
Adjustable with an accessible cord
Safe to use, easy-to-clean, and portable
Ideal for long, thick, curly, wavy, and damaged hair
Cons:
The cord may be short for some.
It is more like a heater than a steamer.
Moisturize and condition your hair with the Magic Gel Premium Deep Conditioning Heat Cap. This deep conditioning cap makes your hair smoother, improves elasticity, and provides nutrients. You can simply microwave this heat cap and use it safely; there is no need to plug it in. The thermal heat allows it to penetrate the oil and treat the scalp naturally. It's suitable for all hair types.
Pros:
 Cordless
 Easy to use
 Stronger hair
 Softer
 Suitable for all hair types
 Adjustable headband
Cons:
Do you want to show off a new hairstyle but also have pending chores or office work? Well, you can multi-task with this cordless hair cap in your collection! Other than being an ideal go-to for your pampering session and turning your damaged hair into a silky mane, this hair conditioning heat cap is reusable, endlessly. Designed to stand microwave heat and to give your hair an intense treatment at home, Mifine Thermal Hair Cap is a godsend for styling too. Now, who's up for salon-like curls and wavy hair at home?
Pros:
Eco-friendly heating cap for natural hair
Strengthens hair and guarantees manageable hair
Locks in moisture and leaves hair soft and silky
Provides a snug fit with an elastic rim
Ensures time-efficient hair treatments and styling
Universal size, durable, and safe-to-use
Suitable for ethnic, curly, thick, damaged, and frizzy
Cons:
May not stay heated for long
May not distribute heat evenly
Nothing beats a hot conditioning therapy when it comes to dealing with frizzy, damaged, or dull hair! So, if you are sailing in the same boat, you must try this thermal steamer ASAP. With three temperature modes, you can enjoy multiple heating options and watch your hair transform from boring to beautiful within minutes! And to make the experience all the more salon-like, the cap has a silicone lining, which ensures even heat distribution and will also shorten dyeing time. Now, why would you miss this experience?
Pros:
High-quality cap with durable plastic lining
Ensures a snug fit with an adjustable strap
Auto-shuts off if the temperature crosses 65 degrees
Provides intense nourishment, conditioning, and moisture
Waterproof, flame-retardant, and anti-electric fabric
The interior is detachable for easy cleaning.
Cons:
Did you know flaxseed can retain heat for the longest time? And this heating cap by Boloye is insulated with a flaxseed layer to provide optimum heating to your scalp and hair! More like a BFF for your tresses to recharge and rejuvenate after a tiring week, this microwavable cap is a go-to to eliminate dullness, frizz, breakage, and split-ends. Plus, it provides a fit so comfortable and soft (made of microfiber cotton) that you'll barely feel the weight on your head. Just what you need to give your hair a conditioning getaway, in the comforts of your home, give it a try!
Pros:
Microwavable heating cap
Helps with intense conditioning and nourishment
Improves texture and manageability
Lightweight, cordless, and reusable
Universal size, durable, and safe to use
Suitable for long, thick, curly, and damaged hair
Cons:
Heat distribution may be uneven at times
Do you prefer oiling your hair or applying leave-in and deep conditioner frequently? Then this heating cap will activate the nutrients and ease the hair follicles for deep conditioning. After all, intense nourishment is always a better idea than a topical one, and it will give your hair the nutrients it deserves to look forever gorgeous! With the flaxseed interior retaining heat and locking in moisture, the cap is microwavable and reusable as many times as you like. Also, do you like styling your hair? Then this thermal hat can make all your curly hair dreams come true without having to visit the salon. Indulge, already!
Pros:
Cordless and non-electric heat cap
Portable, time-efficient, and durable
Eco-friendly, safe to use, and easy-to-clean
The elastic rim ensures a universal and snug fit.
Cons:
May not stay heated for long
Lacks even heat distribution
How about something chic like this leopard print heat cap for your collection? Adding a sassy vibe to the spa sessions, it is a great option to flaunt at sleepover parties with your squad. And besides being all fancy, it is highly functional too. Made of microfiber cotton, which makes it soft and comfy, the interior contains flaxseed to maximize heat retention and provide even heating. Locking in moisture, sealing in nutrients, and strengthening follicles to make hair manageable and soft, don't miss out on this stylish heating cap this season.
Pros:
Safe for all hair types
Portable and travel-friendly
Microwavable and reusable heat cap
Improves hair texture and elasticity
Provides intense conditioning and nourishment
Easy-to-clean, cordless, and durable
Cons:
Not machine washable
It needs to be reheated
Do you have sensitive skin? Then this conditioning cap made of hypoallergenic materials will be ideal for you. With no fear of rashes or redness on your hairline area, this cap has a double-sealed design as well to prevent leaking. Locking in moisture and relaxing the follicles to allow intense conditioning and nourishment, it is easy-to-use and can be reheated endlessly in the microwave. And the best part— you can also use this cap for cold therapy by keeping it in the freezer and using it to eliminate frizz, split-ends, dandruff, and dryness. Multi-purpose and must-try, isn't it?
Pros:
Suitable for all hair types
Minimizes breakage and split-ends
Strengthens follicles and improves texture
Reusable, waterproof, and non-electric cap
The high-quality elastic rim provides a snug fit.
It has a universal size with long-lasting insulation.
Cons:
Heavy
May be slightly uncomfortable in the beginning
What makes this heat cap different from others? The gel pearls insulation, of course! With the ability to retain heat for longer and to distribute it evenly, this unique-designed cap is making hair spa a charm for women at home. And besides this, the microfiber elastic band ensures a snug and soft fit. And that's not all— PrimoDiva Heat Cap also guarantees to make your hair feel salon-worthy, shinier, and healthier with every use! Do you think you can handle all the gorgeousness?
Pros:
Premium-quality and microwavable heat cap
Easy-to-clean and travel-friendly
Cordless, portable, and reusable
Ideal for styling, curling, and deep conditioning
Suitable for damaged, fine, curly, bleached, and colored hair
Cons:
Heavy
Not ideal for large heads
Lastly, this heating cap by Belinlen that's too modish to be missed! Highly functional and claiming to stay heated for up to 30 minutes, the flaxseed interior also ensures long-lasting heat for the scalp and hair. Helping the follicles ease and letting the deep conditioning treatment work intensely, it is one of the best ways to give your hair and scalp a nourishing experience. And is comfort a priority for you? Then you'll like this cap even more, for it is lightweight and made of soft cotton to give you a snug and comfortable fit throughout. Give it a try!
Pros:
Cordless and microwave heat cap for hair
Ensures even and optimum heating
Eliminates frizz, damage, and dryness
Improves texture, manageability, and hair health
Easy to wash, maintain, and reusable
Cons:
Small
May be slightly uncomfortable in the beginning
All hail heat caps, every woman's ultimate spa partner! There you go, those were the 13 best heat caps for hair to try this 2020. Do you still need assistance with buying the right heat cap? Or are you wondering how to use it? Read our buying guide below!
Buying Guide – Best Heat Caps
There are two types of heat caps— electric and  cordless. The electric ones ensure uniform heating, and also, you get to control the temperature throughout. The cordless ones, on the other hand, are microwavable, may not heat evenly but are portable and time-efficient. And these are some features you must check out for:
Fabric: The fabric determines the flexibility and the comfort that the cap offers. You must check the fabric material before purchasing to avoid discomfort later. Also, the fabric should be fire-proof, waterproof, and anti-tear as well to prevent hazardous situations.
Durability: The product should be long-lasting and durable. Hence, you must check out the reviews and feedback before purchasing. Also, check if your heating cap is reusable and can withstand your temperature needs, or else, you will end up with a disappointing one.
Size: Though most of the caps have an elastic rim or adjustable cord, they might not suit your hair type or volume. So, inspect the size and suitability before choosing the heat cap.
Heating System: Not all caps may have the same heating system. Some have flaxseed, gel, or electric heating systems. Though electric ones are ideal, they might limit portability, whereas the flaxseed and gel heat caps (cordless) are portable and can stay warm up to 30 minutes.
How to Use A Heat Cap for Hair?
It is super easy. You can either wear the heat cap after a shower or on dry hair. Here are some steps for you:
Apply the mask, oil, or hair cream on hair and make sure you massage it gently all over
Next, wear a disposable or your usual shower cap
If you are using a cordless cap, then keep it in the microwave for a minute. Increase seconds if it is not hot enough. Then wear it on for 15-20 minutes
Are you using an electric heat cap? Wear it on, make sure it sits comfortably on the head and then, set the temperature you need for heating
Sounds like a trip to heaven and back, doesn't it? Imagine the bliss of enjoying a salon-worthy hair spa in the comforts of your home or even better, salon-worthy hair anywhere, anytime! Yup, no matter how you imagine it, it sounds like something worth experiencing, right? Making hair spa easy and every woman's cup of tea, these heating caps are the true MVPs of hair care. So, what are you waiting for? Grab yours, and say goodbye to those expensive salon trips forever!
Frequently Asked Questions
Are Heating Caps Good for Hair?
Yes, absolutely. Heating caps ease the follicle to let the hair mask or nutrients nourish, repair, or heal intensely rather than just staying on the top. Also, a heat cap will help in reducing split-ends, frizz, breakage, and dryness too.
Can I Steam My Hair Every Day?
It is not advisable to steam your hair every day, but once a week is ideal for dry and damaged hair. However, if you have healthy and strong hair, then once a month should suffice.
Can You Leave A Hair Mask on Too Long?
No, because your hair and scalp might end up absorbing too much moisture or protein, thus leading to breakage or weak follicles. Hence, you must follow the instructions given in the hair mask's application manual and not keep it on for too long.