13 Best Heat Protectants For 4C Hair That's Gorgeous And Glorious
Bid adieu to heat-styling damage and frizz and say 'hello' to gorgeous 4c curls!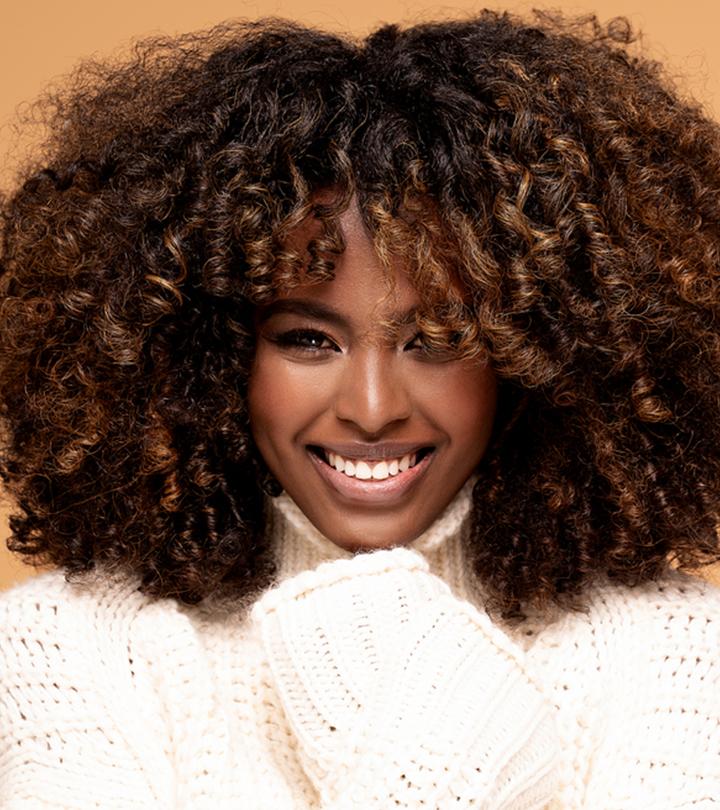 Curly hair texture is never easy to manage. If you have been using styling tools for a long time, we have just what you need. In this article, you will find the best heat protectant for 4C hair and why you need to use them regularly. Forgetting to apply heat protectants before using the styles might not be a huge problem for other textures, but it might be worse than you can imagine for hair types 4C, 4A, and 4b. The dull and brittle hair that got you into styling them will only take a much worse shape if you neglect using serums on your hair before thrusting them between flat irons. Hence it is entirely non-negotiable to carry them with you at all times and use them before each styling. Why we like the heat protectants is, they can be used on wigs and extensions as well and give protection to your damaged hair. These serums contain moisturizing and strengthening agents like oil blends and keratin that reduce damage and lock your hair against all kinds of external damage like heat and pollution.
Laura Dale, licensed cosmetologist, says, "As a hairstylist, I know that 4C hair is particularly delicate and prone to heat damage, which can lead to breakage and split ends. That is why it is essential to use a heat protectant before using any hot styling tools. These products are specifically formulated to protect against heat damage and keep your 4C hair healthy and strong."
Here is a list of 13 chosen hair protectants specially curated for 4C hair that will ensure your hair can enjoy all hairstyles without fraying away. Read on and choose the one you feel is made just for you.
Keep Your Locks Healthy With The 13 Best Heat Protectants For 4C Hair
CHI 44's Iron Guard Thermal Protection Spray is like your hair's personal bodyguard, as it keeps your hair shiny and silky prior to blow drying. This heat protectant for 4C hair has a lightweight formula. By sealing the cuticles with the product, your hair stays damage-free as the protective formula works its magic from within. To add the needed moisture and nourishment to your hair, this formulation is enriched with vitamins and proteins. And if you're looking to create a sleek and smooth style, the thermal protection spray comes with an easy brush glide formula for you! With no parabens or gluten, all hair types can use this heat protection spray for hair before straightening. You may check this video for a better understanding of this product.
Pros
Prevents thermal damage to hair
No build-up
Lightweight formula
Can be used to create sleek styles
Paraben-free
Gluten-free
Cons
Might leave a film on hair
Price at the time of publication: $3.59
Not only is Kenra's formula lightweight, it also softens, smooths, and detangles strands to save hair from heat exposure. It's a good heat protectant for 4C hair, as you will find your blow-dry time reduced in half and there's no more unwanted frizz either! Kenra's Platinum Blow-Dry Spray provides intense thermal protection that keeps hair safe even in temperatures as high as 428°F. For healthy-looking hair that can withstand humid weather, give this heat protectant spray for 4C hair a shot. This video review will help you learn more about the product.
Pros
Softens and detangles hair
Eliminates frizz
Makes hair resistant to humidity
Can withstand temperatures up to 428°F
Lightweight
Time-saving due to easy drying process
Cons
Might make hair slightly oily
Price at the time of publication: $41.99
John Frieda's heat-activated flat iron spray keeps your hair sleek until the next shampoo. The Frizz Ease flat iron heat protectant for hair contains an advanced formula of polymers with keratin, the protein our hair is made of. This ingredient makes hair shinier, frizz-free, and better protected from the sun and environmental damage. Spritz it on wet hair before styling and the lightweight formula will tame your wide curls and pave the way for a sleeker mane. This video will help you make an informed decision about your purchase.
Pros
Anti-frizz formula
Contains keratin to strengthen hair
Lightweight
Smooths hair
Gives a glossy finish
Cons
Some may find it to have a slightly sticky formula
Price at the time of publication: $9.97
When you're in a hurry during busy mornings, don't forget to spritz this heat protectant for 4C natural hair before styling! Withstanding temperatures up to 450°F, this versatile and lightweight mist also doubles as a leave-in conditioner. Enriched with the goodness of Moroccan argan oil which moisturizes, restores lifeless hair, and helps in healthy hair growth, you'll also notice that it repairs dry and brittle hair that has been exposed to heat. With an additional blend of hair proteins, natural herbal extracts, and vitamin E, your hair is going to stay healthy amidst all the heat. For a salon-like finish, use ArtNaturals' natural heat protectant for 4C hair to reduce drying time and for a boost on the shine.
Pros
Can be used as a leave-in conditioner
Argan hair oil treatment
Contains nourishing ingredients
Free of parabens and sulfates
Uses non-toxic ingredients
Cruelty-free and vegan
Cons
Price at the time of publication: $14.95
One of the superior oils for healthy hair, argan oil is known to deeply moisturize hair and aid in its growth. Arvazailla's thermal heat protectant for 4C hair makes use of its unique Advanced Lightweight Two Layer Protection Technology that goes deep into your hair to repair existing and future damage. Say goodbye to your fears of uneven hair texture, breakage, split ends, and even frizz with this black hair heat protectant, as it uses detangling agents for smooth and manageable hair. Use it on natural hair, wigs, or even extensions without any hassle.
Pros
Contains argan oil for hair nourishment
Prevents hair breakage and split ends
Eliminates frizz
Smooths hair
Can be used on extensions and wigs
Gives a glossy finish
Cons
Some may find the smell to be slightly off-putting
Price at the time of publication: $10.99
Design Essentials' weightless serum deeply penetrates your hair to seal hair cuticles and lock in much-needed moisture for dry 4C hair. When you apply heat, your curl elongates and the hair fails to retain its original shape. The Silk Essentials Thermal Strengthening Serum prevents this and also adds a boost of lustre to hair. With the power of 17 amino acids, this serum strengthens damaged hair and makes frizzy hair more manageable by making it softer. Even if your hair is color-treated, don't hesitate to use this heat protectant for blow drying 4C hair.
Pros
17 amino acids have hair-strengthening properties
Prevents curl elongation
Eliminates static
Cruelty-free
Gluten-free
Gives a glossy finish
Cons
Some may find the smell to be quite strong
Price at the time of publication: $16.92
SheaMoisture's conditioning spray contains an enriching blend of organic shea butter that intensely moisturizes with nourishing oils like sweet almond that smoothens and castor that prevents hair fall. This nutrient-rich formula contains natural ingredients that protect fragile hair from too much heat and revitalizes it. If you've got a mane that struggles with split ends, sprtizing this anti-breakage spray before heat styling will help reduce them. Both natural and color-treated hair can benefit from this heat protectant for hair straightening to give you healthy tresses that won't fail to impress.
Pros
Detangles and protects natural hair
Contains a blend of oils to hydrate hair
Reduces split ends
Works on natural and color-treated hair
Reduces hair breakage by 70%
Cons
Contains alcohol which might dry hair
Price at the time of publication: $10.99
Curly hair might have a lot of volume but it also needs a lot of protection when you're styling it. Shea butter present in this serum deeply penetrates your hair to moisturize it and as it is made with anti-breakage ceramide technology, your hair remains safe during heat exposure. MIZANI's heat protectant for 4C natural hair adds body to your hair, and its cream-gel formula applies easily and ensures better absorption of the product. For smoother combing and blow drying, you need to give the Thermastrength Heat Protecting Serum a chance.
Pros
Contains shea butter for moisture
Anti-frizz and anti-breakage technology
Cream-gel formula for easy application
Smoothens hair
Lightweight
Allows better absorption of product
Cons
Might have a strong fragrance
Price at the time of publication: $20.0
Head Kandy's amino-keratin unique formula contains a cocktail of vitamins and minerals that nourish it from the root to the tip for healthy tresses. Apart from hair-friendly nutrients that repair damaged hair, Head Kandy serves your locks by preventing split ends, frizz, and static on heat damaged 4C hair. Enjoy a lustrous shine on both natural and colored hair with this lightweight spray that works on all hair types.
Pros
Cruelty-free
Reduces split ends, frizz, and static
Contains a rich blend of vitamins and nutrients
Lightweight
Vegan
Gluten-free
Cons
Might leave a greasy residue
Price at the time of publication: $19
Beyond The Zone's spray-in treatment does wonders to keep your hair smooth and protected from heat damage. While it is resistant to humidity, it also adds a heat defense barrier to save your hair from the consequences of using flat irons and hair dryers. It seals cuticles for silky hair and creates slip, so you can style as your heart desires. For protected hair that shines bright, invest in Turn Up The Heat and get hair that looks like it's done by professionals.
Pros
Humidity-resistant
Keeps hair smooth and silky
Eliminates frizz
Gluten-free
Sulfate-free
Paraben-free
Cons
Price at the time of publication: $29.95
If you thought reversing your parched hair after eons of heat styling was impossible, think again. Formulated with a vitamin complex that locks in moisture, the Thermal Creations leave-in spray is heat-activated to give your locks maximum safety from heat due to flat irons and curling wands. This product enhances your hair's flexibility so it's better able to hold its shape, and you, your identity.
Pros
Moisturizes hair
Long-lasting hold
Can be used everyday
Can be used on color-treated hair
Suitable for all hair types
Cons
The scent might be a bit too strong for some
Dubbed as the 'best heat protectant for 4C natural hair' by loyal users, Silk Elements' Hair Protection Creme smoothes down hair that becomes wild and frizzy. With coconut oil, your hair gets amply hydrated, so consider this Creme a big chug of drink for your mane. It also contains silk, which reduces friction that might otherwise cause frizzy, knotted hair and split ends. Not only does a single spray make your hair incredibly soft to the touch, it also adds an unbeatable shine so you can truly sparkle for your next date. The lightweight consistency is ideal for hair as it doesn't weigh the strands down, or make them greasy.
Pros
Softens and smooths hair
Suitable for both relaxed and natural hair
Adds a glossy finish
Lightweight
Contains hair-protecting ingredients
Has a pleasant scent
Cons
Some may find the coconut scent intense
Price at the time of publication: $15.94
Enriched with an innovative keratin complex, African Pride's black hair heat protectant spray strengthens hair with a protective barrier that guards against heat and environmental damage. The weightless formula locks in both moisture and shine and saves curly and kinky hair from humidity by keeping it straight until you want it to be. With black castor oil as the key ingredient, your natural hair feels loved with the hydrating properties that lead to healthy and nourished tresses. For a true salon-style treatment, the watery spray some on your hair and style away!
Pros
Seals in shine and moisture
Humidity-resistant
Contains keratin complex that reduces frizz
Black castor oil moisturizes scalp and hair
Lightweight
Cons
You may need to use a lot of product
Price at the time of publication: $9.99
Now that we've gone over some of the best heat protectants out there, let's take a look at how you can choose the right one for yourself.
How To Choose The Right Heat Protectant For 4C Hair Types
As 4C hair is the curliest of the lot, it takes high temperatures of up to 450°F to change the shape of the curl. This high range of temperature can be damaging to hair health, so it's necessary to choose a heat protectant that can withstand extreme heat. Make sure your protectant has a high range of heat tolerance as heat styling tools like flat irons and curling wands can get quite hot and leave the hair weak.
Check for silicones on the label, as they save your hair from heat damage by forming a protective coating. Cyclomethicone covers hair with a moisturizing film and dimeticone locks in moisture to keep hair smooth. Along with these, also ensure that one of the main ingredients is keratin because that's the protein our hair is made of. Hydrolyzed keratin makes hair strong by encouraging moisture retention, which in turn minimizes breakage. A blend of oils like argan, castor, or coconut can also help boost hair health and shine while also protecting it from heat.
Heat protectants come in the form of sprays and serums and whichever you opt for comes down to your personal preference. As long as they can withstand high temperatures and contain protective ingredients, you can choose either one according to your liking. Sprays allow for ease of use as you just have to spritz them on and wait for them to dry before styling. They also have a watery consistency, making them light, so they don't weigh your strands down. Serums, on the other hand, might be a little thicker and need to be massaged into the hair, which might be time consuming if you're a busy person. Due to their thicker consistency, they might have a greasy feel or feel heavy on your locks.
Fragrance is a crucial part of hair products because the scent lingers and follows you wherever you go. Some heat protectants have a faint yet pleasant scent, which can be masked with your daily perfume or it can be left as is. However, if you're intolerant to fragrance, some heat protectants that have a strong smell can be off-putting. These can also clash with your perfume and result in an unpleasant scent.
How Do I Protect My 4C Hair From Heat Damage?
Minimize heat styling tools in your regimen as much as you can. As you've probably heard of the saying 'prevention is better than cure', it's best to avoid applying heat, or cut down on it to maintain hair health.
Use products that are heat-activated or thermo-protective for maximum safety from higher temperatures. Lowering the temperatures on your styling tools will also go a long way.
Even the sun's rays can be damaging to 4C hair, so make sure to use nourishing oils like almond, olive, coconut, argan, and castor as a deep conditioning treatment a couple of times a week. In hot weather conditions, you can also cover your hair with a cap, scarf, or hat if possible to avoid UV damage.
Using hot water to wash your hair can also cause a degree of hair damage by destroying the protein. Try cool or lukewarm temperatures as they won't make your hair dull and dry.
Use keratin-based conditioners to not only restore the protein lost from the strands, but also to prevent future heat damage. You can apply regular conditioners after shampooing or leave-in conditioners 1-2 times a week also work great.
If only a small part of the hair is damaged, you can trim it to help the hair maintain its body. This would also ensure getting rid of split ends.
Look for hair care products specifically suited to your hair type that protect from heat damage, eliminate frizz, and encourage the production of keratin.
Why Trust Stylecraze?
The author, Kirtana Divakar, is a huge hair care enthusiast with a zeal for finding new products that protect and transform your tresses. In this article, she discusses the best heat protectants for 4C hair that shield your curly locks from harsh UV rays and may even have additional benefits. She scoured many forums for product information and reviews and thoroughly vetted and researched them. These products have lightweight formulas, skin-friendly ingredients, and more.
Frequently Asked Questions
Why are heat protectants important for 4C hair?
4C hair is the curliest type of hair and lacks moisture. Due to this, a high temperature is needed to straighten or loose it up, which can lead to further drying, breakage, or split ends. A heat protectant keeps the hair strong and smooth, so it can withstand heat when being styled.
Does heat protectant work on 4C hair?
Yes, there are heat protectants formulated especially for curlier hair types and they do a good job in protecting 4C hair from heat. Some protectants marketed as being suitable for all hair types will also work on 4C hair.
Do you put heat protectant before or after?
Heat protectants come in the form of sprays, serums, and creams. They are applied on the hair prior to exposure to heat.
Should I let heat protectants dry?
Yes, heat protectants are applied on slightly damp hair and you must make sure your hair is dry before you attempt to style it with a straightener or a curling wand.
How do I know if my 4C hair is heat damaged?
If you are experiencing any of the following hair problems, your 4C hair may have heat damage:
•  Dull and dry hair texture
•  Split ends
•  Hair breakage
•  Multiple knots and tangles
•  Hair loss
How often should I use a heat protectant on 4C hair?
Always use a heat protectant on your 4C hair before styling the tresses with heat tools. Try to limit styling your hair to once a month to preserve your curls' healthy, natural texture.
Can I use coconut oil as a heat protectant for 4C hair?
Yes, coconut oil has a high smoke point of 350° F, so it is very effective in protecting the hair from the damage caused by heat styling tools. However, too much coconut oil may make your hair look greasy.
Can I use shea butter as a heat protectant for 4C hair?
Yes. Shea butter has a high smoke point and creates a barrier between your hair and the styling tools. It makes a heat protectant for 4C hair.
Does silk press work on 4C hair?
Yes, a silk press straightens 4C hair. However, use a heat protectant before transforming your 4C coils into silky smooth, straight hair. The effect of the silk press lasts for three to four months for this hair type.
How can I straighten my 4C hair such that it doesn't revert?
Wash your hair thoroughly with a shampoo and conditioner.
•  Wrap your damp hair with a microfiber towel.
•  Divide your hair into four sections and clip the sections.
•  Release one section of the hair and apply the heat protectant.
•  Apply a silk infuser to the hair.
•  Use a tangle teaser brush and hold the hair. Blow dry it.
•  Lift the roots of the hair with a hairbrush and blow dry again.
•  Twist and clip this section and repeat the process with the other three sections.
•  Section your blow-dried hair with a rat comb.
•  Use one section of hair and set the flat iron at medium heat.
•  Comb your hair and follow by straightening it with a flat iron.
•  Repeat the same with other sections.
•  Brush your hair and detangle the knots, if any.
Recommended Articles