9 Best Heat Protectants For Hair Extensions To Use In 2023
Hide your back fat and gives you a jaw-dropping sculpted look effortlessly.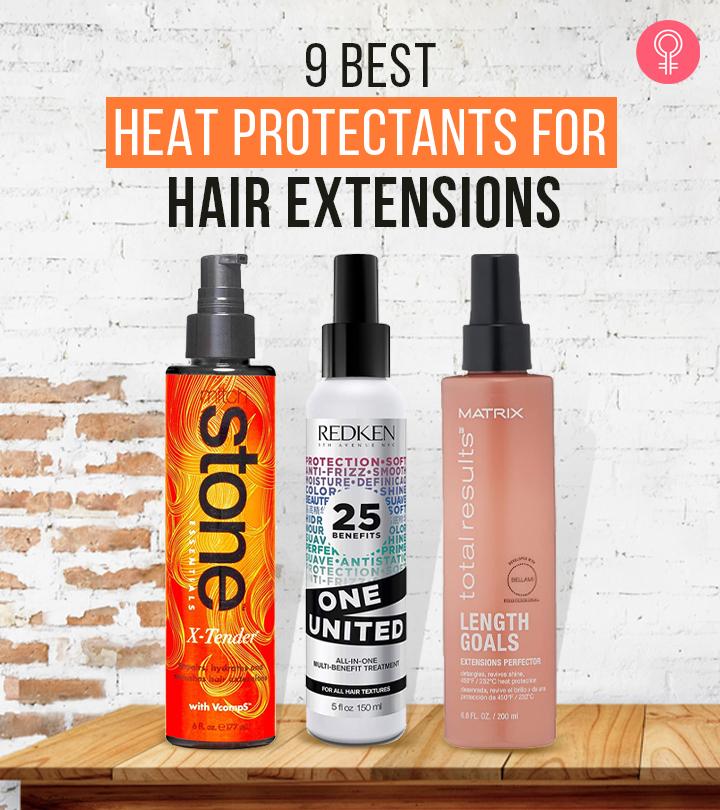 A hair extension helps to adjust the length of your hair, volumize your hair, and offer the freedom of dying the hair without disturbing the natural hair. But these extensions can get damaged because of styling tools. This is where the best heat protectant for hair extensions comes in handy. They provide a protective layer to the hair extension, keeping them undamaged. In this article, we mentioned a list of the 9 best heat protectants for hair extensions. Keep reading to learn more!
The Importance Of Using Heat Protectants On Your Hair Extensions
The constant use of heat styling tools like curlers, flat irons, and blow dryers can damage and reduce the hair extensions' lifespan. Heat makes natural or synthetic hair extensions weak and breakable. You can prevent this damage by using a heat protectant.
Heat protectants shield the hair extensions and save them from breakage, shrinkage, and damage. They also help extend the lifespan of extensions, wigs, weaves, and other synthetic hair.
Let's now look at the top heat protectants for hair extensions that you can buy online.
Note: Heat protectants are flammable. Store them away from electrical and other flammable materials.
9 Best Heat Protectants For Hair Extensions
Pros
Controls frizz
Detangles the hair extension
Repairs dry and damaged hair
Suitable for daily use
Cons
Contains paraffin, methicone, and siloxane
Pros
Environmentally safe
Cruelty-free
Vegan
Suitable for synthetic and human hair
Cons
Price at the time of publication: $17.49
The Knotty Knot Out Heat Protectant acts as a detangler for the hair extensions. It protects the hair extensions from damage by heat styling tools. This heat protectant also detangles even the most matted, tangled, and messy hair extensions. It is also suitable for natural hair. The white tea and ginger scent refresh the hair extensions. This product does not contain water or filler ingredients.
Pros
Pleasant scent
Detangles the hair extensions
Adds shine
Water-free
Filler-free
Cons
Price at the time of publication: $9.99
The mitch stone ESSENTIALS X-Tender offers multi-benefits for the hair extensions. It forms a barrier on the hair extensions to protect them from heat damage by styling tools. It also detangles and softens them. This heat protectant can also be used to detangle wigs easily. It controls frizz and prevents flyaways while styling the hair.
The spray contains proteins, vitamins C and E, amino acids, and papaya oil, which restore, moisturize, and replenish the hair extensions. It can be used on Remy, natural, European, and Brazilian extensions and wigs. This product repairs dry and damaged extensions, adds shine, and makes them manageable for styling. It seals the cuticles of the extensions to hold the hair together. This heat protectant can be used daily as a leave-in serum. It has a light citrus and cottonseed fragrance. The product is free of phosphates, sodium, and gluten.
Pros
Pleasant fragrance
Controls frizz
Prevents flyaways
Detangles the hair extensions
Phosphate-free
Sodium-free
Gluten-free
Cons
Contains starch and dimethicone
Price at the time of publication: $15
The Glam Seamless Thermal Therapy protects the hair extensions from breakage and heat damage. Its heat activated thermal protection prevents humidity from affecting the extensions.
This spray repairs dry hair and split ends, and adds shine to the extensions. It also protects them from sun damage. This cruelty-free product forms a protective barrier over the extensions to save them from the heat damage of the styling tools. It is also free of sulfates and parabens.
Pros
Cruelty-free
Reduces hair breakage
Adds shine
Humidity-resistant
Sulfate-free
Paraben-free
Cons
None
Price at the time of publication: $14.99
Pros
Reduces detangling and styling time
Color-safe
Prevents matting
Cons
Contains dimethicone and alcohol
Price at the time of publication: $19.0
Pros
Lightweight
Improves hair manageability
Reduces hair breakage and shedding
Adds shine
Cruelty-free
Cons
Contains alcohol, dimethicone, and fragrance.
Price at the time of publication: $9.99
Pros
Cruelty-free
Controls frizz
Sulfate-free
Phosphate-free
Paraben-free
Detangles the hair extensions
Cons
Contains methicone, alcohol, and added fragrance
Price at the time of publication: $14.95
Pros
Lightweight
Sulfate-free
Paraben-free
No heavy waxes
Color-safe
Detangles the hair extensions
Controls frizz
Cons
Contains dimethicone and added fragrance
Price at the time of publication: $38.0
While most people think of using heat protectants to curl or straighten their hair, these products can also be used on hair extensions. Using heat styling tools on extensions can deteriorate their quality and cause hair fall-out over time. So, invest in a heat protectant to increase the longevity of your extensions. The following buying guide discusses some factors to consider when choosing the best heat protectants for hair extensions.
Things To Look For In A Heat Protectant For Hair Extension
Formula And Function: Assess the kind of hair extension you are using before buying a heat protectant. Choose a product that offers thermal and anti-frizz protection for thick hair extensions. Select thermal and volumizing heat protectant if you have a thin hair extension. For curly hair extensions, stick to cream-based formulas that deliver lightweight hold.
Type Of Heat Protectant: Heat protectants are oil-based and water-based. If your hair is oily, choose an oil-based protector, while if your hair is dryer, opt for a water-based protector.
pH level: Always opt for heat protectants that are pH-balanced. Some products have a high pH level (8+), which is too harsh on your scalp and extension, while other protectants have a low pH level (3), which does not provide enough protection against heat damage. Therefore, ensure that the formula matches your hair's natural pH level.
Degree Of Protection: Styling tools usually work at high temperatures. So buy only a heat protectant that offers protection against higher temperatures from 400 to 1200 degrees Fahrenheit.
Ingredients To Avoid: Steer clear of heat protectants containing alcohol, sulfate, silicones, and water-based polymers. They rob the extension of its shine and deteriorate its texture.
Lab-Tested: Only purchase independently lab-tested products as they offer the optimum protection.
Why Trust StyleCraze?
Shiboli Chakraborti, our product writer, has a keen interest in hair care which reflects in her articles. She has consulted hair professionals to understand the concerns and requirements of people regarding different hair-related issues. After analyzing different product reviews, she curated this list of the best heat protectants for hair extensions. She has included a complete description of each product and a pros and cons list to help you pick the right o
Frequently Asked Questions
Can I put heat protectant on tape-in extensions?
Yes, you can use heat protectant on tape-in extensions before styling your hair.
What should you not put in hair extensions?
You should not put too much shampoos containing sulfates, parabens and alcohols because they will weaken the adhesive bond and make it fall out.
Do heat protectant sprays actually work?
Yes, heat protectant spray reduces the direct heat exposure on your hair and the damage.
What products should you use on hair extensions?
You can use products containing coconut oil, argon oil and castor oil on your hair extensions. These oils lock the moisture to your hair extensions so that they don't get dry.