Heat Protectants For Fine Hair – 13 Top Picks For 2022
Keeping your fine hair protected from heat damage is easy with these nourishing products!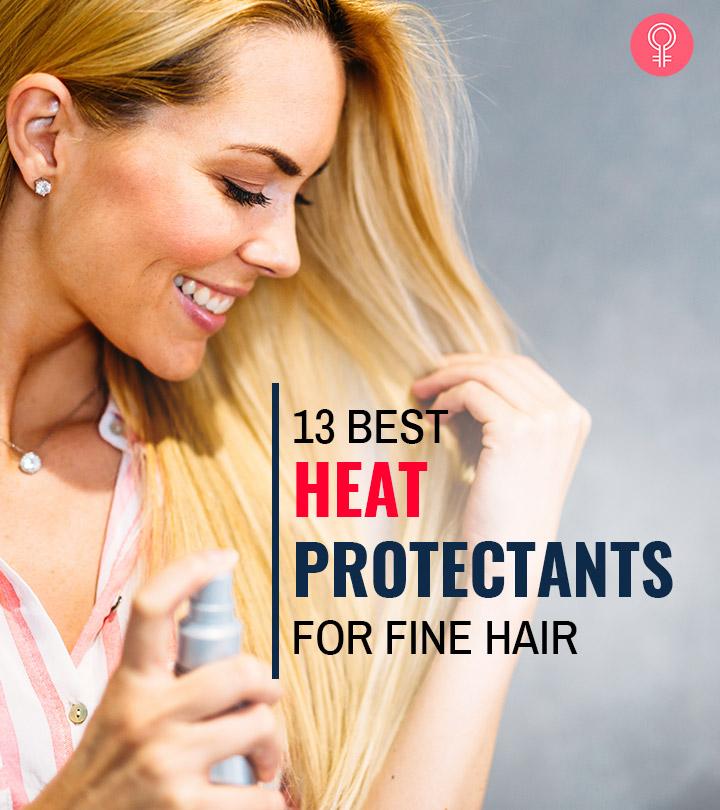 Blow-drying and straightening of hair are common in today's day and age. But these practices make your hair lose moisture and leave you with dry, dull, and frizzy tresses, especially when you have fine hair. This is precisely why you need to have the best heat protectant for fine hair, as it can add the required moisture to the mane and build a protective shield, preventing hair damage. So, in this article, we have curated 13 must-have heat protectants for fine hair. Check it out.
13 Best Heat Protectants For Fine Hair Of 2022
The CHI 44 Iron Guard Thermal Protection Spray is a weightless formula suitable for all hair types. It has no added buildup and supplies the essential moisture to thin, fine hair. One of the key ingredients in the spray is silk protein that adds shine and moisture to hair and also builds strength. It protects the hair strands from heat damage, helps to seal the cuticles, prevents hair breakage, and allows you to freestyle. If you need more convincing, feel free to take a look at this YouTuber's video on the merits and demerits of the product.
Pros
Lightweight
Paraben-free
Gluten-free
Unisex
Easy brush glide formula
Makes your hair smooth and sleek
Prevents split ends
Amazing smell
Cons
Price at the time of publication: $3.59
The Kérastase Nutritive Nectar Thermique Creme is perfect for very dry and thin, fine hair. It is designed to make hair supple and soft to touch even after heat styling. This royal creme is made of jelly extract, Iris rhizome extract, xylose, and linseed oil that polish the hair surface. The jelly extract supplies nutrients to the hair cuticles and makes your hair soft, shiny, and supple without any breakage. The Irish rhizome extracts are rich in antioxidants that protect hair strands from oxidative and chemical damage. The linseed oil is rich in omega-3 fatty acids that lock hair cuticles and prevent frizz. The xylose has thermo-protective properties. If you want a detailed review of the product, make sure to take a look at this video.
Pros
Has anti-roughness properties
Eases styling
Protects dry hair from blow-dry damage
Adds shine
Polishes and nourishes hair fibers
Softens and moisturizes hair
Cons
Price at the time of publication: $28.98
The L'Oreal Paris Elvive Dream Lengths No Haircut Cream Leave-In Conditioner revitalizes and revives long, thin, and fine hair inch by inch. It strengthens the hair fibers without any breakage or split ends. This leave-in conditioner is formulated with fine castor oil and vitamins B3 and B5 that act as a humectant. They also form a thin shield on the hair surface to seal the moisture and protect the hair from environmental and chemical damage. The castor oil and vitamin B3 enhance oxygen supply to the hair cuticles for healthy hair growth. The conditioner is perfect to use before heat styling as it can withstand up to 450o F. You can also check this YouTuber's detailed review to know more about the results after using this product.
Pros
Suitable for long, damaged, thin hair
Detangles hair
Reduces breakage
Tolerates heat styling tools
Paraben-free
Sulfate-free
Leaves hair soft and smooth
Cons
Contains gluten
Heavy on hair
Sticky
Price at the time of publication: $5.99
The Moroccanoil Perfect Defense is an argan-oil infused dry aerosol spray that protects hair strands from heat damage up to 450°F. This award-winning formula nourishes each hair strand by trapping humidity. The fatty acids from the argan oil seal moisture and lubricate and nourish the hair shaft. The vitamin E offers a protective fatty layer to the hair and scalp. This prevents dryness, reduces frizz, and boosts shine.
Pros
Lightweight
Suitable for all hair types
Maintains healthy hair
Paraben-free
Sulfate-free
Cons
Poor quality spray
Sticky on the scalp.
Price at the time of publication: $14.0
Living proof is one of the best overall heat protection sprays that restore and revive dry, dull, damaged, and frizzy fine hair. This is a featherweight, silicone-free conditioning detangler that is formulated with hydrogenated castor oil, beetroot extract, and carob seed extract that strengthen the hair fibers. The carob seed extract improves the structural integrity of each hair strand, enhances the protective barrier against environmental aggressors, seals moisture, and adds shine to hair cuticles. This leave-in conditioning mist minimizes wet detangling and defends the hair against temperatures up to 205° C. Shake well, spray the mist on damp hair from root to tip, and style your hair as you desire.
Pros
Paraben-free
Silicone-free
Phthalate-free
Color-safe formulation
Provides UV protection
PETA-certified
Cruelty-free
Recyclable
Lightweight
Cons
Not suitable for thick hair.
Terrible smell
Greasy feel
Price at the time of publication: $29.0
The Kenra Professional Thermal Styling Spray provides thermal protection up to 428° F or 220° C. This non-sticky formula tames frizz and flyways and adds shine, smoothness, and a feather-soft texture after applying high heat. For creating any style, separately dry hair in sections, spray generously over each section, and apply the heat styling tools for a professional salon-quality finish.
Pros
Prevents hair damage
Suitable for long, thin hair
Adds shine
Non-sticky formula
Cons
Price at the time of publication: $15.99
The Joico Zero Heat Air Dry Styling Cream is a styler meant for fine or medium hair. It fights frizz, adds shine, and improves the hair's natural texture, giving it body and fullness. Its formula has rosehip oil which is very lightweight and non-sticky yet adds a healthy shine to your tresses. In addition, it offers 24-hour protection from humidity and pollution without weighing down the hair. Apply the required amount on towel-dried hair, scrunch, let it dry, and you're ready to go.
Pros
Lightweight
Absorbed easily
Fights frizz
Non-sticky
Improves hair manageability
Protects against pollution
Cons
None
Price at the time of publication: $24.0
The Oribe Run-Through Primer has a quick detangling property and also works as an effective heat protectant spray. This paraben-free and sulfate-free formula seals cuticles, protects hair strands from heat damage, and makes hair easily manageable. This dermatologically-tested anti-static spray is formulated with the Oribe Signature Complex that consists of watermelon, lychee, and Edelweiss flower extracts with a blend of detangling oil (pomegranate, apricot, and coconut). It also comes along with tropical hibiscus flower extract. The Oribe Signature Complex protects hair from oxidative stress, photoaging, and environmental aggressors by safeguarding the natural keratin. The amino acids and the detangling oil smoothen hair cuticles and repair and strengthen hair follicles. The tropical hibiscus flower extract is rich in vitamin C and amla extracts that condition and nourish the hair and restore hydration.
Pros
Paraben-free
Sulfate-free
Free of harmful chemicals
Color-safe
Protects natural keratin
Gluten-free
100% vegan ingredients
Approved by PETA
Prevents hair breakage
Easily detangles knots
Cons
Does not have a pleasant smell.
Price at the time of publication: $37.0
ArtNaturals Argan Oil Thermal Shield doubles up as a heat protectant spray and as a leave-in conditioner. It prevents dryness and nourishes your hair for a healthy shine. It is infused with argan oil that enhances hair texture, repairs damaged hair, and promotes healthy hair growth. Suitable for all hair types, it makes your hair buttery soft and lustrous.
Pros
Paraben-free
Sulfate-free
Cruelty-free
Vegan
Multipurpose
Color-safe
Comes with a pump dispenser
Cons
May weigh down fine hair
Might feel sticky
Price at the time of publication: $14.95
The ghd Heat Protect Spray comes with a fresh botanical scent. It forms an invisible barrier on fine hair and leaves no product residue. This heat protectant spray has been designed to help unleash your hair's natural beauty while allowing you to maximize the heat styling effect. It is one of the popular choices among hairstylists. It is formulated with hydrolyzed wheat protein PG that prevents the hair cuticles from breakage, wraps moisture, and maintains the hair's natural strength. Just 6-8 sprays from the root to the tip of your hair can protect it from any heat treatment.
Pros
Lightweight
Leaves a silky, smooth finish
Long-lasting protection
Provides UV protection
Paraben-free
Pleasant botanical smell
Cons
Price at the time of publication: $25.0
The TRESemmé Heat Protectant Spray is a strong recovery system that safeguards against heat tools. It is an ideal choice for those who often style their hair. This heat tamer spray withstands temperatures up to 450° F without damaging the hair strands. It is infused with a moisture-locking vitamin complex, glycerin, and panthenol that have moisturizing and emollient properties. It has a refreshing and soothing fragrance.
Pros
Easy to use
Paraben-free
Enhances hair's flexibility
Strengthens hair bonds
Affordable salon-quality product
Pleasant smell
Cons
This is a lightweight, vitamin-enriched heat protection spray suitable for all hair types. The Caviar Anti-Aging Restructuring Bond Repair Heat Protection Spray repairs, revives, and rehabilitates hair strands from heat and environmental damage. It reduces hair breakage up to 99% and can tolerate heat up to 450° F. It is formulated with new and exclusive Caviar Bond Enforcing Technology that rebonds, rebuilds, and seals the cuticle for up to 10 hair washes. It is formulated with caviar extract that is rich in vitamins A, D, and omega-3 fatty acids. The vitamin A helps produce healthy sebum and prevents hair from breakage and drying out. The omega-3 fatty acids reduce hair fall and protect hair from color damage. They also deliver hydration and shine to each hair strand. A vegetable-derived protein in the spray is specially formulated to strengthen, fortify, and revitalize damaged or bleached hair.
Pros
Color-safe
Rebonds hair strands
Protects from chemical damage
Enforced with Caviar Bond Technology
Infused with an age-control complex
Protects from oxidative damage
Paraben-free
Sulfate-free
Cons
Price at the time of publication: $32.0
The Cantu Shea Butter Thermal Shield Heat Protectant spray shields heat up to 425° F. It also guards against blow-dry damage. It is made with 100% shea butter that is an excellent emollient. It seals moisture, prevents breakage and split ends and minimizes heat damage.
Pros
Lightweight
Tames frizz and flyways
Conditions hair
Adds light hold
Adds shine and sheen
Withstands high heat
Pleasant smell
Cons
Price at the time of publication: $8.31
These are the 13 best heat protectants that shield your hair from heat. In the next section, we will discuss why your hair needs a heat protectant.
Why Your Hair Needs A Heat Protectant
A heat protectant safeguards against heat damage. Regularly styling your hair with a blow dryer or hair straightener without a heat protectant can strip off the hair's natural oils. Your hair can also become dry, brittle, and frizzy. Heat protectors act as a polymer that wraps around the hair strands. Their natural humectants seal moisture, and their infused proteins strengthen hair fibers.
It is important to know what you need to consider before buying a heat protectant. The following guide can help.
What To Consider Before Buying Heat Protectants
Ingredients: Choose the ingredients based on your need. Heat protectants come with both natural and chemical combinations. Argan oil, olive oil, and shea butter are some of the best natural humectants that nourish and hydrate hair strands. For fine hair, choose heat protectants with natural ingredients.
Heat Protection: Not all heat protectant sprays are good at handling extreme heat. Ensure your protectant can handle at least 200o C of heat.
Why Trust StyleCraze?
The author of this article, Oyendrila Kanjilal has a keen interest in hair care and styling. Her interest in hairstyling makes her one of the bests to review hair care products. She has conducted in-depth research to find the best hair protectants for finer hair for her readers. They help add the required moisture to the mane and build a protective shield, preventing hair damage.
Frequently Asked Questions
Do we need to put a heat protectant on wet or dry fine hair?
It is preferable to apply a few spritzes of heat protectant spray on dry tresses before using a heat styling tool. This way you can seal your hair moisture better, strengthen the hair, and protect it from thermal damage.
Will heat protectant spray make straighteners or a curling wand burn the fine hair?
No. Heat protectant sprays wrap a protective layer around your strands. They prevent the straighteners or curling wands to burn or cause any kind of damage to your fine hair.
Can we use a heat protectant while applying a keratin treatment for fine hair?
No. Keratin treatment requires a lot of heat in order to fuse the keratin properly to your hair follicles. So, using a heat protectant while applying Keratin treatment is not recommended as it may block some of the follicles. However, to retain the shine of your keratin-treated tresses, you must use a heat protectant to guard your hair against damage caused by the styling tools.
Can hair moisturizer be used as a heat protectant for fine hair?
No, a regular hair moisturizer is not an ideal alternative to a heat protectant as it will not protect your hair from severe damage caused by styling tools. A heat protectant spray will act as a polymer around your strands and seal essential moisture, allowing no damage caused by several rounds of styling.
Does styling one's hair every day damage the fine hair, even if a heat protectant is used?
Yes, styling your fine hair daily with hot styling tools is not recommended even if you use a suitable heat protectant spray. Overusing heat styling tools can make the hair brittle, limp, and dull in the long run.
Recommended Articles