17 Best Heat Protectants For Natural Hair
Flaunt your favorite hairstyle stress-free with a layer of heat protection in place.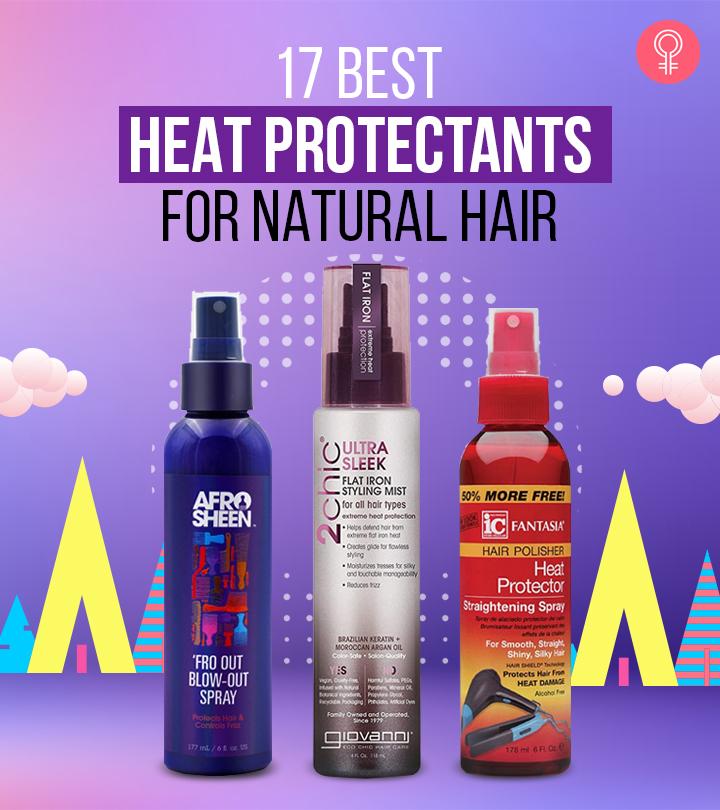 While chemically-treated hair may need care and protection, people forget that natural hair deserves the same kind of love. So the next time you decide to straighten, curl, or style your hair with heat, don't forget to use the best heat protectant for natural hair. Heat protectant acts as a barrier between the heat and your hair, ensuring that little to no damage is caused. It also seals in moisture while fending off frizz, so you achieve the look you deserve. Here is our carefully-curated list of the 17 best heat protectants for natural hair that are guaranteed to protect your tresses for an extended period while doubling as a styling product.
17 Best Heat Protectants For Natural Hair
The HSI PROFESSIONAL Argal Oil Thermal Protector can be used on natural hair of any type. It contains the antioxidant-rich argan oil and shine-boosting vitamins A, B, C, and D that nourish the hair while creating a barrier between the hair strands and the styling device. This spray protects your hair from heat exposure up to 450°F.
It forms a weightless mist that is super-light and non-greasy and speeds up the drying time. The product can also be used as a leave-in serum for a smooth, glossy, frizz-free finish. This heat protectant can be used to reinvigorate, replenish, and repair damaged hair. It works on hair extensions as well. Watch this video to get a detailed review of the product.
Pros
Cruelty-free
Sulfate-free
Phosphate-free
Paraben-free
Color-safe
Cons
The Kenra Platinum Blow-Dry Spray provides intense thermal protection up to 428°F. It protects your hair from humidity and reduces damage and breakage. This spray decreases the blow drying time by 50%. It has a lightweight formula that smoothens, detangles, and softens your hair. This heat protectant minimizes frizz and resists humidity to make your hairstyle last longer. This video will help you make an informed decision about your purchase.
Pros
Mineral-oil free
Unscented
Humidity-resistant
Nice fragrance
Cons
The artnaturals Argan Oil Thermal Shield provides heat protection up to 450°F and shields the hair from sun exposure and humidity. When sprayed on the hair, it forms a weightless mist that also works great as a leave-in conditioner. The thermal shield hydrates and nourishes your hair strands while protecting them from damage and dryness.
The argan oil in this product helps repair, restore, and grow hair, while the protein, natural herbal extracts, and vitamin E provide intense nourishment to your strands. This product also speeds up the drying time. It is suitable for all hair types, is perfect for curling and straightening, and can be used on fine or damaged hair.
Pros
Boosts shine
Paraben-free
Cruelty-free
Phthalate-free
Can be used as a leave-in conditioner
Cons
This hairspray by GIOVANNI is an intensely moisturizing styling mist that protects your hair from the searing heat of styling tools. It smoothens your hair strands, controls frizz, and hydrates your tresses.
This product contains Moroccan argan oil, an excellent source of vitamin E and omega 3, 6, and 9 fatty acids, and Brazilian Phyto-Keratin, a type of protein derived from Brazilian cocoa. The blend of vitamins and botanical oils provide intense nutrition to your hair and make it soft, silky, and shiny without stripping its color. Here's a video to help you know more about this product.
Pros
100% color-safe
No artificial dyes
Cruelty-free
Recyclable packaging
Sulfate-free
Paraben-free
No harsh chemicals
Vegan
Cons
The Arvazallia Heat Protectant Plus protects your hair from the damage caused by curling irons, hair dryers, flat irons, and other heat styling tools. It uses an advanced Two Layer Protection Technology that penetrates your hair follicles and repairs hair damage. It also prevents split ends and breakage.
This hair spray contains argan oil that conditions and smoothens your hair's texture and anti-frizz and detangling agents that help control frizz and make your hair more manageable. In addition to natural hair, you can also use it to style permed hair, extensions, and wigs. It also decreases the drying time and imparts an amazing fragrance to the hair.
Pros
Lightweight
Nice fragrance
Safe for chemical treated hair
No residue
Cons
The BTZ Turn Up The Heat protection spray protects the hair from intense heat and seals the cuticles for a silky smooth appearance. It makes styling your hair effortless as the hair gets very slick and manageable. This heat protection spray forms a lightweight mist that does not weigh the hair down and controls frizz. It is great for those who heat style their hair regularly.
Pros
Cruelty-free
Dairy-free
A little goes a long way
Lightweight
Great fragrance
Cons
This non-greasy, lightweight serum by Design Essentials provides intense heat protection from styling tools, especially against permanent curl elongation, often associated with thermal straightening. It locks the moisture into the hair strands, seals the cuticles, and adds a radiant shine to your hair.
This serum is formulated with 17 amino acids that repair damaged hair and smoothen the hair strands while eliminating static, improving manageability, and imparting a highly glossy finish. It can be used on all hair types and textures without weighing down the strands. This heat protectant serum contains silk proteins and minerals that make the hair healthy and shiny. It is suitable for color-treated hair.
Pros
Paraben-free
Sulfate-free
Lightweight
Color-safe
Imparts a glossy finish
Cons
The Junior Labs Straight Silk Spray protects your hair from heat up to 450°F and gives you silky straight hair in half the time required to style it. It revitalizes the hair, imparts shine, prevents frizz, and eliminates kink. It is great for dyed hair as it offers color-safe protection. It detangles the hair easily and allows you to seamlessly blend hair extensions with your existing natural hair.
This product contains Moroccan argan oil, which has antioxidants, beneficial fatty acids, and vitamin E – all of which are intensely conditioning for the hair. The formula is non-greasy and does not weigh the hair down or result in product buildup. It does not contain alcohol or any other chemicals known to damage hair.
Pros
Minimal ingredient formula
Alcohol-free
Sulfate-free
Phthalate-free
Phosphate-free
Paraben-free
Fragrance-free
No synthetic colors
No artificial preservatives
Cruelty-free
Vegan
Non-GMO
Cons
None
This intensely nourishing, lightweight serum by MIZANI protects the hair from thermal damage. It contains shea butter and anti-breakage ceramides that improve tensile strength, prevent breakage, and protect the hair during heat styling. This serum adds shine and body to the hair and makes it more manageable. It has a cream gel-like consistency, which makes it easy for you to use it under other hair products.
Pros
Sulfate-free
Dairy-free
Nice fragrance
Cons
This thermo-active shield serum by Alfaparf Milano protects the hair fibers from the heat damage caused by styling tools. It is a dry spray that does not need you to wet your hair before styling with irons, straighteners, tongs, or wands. This lightweight spray is suitable for all types of hair. It helps reduce the electrostatic effect, which prevents damage to a great extent and enhances the definition of smooth or wavy hair.
Bonus – this product contains Moringa Oleifera, which protects the hair from free radicals when exposed to heat. It also has photo-protective properties that repair the damage caused by free radicals. This spray is also suitable for processed and color-treated hair.
Pros
Sulfate-free
Paraffin-free
Paraben-free
Cruelty-free
Great fragrance
Cons
None
This leave-in thermal protecting cream by MIZANI protects curly hair from heat styling damage. It makes the hair manageable and sleek, so heat styling tools glide easily over it. If you have brittle, fragile hair, this conditioning cream will work wonders for you. It protects against split ends and hair breakage and is designed to increase smoothness and shine. This product contains coconut oil that prevents frizz even in high humid conditions.
Pros
Non-greasy
Great fragrance
Makes the hair soft
Cons
May not work well for 4c hair
The Fantasia Heat Protector Spray protects your hair from heat damage caused due to straighteners, blow dryers, flat irons, and other hot hair styling tools. Aloe and vitamin E make the hair smooth, frizz-free, and glossy even in humid conditions. This spray maintains the moisture balance of your hair. It also contains protective sunscreen that protects your hair during sun exposure.
Pros
Sulfate-free
Great fragrance
Little product required
Cons
This heat protectant by Thermafuse protects the hair strands from thermal styling up to 450°F, such as dryers and flat irons set to high temperatures. It contains cactus and blue lotus flower extracts, olive oil, cyclopentasiloxane, aminopropyl phenyl trimethicone, certified organic essential oil, and other ingredients that nourish the hair and seal the cuticles while locking in vital moisture.
This heat protectant spray also creates a barrier between the hair and environmental conditions like humidity that creates frizz. The pH-balanced formula also blocks UVA and UVB and prevents your hair color from fading. This product makes brushing, combing, and detangling very easy as the hair gets silky and manageable. The amino acids and other ingredients in this spray repair hair damage and add reflective shine and luster to your hair. This spray also reduces your drying time.
Pros
Paraben-free
Vegan
Great fragrance
Cons
The Flawless Shine Enhancing Heat Protection Spray protects the hair against thermal damage up to 428°F from heat styling tools. It contains natural ingredients like rice oil complex, acai palm oil, passion fruit seed oil, lilac leaf extract, Brazilian Bacuri butter, and coconut oil that deeply nourish your hair and protect it. This product is suitable for all types of hair, including color-treated hair.
Pros
Sulfate-free
Paraben-free
Silicone-free
Cons
The Afro Sheen Fro Out Blow-Out Spray provides heat protection to kinky hair and controls frizz. Its non-greasy formula adds shine to textured hair. This hair spray contains coconut oil, which conditions, hydrates, and repairs your natural hair. It also contains Keratin Complex that smoothens your hair strands and tames frizz and castor oil that hydrates and moisturizes dry hair.
Pros
Sulfate-free
Mineral oil-free
Petrolatum-free
Phthalate-free
Paraben-free
Cons
This hydrating oil-based hair serum by VERNON FRANÇOIS is a boon for dry, damaged, and frizzy hair. It protects against thermal styling by locking in moisture. It also defines your hair texture, whether wavy, kinky, curly, coily, or straight.
This spray contains argan oil, which hydrates and conditions hair and creates a heat protection barrier. Baobab seed oil helps the hair strands retain moisture and makes them appear thicker and fuller. Jojoba seed oil strengthens the hair and minimizes breakage, while mongongo oil protects hair during sun exposure.
Pros
Vegan
Sulfate-free
Paraben-free
Cruelty-free
Cons
None
The Yavea Hair Sleek Silk Serum protects the hair from thermal damage from hair styling tools. It locks in moisture in the hair strands and prevents breakage and shedding. This serum contains silk proteins that form a protective barrier over your hair strands to prevent damage and add luminous shine to your mane. It is suitable for all hair types, is certified organic, and works great for natural, relaxed, and color-treated hair.
You might be wondering why natural hair needs heat protectants. Scroll down for the answer. 
Why Are Heat Protectants Important For Natural Hair?
A heat protectant is essential for maintaining the hair's vitality, health, and beauty. The heat from styling tools weakens the hair proteins, destroys the natural oils in the hair that hold it together, and can dry out the hair strands by boiling off the internal moisture. This leads to split ends and breakage. Good heat protectants prevent all these as they contain ingredients, such as oil, dimethicone, glycerin, or silicones, which form a barrier over the hair shafts and protect them from heat damage. They make your hair healthy-looking, shiny, soft, and manageable.
4C hair, which is super curly, needs extra care if you use heat styling products. As it needs higher temperatures to change its texture, you need to apply a good heat protectant that will protect the hair strands and maintain its health and shine. Here's what you need to keep in mind.
What Kind of Heat Protectants Are Good For 4C Hair?
Look for the following factors:
High Heat Protection: Make sure the heat protectant you invest in is designed to provide protection even at very high temperatures. Unlike straight hair, 4C hair needs high heat to get styled, especially if you are straightening it. To build a barrier between your hair and the high heat from heat styling tools, you should be aware of the temperature. Generally, a good heat protectant can protect your hair from heat up to 425°F. Some products can also offer heat protection up to 450°F. Choose one according to your daily styling needs. If you use flat iron a lot, go for the ones that provide higher protection.
Serum Or Spray: You can opt for serums, sprays, or even creams to use as a heat protectant. Generally, thicker textures will better condition your hair and help you to style it easily. Serums and creams perform better when it comes to styling kinky curly hair. However, sprays are lighter and easy to use.
Lightweight Formula: If your hair is a tight Afro 4c hair, you need to focus on keeping your hair full and bouncy throughout the day. If the heat protectant you opt for is greasy, it will make your hair look limp. Get a product that does not weigh your hair down. In general, a watery spray is the most lightweight type.
Anti-Frizz And Anti-Breakage: Ensure the heat protectant contains ingredients that nourish your tresses and add shine while eliminating the frizz. Look for ingredients like argan oil, silk proteins, and other detangling and defrizzing agents.
Frequently Asked Questions
Do you have to use a heat protectant every time you use heat?
Yes, positively use a heat protectant every time you style your hair. It will protect your hair from any heat damage and preserve the moisture.
Can you get heat damage if you use a heat protectant?
Yes, you can get heat damage even if you are using a heat protectant. Heat protectants cannot completely prevent damage, especially if you style your hair frequently. It rather slows down the process.
How can I protect my hair from heat damage without heat protectant?
You can opt for more natural alternatives, such as aloe vera or grapeseed oil if you want to prevent heat damage without using heat protectants.
Do you put heat protectants on wet or dry hair?
You can use heat protectants both on wet and dry hair. However, use your heat styling tool only when your hair is at least 80% dry.
Does heat protectant ruin your hair?
Heat protectants are essential to protect your hair from heat damage. But the formulas also contain alcohol and starch. So, if overused, they can dry out your hair and make it frizzy.
Do you let the heat protectant dry before straightening?
Yes, it is best to let your hair protectant dry completely before styling your hair. Using a hair straightener on damp hair can fry your hair.
Does heat protectant go on first or last?
You must always start styling your hair with heat protectant first so that it can protect your hair from any heat damage.
How do I know if my heat protectant is working?
You will see a noticeable difference when you use a heat protectant before heat styling because your hair will look less frizzy and have a glossy finish after styling it.
Recommended Articles