15 Best Heat-Resistant Gloves For Grilling – Top Picks Of 2022
Keep your hands safe and well-protected while you enjoy the next BBQ party.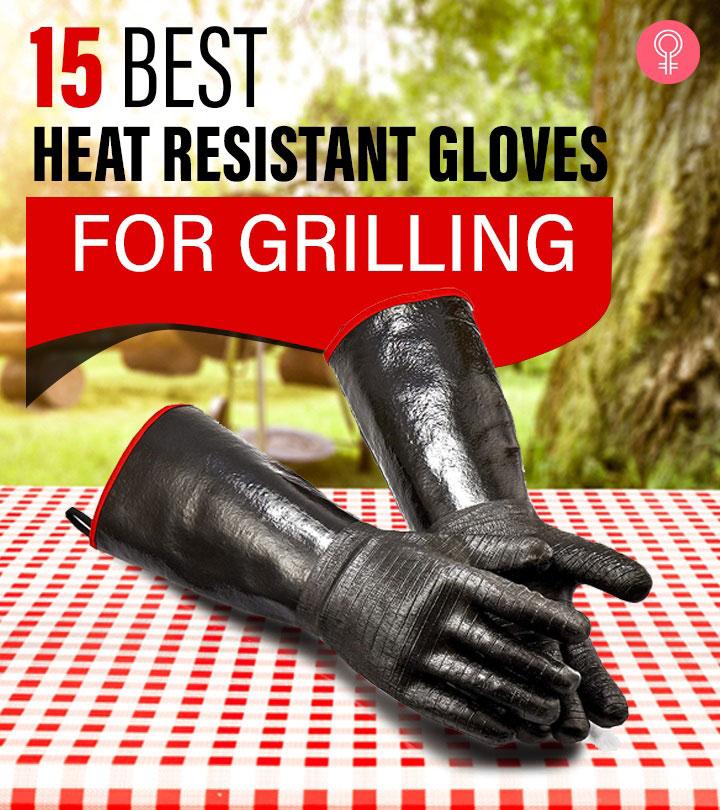 If you love cooking, it is important to keep your hands protected. The best heat-resistant gloves for grilling can help you do that. They form a protective barrier on your hands and keep out the heat. These gloves are designed for withstanding the intense heat of hot charcoal, outdoor grills, and open flames. They also let you hold hot pans and other heated equipment without burning your hands. They are made of premium-grade materials so that you can grill safely and easily.
Here is a list of the best heat-resistant gloves for grilling that you can buy online. Read on to get all the information!
Why Are Grill Gloves Needed?
The modern grills reach very high temperatures, almost up to 660° Fahrenheit. That's why it is always crucial that you keep your hands protected with heat-resistant gloves. These gloves help prevent any mishaps and help you reach across the grill to handle your food safely. Be it hot grills, charcoal grills, or an open flame, heat- resistant gloves protect your fingers, hands, and forehands effectively.
Different Types of Grill Gloves
There are four types of Grill gloves –
Silicone gloves are perfect for handling chips and biscuits with your hands.They are made of food-grade materials, and some are even 100% BPA-free. But, they provide less insulation than the gloves made of other materials and do not fit as properly as synthetic or fabric ones.  However, these gloves are super easy to clean and have a non-stick surface.
Leather gloves are one of the oldest types in the business and are very versatile as grill gloves. They are perfect for handling hot grill pads, moving hot plates, or throwing logs into the fire. They are very thick too, but the drawback is they are not very heat-resistant and are hard to clean. They also tend to stiffen up or harden after a while.
Fabric gloves are usually made of high-heat-resistant fabrics and lined with silicone inserts and strips on the palms for extra grip. They are not very good for handling food directly, as they are not non-stick and hence, are not easy to clean. But, they are ideal for holding utensils, hot logs, grill gates, etc., and are comfortable to wear. The drawback with fabric gloves is that if they get wet, the water makes them conduct heat faster.
Synthetic gloves usually have a silicone or rubber interior lined with fabric. They do not insulate your hand as good as leather gloves but allow you to handle utensils and tongs effectively. You can also use them to handle hot food. They are thick and of high quality, and the rubber exterior makes these gloves easier to clean. The drawback with synthetic gloves is that if they get wet, the water makes them conduct heat faster.
Best Heat Resistant Gloves For Grilling
These red and black gloves from Comsmart have a smart design which can resist high temperatures up to 1473°F. The triple-layered gloves provide protection, strength, and durability. The outer material is made of silicone that blocks the heat and ensures long-lasting performance. The inner material comprises of aramid fiber of ultra-high-strength that protects your hands against high heat, acids, alkalis, and cuts. The third layer is a blend of polyester and cotton that gives maximum comfort with its soft and plush feel.With its non-slip surface, you can use it for barbecues, pot handling, cooking, grills, baking, and cutting. Its upgraded size is perfect for protecting your fingers, hands, wrists, and forearm.
Material: Silicone, Cotton, Aramid Fiber.
Color: Red and Black
Glove length: 13.7 inches
Pros
Vibrantly patterned
Stretchable
Premium material
Comfortable
Durable
Multipurpose
Covers up to cuffs
Suitable for machine wash
Non-slip
Cons
These black grilling gloves from Geekhom are waterproof, heat-resistant, and non-slip. These are long enough to protect your hands against burns and scalding. The premium quality materials used to design these gloves are non-toxic, eco-friendly and do not leave stains or odor. The double-layered gloves have a textured surface made of BPA-free silicone that is resistant to high heat and enables a firm grip over the grilling equipment, preventing accidental slips. It can withstand temperatures that range between 104°F to 446°F. The breathable inner cotton lining is sweat-absorbing and keep your hands comfortable.
Material: Silicone, Cotton.
Color: Black
Glove length: 13.7 inches
Pros
Waterproof
Durable
Stain-resistant
Odorless
Skid-proof
Suitable for machine wash
Hanging loop design
Excellent comfort
Moisture-wicking
Dishwasher-safe
Cons
Too large
Difficult to clean
The heat-resistant gloves from Rapicca can withstand temperatures up to 932°F. These gloves are professionally designed with food-grade neoprene rubber, and are water, fire, and stain-resistant. The palms are textured, enabling you to manage greasy, slippery, or wet food items. The insides of the gloves are lined with a soft cotton layer that protects your hands from heat and also absorbs sweat. The flexible, waterproof outer coating prevents oil, grease, food, or water stains. The gloves are 14 inches long, covering not just your hands but your arms as well. This product comes in handy for BBQs, smoking, grilling, frying turkey, brewing beer, dying yarn, and several other activities.
Material: Food-grade neoprene rubber
Color: Black
Glove length: 14 inches
Pros
Designed by experts
Textured palms
Waterproof
Stain-resistant
Easy to clean
Suitable for machine wash
Cons
Top layer erodes
Stiff and uncomfortable fit
The Ekogrips gloves from Jolly Green are ideal for kitchen ovens, grills, fireplace, campfires, and more. It comes in one size that fits most people. The gloves are made with BPA-free, food-grade silicone that prevents food stains and odors from lingering on. The long cuffs on these gloves enable easy handling of hot foods without burning your hands or fingertips. Its textured flame grip flame can withstand temperatures of up to 425°F.
Material: Silicone
Color: Orange
Glove length:11 inches
Pros
Flexible
Durable
Hanging loop
Reinforced seems
Textured flame grip
Extra-long cuff
Dishwasher-safe
Eco-friendly
BPA-free
Cons 
Cannot withstand high heat
Low dexterity
The state-of-the-art design of the Artisan Griller Gloves makes it well-insulated against high heat. It is perfect for barbecues, smoking, and for pitmasters. The top layer of these professional grade pit  gloves is made of BPA-free, food-grade neoprene coating that is resistant to heat, oil, grease, water, and stains. The inner layer is lined with soft jersey cotton that absorbs sweat and lets your hands stay cool and comfortable. Each finger comes with an anti-slip protection that enables you to use it when grilling hot meats, shellfish, pork, turkey, lamb, and more. These 13 inches gauntlet sleeves provide additional protection, and the tire tread palm design gives you a tight grip that prevents spilling.
Material: Neoprene rubber
Color: Black
Glove length: 13 inches
Pros
Flexible
Waterproof
Oil-resistant
Stain-resistant
Gauntlet sleeves
Tire tread texture
Easy to clean
Professional grade
Cons
Rubber or chemical odor
Not durable
Made of non-toxic and Eco-friendly premium double-layered silicone, the Kitchen Perfection KP Silicone Smoker Oven Gloves are safe to use while cooking grilled food. The internal cotton layer adds an extra layer of protection, enhancing strong insulation and sweat absorption. The textured surface layer ensures a super firm grip over equipment and grilled meat. It can withstand temperatures of up to 450°F. It has 2 sticky hooks for easy storage. These non-slip gloves have good grips and allow both heat and cold resistance for a comfortable cooking and grilling experience.
 Material: Silicone
Color: Orange
Glove length: 11 inches
Pros
Waterproof
Extra strong grip
Easy to clean
Durable
Easy to store
Non-toxic
Eco-friendly
Lifetime replacement warranty
Cons
Feels too bulky
Difficult to wear and take off
The Artisan Smoker Heavy Duty Grill Gloves feature a neoprene coating on the surface that can resist up to 932°F. The insides are lined with breathable, double-layer cotton that feels soft on your skin and keeps you comfortable. The convenient five-finger design enables you to effortlessly clean the gloves with a bit of dish soap and leave them to dry with the help of the hooks that come along. The gloves are 17 inches in length and cover up to your elbows. They are ideal for grills, smokers, fireplaces, bonfires, campfires, ovens, and more.
Material: Neoprene rubber
Color: Black
Glove length: 17 inches
Pros
Waterproof
Stain-resistant
Oil-proof
Chemical-resistant
Textured palm
Versatile
Flexible
Comfortable wear
Cons
Non-durable neoprene coating
These suede grill gloves from Steven Raichlen are extra-long, comfortable, and safe to use when handling extremely hot grills. The pair of gloves is multicolored and made with soft, pliable suede material that ensures a firm, reliable grip. These are 18 inches long and keep you well protected up to your elbows. The gloves allow more dexterity and a comfortable grip for an easy outdoor grilling experience. These easy-to-clean gloves can be wiped with a clean damp cloth.
Material: Suede leather
Color: Black and Brown
Glove length:18 inch
Pros
Easy-grip
Soft texture
Extra-long
Firm grip
Good dexterity
Flexible motion
Easy to clean
Cons
Protect your hands and arms from high heat with the iHarbort Protective BBQ Gloves. These gloves come with a textured surface. The dense texture of the gloves can withstand a high temperature of 700℃. The cotton lining of the gloves makes them comfortable to wear. You can also use these gloves to manage food from water and fire. Additionally, the gloves are washable with soap and water.
Material: Neoprene, Cotton
Color: Black
Glove length: 14 inches
Pros
Slip-resistant
Water-proof
Fire-proof
Easy to clean
Easy to store
Cotton lining
Cons
These extreme heat-resistant gloves from Grill Heat Aid can withstand up to 1472°F. It enables superior dexterity to use barbecues, ovens, smokers, and dryers. The highly durable gloves are five times cut-resistant and four times stronger than leather. They are designed with P-Aramid fiber that is capable of resisting extreme heat and is also long-lasting. The inner lining is made of 100% cotton for added comfort. Each of the gloves is designed to fit either of the hands perfectly. They are also available in a variety of colors and styles – grey, pink, blue, red, dusky grey, ambient, polka dot, black stripe, and Spider man.
Material: P-Aramid fiber, Cotton.
Color: Black
Glove length: 14 inch
Pros
Durable
Easy to clean
Comfortable
Stretchable
Good grip
Good stability
Strong
Superior dexterity
Cons
Made with high-quality materials, this heat-resistant glass by Grill Armor is made to last long! It can withstand very high heat for up to 932°F and is EN407 certified. The versatile gloves can be used for outdoor grills, in the kitchen, campsite, or fire pit. Whether you are an amateur home cook or a professional chef, these gloves provide you with the utmost comfort and efficiency. They are super thick, yet lightweight, and have a flexible finger design along with a silicon outer surface for a good grip. This makes handling cast-iron or Dutch oven handles super easy. It is insulated with P-Aramid and M-Aramid fabric;thus it does not melt or catch fire even when exposed to an open flame.
Material: Silicone fibers, Aramid fibers.
Color: White and red
Glove length: 10 inches
Pros
Lightweight
Thick texture
Durable
Good grip
Value for money
Stretchable
Easy to clean
Versatile design
Non-slip
Comfortable
Waterproof
Cons
None
This heat-resistant Hellfire BBQ Gloves are equipped with extra-long curves that protect your hands and wrists from hot oven racks and grills. It is equipped with a non-slip silicone outer surface for a better grip on both sides to pick up hot utensils or grill tools conveniently. The gloves' material is super thick and can resist high heating temperatures for up to 932°F. It is also highly cut-resistant and flexible. The gloves have a one-year money back guarantee against damages.
Material: Silicone
Color: Black and Orange
Glove length: 13 inches
Pros
Comfortable
Durable
Non-slip
Perfect fit
Extra-long cuff
One size fits all
Includes hanging hook
Suitable for machine wash
Cons
Not fluid-proof
Does not fit a small hand
Keep your hands, wrist, and forearm safe from the heat with the Vemingo Grill Gloves. These breathable gloves have separate finger enclosures that let you hold different hot items safely. It is designed with extra forearms to keep you protected against heat. The silicone insulation and soft cotton lining keep your arms comfortable and protected.
Material: Silicone
Color: Black
Glove length: 4.9 inches
Pros
Slip-resistant
Fire-proof
Easy to clean
Easy to store
Cons
May not have water resistance
The silicone cooking gloves from AYL is designed with dual layers to withstand very high heat from open flames. The outer layer is made of silicone, and the inner layer is made of heat-resistant cotton.The silicone is made of food grade material and is super durable and long-lasting.  This glove is ideal for cooking, grilling, and baking and can withstand temperatures up to 887°F. The versatile gloves come with a textured surface that ensures adequate grip and reduces the risk of accidents. These gloves are also waterproof and easy to wash. They are available in two different colors – red and neon green.
Material: Silicone, Cotton.
Color: Neon green
Glove length:11 inches
Pros
Non-slip material
Dual-layer
Comfortable
Stretchable
Durable
Easy to clean
Loop for hanging
Dishwasher-safe
Thick texture
Cons
The Blue Fire BBQ Grill Gloves are made with high-grade aramid, Nomex, Kevlar, and silicone materials and can withstand temperatures up to 932°F. They are great for commercial BBQ businesses or for home use. It is equipped with extra-long cuffs of 13.82 inches, which offers more coverage and protects your forearms from mishaps. The gloves are CE level three times cut-resistant; thus, working with sharp utensils and knives is much safer. The gloves are available in two different colors—black and blue.
Material: Silicone
Color: Blue
Glove length: 13.82 inches
Pros
Cut-resistant
Comfortable
Durable
Easy to clean
Stretchable
Thick texture
Longevity
Good grip
Value for money
Cons
None
This was our list of some of the best heat-resistant gloves found in the market, but how do you decide which one is the most suited for your usage? Read on to find out.
How To Choose The Best Heat Resistant Gloves For Grilling? – Buying Guide
A thick or stiff glove can make holding your tongs, tools, and grades quite difficult. When grilling, it is important for you to be able to use a pair of tongs or knife with ease or comfortably grab logs and move around calls with either hand. Thus, choosing a pair of gloves that support better dexterity is necessary if you want to have a risk-free, comfortable grilling experience.
Grill gloves come in all lengths, from wrist length to ones that run up to your elbow. The longer the cuff, the more the protection of your arms from flames and hot fires. They're also perfect for protecting your hands from splashing grease and food bits.
Each glove material has its own appropriate uses and strengths. For instance, silicone gloves are excellent for handling food directly as it is easy to clean and is non-sticky. Leather gloves are great for handling coals, grill parts, and hot locks. However, neither leather nor silicone does well when handling utensils and knives, as they are too bulky. Thus, make sure to choose the right material based on your needs.
If you do not regularly use the grill, you can invest in a glove with lesser durability or a relatively cheaper one.  But if you are a frequent grill user, make sure your gloves are super durable and long-lasting.
Make sure the gloves that you choose can withstand very high heat. If they don't, they could melt or burn your hands. The temperatures in smokers can easily go up to 500° to 600°Fahrenheit.
With a higher price comes higher durability of the glove. If you are skimpy on the price part, the heat-resistant glove is less likely to withstand high heat.
Taking care of heat-resistant gloves is important to prolong their longevity. Read on to find out how to make these glove last longer for better performance.
How To Clean Heat Resistant Gloves?
You can throw these gloves in the washer and program the cycle with hot water to wash your fabric gloves. It ensures that there are no grease buildups on your gloves. Make sure not to use chlorinated bleach or any detergent that contains bleach, or fabric softeners, as these ingredients can damage the protective outer lining on your heat-resistant gloves and lead to insulation damage.
To wash silicone or latex gloves, use normal dish washing soap and tap water. If the marinades or meat juices are dried on the gloves, presoak them in hot water for easier washing.
Heat-resistant gloves are designed to protect your forearm and hand, as well as maintain dexterity and ensure an overall safe and comfortable grill session. The gloves also allow you to reach across the grate safely and handle your food or utensils. Heat-resistant gloves come in a variety of fabrics, like silicon, leather, latex, etc.Take your pick from our list based on your needs and uses. Happy Grilling!
Why Trust StyleCraze?
The author, Pratyasha Ray, is a home and kitchen appliances enthusiast. She loves trying out new gadgets and arrivals in the market and found that heat-resistant gloves are the best ones to keep your hands safe. Additionally, she checked many online reviews and browsed multiple forums for user feedback to compile the list of best heat-resistant gloves for grilling. These products can withstand intense heat and also let you hold hot pans without burning your hands.
Frequently Asked Questions
What kind of gloves do BBQ pit masters use?
BBQ pit masters use black gloves made of Nitrile. This material is slightly heavier than other glove materials and is less likely to puncture or tear.
Are nitrile gloves heat-resistant?
Yes, they are highly heat-resistant. Nitrile gloves have high dexterity and can withstand high heat up to 250°C.
Recommended Articles: