12 Best Heated Eye Masks To Soothe Tired Eyes – Top Picks Of 2022
Give your exhausting eyes the care it needs with these soft, comfy, easy-to-use masks.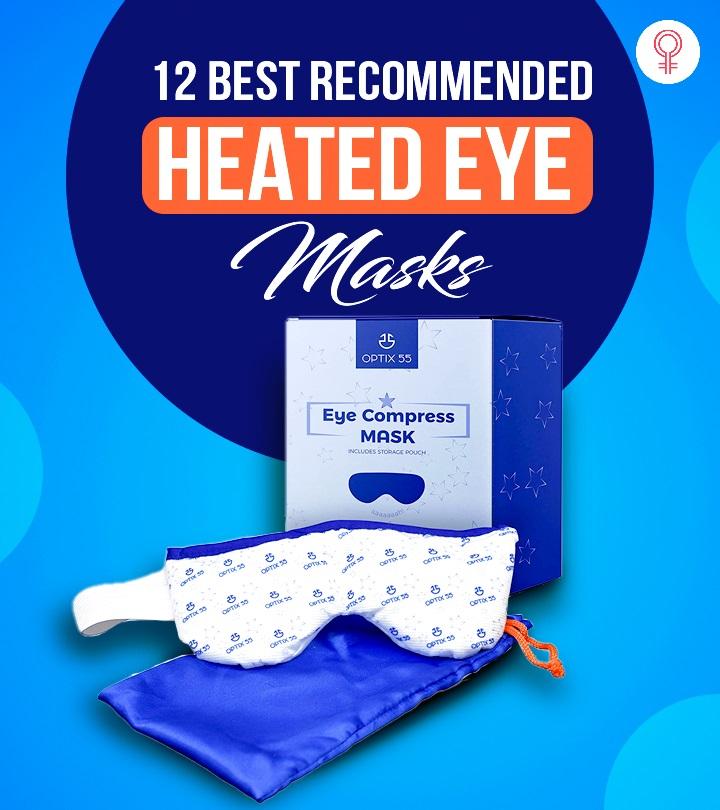 Our eyes endure high levels of stress every day, and this may result in fatigue, irritation, and dryness. While eye drops can soothe and alleviate these symptoms, using the best-heated eye masks makes it an effective solution to provide instant and long-lasting relief. The best part about heated eye masks is that they have soothing and therapeutic effects that restore the natural moisture content and offer relief to your eyes. In addition, they make your eyes feel comfortable, without any soaking sensation, unlike regular washcloths.
We have curated a list of the 12 best heated eye masks. So, keep reading to make your best pick!
Benefits Of Using Heated Eye Masks
They can provide quick relief to your eyes if you have any discomfort, redness, or eye infection.
Heated eye masks help moisturize and reduce the itchiness caused by dry eyes.
The glands in your eyelids can produce natural oils. In case these oils are clogged, they can get thick or clumpy, leading to eye swelling. Heated eye masks help thin the oil and drain it easily.
If you have eye spasm or pain due to excessive hours of looking at your phone or computer screen, heated eye masks help relax and soothe your eyes.
Using a heated eye mask can also tighten the skin around your eyes and reduce the appearance of sagging or wrinkles.
Let's now take a look at the best heated eye masks available on the market.
12 Best Heated Eye Masks Of 2022
Get instant relief from dry eyes, blepharitis, or pinkeye with this soothing eye compress mask by Optix 55! It features Hydro Heat Technology, which absorbs the moisture from the air and releases clean and moist heat. The insides are made of soft gel beads, which helps retain optimal temperature for long-lasting relief.
The outer covering is made of super soft hygienic material and is comfortable and odor-free. This heated mask has an elastic Velcro strap and a hook and loop closure, which ensures that it doesn't slip or slide out of place. It also comes along with a convenient pouch, which ensures portability and easy storage.
Pros
Non-irritating
Comfortable
Soft fabric
Heats up quickly
Retains heat longer
Cons
None
After a long tiring day, a soothing spa-like treatment with this steam eye mask by Kao is everything! It is infused with the soothing scent of sage and lavender to calm your senses and induce a good night's sleep.
The mask reaches an ideal temperature of 40°C and stays warm for up to 10 minutes. It activates instantly after opening the seal and lets out a generous amount of steam. Whether you are sitting up or lying down, this mask fits your eye area well as it has a comfy ear strap. The set contains 12 reusable heated eye masks for added convenience. Here's an honest review of the product.
Pros
Calming fragrance
Warms up quickly
Easy to use
Cons
This heated eye mask by Dr Prepare is made with a soft cotton exterior and has a flat design for optimal heating and comfortable wear. It soothes your eyes and provides long-lasting relief from tension, tiredness, and dry eyes. The heated mask features four heat levels from 95°F to 122° F and four timer settings from 10 minutes to 30 minutes.
The elastic band and small plastic buckle ensure a comfortable fit for any face shape or size. The enlarged nose gap can shut out any unwanted light during daytime naps. The mask is USB-powered and is compatible with regular 5 V or 1-2 A USB outlet, which allows it to be powered by battery packs, laptops, and even car chargers. This reusable eye mask can also withstand regular cleaning to wash off any dirt or buildup.
Pros
Easy to use
Adjustable strap
Adjustable temperature
Adjustable timer
Super soft
Washable
Light cancelling design
Cons
None
This heat treatment mask by Aroma Season gives your eyes deep penetrating heat therapy to ensure proper gland secretion and provide a stable tear layer. It features three adjustable temperature settings – high, medium, and low – and three-time settings – 20, 40, and 60 minutes – for a comfortable experience. The eye mask enhances your blood circulation and leaves your eyes feeling rejuvenated and refreshed.
Unlike regular masks, this eye mask is infused with non-toxic flaxseed filler, which retains heat and keeps the mask moist. The outer cover is made of 100% cotton that is soft, breathable, and gentle on your facial skin. The flexible strap on the sides is adjustable and fits your head comfortably and perfectly. The eye mask can be easily powered by a USB port, power bank, or phone charger, making it perfect for any time treatment.
Pros
Snug fit
Natural heating element
Non-irritating
Super soft
Washable
Cons
None
Relieve crusty eyelashes, irritated eyes, headaches, puffiness, sinuses, and allergies with this super effective eye mask. It is easy to use and heats up in your microwave within just 15 to 20 seconds and provides an optimal heat for up to 15 to 20 minutes. The custom fit design stays securely on your head with a soft elastic strap. The outer covering is super soft and does not irritate your eyes.
Pros
Non-irritating
Comfortable
Soft fabric
Heats up quickly
Easy to clean
Cons
 Does not retain heat for long
This highly recommended hot eye compress by Mediviz effectively treats symptoms of irritated eyelids and eyes. The soft elastic Velcro strap ensures that the mask stays put securely on your head. It heats up pretty quickly and retains its temperature for a long time. The mask includes a removable and washable cover, ensuring hygienic use every single time. The brand also offers a 100% money back guarantee in case you are not satisfied with the product.
Pros
Heats up quickly
Ophthalmologist recommended
Washable cover
Secure fit
Retains optimal heat
Cons
Does not offer a snug fit
Sit back and relax as these comforting heated eye masks give you a soothing experience. The reusable mask heats up in just 30 seconds and retains optimal heat for up to 20 minutes. It is ideal for relieving puffiness and eye strain and also increases blood circulation. The ear loops provide a snug and secure fit, preventing the mask from sliding down. This heated eye mask is made of nonwoven cotton and contains activated carbon, salt, iron powder, vermiculite, and water to soothe the eyes. Here's a video featuring a detailed review of the product.
Pros
Long-lasting warmth
Heats up quickly
Gorgeous design
Fragrance-free
Artificial ingredient-free
Cons
None
This unique hot compress eye mask by KimKoo assists in stabilizing the lacrimal membrane and helps restore the natural defence of your eyes against tear evaporation. It also helps improve oil gland secretion function, refreshing, rejuvenating, and revitalizing your eyes. The heating element is made of natural and non-toxic flaxseed filling, which absorbs and stores moisture from the air. It heats up quickly in just 30 to 50 seconds and gives you convenient heating for 8 to 10 minutes.
Pros
Non-allergenic
Recommended by ophthalmologists
Soft texture
Smells good
Fits perfectly
Cons
The Steam Eye Mask by ProCIV heats up automatically without any electric plug or microwave. It lets out heat at an ideal temperature of 104° F to 113° F. This mask relieves eye strain, dryness, pink eye, migraine, dark circles, itchiness, and headaches. The outer material is made of soft and comfortable cotton fabric that does not irritate your skin.
Pros
Doctor-recommended
Long-lasting heat
Heats up quickly
Soft fabric
Cons
This warming eye pillow by NatraCure measures 9.25 x 3.94 inches for a perfect and comfortable fit. You can remove the inner heating pad and use the outer soft cover as a sleeping mask. The inner core is filled with silica beads for gentle and long-lasting heat therapy. It effectively reduces swelling, headaches, puffiness, and sinuses with ease.
Pros
Non-irritating
Comfortable
Soft fabric
Heats up quickly
Retains heat longer
Easy to clean
Cons
None
This heated eye mask by Fomi comes with a gorgeous animal print design. It is filled with natural clay beads, which gather the moisture from air and provide long-lasting heat therapy. It is designed with adjustable closures for a secure fit and has a plush outer fabric for added comfort. The mask is perfect for traveling, pain relief, puffy eyes, stress, migraine, headache, or dark circles. It heats up quickly in just 30 seconds and hydrates your dry eyes instantly.
Pros
Warms up quickly
Easy to use
Retains optimal heat
Super comfortable
Cons
Infused with quality ice gel and heated carbon fiber, this eye mask by Hivrest can give you icy cold or steaming hot temperatures! It has five heat settings, ranging from 35°C to 50°C, and five time settings that range from 10 to 30 minutes.
The mask is made of soft and fluffy material that is gentle on your eyes. It can be easily powered by a USB wall adapter, power bank, or your laptop. The heated compress can be easily removed, and the exterior cover can be washed regularly. The kit includes an eye mask, a heated compartment, an ice bag, a spray bottle, noise blocking earplugs, and a storage bag. This mask is available in two colors – gray and purple.
Pros
Warms up quickly
Easy to use
Retains optimal heat
Super comfortable
Cons
None
Here are a few things to keep in mind when choosing a heated eye mask.
How To Choose The Best Heated Eye Mask
When choosing a heated eye mask, it is essential that you find one that fits the upper part of your face correctly. This will ensure comfortable and effective heating. It is best to go for one with an elastic or Velcro strap.
Heated eye masks are available in a wide variety of materials. Since you will be wearing the mask over your eyes, you need to make sure that the material does not irritate your skin or crease around the eyes. Choose a material that is cool, soft, and comfortable.
A few masks have adjustable temperature control features. This allows you to choose the ideal temperature according to your convenience and comfort.
Heated eye masks can be comforting and cozy, and we may forget to remove them in due time. That is why it is best to choose a heating mask that has timer settings.
Heated eye masks are available in two common types – self-heating or manual heating. The self-heating eye masks are portable and can be used during travels, while the manual heating masks should be microwaved or plugged in. Most self-heating masks are disposable, making them expensive in the long run, whereas manual heating masks are cost-efficient.
Why Trust StyleCraze?
Shiboli Chakraborti, the author of this article, is a certified skin care coach who loves to try non-comedogenic products. So, she browsed online to check the user feedback and conducted detailed research about each heated mask provided in the article. The best heated eye mask is made of soft and comfortable fabric. These masks also relieve dryness, migraine, dark circles, and puffy eyes.
Expert's Answers For Readers' Questions
Are heated eye masks good for dry eyes?
Yes! Dryness in the eyes can occur if your tear glands are unable to make enough tears. Using a heated eye mask regularly will regulate the meibomian glands to release the natural eye oils, which moisturizes your eyes and eliminates the dryness.
How long do you wear heated eye masks?
It is recommended to use a warming eye mask for a maximum of 5-10 minutes.
How often should we use a warming eye mask?
If you are a beginner, you can use the heated mask for 5-10 minutes per session and around 4-5 times a day.
Recommended Articles