11 Best Heaters For Tent Camping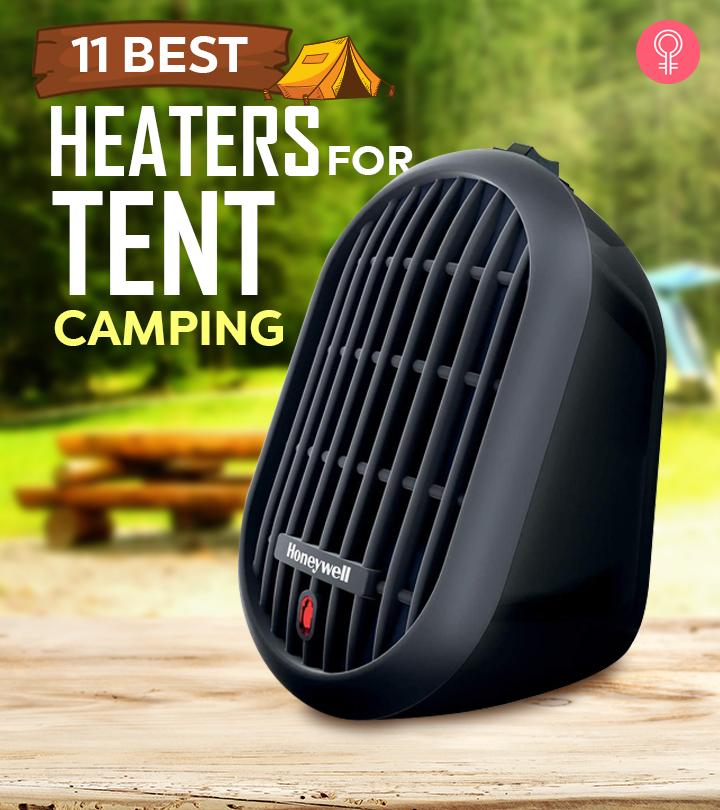 Camping is a great way to unwind and relax with your loved ones. But there are plenty of outdoor challenges while camping – like seasonal changes, freezing weather,and rainy nights. This is why carrying a heater alongis essential to create a cozy atmosphere inside the tent. Check out the 11 best heaters for tent camping that are functional, affordable, and safe. Scroll down!
11 Best Heaters For Tent Camping
The Mr. Heater F232000 MH9BX Buddy is a powerful and portable propane heater that heats tents up to 225 sq.ft.effectively. It can run continuously up to 3 hours at maximum heating.This heater comes with an integrated piezo sparking mechanism and has a swivel regulator to connect it to a disposable cylinder or a remote gas supply. It shuts off automatically if tipped over, the pilot light goes out, or at low oxygen levels. This heater comes with a fold-down handle for easy portability.
Specifications
Dimensions:7.7 x 13.4 x 15 inches
Weight: 9 pounds
Material:Steel, Plastic, Nickel
BTU: 4,000-9,000
Warranty: 1year
Pros
Tip-over safety
Comes with Oxygen Depletion Sensor
Fold-down handle
Easy to use
Durable
Cons
Not suitable for high altitudes
This deviceis an indoor propane heater that can heat areas up to 95 sq.ft.continuously for 5.6 hours at 45°heating angle. It comes with an auto-shutoff feature when the oxygen levels go down significantly. This ­heater ­requires 4­ square­ inches­vent­ area ­­for­ adequate ventilation ­during­ operation. It has a one-button ignition for smooth operation. The 8-inch round stand occupies very less floor space. The Little Buddy offers a quiet and odor-free operation.
Specifications
Dimensions:11 x 11 x 11 inches
Weight: 5 pounds
Material: Plastic
BTU: 3,800
Warranty: 1year
Pros
Odor-free
Tip-over switch
Easy to use
Durable
Quiet
Cons
The Tooluxe Camping Emergency Butane Heater uses a standard butane gas cartridgeand comes with a pressure sensing shut-off feature. This is CE-certified product consumes gas at 100g/hr and keeps the tent cozy for hours. It is also equipped with a swivel body, ceramic burner, and exceptional safety features.
Specifications
Dimensions:11.6 x 10.9 x 7.9 inches
Weight: 5.4 pounds
Material: Ceramic
BTU:4,400
Warranty: 1year
Pros
Lightweight
CE-certified
Low gas consumption
Storage-friendly
Noiselessoperation
Easy to use
Cons
Doesnot operate at high altitudes
This little ceramic heater is highly energy-efficient and consumes only 250 watts of energy. It is engineered with ceramic technology for fast and even heating, while its one-button control makes it easy to operate. This heater also features easy one-button controls, two heat settings, cool-touch plastic housing,a tip-over switch for 360o for tip-over protection, and overheat protection.
Specifications
Dimensions:5 x 4 x 7.75 inches
Weight: 1.05 pounds
Material:Ceramic
BTU: 853
Warranty: 1year
Pros
Tip-over switch
Overheat protection
Cool-touch housing
Easy to install
Storage-friendly
Energy-efficient
Cons
The Mr. Heater Tank Top features a safety tip-over switch and an easy push-button valve. With a 360° burner head, this heater mounts on a 20lb cylinder.Ithas a 180° multi-directional bracket. Thisdevice comes with a multi-output valve to regulate the temperature easily, while the piezo ignition knob allows one-handed ignition. It can be fastened to the floor safely or permanently mounted on the walls. The blue flame tube burner uses natural convection to circulate warm air in the tent.
Specifications
Dimensions:10.4 x 10.4 x 17.5 inches
Weight: 5.5 pounds
Material: Ceramic
BTU: 30,000-45,000
Warranty: 1year
Pros
Easy to assemble
Lightweight
Factory standard ODS
Includes mounting brackets and fasteners
Cons
The DuraHeat Propane Tank Top Heater is equipped with classic safety features and powerful ignition. It comes with a built-in tip-over shut-off feature that prevents accidents. This device heats an area of up to 1,000 sq.ft.and features a rust-resistant chrome emitter guard. It should be in the upright position along with the tank and used only on flat surfaces. It comes with a quick-connect, personalized L tank connection for easy operation and installation.
Specifications
Dimensions:9.25 x 9.25 x 17.5 inches
Weight: 4.87 pounds
Material:Ceramic
BTU: 4,000-9,000
Warranty: 1year
Pros
Match light safety
Rust-resistant
Personalized L tank connection
Portable
Easy to use
Cons
Doesnot operate effectively in windy conditions.
The Comfort Zone CZ707 Utility Heater is energy efficient and comes with three powerful heat settings for targeted heating. In addition to high and low settings, it also has a fan-only setting that gives an option of cooling. This 1500 W heater has an adjustable rotary thermostatto create the perfect environment for tents or garages. It features power and caution indicator lights, a tip-over switch, and an overheat protection sensor that ensure safe operation. The durable stay-cool metal housing and convenient carry handle enables safe and easy portability.
Specifications
Dimensions:8 x 6 x 6.75 inches
Weight: 3 pounds
BTU:5,120
Warranty: 1year
Pros
Durable
Stay-cool metal housing
Power caution indicator lights
Overheat protection sensor
Lightweight
Compact design
Energy-efficient
Cons
The heating element is prone to damage.
The Honeywell Fan Forced Heater provides 360-degree heat output. This energy-efficient charcoal heater features aprogrammable thermostat and two heat settings to create a personalized heating zone in your tents. It comes with a 360-degree tip-over switch, overheat protection, and an easy-grab, cool-touch carry handle.
Specifications
Dimensions:8 x 8 x 11.5 inches
Weight: 3 pounds
Material:Plastic
BTU: 4,000-9,000
Warranty: 1 year
Pros
Easy to use
Cool-touch carry handle
Lightweight
Visible power light
UL rated power cord
360-degree tip-over switch
Overheat protection
Energy-efficient
Cons
The Prowarm Portable Space Heaterprovides adjustable heat settings with its 1500 W powerful engine that heats up within five minutes. You can use it on a high heat setting or with the only fan mode. Its low-decibel working leads to undisturbed sleep, work, and chat. It uses coil instead of PTC heating for quick and even heating.This ceramic tower heater fan lowers the thermostat of your house to reduce energy consumption. The unique 15° angled adjustable design enables hot air to blow upwards and distributes warm air evenly. It shuts off automatically when the temperature reaches beyond 82.4 °F.
Specifications
Dimensions:10.2 x 10.2 x 11.4 inches
Weight: 5.5 pounds
Material:Ceramic
BTU:5,200
Warranty: 1year
Pros
Overheat protection
Noise-free operation
Energy-efficient
Customized temperature control
Rapid heating
Cons
The AmazonBasics Ceramic Personal Heater combines safety and quality with its functional design and 1500 watts heat setting. It comes with an adjustable thermostat and provides three output options – low, high, and fan-only. The power indicator light shows whether the appliance is on or off. This heater also features tip-over switch, overheat protection, and auto shut-off. It also includes carrying handle for easy transportation. However, it should not be used in the bathroom, laundry, or high-humidity spaces.
Specifications
Dimensions:7.52 x 6.34 x 9.45 inches
Weight: 3.04 pounds
Material:Ceramic
BTU:5,200
Warranty: 1year
Pros
Available in 2 colors
Quick heating ceramic element
Low noise operation
Overheat protection
Cons
The Opolar Ceramic Space Heater is equipped with a ceramic heating element foreven and quick heating. This durable heater features three heating modes and maintains consistent heat according to the room's ambient temperature and thermostat setting. It makes no more noise than 50dB to prevent disturbance when you are sleeping or resting.The red power indicator light shows when the device is on and the automatic overheat system shuts off the unit if it overheats. Its tip-over switch shuts off the unit when tipped forward or backward.
Specifications
Dimensions:7.1 x 5.9 x 11.1 inches
Weight: 3.5 pounds
Material:Ceramic
BTU:5,200
Warranty: 1year
Pros
Automatic overheat system
Tip-over switch
Power indicator
Lightweight
Durable
Cons
Now that you have explored the 11 best heaters for tent camping, let's look at the types of tent heaters.
Types Of Tent Heaters
Gas Heaters: Gas heaters are compact and use LPG, natural gas, butane, or propane. These heaters are available in flued,non-flued,vented, and unvented variants. They heat the air locally and spread it around through convection. Some modern gas heaters also use radiant heat technology for heating.
Electric Heaters: Electric heaters convert electric energy to heat energy and warm the room. They have a heating element that directs heated air towards the areas to be warmed.You can use electric heaters if you have access to power outlets.They are not ideal for camping trips with no access to electricity.
Halogen Heaters:Halogen heaters use halogen gases to increase the brightness of the lamps. The halogen gases prevent the bulb from darkening and operate safely at high temperatures. These heaters are generally used as outdoor heaters and ideal for heating terraces and patios. They are energy-efficient, safe, and environment-friendly.
Wood-burning Stoves: A wood-burning stove uses wood fuel,such as biomass fuel, wood, and sawdust bricks for generating heat. These stoves need proper ventilation and air circulation and are suitable for outdoor use and camping sites.
Before buying a heater for tent camping,you need to consider a few factors.
Essential Features To Consider While Buying Heaters
Analyze your requirements and check which heater type is best-suited for your purpose. If you want a heater for camping trips, pick one that is suitable for outdoor areas and operates at high altitudes.
The heat output of a heater reflects how efficiently and evenly it can heat a room. It is generally measured in BTU. The higher the BTU, the more effective is the device. Ideally, a heater with 1,600 BTU can heat a room of up to 100 sq.ft.
This is one of the essential features to consider while buying a portable heater.  If you kick the heater accidentally, the tip-over feature shuts it off automatically and prevents fire.
Why buy noise-canceling headphones when you can get noiseless heaters? Most portable heaters do not produce more than 50dB noise. Low decibel heaters prevent disturbance while sleeping and resting.Hence, opt for low-noise devices.
Heaters for tent camping should be compact for easy transportation and have extended maneuverability to ensure the heat reaches all corners. Look for compact and lightweight models.
Many people feel that portable tent heaters are dangerous. However, they are safe to use and highly functional if used correctly. Here are a few safety tips to follow while using a tent heater.
Safety Tips When Using A Tent Heater
If your model has a built-in stand, use it. However, do not use stands with the models that do not include one. Any flammable object under the heater can melt or cause fire accidents.
Proper positioning of your heater is vital to prevent accidents and fire risks. Read the instruction manual that comes with the appliance. Place it in a tent with proper ventilation and not around appliances that produce a lot of heat.
Keep It Away From Flammable Objects
Dried bushes, leaves, and twigs catch fire easily. Hence, position your heater correctly. Keep it on a flat surface and away from things that catch fire easily.
Understand Your Model's Maximum Heat
You must use the heater as suggested in the instruction manual. Check the maximum heat that the device can reach and use it accordingly.
Apart from these safety tips, ensure to choose a heater with safety features like overheat protection, tip-over switch, and carbon monoxide and low oxygen sensors to prevent accidents.
The right heater will transform a tent into a cozy haven, even in freezing conditions. The above-listed products are affordable, safe, and energy-efficient. Choose your favorite heater for camping from our list, and enjoy your camping trip.
Recommended Articles
The following two tabs change content below.

Latest posts by Harini Natarajan (see all)

Harini Natarajan
As Chief Editor, Harini sets the tone and editorial direction for StyleCraze to deliver engaging, interesting, and authentic content revolving around women's health, wellness, and beauty. She has over 14 years of experience in content writing and editing for online media. She specializes in the areas of Beauty, Lifestyle, and Health & Wellness and is proficient in Medical Sciences (Biology, Human Anatomy and Physiology, and Biochemistry). Her background in Biomedical Engineering helps her decode and interpret the finer nuances of scientific research for her team. Harini is a certified bibliophile and a closet poet. She also loves dancing and traveling to offbeat destinations.