6 Best Heating Belts Available In India
Here is your sure-shot answer to quick pain relief and muscle relaxation.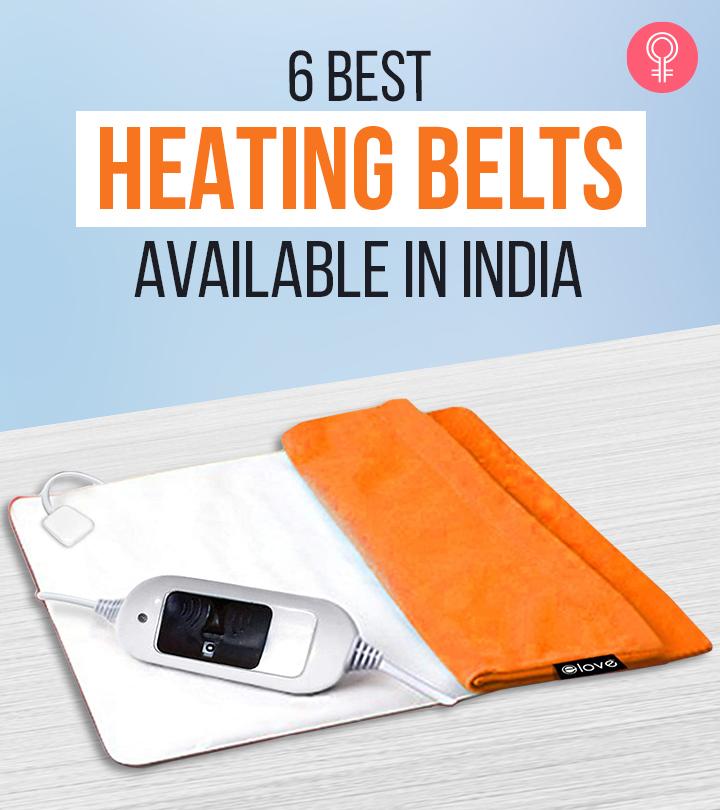 Are you dealing with sore muscles, backache, period cramps, stiff joints, or other body pain issues that make it difficult for you to carry out everyday activities? Give heating belts a try for instant relief.
Heating belts provide warming effects and relaxation to the affected body parts and reduce pain. They are available in a variety of ranges and can be wrapped around the affected area. In this article, we have listed the 6 best heating belts available in India. Scroll down and chose the best product to ease out the pain!
6 Best Heating Belts Available In India
The flamingo Orthopaedic Heat Belt relieves muscular and joint pains, back aches, sprains, and abscesses. This flexible belt comes with an imported long-lasting heating coil that works on 240V or 55W power.
It has an inbuilt dual thermostat and four layers of insulation on each side to provide optimum safety and comfort. The soft washable cotton cover makes it easy to clean and maintain. This heating belt is available in three different sizes and has three remote-controlled temperature settings for different types of pains. The velcro strap ensures a firm grip and hold. This heating belt is also suitable for women-related pains under the guidance of a gynecologist.
Pros
Portable
Easy to clean
Easy to maintain
Available in three sizes
Remote-controlled
Long cord
Washable cover
Cons
The elove Orthopaedic Electric Heating Pad provides immediate pain relief in just 30 seconds to soothe sore areas. The heat therapy elevates blood circulation to the affected places for fast healing and muscle relaxation.
This flexible heating pad delivers consistent heating to relieve body cramps, muscle stiffness, and joint pains. It provides overall comfort with various heating options for areas, such as the abdominal area, lumbar region, and lower back. It has a washable cover and a 1.5-meter long power cord for flexibility and convenience.
Note: Do not "V" or multifold the belt when it is ON to prevent burning or melting.
Pros
Long cord
Washable cover
Dryer safe
Easy to maintain
Flexible
Power saving
Built-in thermostat
Quick heating
Cons
Smells a lot while heating.
Relieve joint pain, stiffness, sore muscles, and arthritis pain with the VISSCO ACTIVE Orthopedic Heating Belt. It uses active heat therapy to relax muscles, improve blood circulation, soothe sore muscles to ease your pain, provide fast recovery, and reduce stiffness or discomfort. The dual thermostat allows three different temperature settings controlled by an easy-to-use slide switch to set the heating as per your requirement. A soft outer cover and six insulated layers ensure complete safety and a comfortable experience.
Pros
Safe
Quick heating
Soft outer cover
Cons
The Apex Orthopaedic Heat Belt is equipped with an inbuilt heating mechanism to deliver consistent and intense moist heat therapy. It relieves soreness, cramps, arthritis pain, ligament pain, muscle spasm, and inflammation due to tension and strain. You can also use this belt for stomach pain, menstrual pain, wrist pain, knee pain, back pain, and shoulder pain.
The level hand controller can help monitor and change the temperature. This heating belt has a soft washable cover that is machine washable. The velcro attachment allows for a firm and comfortable hold. The 1.8 m long cord provides excellent flexibility and ease of use from different positions.
Note: Do not multifold and "V" fold the belt to prevent melting and burning. Also, do not use it directly on the skin, while sleeping, or put any pressure on it.
Pros
Auto temperature control
Long-lasting heating
Safe
Easy to use
LED thermostat indicator
Power saving
Soft material
Long cord
Cons
Flimsy velcro
Becomes too hot.
Get expert solutions for hips, tailbone, and lower back pain with the JSB Electric Orthopaedic Heating Pad. Preheat for 20 minutes and wrap it around the waist to get relief from daily chores. The heating element provides even and consistent heating. The leatherite outer surface and furry fabric inside keep the belt warm and prevent heat escape. The three temperature settings allow temperature adjustment as per your comfort. This heating belt has no plastic heating surface and is built with durable, safe, and long-lasting material. The extended velcro extension fits all sizes with ease.
Pros
Wide coverage
Extra-long belt
Fur fabric
Easy to use
Universal design
Cons
The FEDUS Orthopaedic Electric Heating Waist Belt Wrap is designed with ultra-heat technology and reaches the maximum temperature to provide consistent heating for fast relief. It is ideal for lumbar pain, stomach pain, muscle stiffness, cold womb, cramps, arthritis pain, stress, and discomfort. The single button controller can change from one temperature to another effortlessly. The different temperature settings are low (45℃), medium (55℃), and high (80℃).
This heating belt has a fast heating time of just 30 seconds and provides quick pain relief by increasing blood flow to the affected area. The top-quality micro plush fabric is soft and comfortable, whereas the dual adjustment straps offer firm fit and compression for extra support and stability. You can engage in activities like weight lifting and exercising by applying this belt to the affected body part. The flexible 1.5-meter long cord makes it easy to use in different positions.
Pros
Versatile
Lightweight
Washable cover
Quick heating
Easy to maintain
Easy to use
Skin-friendly
Cons
Now that you know about the various heating belts to get fast relief, it's time to understand the points to consider before buying any of them.
How To Choose The Best Heating Belts
Look for a heating belt that comes with an auto switch off option to prevent any accident in case of overheating.
A heating belt that heats quickly within a few seconds is considered the best for use.
A heating belt with different heat or temperature settings is recommended as it offers a desirable heat supply to relieve the pain.
Buy a heating belt with an extended cord to let you use it freely from any position you want.
Heating belts come in different pad sizes, like small, medium, and large, to target different body parts. Go for the size that fulfills your requirements and covers the affected area adequately.
If you wish to use the heating belt for the desired amount of time, consider opting for a belt equipped with a timer. 
Always check the material and reviews to ensure longevity, safety, durability, and comfort.
Heating belts are comfort companions that provide relief from aches and pains. If you plan to buy one for yourself or someone you know, pick the most suitable from the 6 best heating belts available in India listed above!
Frequently Asked Questions
Are there any precautions to take while using a heating belt, such as time limits for usage?
It is typically advised to use a heating belt for 15-20 minutes at a time, with breaks in between sessions. However, make sure to follow the manufacturer's instructions for the recommended time limits for usage to avoid overheating or skin burns.
Can heating belts be used during pregnancy?
Using a heating belt on the tummy during pregnancy is not always advised because it can potentially raise the body's core temperature and affect the developing baby. As a result, it is best to consult a healthcare professional before use.
Are there any age restrictions for using heating belts?
There are no age restrictions for using heating belts, but ensure to be extra cautious when using them on young children or individuals with limited sensation or mobility.
How does a heating belt differ from other types of heating devices, such as heating pads or hot water bottles?
A heating belt provides targeted heat therapy, while heating pads and hot water bottles are not wearable and thus, offer more general heat distribution. Furthermore, the latter are usually stationary and require an external heat source.
Are there any health conditions or circumstances where the use of a heating belt is not advised?
Yes, people with conditions like acute injuries, open wounds, skin infections, poor circulation, and certain skin conditions are advised to avoid the use of a heating belt. If you have any underlying health conditions, it's best to consult a healthcare professional before use.
Recommended Articles