10 Best Heating Pads For Sore Muscles And Body Pains – 2022
These pads are your savior if you are suffering cramped-up muscles and joints.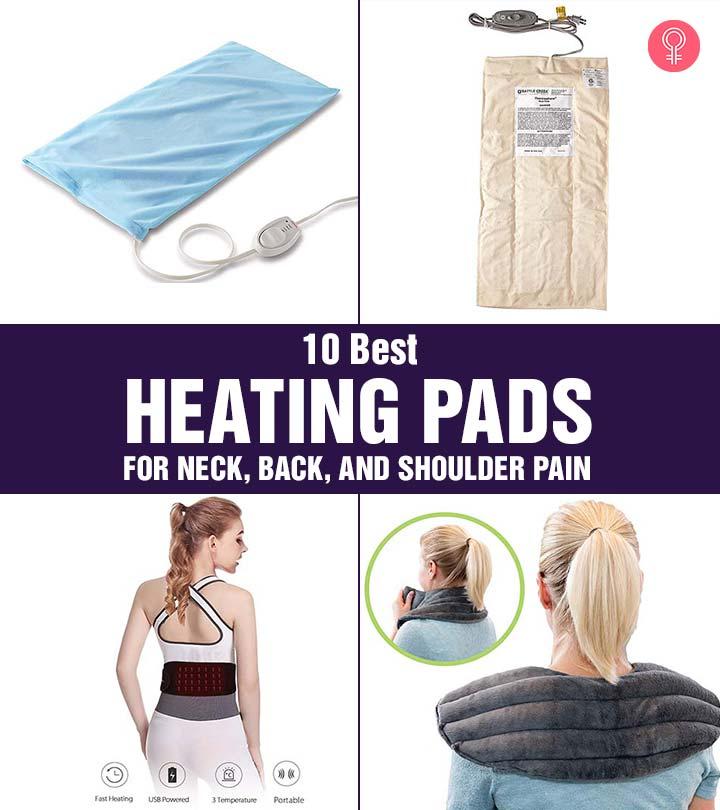 Say "hello" to the best heating pad in the world and "goodbye" to sore muscles and body pains. An age-old pain relief method, heat therapy can relax the muscles and enhance pain tolerance. From managing pain from injury, backache, period cramps, swelling, sprains, and after birth, heat therapy works wonders. Therefore, we have prepared a list of the 10 most effective heating pads in this article that you should have now. We have also put a buying guide to ease your search mission.
Types Of Heating Pads
This is one of the most commonly used heating pads. It uses voltage power and requires a power source to work. The best part about this type of heating pad is that it is equipped with multiple temperature settings and is highly durable. It doesn't require recharging. This electric heating pad is ideal for back pain.
Microwaveable Heating Pad
This type of heating pad is useful for traveling. It is compact and wireless. The device is filled with water or gel or has organic ingredients like rice or flaxseeds. These constituents are packed in a sack that can be microwaved. The heat is then transferred onto the surface of the heating pad. This is ideal for period cramps or mild back pain used along with some pain-relieving lotions. It is budget-friendly.
This heating pad can be used to relieve chronic back pain or other severe conditions. It delivers deeper and more concentrated heat that penetrates the surface of the skin. It is more powerful than regular heating pads.
Besides providing instant relief from aching muscles, heating pads help relax your body. They can be used to soothe different kinds of body pains. Here are a few benefits.
Benefits Of Using A Heating Pad
1. Heating Pads Help Relieve Body Soreness
If you indulge in heavy workouts, sports activities, or other tiring acts, heating pads will alleviate the 'after-effect' pain.
2. Heating Pads Loosens Stiff Muscles
The heat exerted from these devices soothes tightened muscles by allowing better blood flow. This will help you relax and perform activities without causing pain.
3. Heating Pads Help Treat Chronic Conditions
Heating pads provide short-term relief to people with arthritis. They also boost immunity and allow your body to heal on its own.
Top 10 Heating Pads To Buy In 2022
Get rid of everyday muscle aches with this heating pad. It helps deliver even and powerful heat across achy areas. It offers three heat settings. You can use it with moist or dry heat. The easy-slide controller for heat settings is designed especially for arthritis patients. Check this video to learn more about the product.
Pros
Machine washable
9-foot power cord
Deliver instant comfort and relief
Affordable
Cons
None
As the name suggests, this heating pad provides instant sore muscle relief in seconds. Unlike other plastic heating pads, this product is made of soft micro plush fiber. It sits comfortably on your back, neck, shoulders, and stomach. It also has multiple heat settings with dry and moist options. The pad measures 12 "x24". Take a look at this video to get more information on the product.
Pros
Very comfortable and cozy
Lightweight
Rechargeable heating pads
Machine washable
Durable
Cons
None
Price at the time of publication: $39.99
This heating pad is nearly twice the size of most heating pads. It covers the entire spinal area, from your shoulders to below the hips. It produces intense moist heat that helps relieve pain and stiffness in muscles instantly. The temperature ranges between 150-165 degrees F. It is the best moist heating pad to treat musculoskeletal pains. This video offers a more detailed explanation of the product.
Pros
One-touch control features
Auto shut-off after 25 minutes
14″ x 27″ unit size
Recommended by physical therapists
10 feet cord length
Cons
Price at the time of publication: $64.29
This adjustable and portable heating pad is ideal for the lower back, legs, and shoulders. It increases blood circulation to sore muscles and provides instant relief. The adjustable velcro straps can extend up to 70 inches. The removable hot/cold gel pack makes it easy to carry the device during your travels.
Pros
Conforms to your body
2-hour auto shut-off
Washable
Lightweight and compact
Cons
Proaller Shoulder Heating Pad provides warmth to your neck and shoulders and can also be used for the back, waist, abdomen, and calf muscles. It provides consistent heat to relieve soreness. The product is equipped with two side flannels. It is made of micro plush fibers for maximum comfort. This heating pad is ideal for treating stiffness of the shoulders, neck, back, and legs.
Pros
Increases blood flow
Soothes sore muscles
10-feet power cord
3 heat settings
Cons
Price at the time of publication: $27.99
This microwaveable neck and shoulder wrap is unique. It is filled with heat-absorbing clay beads and flax seeds that soothe your neck, back, shoulders, and abdomen. Alternatively, you can also use it as cold therapy by placing it in the freezer. The best feature of this product is it releases lavender, lemongrass, peppermint, and chamomile scents every time you heat it.
Pros
Retains warmth/cold for up to 30 minutes
Comfortable material
Reusable
Provides aromatherapy
Cons
Price at the time of publication: $21.59
UTK Far Infrared Heating Pad is equipped with 108 natural jade and 42 tourmaline stones to enhance therapeutic benefits. Tourmaline stones absorb heat quickly and emit negative ions. This flexible heating pad can be used for your upper and lower back, shoulders, waist, hips, arms, feet, knees, and calves. It increases blood flow and reduces muscle tension for quick recovery.
Pros
21 "X31" accommodative size
Has a timer
Has a memory function to store duration and temperature
10-foot power cord
Comes with a travel bag
Cons
Price at the time of publication: $199.99
Alleviate joints, stiffness, knotted muscles, and cramps with the SuzziPad Microwave Heating Pad. This neck wrap is infused with millets, flaxseeds, and clay beads. You can use this heat therapy for your shoulders, neck, legs, arms, back, ankle, knee, and any other muscle to get relief from acute pain. The pad comes with double-sided fabric, offering convenience, especially for sensitive skin. You can also use this heating pad as a cold compressor to get relaxation from stress, swelling, and sprain.
Pros
Ultra-soft
Skin-friendly
Durable
Comfortable
Versatile
Flexible
Cons
May smell odd after heating
Price at the time of publication: $19.99
This heating pack is designed to provide consistent heat for several hours. It can be used for your feet, neck, arms, upper and lower back, and shoulders. It uses advanced heat transfer technology to help distribute the heat evenly. It is filled with water, which can be replaced from time to time. The fabric is soft, velvety, and comfortable. This rechargeable heating pad can stay warm for 2 hours with just 8-10 minutes of charging time.
Pros
High-quality fabric
Comes with a power plug
Includes an LED indicator
Cushiony
Cons
Price at the time of publication: $19.95
This double-sided hot therapy heating pad is filled with organic flax seed. It is a microwaveable product that needs to be heated for a minimum of 90 seconds before use. Once the sack is heated, you can place the pack on sore muscles. This is a great natural alternative to help soothe aching muscles. But make sure not to heat the product beyond 2 minutes.
Pros
Easy to use
Suitable for headache and period cramps
Portable
Cushiony and comfortable
Cons
There are chances of hotspots.
Price at the time of publication: $17.99
Our recommended heating pads are equipped with multiple features that suit your needs. To help you pick the right product from a wide range of options available, we have put together a buying guide with important features to look for in a heating pad.
Buying Guide For Heating Pads
1. Heat Settings/ Auto Shut-off
Choosing a product with multiple heat settings will help you regulate the temperature, depending on the degree of pain.
An automatic shut-off feature will enable you to relax while using a heating pad without having to worry about the time in case you fall asleep.
2. Heat Up Time
This feature is important because it indicates the time taken by the device to heat up completely. If you are always on the go, pick an infrared heating pad that heats up within minutes. But these are quite expensive compared to the others.
If you prefer a soothing therapeutic experience at leisure, you can pick a microwaveable heating pad.
3. Material
The material comes into the picture when you are looking for a microwavable heating pad. Since these devices acquire heat from other sources, the material should be heat-resistant and durable. Most microwaveable heating pads come with rice or gel filling with cotton and fleece covers.
4. Size
Usually, heating pads come in three sizes – large, regular, and compact. But there are other king-size heating pads meant for full-body purposes. Depending on the targeted area and comfort, choose the size that is perfect for you and serves your needs. Microwaveable heating pads are compact and portable, while others come in variable sizes.
5. Machine Washable
With so much going on, the last thing you want is a complicated washing routine. Pick a heating pad made of cotton or velvet or other wash-friendly material.
6. Heating Type
Some heating pads require charging or power supply or an artificial method of heating( microwave). Pick a product that suits your conditions.
Why Trust StyleCraze?
Aditi Naskar, the author of this article, has a diploma in health and wellness and loves to review health care products for her readers. After thorough research, she has listed the best heating pads available on the market. She went through numerous reviews and feedback on multiple forums and brand websites to help you pick the right product according to your preferences. The shortlisted pads help manage pain from injury, backache, period cramps, swelling, sprains, and more.
Frequently Asked Questions
Are heating pads good for you?
Yes. Heating pads promote blood circulation, release muscle pains, relieve joint constriction, and reduce pains.
How long should you wear a heating pad?
Wear a heating pad for 15 to 30 minutes to relieve muscle aches and joint pains. Avoid using it for longer to prevent irritation and skin burns.
What is the difference between a heating pad and a moist heating pad?
Moist heating pads use warm water to relieve pain. The moist water heat penetrates deeper tissues and offers improved pain reduction. In contrast, heating pads use dry heat that penetrates surface tissues and offer mild pain relief.
Is it okay to use a heating pad every night?
Yes. Use a heating pad every night, but for a maximum of 30 minutes. Avoid using it for longer to prevent increasing muscle pains.
Is it okay to sleep with a heating pad?
No. Do not sleep with a heating pad to avoid developing accidental burns and causing skin inflammation.
Why can you not lay on a heating pad?
You can lay on a heating pad set at a low temperature for 30 minutes. Avoid laying on it for longer to prevent skin burns and aggravating muscle cramps.
How do heat pads work?
Heat pads dilate your blood vessels, boost the flow of more oxygen-rich blood to your cramped-up muscle areas, and reduce the pain. In addition, the pads promote consistent circulation throughout your body and keep your joints pain-free.
Recommended Articles