10 Best Heavy-Duty Treadmills With A High Weight Capacity – A Complete Buyer's Guide (2023)
Keep yourself in shape with advanced workout equipment designed to shed weight effectively.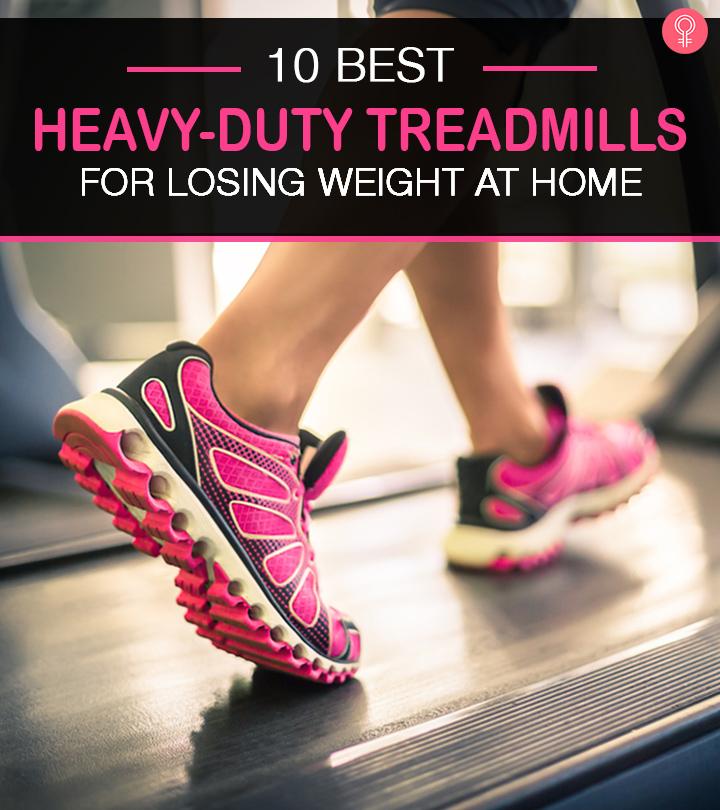 Many are trying to reduce their weight at home, which calls for the best heavy-duty treadmills that are equipped with a high weight capacity. You must be looking for motivation to work out but always fall short due to something. At times like these, it is best to invest in some workout equipment in order to see it in real-time and get motivated and hence, put in that weight-shedding work. Take a look at this buyer's guide of 10 most amazing heavy-duty treadmills that are guaranteed to help you in your journey.
10 Best Heavy-Duty Treadmills
Machine Weight: 203 lbs
Speed Range: 0-10 mph
Incline Range: 0-10%
Weight Limit: 300 lbs
The NordicTrack T Series is a high-end treadmill that offers a studio-quality effect in the comfort of your home. If you get a membership, you can also get in touch with your personal trainer at home (a facility powered by iFit). Your personal trainer will be able to access your workout through a smart OneTouch control button. They can control the incline, decline, or even speed up the treadmill up to 10 mph through a smart Bluetooth connection. Achieve optimum results and build your confidence by interacting with your trainer right from the comfort of your home.
A real-time performance tracking option keeps you constantly motivated and engaged. You can also stream 16,000+ studio workout sessions to shed those extra pounds and keep yourself fit. The treadmill has a smart-response 2.6 DurX commercial power motor that ensures a perfect workout with low vibration and a self-cooling mechanism. A 20" x 55" extra-wide belt with 1.9" non-flex rollers bear the high weight capacity. They also offer a cushioning system with plenty of leg and elbow space, allowing you to run while protecting your joints. The auxiliary music port and the set of dual 2" speaker makes your workout session more enjoyable. Watch this honest review from this renowned YouTuber to gain a better understanding of the product.
Pros
Interactive fitness
5" blacklist iFit display
10" smart HD touch screen
Explore 16,000+ workout sessions
20 built-in exercise routines
Music port
Includes 1-year membership
FlexSelect cushioning system
OneTouch control
Live interaction with your personal coach
SpaceSaver Design with Easy List Assist
10-year frame warranty
2-year parts warranty
1-year labor warranty
Easy to use
Easy to assemble
Cons
Heart rate monitor may not work well
Poor quality customer service
Erratic pulse sensor
Cup-holders made of plastic
No PAUSE button
No control buttons
Price at the time of publication: $649.0
Machine Weight: 194 lbs
Speed Range: 0–20 mph
Incline Range: 0-10% or more
Weight Limit: 330 lbs
The Branx Fitness Elite Runner Pro Treadmill is a heavy-duty treadmill. It has a high-quality frame and is a CE and ROHS Certified brand. It gives you a commercial gym experience at home. The large 5-inch LED color display helps you monitor your speed, distance, heart rate, and the extra calories you have burned. This easy-move system with 20 kph max speed and a huge 6 HP motor makes this a perfect platform for running, walking, and jogging. The one-touch automatic incline button helps tone the leg muscles, improves resistance, and enhances the heart rate. This fitness electric treadmill is loaded with preset 100 workout programs for reference with proper guidance to set up your routine perfectly. A perfect running area with a range of 45 x 125 cm, a thickness of 1.6 to 1.8 mm, and shock-absorbent 6 point M.A.C deck with a running belt protect your knees and ankles. The MP3 socket with high-quality speakers make your workout sessions enjoyable. This video is an honest review of the product from a famous YouTuber.
Pros
A-soft drop and easy-move system
Easy to install
Minimum assembly required
Can withstand up to 330 lbs of weight
Soft cushion running deck to reduce knee pain
One-touch button to check stats
Dual shock-absorbent system
2-year warranty for parts
5-year warranty for frame and motor
Large LED display
Easy to fold
Compact storage
Reliable for beginners and professionals
Cons
None
Machine Weight: 117 lbs
Speed Range: 0-10 mph
Incline Range: 0-10%
Weight Limit: 250 lbs
The Weslo Cadence R 5.2 Treadmill is a budget-friendly top-end machine. The large LCD screen display helps you monitor your workout progress and track your speed, time, distance, and the calories burned. The most important design elements of the Weslo Cadence R 5.2 Treadmill are its running deck and its size. Its 16" x 50" extra-wide belt is perfect for anyone to job and run perfectly. The comfort cell cushioning is specially designed to reduce the burden on joints for a comfortable workout session. It also helps protect you from any injury and speeds up the recovery process. A powerful 2.5 HP impulse max motor controls your speed and  delivers power for interval or speed training. The noise-proof system easily cools the internal part of the treadmill.
This heavy-duty treadmill comes with quick-select speed settings that can take the speed up to 10 mph. It has six in-built workout list that you can perform or modify if you are a professional. Two manually positioned inclines increase or decrease the impact on your joints. You can easily alter the incline or decline positions, burn extra calories, tone your muscles, and build greater endurance. The ergonomic design saves space. Check out this YouTuber's video to reassure yourself about the benefits of this product.
Pros
Budget-friendly
Easy to assemble
Monitors heart rate
Cushioned running space is easy for joints
Ideal for walking and jogging with 10 mph top speed
Easy to fold
Large display to keep a check on stats
Cons
Incline requires manual adjustment.
Overheating motor
No warranty on machines.
Limited variety of preset workouts.
Machine Weight: 341 lbs
Speed Range: 0-12 mph
Incline Range: 0–15%
Weight Limit:375 lbs
The Bowflex Treadmill is a personalized coaching technology to check on your daily workout, customize it, and make you stronger every day by guided coaching with the help of a personal trainer. The built-in motivation, comfort tech, integrated control, and a soft drop technology makes this heavy-duty treadmill a perfect companion to burn some extra calories. The backlit 7.5" full-color LCD screen features 11 in-built workout programs that automatically get adjusted to your individualized running workouts. The integrated calorie burn rate technology displays how many calories you have burnt per minute to make you more focused. The built-in telemetry and tracking on your heart-rate is just a one-touch solution within your hand-grip. You can easily create and save workouts 'on the fly' with the real-time custom programming.
The Comfort Tech shock absorbent running track with extra spacious 22″ x 60″ running area makes it easy to run, walk, or jog without any burden on knees or joints. It works as a perfect platform for heavy people. A soft drop, 3.5 CHP motor, 2.75" rollers with a OneTouch speed adjustment button up to 12 mph make your running comfortable and enjoyable. You can easily connect your journey to the JRNY app from your phone, tablet, or smart TV via Bluetooth. The one-touch automatic inclined motor builds your stamina, strengthens leg muscles, and burns extra calories to keep you fit. The comfort tech deck cushioning system protects your legs, joints, and knees while running, jogging, or walking.
Pros
In-built 11-workout program
2 months free trial
Soft cushion padding to reduce the burden on knees
Inclines up to 15%
Sturdy while walking, running, or jogging
One-touch button for every operation
Slower acceleration of heart-rate
Built-in Bowflex radio to move and groove
Easy to use
Easy to assemble
Shock-absorbent deck
Easy maintenance
Celebrates every 100 calorie burn with sounds and lights
Built-in sounds can be muted
Good for an overweight person
Durable holder for a water bottle
Cons
A limited in-built workout program
Short accessory bins
Poor customer service
Price at the time of publication: $2298.76
Machine Weight: 215 lbs
Speed Range: 0-12 mph
Incline Range: 0–15%
Weight Limit: 300 lbs
The top-end Nautilus T616 Treadmill is ergonomically designed to minimize effort and maximize comfort. It contains 27 workout programs, a fully-featured console with two high-resolutions for a monitor. Its Bluetooth connectivity allows to synchronize workout stats. The built-in fan keeps the motors cool. The unique feature of the Nautilus Treadmill is its workout scoring. It measures current fitness levels after completion of each round of workout to keep you motivated.
A strike zone cushioning system with a professional-grade 20″ x 60″ deck, two plies with 2 mm thickness, and a quiet motor with a 3.0 HP system ensure a peaceful yet effective workout that creates less burden on the knees and joints. To increase endurance, build resistance, and tone leg muscles, you can incline the heavy-duty treadmill by 15% with just a one-touch button. The soft drop facility ensures easy and compact storage at any corner of your house.
Pros
High-quality sturdy build
Powered by RunSocial app
Pre-installed with 27 workout programs
Strike zone soft cushion on the running deck
Noise-proof 3.0 HP motor system
Maximum comfort with digital connectivity
Incline at 15% level
Cost-effective
Easy to install
Ergonomically designed to fit at home-aisle space
Easy maintenance
Cons
The heart rate does not get registered.
Confusing controls
Uncomfortable to operate.
Price at the time of publication: $1687.87
Machine Weight: 230 lbs
Speed Range: 0-12 mph
Incline Range: 0-15%
Weight Limit: 350 lbs
Start your interactive training with the iFit coach compatible ProForm Pro 2000 Treadmill. It is ergonomically designed to burn more calories and allows you to try out different workouts with the help of a personal trainer. It has built-in 24 workout programs, six calorie-burn modes, six inclines, six speeds, and six intensities. The iFit trainer can easily operate your workouts by speeding up or down your running tempo anywhere between 0-12 mph with a -3 to 0% decline and 0-15% incline to strengthen your leg muscles and build stamina and endurance. Check your workout progress and stats on a large 8" backlit LED display to boost your confidence and motivation.
The noise-proof 3.5 MHP MacZ commercial pro-motor system with a 20" x 60" commercial non-stretch tread belt and full deck support makes it easy to run, jog, or walk without comfortably. The built-in OneTouch air-cooler system makes your workout fun.
Pros
Compatible with iFit live technology
Compatible music port for iPod
ProShox shock-absorbent cushion
Noise-proof motor system
Storage compartment for accessories
Separate tablet holder
Space saver design
Easy for an overweight person
Easy to fold
Easy to operate
Easy to install
Separate aerobic and anaerobic zones
Easy lift assist
Cool air fan to absorb sweat
Swipeable high definition touch screen
Streams global and studio class workouts
Supported with Intermix Acoustics 3.0 Sound System
Has space for keeping a water bottle
Cons
Incompetent customer support.
Incline system goes out of calibration.
Machine Weight: 204 lbs
Speed Range: 0-11 mph
Incline Range: 0–15%
Weight Limit: 300 lbs
The LifeSpan TR1200i Folding treadmill is equipped with a full-color smart touch screen and performance-optimized components to ease your workouts. The large 20″ x 56″ walking belt surface with a heavy-duty 2.5 HP motor allows you to walk comfortably while reducing vibration and noise. The wide running area with a 2.5" front, 2'' rear roller, and 8 independent shock absorbers prevent wear and tear of joints and injuries. The control panel has large keys and QuickSet buttons that are durable and soft to touch. You can specify the speed and incline level up to 15% for a strong build and improved endurance. The side rails are made of a non-slip plastic to provide balance and safety while starting and stopping the treadmill belt.
The 7" wide full-color display previews your workout status, and the convenient built-in Bluetooth helps synchronize your workout results with ease. This heavy-duty treadmill is pre-installed with 21 easy-to-use programs – 2 for heart rate control, 5 for healthy living, 7 for sports training, 5 for weight loss, and 2 for user-customized programs. Customize your workout regimen with holistic approaches to improve your cardiovascular fitness, boost your metabolism, burn fat, and shed some extra calories. The EZfold technology uses a hydraulic shock to fold and unfold the treadmill. The treadmill can be installed for use in just two simple steps. Fold the deck for a compact storage and soft drop the system when you are ready to burn some calories.
Pros
Wide touch screen display
Strong motor capacity to withstand wear and tear
Shock-absorbing belts to ease stress on knees and joints
Sturdy and durable
Easy to assemble
Easy to operate
OneTouch soft button to operate
Contact heart rate sensors and chest strap receiver
Pre-installed 21 programs
Large cup-holders on each side of the console
Cost-effective
Quiet motor performance
Free membership
Easy to fold in a compact size
Cons
No fans attached.
Quite heavy
Poor customer support.
Machine Weight: 242 lbs
Speed Range: 0-12 mph
Incline Range: 0-15%
Weight Limit: 350 lbs
The 3G Pro Runner Folding Treadmill is made of a built-in heart rate interactive pulse monitor and an optional wireless HR chest belt to check your pulse at frequent intervals. You just have to grab the console grips and find out your target heart rate. The machine has 8 built-in programs, 2 customized programs, and a cool-down program for overall benefits. The soft orthopedic belt with a large 20.5″ x 58″ running area gives ultimate comfort and space while running, walking, or jogging.
The high-power continuous duty DC motor with 3.0 HP and 2" rollers allows for a smooth run. You can easily speed up your pace up to 0-12 mph with an inclining rate of 0-15% for a stronger and more effective performance. You can easily customize your workouts as well. Make your workouts enjoyable, effective, and customized with the one-touch speed settings system. The Ortho Flex Shock suspension protects your knees, joints, and muscles from any kind of wear and tear. This ergonomically designed treadmill can easily be folded to a compact size for easy storage.
Pros
8 built-in and 2 customized workout programs
Lifetime residential drive motor
2-inch roller with a shock-absorbent belt
Equipped with an orthopedic belt with noise-cancellation
Sturdy and compact design
Excellent customer service
Built-in heart-rate sensor
Easy to assemble
Easy on your knees
Compact easy storage design
One-touch speed modulations
Cons
Small display touchscreen.
Price at the time of publication: $1899.0
Machine Weight: 278 lbs
Speed Range: 0-12 mph
Incline Range: 0-15%
Weight Limit: 375 lbs
The SOLE Treadmill has a sleek and ergonomic design. It has been reviewed as the 'best selling treadmill at an affordable price' worldwide. This heavy-duty treadmill is equipped with 6 preset workout programs, 2 customized programs along with 2 heart-rate programs. You can easily set up your running switch from 0 mph to 12 mph with a powerful 3.5 HP motor and 15 different incline levels to strengthen your glutes, hamstrings, quadriceps, calves, core, and upper body. Additional features include cooling fans to set up a comfortable environment.
The treadmill console is user-friendly with a vibrant display. The information is displayed on a 9" LED monitor. It includes Speed, Incline, Time, Distance Traveled, Calories, Pulse, and Pace. There is also a 1/4 mile track feature and a Peak and Valley graph for different programs. The console also has built-in speakers that allow you to hook up any MP3 player (iPod, etc.) for easy listening.
Pros
Connected heart-rate monitor
Shock-absorbing cushion running deck
Easy to assemble
Integrated tablet holder
Patented roller technology for noise-proof performance
Affordable
Fairly easy to handle
Large tread belt for wider space
Cons
Frequent error messages on the console screen.
Price at the time of publication: $2100.0
Machine Weight: 106 lbs
Speed Range: 0-14 mph
Incline Range: 0-15%
Weight Limit: 265 lbs
This heavy-duty treadmill is suitable for your entire family. It is made of ABS steel pipe material. It is sturdy with a cool design, and its high-quality build makes you feel like you are working in a commercial gym. A 5" blue-ray LED display displays your stats among other metrics. It also has a Bluetooth speaker with an MP3 player.
The 2.25 HP motor helps you meet your fitness goals by walking, running, or jogging. It has a low noise and does not disturb others. The treadmill is made of a 5-layer non-slip texture running belt that absorbs impact and protects your knees from injury. It is easy to assemble, easy to fold, and easy to store in a corner of your room. The four built-in transport wheels make it easy to move from one corner to the other.
Pros
Electric folding treadmill
Shock absorbent running belt
A powerful 2.25 HP motor with noise-cancellation
Strong load-bearing capacity
Stable, sturdy structure
Non-slip running belt for your knees
Easy to assemble
Easy to maintain
Easy to operate
Cons
What To Look For When Buying A Heavy-Duty Treadmill?
Treadmill Weight Capacity: A good heavy-duty treadmill should be able to withstand 300 lbs to 400 lbs of weight. Its track must also be comfortable enough to run on.
Construction Quality and Durability: The treadmill must be sturdy and durable enough to withstand the weight and provide support to the knees and joints. A treadmill that comes with an extended warranty means the manufacturer is confident about its performance.
Motor Size: Generally, a treadmill contains two motors, one for the belt and the other one for the inclined floor. A 2-3 HP motor capacity works best for efficient operation.
Running Surface Area: The surface area depends a lot on your height and stride. A large deck means a more significant treadmill, but you also need to think about the space in your home. The larger the surface area, the better for you.
Technology: You should also be thinking about the user interface and the way the functionality of the treadmill is presented. There are going to be times when you are running and need to use the controls. Hence, the controls must be straightforward, easy to operate, and powerful at the same time.
Incline Option: Inclined running is one of the best ways to build your endurance and stamina. Select a treadmill that can be inclined automatically up to 15 % – 20%. Choose a treadmill that comes with an automatic incline.
Tread Belt Cushioning: A proper running deck cushioning system helps protects your knees and joints from serious impact. Select a running deck with a shock-absorbent cushion system.
Foldable Design: Choose a treadmill that is easy to fold and occupies less space.
Budget-Friendly: Choose an affordable treadmill that is durable, sturdy, and user-friendly.
Conclusion
Why Trust StyleCraze?
Aditi Naskar, the author of this article, has a diploma in health and wellness. She listed the best heavy-duty treadmills after thorough research of user feedback from credible sources and brand websites. These products help you lose excess weight and stay fit from the comfort of your home.
Frequently Asked Questions
How much does a heavy-duty treadmill weigh?
Heavy-duty treadmills weigh between 220 to 350 pounds. Some may also weigh over 400 pounds.
What is the highest weight capacity for a treadmill?
The weight capacity for a treadmill lies between 200 to 300 pounds.
Can I use a treadmill if I'm over the weight capacity?
No, it is recommended to purchase a treadmill that can carry your weight effortlessly. The weight capacity in heavy-duty treadmills is generally suitable for chubby people.
Which is the best company for treadmills?
Use treadmills from NordicTrack, Branx Fitness, or Weslo Cadence for good results.
What is the highest grade on a treadmill?
Many treadmills boast of 0 to 15% gradient. However, many equipments may also go as good as 40%.
How much does a good treadmill cost?
A good treadmill costs between $1500 and $3000.
Are treadmills bad for your knees?
No. However, walking or jogging on treadmills sometimes leads to stressed bones and joints on your knees due to pressure. It may also lead to injuries and fractures. These mostly happen to mature people or people with arthritis.
Recommended Articles