Best Herbal And Ayurvedic Face Washes In India Of 2023
Experience the best of nature and achieve clearer, healthier skin.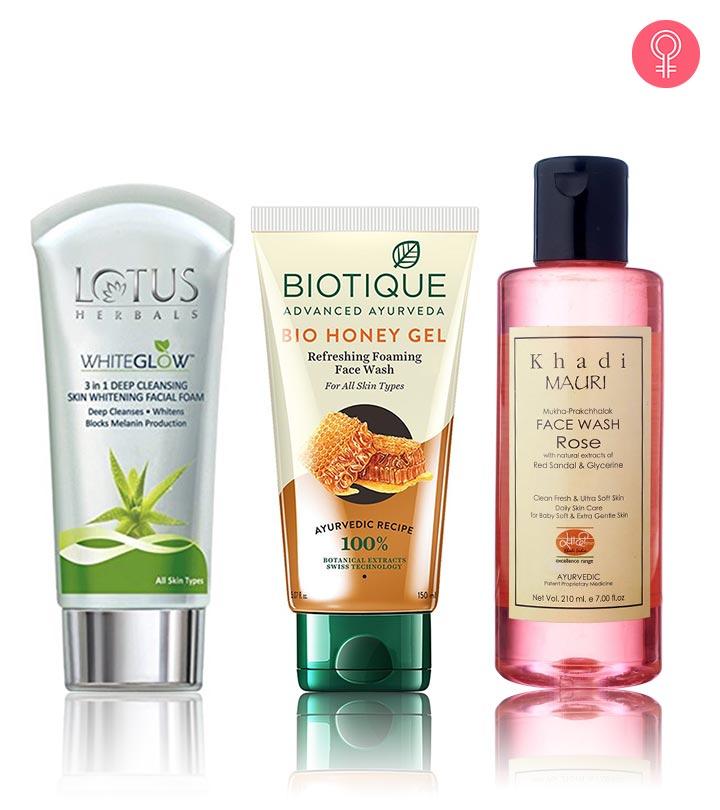 When it comes to taking care of your skin, you can never go wrong with herbal or Ayurvedic products. Free of harmful chemicals such as parabens, sulfates, and SLS, herbal products heal and nourish your skin without stripping away its essential nutrients or causing unnecessary damage. Read on to find out the 11 best herbal face washes that you need to try out for a healthier complexion.
Top 11 Ayurvedic And Herbal Face Washes
Product Claims
Himalaya Herbals Purifying Neem Face Wash has a herbal formula that gets rid of the excess oil and impurities that clog your pores. It contains neem and turmeric, both of which prevent future acne. Neem has antibacterial properties while turmeric is a natural antiseptic. This face wash evens out your skin tone and gives you soft and clear skin.
Pros
Suitable for all skin types
Ideal for pimple-prone skin
Gentle on sensitive skin
Non-drying
Soap-free formula
Hypoallergenic
Travel-friendly packaging
Paraben-free
Affordable
Cons
None
Product Claims
Aroma Magic Neem And Tea Tree Face Wash is made with an Ayurvedic disinfecting formula to cure acne. Neem rids your skin of bacteria while removing excess sebum and impurities. This face wash maintains your skin's oil balance with rose petal extracts. The added vitamins in it help lighten scars and blemishes and improve your skin tone. It also contains a blend of tea tree and lavender essential oils that prevents blackheads and soothes skin irritation.
Pros
Suitable for oily skin
Paraben-free
Soap-free
Alcohol-free
Fragrance-free
Cruelty-free
No artificial coloring
Travel-friendly packaging
Affordable
Cons
Not suitable for dry skin
Price at the time of publication: ₹170
Product Claims
The Whiteglow 3-In-1 Deep Cleansing Skin Whitening Facial Foam from Lotus Herbals is ideal for when you want to cleanse your skin deeply. It brightens your complexion and prevents melanin production that causes skin darkening. This gives you radiant skin after regular usage. Its formula is enriched with minerals, milk enzymes, and aloe vera gel. It also eliminates excess sebum, dirt, and impurities.
Pros
Suitable for all skin types
Ideal for daily use
Gentle on sensitive skin
Non-drying
No harmful chemicals
Travel-friendly packaging
Affordable
Pleasant fragrance
Cons
Product Claims
Himalaya Herbals Moisturizing Aloe Vera Face Wash replenishes the lost moisture of your skin after every wash. It nourishes dry and stretched skin. It is enriched with cucumber that cools and soothes your skin while the aloe vera in it tones and softens it. This gentle formula contains natural ingredients that cleanse your skin, leaving it feeling fresh and glowing.
Pros
Suitable for normal to dry skin
Gentle on sensitive skin
Soap-free formula
Paraben-free
Travel-friendly packaging
Cruelty-free
Affordable
Cons
[ Also Read – Himalaya Tan Removal Orange Face Wash ]

Product Claims
Morpheme Remedies Ubtan, Haldi & Kesar Face Wash reduces skin dullness and improves skin radiance for a brighter complexion. The brightening ingredients restore skin tone and increase skin luminosity. The natural exfoliating formula gently removes dead skin fells, fades away blemishes, and makes skin clean and plump. The natural antioxidants protect the skin against sun damage.
 Pros
Paraben-free

Sulfate-free

Petrolatum-free

No artificial colors or fragrances

No harsh chemicals

Safe ingredients

Cruelty-free

Suitable for all types of skin

Gentle and soothing

Evens out skin tone

Removes tan

Repairs damaged skin
 Cons
May not be good for dry skin
Product Claims
Lotus Herbals Tea Tree And Cinnamon Anti-Acne Oil Control Face Wash controls acne and reduces excess oil without leaving behind any pore-clogging residue. It also regulates sebum production, reduces dry patches, and hydrates your skin. The cinnamon in it acts as a natural cleanser that removes dead skin cells and improves blood circulation to make you look fresh and youthful.
Pros
Suitable for oily and combination skin
Can also be used as a mild scrub
Non-drying
Ideal for daily use
Travel-friendly packaging
Pleasant fragrance
Cons
May not suit dry and sensitive skin
Product Claims
Patanjali Ayurveda Saundarya Face Wash is a herbal face wash that nourishes your skin. Its formulation is fortified with orange peel, neem, tulsi, and aloe vera. These natural ingredients are effective at cleansing pores and controlling oil production. Patanjali Saundarya Face Wash also hydrates your skin and keeps it firm. Regular usage of this face wash keeps your skin feeling fresh, clean, and oil-free for up to 4 hours.
Pros
Suitable for normal to oily skin
Ideal for daily use
No harmful chemicals
Travel-friendly packaging
Affordable
Cons
Product Claims
Mamaearth Ubtan Face Wash enhances your skin's natural brightness by removing tan using carrot seed oil. It contains licorice extracts that help repair the sun damage caused by exposure to the harsh rays of the sun. The walnut beads in it gently exfoliate your skin to reveal a natural glow while making your face feel smooth and refreshed. It is also enriched with turmeric that is rich in antioxidants and protects your skin from free radical damage.
Pros
Suitable for all skin types
Hypoallergenic
Paraben-free
SLS-free
Travel-friendly packaging
Cons
Does not lather easily
Strong fragrance
Price at the time of publication: ₹200.0
Product Claims
Biotique Bio Honey Gel Refreshing Foaming Face Wash is formulated with pure honey and extracts from the bark of the Arjun tree, euphorbia plant, and wild turmeric. This hydrating foaming gel dissolves makeup and impurities, softens skin, and helps lighten your complexion. Use this face wash daily to get skin that feels squeaky clean and refreshed after each use.
Pros
Suitable for all skin types
100% soap-free
Dermatologist-tested
Paraben-free
Cruelty-free
Cons
Strong fragrance
May cause dryness
Price at the time of publication: ₹123
Product Claims
Khadi Mauri Rose Face Wash is a fragrant deep cleanser that is enriched with the natural extracts of roses, red sandal, and glycerin. This gentle face wash cleanses your pores of excess oil and residue from dirt, grime, and makeup to give you rejuvenated skin. Its regular usage softens your face and imparts a natural radiance and glow to it. The sandal extracts in it also nourish dry and sensitive skin.
Pros
Suitable for dry skin
Mild on sensitive skin
Travel-friendly packaging
Paraben-free
Cons
May cause skin to dry out
Artificial fragrance
May cause breakouts
[ Also Try – Himalaya Oil Clear Lemon Face Wash ]
Now that you have had a look at the best Ayurvedic face washes available right now, scroll down to check out a few points that you need to consider when buying Ayurvedic and herbal face washes
Things To Consider When Buying An Ayurvedic Face Wash
Different skins have different needs, and these face washes are manufactured accordingly. For dry skin, opt for a cream-based face wash that has moisturizing properties. For oily skin, foaming and gel-based cleanser work the best as they balance the natural oils on your skin. For combination skin, both gel- and cream-based face washes with soothing ingredients are ideal.
Always check the label before buying any herbal or Ayurvedic face wash as it may contain synthetic or artificial additives along with natural ones. Look for a wash that is mostly made of Ayurvedic or natural ingredients. For dry skin, look for a face wash containing moisturizing agents like milk, money, jojoba oil, olive oil, or almond oil. For oily skin, opt for a face wash with ingredients like aloe vera, green tea, neem, oatmeal, and tea tree oil. For normal skin, aloe-based face washes are suitable as they help soothe the skin.
Always go for trusted and well-known brands. They usually use high-quality ingredients that are suitable for all skin types. Also, they are easily available.
These are the top 11 Ayurvedic face washes available on the market right now. Pick one suited to your needs and get ready to transform your skin. Don't forget to share the results with us in the comments section below!

Recommended Articles
The following two tabs change content below.