13 Best Herbal Essences Shampoos Of 2023
Treat your hair to the organic and eco-friendly goodness of Herbal Essences shampoos.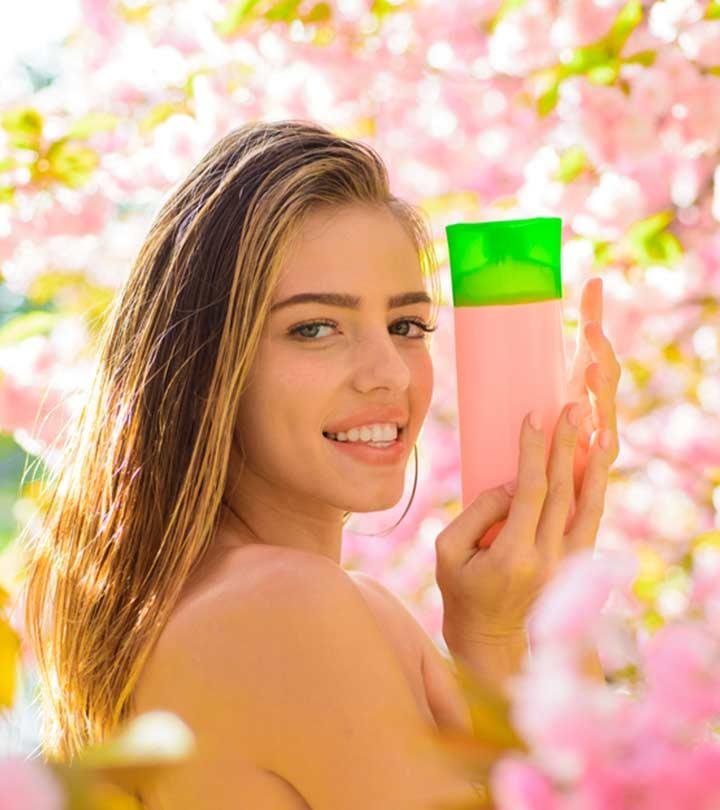 If you have been looking for an herbal shampoo infused with natural oils and ingredients, then you must try a few of the best herbal essence shampoos available in the market. Formulated with unique herbal ingredients, these shampoos are sulfate and paraben-free. Free of toxins and harmful chemicals, herbal essence shampoos are not only gentle on your hair and scalp, but also help nourish and enrich them with essential oils and nutrients. Colored hair, dry and damaged hair, pollution-affected hair, fine breaking hair, or thick falling hair, Herbal Essence hair products have a solution for all your hair types and concerns. Cleansing, moisturizing, nourishing, or protecting, these shampoos make a visible difference in the texture, luster, shine, and strength of your hair.
To pick the right product for yourself, you must make sure what your hair type and concerns are. Accordingly, you can then narrow down on which Herbal Essence would best suit your current needs. To help you decide, we have shortlisted some of the best Herbal Essence shampoos for you to try and transform your hair health.
Top 13 Best Herbal Essences Shampoo Of 2023 To Stop Hair Loss
A shampoo that is recommended for people who love nature's goodness. This shampoo has the goodness of rose hips, jojoba extracts, and vitamin E to nourish and cleanse your hair at the same time. The product is one of the best Herbal Essences shampoos and it does a pretty decent job at adding shine to your hair. Formulated with herbal extracts, the shampoo is great for delivering a smooth, beautiful look. If you want to grab an Herbal Essences shampoo for hair fall, this one might work for you really well. If you want to know more about this product, check out this video on YouTube.
Pros
No silicon
No Mineral oil
Suits all hair types
Balanced pH
Cons
Price at the time of publication: $19.02
The Herbal Essences Bio-Renew White Strawberry & Sweet Mint Shampoo is formulated with real plant extracts. It is infused with a signature blend of aloe, sea kelp, white strawberry, and mint that cleanses your hair and rejuvenates your senses with a refreshing fragrance. This unique formula is loaded with carotene that volumizes your tresses while protecting them from free radical damage. It also helps to revive your hair's natural luster, leaving it looking brighter and more vibrant than ever before.
Pros
Refreshing fragrance
Lightweight
Affordable
Cruelty-free
Paraben-free
Gluten-free
Colorant-free
Cons
Price at the time of publication: $17.99
This is a must-use product for all the curl lovers. Being one of the best Herbal Essences Shampoo, this product defines curls and adds a bounce to your hair. It is formulated with herbs that make your frizzy curls worth touching and super smooth. Not only does it clean your hair thoroughly but also lends silky softness to your curls. The product is also suitable for keeping your hair free from humidity. Making hair manageable and tangle-free is easy with this shampoo. 
Pros 
Fairly priced
Curl enhancer
Adds bounce
Adds fullness
Cons
Might not work as a color-safe shampoo
Price at the time of publication: $18.99
The Herbal Essences Argan Oil Shampoo is a luxurious and nourishing formula that cleanses and smoothens your hair from the root to the tip. The signature blend of rosemary, aloe, and passion flower helps to revive hair, leaving it soft, smooth, and manageable. This shampoo helps to strengthen and smooth hair for a beautiful finish. It is a pH-balanced formula made from 90% of natural origin ingredients. The color-safe formula soothes your hair and makes you feel fresh with an invigorating scent of fizzy citrus, vanilla, and exotic spices.
Pros
Suitable for colored hair
Refreshing fragrance
Dermatologist-recommended
Lathers well
Cruelty-free
Paraben-free
Dye-free
Cons
None
Having healthy voluminous locks is the dream, especially when pollution and stress is doing severe damage to hair. To protect your hair and improve volume this surely is one of the best shampoos from Herbal Essences. Formulated with an aim to counter hair volume issues, this shampoo cleans build up and lifts hair. The shampoo adds bounce and keeps dullness away. You can even enjoy its citrus scent that will leave your locks smelling fresh.
Pros
Adds body to fine hair
Fine fragrance
Lightweight formula
Gentle formula
Cons
Scent might not be pleasing to all
Price at the time of publication: $22.79
This Herbal Essences Honey & Vitamin B shampoo comes really handy to nourish and clean your hair daily. It is a sulfate-free formula that is gentle on your hair and moisturizes your hair effectively. The shampoo works great for people with dry hair as the key property of this product is to add moisture to dry and damaged hair. While choosing the best Herbal Essences shampoo, this surely tops the list. It has honey and Vitamin B in it which nourishes your hair deeply. The product smells wonderful with a multilayer scent of honey, jasmine, and creamy vanilla.
Pros
No-sulfate formula
Safe for colored hair
Safe for bleached hair
Dye-free formula
Cons
Might feel greasy when not used in the right amount
Price at the time of publication: $7.89
Who doesn't like shiny, bouncy hair? It is something that we all want and surely try dozens of hair products to obtain the same. But you can skip all the trials and head over to this Herbal Essences shine collection. This shine brilliance chamomile shampoo is formulated with a unique blend of chamomile, aloe vera, and passion flower extracts to lend a beautiful shine to your hair. With every wash, you get healthy shiny locks. 
Pros
No silicons
Beautiful fragrance
Good for dull hair
Easy-to-use
Cons 
Price at the time of publication: $17.99
For those who are coconut lovers, this shampoo is a treat. You just cannot miss on the goodness of coconut for hair care along with essential antioxidants, aloe, and sea kelp. Though many of Herbal Essences shampoo contain coconut milk as an ingredient, this one goes beyond limits in hydrating qualities. It is great for repairing damaged hair and takes care of split ends. The best part is its no colorant, no paraben feature. You can make your tresses healthy with this gentle formula. 
Pros
Effective formula
Adds shine
Fresh fragrance
Suits colored hair
Cons
Might not work for all hair types
Price at the time of publication: $4.49
This is one of the best Herbal Essences shampoo that is enriched with a rare combination of herbal extracts. It has the goodness of moringa oil, aloe, and sea kelp whereas the fragrance is fresh coconut and orange. Sounds weird, right? But you don't have to worry about the quality as the product works great for hair care. It rejuvenates your hair and improves the quality while you can soak yourself in the beautiful fragrance of this product. This shampoo suits the best for dry and damaged hair and leaves hair smoother, shiner, and more manageable.
Pros
Zero-paraben formula
No gluten
No colorants
Herbal extracts
Cons
Not suitable for all hair types
Price at the time of publication: $13.86
This rare formula with the goodness of Manuka honey is great for both hair and scalp. The shampoo is especially formulated for deep hydration and hair strength. With an amazing floral scent and pH-balanced formula, the shampoo stands out as a great hair care product. You can use it to rejuvenate your hair and reduce dullness. The product makes your hair strong and resilient. Massage your hair with a small amount and rinse to enjoy healthy locks.
Pros
Easy-to-use
Nourishes hair
Colorant-free formula
Silicon-free formula
Cons
Price at the time of publication: $24.99
When looking for a hydrating formula that does the job of a shampoo and body wash at the same time, grab the Hello Hydration Hair + Body Wash from Herbal Essences. The shampoo cleans hair gently with an intense hydrating goodness of coconut. While the shampoo does a great job at cleaning your hair thoroughly, the product serves the role of a body wash as well. The creamy formula of this product leaves hair soft and smooth. Herbal Essences Hello Hydration Shampoo is dermatologically tested and thus is safe for all skin types. 
Pros
Good for straight hair
Free from mineral oils
Free from paraben
Moisturizing formula
Budget-friendly
Cons
Price at the time of publication: $6.99
This shampoo with coconut milk as the primary ingredient nourishes hair deeply. It helps in restoring the hair volume and strength. The product is loaded with antioxidants that play an important role in keeping the hair healthy. Loaded with aloe and sea kelp, the shampoo cleanses the hair and prevents dryness in hair. The fragrance is a blend of white florals and vanilla which is truly fascinating. This Herbal Essences shampoo for oily hair is great for both men and women.
Pros
Color-safe formula
Hydrates hair
Repairs hair
Cruelty-free
Cons
Doesn't leave hair very soft
Price at the time of publication: $9.99
When looking for a shampoo that is soothing yet effective on cleansing hair choose this one from Herbal Essences. The mild soothing fragrance that this shampoo has is simply outstanding. This cucumber and green tea shampoo is great for mild hair cleansing and removing build up. Formulated with green tea leaves, water lily, and clean amber, the shampoo provides sheer moisture to hair thus keeping roughness and tangles at bay. The green tea extracts present in this product makes this Herbal Essences anti-dandruff shampoo a great herbal choice. 
Pros
Free from colorants
No paraben
Lightweight conditioning
Silicon-free/li>
Cons
Price at the time of publication: $11.7
So, this was our list of Herbal Essences shampoos. Now let's help you pick the best one out of these that will suit your hair the most.
How To Choose Herbal Essences Shampoo?
Herbal Essence offers a wide range of shampoo for all types of hair. Each range has unique ingredients meant for total hair care. Depending on your hair type and hair issues, decide the ingredient-based hair care range. In case you have dry and damaged hair, choose a shampoo that has ingredients like green tea or coconut in them. If you have frizzy curly hair, choose a shampoo that has nourishing ingredients like Moroccan argan oil. Look for whatever your hair needs and you shall land with the best Herbal Essences shampoo.
How To Use Herbal Essences Shampoo?
Herbal Essences shampoos are available in a variety of ranges. Every range has a specific haircare purpose. Choose the one that is formulated for your hair issues. Also, decide your shampoo as per your hair type. After deciding the Herbal Essences Shampoo suiting you, lather a small amount on your scalp and massage well. Rinse with water after some time.
Herbal Essences Shampoos are truly unique. These shampoos have a wide range of benefits and are designed as per hair types for countering various hair issues. Hope you find the most suitable shampoo for you from this list of the best Herbal Essences shampoos of 2023.
Why Trust StyleCraze?
The author of this article, Vaishnavi Kothuri, is a hair care enthusiast and loves exploring various hair care products. After extensive research and reading many customer reviews from trusted online platforms, she curated this list of the best Herbal Essences shampoo for her readers. These shortlisted shampoos are gentle on your hair and scalp and promote hair health. They also nourish the hair leaving a shiny luster.
Frequently Asked Questions
Is Herbal Essences Shampoo Good For Your Hair?
Yes, Herbal Essences shampoo is good for your hair.
Does Herbal Essences Shampoo Cause Dandruff?
No, Herbal Essences shampoo removes dandruff-causing build up from the scalp. It does not cause dandruff.
Does Herbal Essences Shampoo Have Sulfates?
Yes, a few Herbal Essences Shampoo have sulfates in them.
Is Herbal Essences Shampoo Color-safe?
Yes, almost all Herbal Essences Shampoos are color-safe.
Is Herbal Essences Shampoo Good For Oily Hair?
Yes, Herbal Essences Shampoo is good for oily hair. Just choose one that is made for oily hair.
Recommended Articles
Best Argan Oil Shampoos
Best Sulfate And Paraben-Free Shampoos And Conditioners
Best Shampoo For Long Hair
Best Shampoos And Conditioners