15 Best Full-Coverage Foundations That You Should Try In 2020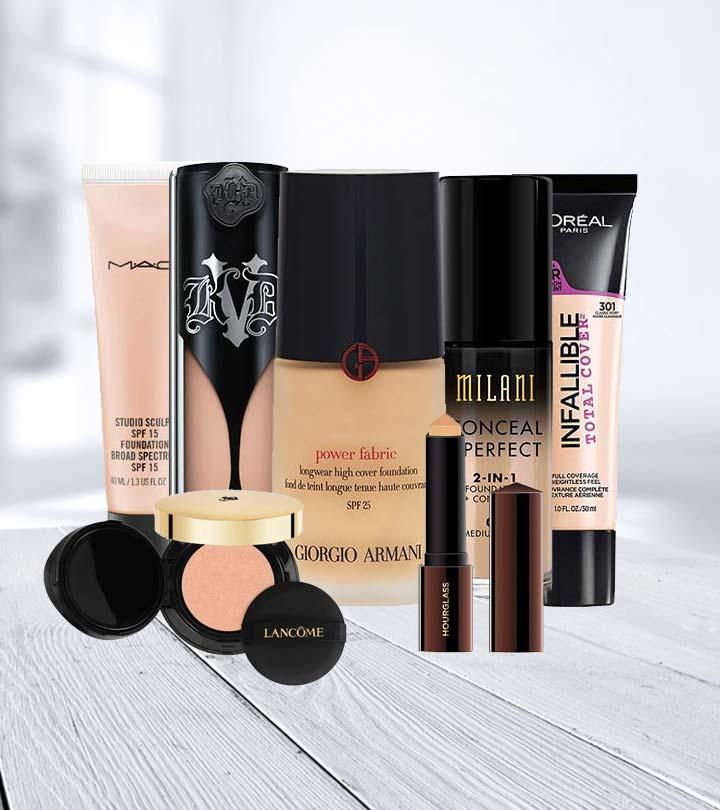 Some days call for a fuller coverage foundation – especially during times when you're battling acne, redness, scars, and everything in between. If you want something extra every now and then, it's time you pick out a full-coverage formula that still looks like skin. The main trick isn't to pile on thick layers; rather, building up coverage and blending it all out till you achieve a flawless finish.
Check out our favorite full-coverage foundations that will give you a dreamy base, and you'll still look like yourself.
15 Amazing Full Coverage Foundations That You Should Try
Pros
Easy to use
Does not feel cakey
Sets quickly
Long-wearing
Transfer proof and waterproof
Cons
Estee Lauder Double-Wear Stay-In-Place Makeup Review
If you're looking for a high-coverage foundation that's lightweight and blendable – Estee Lauder's Double Wear foundation is a fitting choice. This foundation comes in an elegant glass bottle with a screw-top gold cap. It has no pump, but you can purchase one separately to make it convenient for you. It stays on your skin without fading or smearing. So, you do need a good makeup remover to completely get rid of it. It does not feel heavy on your skin and contains an SPF of 10. Also, this foundation is suitable for sensitive skin as it does not cause breakouts.
It comes in a range of 15 shades, and with the variety of shades available, it's rather easy to find one that will suit your skin tone.
Pros
Easy to blend
Leaves you with a matte finish
Does not dry out your skin
Available in a wide range of shades
Good packaging
Cons
Fenty Beauty Pro Filt'r Soft Matte Longwear Foundation Review
Rihanna has left us impressed and has blessed the world with her amazing foundation that is incredibly easy to use. It comes in a fancy glass bottle with a pump dispenser, and a little goes a long way. It completely conceals problem areas that have pigmentation, acne scars, and redness – leaving your skin looking flawless. It works well for normal to combination skin and also for oily skin. If your skin is towards the drier side, you need to moisturize it well before you go in with this.
This foundation comes in 40 shades of pure goodness. It's got some great shades for dark skin tones as well.
Pros
Easy to use
Blends beautifully
Long-wearing
Does not require touch-ups
Great packaging
Cons
Not flash friendly unless you use a setting powder
Milani Conceal + Perfect 2-In-1 Foundation + Concealer Review
Milani's Conceal + Perfect Foundation is a full coverage and water-resistant foundation. It efficiently conceals redness and scars. The glass bottle comes with a very precise pump, and its formula is thick with a sweet Shea butter like scent. Its finish is neither too matte nor too dewy – rather, it's the perfect balance between the two. However, this foundation needs to be set with a setting powder as it feels slightly sticky on the skin. This foundation is great for normal to combination and also dry skin types.
It's available in 19 shades – from very fair to dark skin tones.
[ Read – Best Selling Milani Products For Women ]
Pros
Extremely full coverage
Does not settle into fine lines
Feels super comfortable to wear
Long-wearing
Good packaging
Cons
Huda Beauty #FauxFilter Foundation Review
This game-changing foundation has a cult following. If you're looking for something that is super pigmented and would make you want to skip the concealer, you need to try this – because boy, does this deliver! It blurs out blemishes, redness, and enlarged pores into oblivion and gives you that gorgeous, luminous glow.
It comes in 30 shades that cater to a seriously diverse range of skin tones, and they're all named after desserts!
Pros
Contains SPF 20
Oil-free
Non-acnegenic and non-comedogenic
Transfer-resistant
Photo-friendly full-coverage
Cons
Bare Minerals BarePro Performance Wear Liquid Foundation Review
If you are someone with problematic skin that is way too sensitive to take on a full-coverage foundation formula, this one by Bareminerals is an ideal choice. It blends like a dream and is very pigmented, providing high coverage and covering up redness, dark spots, and dark circles efficiently. A little goes a long way, and it does not feel heavy on your skin. This foundation is great for normal to combination and oily skin. However, if you have dry skin, make sure you thoroughly moisturize it to prevent your base from looking cakey and patchy.
It comes in a wide array of 30 shades to match every skin tone.
Pros
Long-staying
Does not crease or settle in fine lines
Keeps shine at bay
Leaves you with a matte finish
Easy to use
Cons
Even when lightly applied, this foundation looks like you're wearing makeup
Kat Von D Lock-It Foundation Review
Curious about Kat Von D's Lock-It Foundation? Well, this stuff provides exceptional coverage and stays on all day long without fading or budging. You need to moisturize well before application and blend it out fast as this stuff dries rather quickly. It's best suited for normal to combination skin types, but if you have dry skin, it's best to give this one a miss as it will definitely flake up and will further enhance dry areas. Oily skinned beauties will love this formula as it controls oil and keeps shine at bay.
It's available in 30 different shades and undertones so everyone can rock a flawless complexion.
Pros
Full-coverage and matte finish
Easy to use
Seamlessly blends into the skin
Long-wearing
Cons
Giorgio Armani Power Fabric Longwear High Cover Foundation SPF 25 Review
This luxurious foundation is Armani's newest formula, and it provides an immensely flattering second-skin like effect. If you're looking for a product that feels incredibly lightweight, this is one thing you've got to try. It covers redness, blemishes, and dark spots so you can easily skip on concealer. Also, when applied with a damp makeup sponge and a couple of spritzes of hydrating face mist, this will stay flawless and matte throughout your day.
This formula comes in 20 shades that mattify oily skin for a long-lasting, flawless finish.
Pros
Comfortable to wear
Paraben-free and cruelty-free
Waterproof
Mattifies and absorbs oil to reduce the appearance of shine
Cons
Urban Decay All Nighter Liquid Foundation Review
This foundation by Urban Decay comes in a sleek, edgy bottle and is extremely high-coverage. Its bottle is equipped with an airless pump, so this makes it easy to dispense every last bit of the product. It conceals dark spots, redness, and any kind of pigmentation with ease and you can go easy with the concealer when you have this on. It stays on all day long even when you sweat. It also does not look cakey or settle into pores and fine lines.
This foundation comes in a range of 24 shades to match all skin tones.
Pros
Lightweight
Blends easily
Long-wearing
Leaves you with an airbrushed finish
Cons
Not suitable for acne-prone skin
Boots No7 Stay Perfect Foundation Review
The No7 Foundation comes with an SPF 15 and offers medium to full-coverage. So if you're looking for a natural-looking finish, this is something that will work for you. It leaves you with a skin-like glowy finish and does not feel heavy on the skin. This foundation is also suitable for mature skin with wrinkles as it tends to blur them out well. It's suitable for all skin types, but if you have very oily skin, you can use a translucent powder to set your makeup.
It comes in 13 shades, ranging from fair to medium skin tones.

Pros
Highly-pigmented
Easy to blend
Long-wearing
Convenient packaging
Cons
MAC Studio Sculpt Foundation Review
The MAC Studio Sculpt Foundation is a creamy, gel-based foundation that provides high coverage accompanied with a natural satin finish. Its formula feels luxurious, and it instantly hydrates and revitalizes the skin for a soft, plush effect. It comes in a travel-friendly tube that dispenses the right amount of product – and a little goes a long way. The key to getting this foundation right is to really blend it out well to avoid that caked-on look. It also contains SPF 15 and is water-resistant.
This foundation is sold in 19 different shades to perfectly match your skin tone.
Pros
Easy to use
Very lightweight
Long-wearing
Leaves you with a matte finish
Cons
L'Oreal Paris Infallible Total Cover Foundation Review
L'Oreal's Infallible Total Cover Foundation comes in a travel-friendly tube, and its consistency is like that of thick paint. However, once you apply it and blend it out with a makeup sponge, it feels incredibly weightless. It covers redness, dark spots, and evens out your skin tone so beautifully. You won't be met with shine and foundation that's settled into your pores midday. This is one of the best drugstore, full-coverage foundations out there.
It comes in 12 shades for different skin tones and undertones.
Pros
Long-wearing
Highly pigmented
Contains SPF 30
Non-comedogenic, non-acnegenic, and fragrance-free
Cons
Dermablend Cover Creme SPF 30 Review
The Dermablend Cover Creme Foundation is so popular for its lightweight and effortless application that lasts all day long. It's the perfect camouflage cream, and it takes full coverage to a whole new level. It effectively conceals various degrees of hyperpigmentation, tattoos, a whole bunch of post-operative concerns, and vitiligo. The product comes in a jar, and it looks like butter. It comes with a tiny spatula that you can use to lift the product from the jar, and a little goes a long, long way. This one's not recommended for daily wear as it's considered to be really heavy makeup.
It comes in 20 different shades for you to choose from.
Pros
Oil-free
Lightweight
Contains SPF 50
Hydrates and mattifies
Cons
Lancome Teint Idole Ultra Longwear Cushion Foundation SPF 20 Review
With its patented Polar Cushion Technology, this foundation is tailormade for long wear and high coverage. It comes with a touch-activated filter that dispenses the perfect amount of formula with each application. It has a cooling effect on application and feels minty and refreshing. It does a great job of evening out your skin tone and covering acne scars and redness without looking cakey. In fact, if you want a 'barely-there' makeup look, this foundation is a fitting option. It also feels light and comfortable on the skin and smells really good.
This cushion foundation is available in about 20 shades, designed for every skin tone and color.
Pros
Highly pigmented
Blends beautifully
Long-wearing
Photographs well
Cons
Clings onto dry patches and accentuates them
Hourglass Vanish Seamless Finish Foundation Stick Review
The Hourglass Vanish Seamless Finish Foundation Stick comes in a classy packaging and feels so premium to hold. It's easy to apply, and it blends like a dream. This foundation does not feel greasy or heavy on your skin and holds up well through the day. It does not crease or fade and does not require touch-ups. It's most suited for normal to combination and oily skin type. But even if you have dry skin, a heavy moisturizer can prevent flakiness and leave you with a smooth, flawless finish.
It comes in a wide variety of 32 shades, ranging from fair to dark.
Pros
Easy to apply
Long-wearing
Blends well
Suitable for sensitive skin
Cons
Clinique Beyond Perfecting Foundation + Concealer Review
This foundation from Clinique is a must-try, especially for those of you with problematic skin. Its formula uses 'Intelligent Serum', which adapts to your skin needs selectively – it moisturizes dry or patchy areas and mattifies areas with excess oil. It's also fragrance-free, and it does not cause your skin to breakout. The formula feels very comfortable on the skin and is not drying at all. The lasting power is great, and it can survive hot days with much ease.
It's available in a range of 20 shades, ranging from very light to dark.
*Subject to Availability
Quick Tips: How To Choose And Apply Full-Coverage Foundation Like A Pro
Now that you're acquainted with which foundations you could unquestionably consider while picking out a full-coverage foundation, here's a guide to choosing the right formula for you to achieve that non-cakey, flawless coverage we all desire.
Consider What Your Skin Needs
It's important to pick a formula that suits your skin type. Foundations are specially formulated for different skin types. For instance, if you're trying to cover red pigmentation, a creme-to-powder foundation works beautifully. It also prevents shine. Liquid or cream-based foundations are great for normal to dry skin. Stick foundations are best for normal to oily skin.
SPF For The Win!
Make sure you do your research before choosing a brand because not all high-coverage foundations include SPF. It's so essential to prevent premature skin aging, and your older self will thank you for it!
It's All In The Prep
This is perhaps the most important factor to keep in mind when you're going in for a full-coverage look – it's all in the prep! You need to hydrate your skin so well that it does not have a chance of looking flakey, cakey or dry. You can either use a face oil or a heavy moisturizer underneath, instead of a light one.
Problem Skin?
If you tend to break out often, it's always best to use an oil-free foundation that works well for sensitive skin. If your skin is on the drier side, try an oil-based formula.
Follow An Order
Apply your base makeup in the right order – color correction, foundation, and concealer – this is how it goes.
Pick Out The Right Shade, Always
When choosing a shade, the best thing to do is to choose a color that's as close to your skin tone as possible. If not that, you can maybe go one shade warmer. If you're still in doubt, try taking a daylight selfie to see if the color works for you.
The Way You Apply Matters
When applying your foundation, use a makeup sponge and start from the center of your face and work outwards a more natural finish. Also, blend your foundation seamlessly over your ears and neck.
Always apply foundation in good natural light – this will help ensure you walk out of your house with no telltale signs that you have makeup on and it will also help you check if you got the shade right.
Set your foundation with a luminous powder, so it helps you take down shine and keeps your makeup in place for longer hours.
A good foundation should unify your tone, but it shouldn't take away the individuality of your skin. Also, don't be afraid to try a high-coverage foundation – they are rather great for special occasions and photographs. Do you have a go-to full-coverage foundation? What factors do you consider before picking one? Let me know in the comments section below.
Recommended Articles
The following two tabs change content below.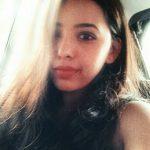 Latest posts by Esha Saxena (see all)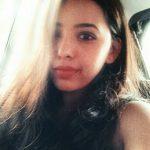 Esha Saxena
Esha Saxena is a writer, journalist, and a full-time wallflower. She holds a Master's degree in Media and Mass Communication and firmly believes that makeup is nothing less than art. Combining her love for writing with her passion for makeup, she brings to you reviews, techniques, and her ever-growing knowledge on this form of art. In her spare time, she loves reading, listening to obscure indie bands, and writing poetry – all of this while being a crazy dog lady.