13 Best High-Impact Sports Bras With Support For Any Workout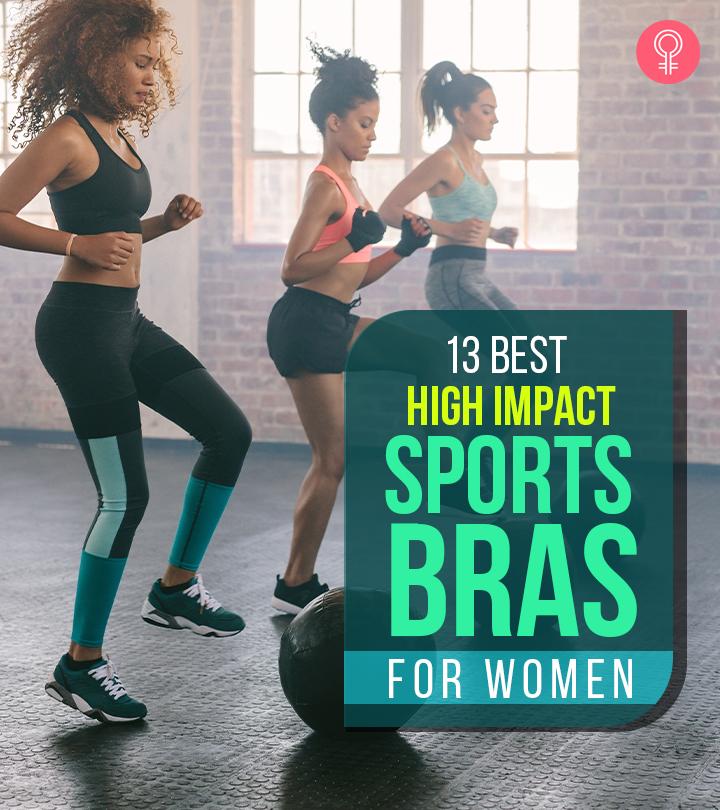 Sports bras have come a long way since they were invented. But, if you are someone who feels conscious about their bouncing breasts while working out, this article is for you. In this article, we present the best high-impact sports bras available online to level up your bra game while working out.
A sports bra is a wardrobe staple, especially for gym enthusiasts or sportspersons. Having a high-impact sports bra is beneficial in many ways as it helps you with maximum support, offers complete coverage, provides optimal bounce control, and sports adjustable bands along with a compressive design. If all these features interest you, check out our list of the 13 best high-impact sports bras on the market. Keep scrolling!
13 Best High Impact Sports Bras
The high-impact Mirity Women Racerback Sports Bras offer good support during intense workout routines. These pullover-style, racerback bras are designed with ventilation panels and wide shoulder straps. The elasticated hem and removable pads offer additional bounce control. The fabric is made of 92% nylon and 8% spandex and keeps you cool and comfortable. The seamless design and high coverage in front make these bras perfect for the plank pose.
Pros
Moisture-wicking
Stretchable hem
Prevents uniboob
Prevents spillage
Soft material
Non-shrinkable
Removable cups
Cons
If you are looking for double-layer protection, pick up this bra from Syrokan. This lightly padded sports bra with ventilating mesh panels shapes and supports your bust and controls bounce. The elastic, anti-skid underband supports medium to high-impact activities, and the racerback ensures stability and movement. The fabric is made of 72% polyamide and 28% spandex to wick moisture and keep you cool. This bra is suitable for boxing, training, weightlifting, hurdles, running, and stretching.
Pros
Bounce control
Breathable fabric
Wire-free
Comfortable racerback straps
Moisture-wicking
Anti-skid elastic underband
Cons
The last thing you would want to do after an intense workout is wrestle out of your sweaty sports bra. The Cordaw Zip-Front Sports Bra has a handy zip in the front, making your life easier. The crisscross back and wide shoulder straps support your bust while minimizing pressure on the shoulders. The double-layered, stretchy fabric covers your breasts, giving you a luxurious feel. The detachable pads and flat seams prevent your nips from showing.
Pros
Easy to wear and remove
Comfortable fit
Stretchy material
Detachable pads
Moisture-wicking fabric
Comes with money back guarantee
Cons
The high-impact sports bra from CRZ Yoga with a convertible racerback is made of soft, breathable, and sweat-wicking fabric. Its wide back with a hook-and-eye closure system allows for a customized fit.
The mesh panels facilitate quick drying, while the crisscross design at the back protects against shock and control bounce. The wire-free cups with detachable pads provide excellent support without digging into your skin. This bra is perfect for yoga, Pilates, running, and gym workouts.
Pros
Detachable pads
Adjustable back design
Breathable
Sweat-wicking
Cons
This sports bra from Under Armour offers strategic support to your bust while you are engaged in high-impact sports. The fabric is made of 10% elastane, 32% polyester, and 58% cotton and is soft, breathable, and moisture-wicking. Due to its bandeau-inspired design with removable cups and an open back with crisscross straps, this bra doubles up as a trendy tank top and can be paired with skirts or jeans. The zip in the front adds to the style element while making it easier for you to the bralette on and take it off post exercise.
Pros
Excellent support
Comfortable
Removable cups
Good coverage
Wide, adjustable straps
Mesh lining
Streamlined fit
Cons
Flimsy zipper
Stiff material
The Ewedoos High Impact Sports Bra with a racerback design promises maximum stability for high-impact activities. Its superior design allows free movement and provides the perfect shape for your body. The hook-eye closure system gives it a customized fit and makes it easy to wear, while the soft, wide straps don't dig into your shoulders, helping you focus on your performance. The bra also has a keyhole mesh that offers breathability and comfort, making it a favorite among runners.
Pros
Budget-friendly
Lightweight
Moisture-wicking fabric
Hook and eye closure
Comfortable
Good support
Cons
Seam rubs against the skin
Difficult to clasp
Looking for support and stability from your sports bra? Look no further. The Enell High Impact Sports Bra provides maximum support and is exclusively meant for women above C cups. It has a hook and eye closure system in the front, making it easy to put on and take off. It is also wire-free and provides excellent comfort.
This high impact sports bra is designed with a wide flexible band and a movement control neckline to prevent up and down movement. The cross-strap design enhances your posture and provides back support. It is made of high-quality lycra-spandex material that wicks moisture and keeps your body cool.
Pros
Front hooks
Comfortable
Wire-free
Back support
Moisture-wicking fabric
Color options
Cons
Difficult to fasten hooks
Innovation and technology make the Reebok Women's Puremove Sports Bra a smart workout companion. The smart Motion Sense Technology enables the bra to respond to your movements, offering maximum control and support. When you switch from a low-intensity workout to a high-intensity workout, it adjusts itself, ensuring less bounce. With breathable perforations in the front and free-cut edges, it is airy with a bare minimum feel. This bra does not have clasps, hooks, or underwires and is ideal for high-intensity workouts, especially running and training.
Pros
Sweat-wicking
Comfortable
Good compression
Motion sense technology
No fancy clasps or hooks
Cons
Does sweat make you uncomfortable during your workout? No worries! The Ardunzz Sports Bra is made of sweat-wicking fabric that keeps you cool and sweat-free post-workouts. It comes with detachable pads and a strappy design that gives it a fashionable appeal. The wide elastic band under the breasts ensures security, while the pads provide shape. This high impact sports bra is made of 80% nylon and 20% spandex, which make it stretchy. The crisscross design at the back adds style. This bra is perfect for running, working out, yoga, and daily wear. It can be worn under a workout shirt or a regular shirt.
Pros
Soft
Sweat-wicking
Detachable pads
Great support
Stretchy
Stylish design
Cons
The Heathyoga High Impact Sports Bras are soft, stretchy, and opaque. The racerback design ensures ventilation, and the sweat-wicking material controls heat and moisture. Its breathable mesh layer and removable cup pads support you during workouts. The textured panels and wide shoulder straps hold everything in place and conceal the extra fat, giving your body the desired shape. This gorgeous bra is a perfect choice for yoga, Pilates, running, and workouts and can be worn under your exercise shirt or a regular shirt.
Pros
Breathable
4-way stretch
Wire-free
Sweat-wicking
Comfortable fit
Cons
The CW-X Xtra Support High Impact Sports Bra introduces mesh webbing technology that controls bounce and provides excellent support. The racerback design with an adjustable clasp makes it popular among gym enthusiasts. The intense compression-aided design and the elastic band hem give you a customized fit. This sports bra is made of breathable, moisture-wicking material. It is seamless and minimizes irritation and chafing. The hook and eye closure system makes it easy to wear and take off, while the EXO stretch fabric helps in mobility.
Pros
High compression
Wide back
Snug fit
Breathable
Seamless
Chafing-free
Cons
Difficult to close the hooks
The New Balance Women's Power High Impact Bra offers commendable stability and support needed during high-impact workouts like running, cardio, sports, and high-intensity training. The encapsulation and compression support ensure minimum movement, while the cup pads provide support and shape.
The convenient hook and eye closure system, gel-containing straps, and racerback design promise a comfortable fit. The power mesh lining ensures breathability and makes you feel dry even when you are sweating. This bra has a bottom elastic band and a stable center frame to help you work out with confidence.
Pros
Hook and eye closure
Mesh lining
Comfortable fit
Breathable
Cons
Difficult to clasp the hook
The Running Girl Sports Bra is meant to provide support for high-impact activities like running, jumping, and workouts. The molded cups and stretchable straps ensure a perfect fit, while the minimalistic feel fabric keeps you cool by allowing air circulation. This bra is made from 4-way stretch fabric that ensures mobility in all directions while keeping everything in place and offering complete coverage and support. With its beautiful cup line and open cut-out design at the back, this stylish bra is a hot favorite among fitness freaks.
Pros
Good support
Breathable
Full coverage
Stylish design
Moisture-wicking
Comfortable
Cons
Straps are not adjustable.
There are some important factors you need to look for, depending on your build and requirement, while buying a high impact sports bra. Check them out below!
What To Look For In A High Impact Sports Bra
Support: Encapsulation and compression are the keywords when it comes to a high-impact sports bra. While the former keeps the breasts separate in the molded cups, the latter limits their movement, keeping them in place.
Comfort: A comfortable bra is one made from soft, stretchy, moisture-wicking fabric. It should offer a snug fit and have a minimalistic feel design.
Adjustability: Look for flexible straps, an elastic bottom band, and a hook and eye closure system. This helps offer a customized fit.
Trendy Design: Although fitness is your priority while working out in public places, you do want to look good. A stylish, well-designed sports bra will improve your confidence and enhance your performance.
Why Trust StyleCraze?
Baishali Bhattacharya is a certified image consultant and loves to keep up with the latest trends and styles. According to her, high-impact sports bras will boost your confidence and help you reach your fitness goals without worrying about saggy breasts. She assembled a comprehensive and detailed list of the best products after conducting an extensive analysis of every product review. These bras will help you focus on your workout routine since they are comfortable and keep everything in place.
Frequently Asked Questions
What is the difference between low impact and high impact sports bras?
Low impact sports bras are meant for less strenuous activities like stretching or yoga, while high impact sports bras are designed for more intense workouts.
When should you wear a high impact sports bra?
High impact sports bras are ideal for running, court sports, and any intense cardio workout session where there is a bounce in every step. They focus on functionality and control the bust movement without letting your performance suffer.
Recommended Articles