30 Best Gifts For High School Graduates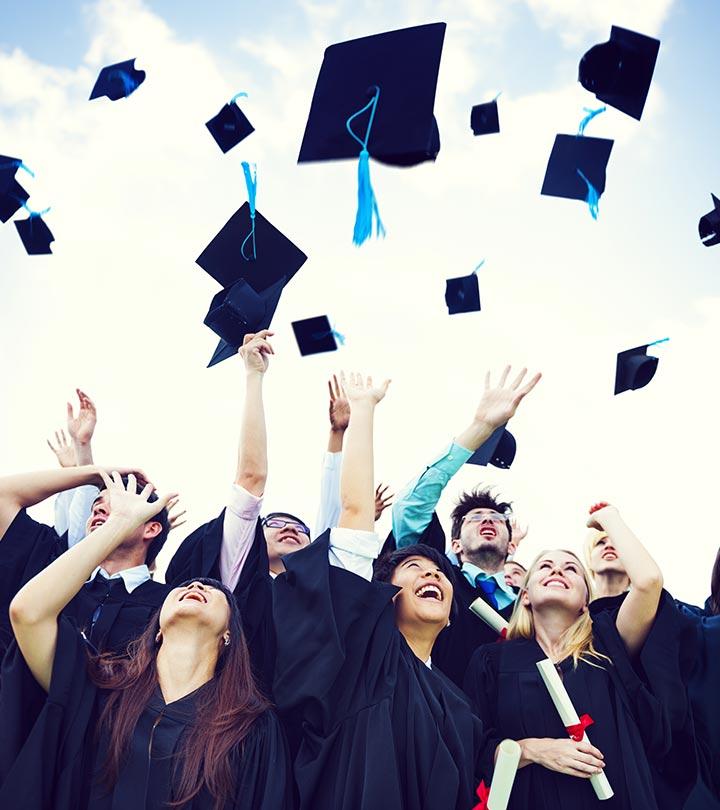 Graduation is not always easy. There are several sleepless nights of study, homework, and assignments. Your favorite high school graduate could be heading to college, a university, or even starting a career. What best way to make this transition smooth than a nice, well-thought-out gift!
We have compiled the best gifts for graduation students. These keepsakes will make up for their effort and sacrifices. Take a peek!
30 Best Gifts For High School Graduates
1. COWIN E7 Active Noise Cancelling Bluetooth Headphones
The COWIN E7 Active Noise Cancelling Bluetooth Headphones have an in-built microphone that allows hands-free calls. It is lightweight and offers comfort for long-time listening. Its professional active noise canceling technology enables one to listen to music without any disturbance from the outside world. The protein earpads have 90o swiveling ear cups for better comfort. Each charge offers 30 hours of playtime.
Key Features
Uninterrupted playtime of 30 hours
Advanced noise cancellation
Built-in microphone
NFC technology for high quality bluetooth connection
600mAH battery
2. TaoTronics LED Desk Lamp
The TaoTronics LED Desk Lamp is suitable for students who want to read in a personal space without disturbing the whole room. It is specifically designed for a perfect spotlight with adjustable tilts and turns. Its flicker-free lighting is gentle on the eyes. The lamp is energy efficient; it can reduce energy consumption by up to 75%.
Key Features
5 color modes and 7 brightness levels
USB charging port for charging phones
Touch sensor control system
12 month warranty
3. Olympia 8 Pocket Rolling Duffel Bag
The Olympia 8 Pocket Rolling Duffel Bag makes one's travel easy and comfortable with rolling metallic skate wheels that have metal ball bearings. It also has a hidden, push-button retractable handle. It is made of 100% polyester and has a zip closure. It has eight convenient pockets for maximum packing.
Key Features
Made of supreme protecflon polyester
8 different pockets for organized packing
Complete zip closure
4. Bambusi Cheese Board And Knife Set
The Bambusi Cheese Board And Knife Set would be the ideal gift for students who want to spend their downtime cooking. It is made of 100% bamboo. It has a non-porous surface that doesn't stain or absorb odors. The set includes handy cutting knives made of high quality stainless steel.
Key Features
100% bamboo
The product is BPA-free
Comes with durable stainless steel knives
Hidden drawer that slides out of the cheese board
5. Gift Card In A Graduation Cap Box
This gift card could be the ideal option when you are unsure of what to gift. The card can be redeemed against millions of items on Amazon. It has no expiration date. This is a pocket-friendly gift; the minimum amount on the gift card is $25.
Key Features
Pocket-friendly
Free one-day delivery in certain locations
No expiration date
Easy redemption through mobile phone
6. Pioneer Photo Album
The Pioneer Photo Album can be a collection of all the warm memories from the high school graduation day. The album can hold 200 photos. It comes with a memo writing area where one can scribble their thoughts. It also has a printed chalkboard cover. The material is free of lignin and PVC.
Key Features
200 photos
Chalk board print cover
Photo size of 4" by 6"
Memo writing area
Lignin-free
PVC-free
7. Sofa Sack Bean Bag
The Sofa Sack Bean Bag is lightweight and double stitched for strength. It is designed for multipurpose usage, including sitting, playing, and sleeping. It is made of memory foam, contains no beans, and is encased in velvet.
Key Features
Beanless
Made of memory foam
Designed for durability
Velvet seat cover for super soft and cozy experience
Lightweight and mobile
8. CASOFU Burritos Blanket
The Casofu Burritos Blanket is made of high-quality flannel fabric. It has eco-friendly dyes that don't harm the skin. It can be used as a sofa blanket, travel blanket, camping blanket, or even a bed blanket. The blanket measures 71 inches in diameter. It can also be used as a carpet at home or in a picnic or park.
Key Features
71-inch diameter
280 grams of high quality flannel fabric
Machine wash for easy clean
Eco-friendly dyes
9. Make Your Bed: 10 Life Lessons From A Navy Seal (Book)
Make Your Bed is a New York Times bestseller. It was written by William H. McRaven, a retired Navy Seal. The book talks about the 10 principles the man had learned during his distinguished career. It helps young graduates stay prepared for the challenging life ahead.
Key Features
New York Times Bestseller
119 pages thick
Available in Kindle and as a hard copy
10. Cartman 39-Piece Tool Set
The Cartman 39-Piece Tool Set contains the necessary tools required for a small project or the regular repair and maintenance. Fixing the little issues around the home could be one way for the graduate to step out of their comfort zone. The tools are heat-treated and chrome-plated to make them resistant to corrosion. They come in a mailbox for better protection. The tools meet the ANSI critical standards.
Key Features
39 different tools, including measuring tape, claw hammer, and slip joint pliers
Meet the ANSI critical standards
Heat-treated
Chrome-plated
Corrosion-resistant
11. VIKTOR JURGEN Neck Massage Pillow
The Viktor Jurgen Neck Massage Pillow has a heat function that soothes aching muscles. It releases stress with its massage. This is an inexpensive gift for high school graduates to relax after a long day. The pillow is ergonomically designed and fits right behind the neck. This can be used while traveling in the car or sitting at home.
Key Features
Ergonomically designed
3D multi-direction rotating balls deeply penetrate your tissues and muscles
AC adapter and car adapter
Adjustable hand strap and easy to use control chords
12. Home Hero Kitchen Utensil Set
The Home Hero Kitchen Utensil Set consists of 23 nylon cooking utensils. The utensils are made of stainless steel. The nylon heads keep them from scratching other utensils you may use them in.
Key Features
23 cooking utensils
Nylon heads protects damage to non-stick pots
Stainless steel
Money back guarantee
13. Ann Arbor Funny School Humor T-Shirt
This T-shirt is made with 90% USA-grown cotton and is a 30/1 fine jersey knit. The inks used for the design are crack-resistant and phthalate-free. They also are free of CFCs and carcinogens.
Key Features
Unisex modern fit T-shirt
90% USA-grown cotton
Crack-resistant and phthalate-free ink
CFC-free
Carcinogen-free
14. MOSISO Water Repellent Neoprene Sleeve Bag
The Mosiso Water Repellent Neoprene Sleeve Bag comes with an additional pouch of the same color. It has a neoprene foam padding layer and a fleece fabric lining for bump and shock absorption. It also can protect the laptop from accidental scratches. The bag is slim and lightweight.
Key Features
Available in different colors
Internal dimensions: 13.58 x 0.79 x 9.64 inches (L x W x H); external dimensions: 13.97 x 0.79 x 10.04 inches (L x W x H).
Neoprene foam padding layer saves from bumps
Additional pouch that can store ear phones, mouse, etc.
15. Jersey Slumber Sleep Mask
The Jersey Slumber Sleep Mask is made of 100% silk that relaxes your eyes and enhances your sleep quality. The silk is naturally breathable and soothing for your skin. It comes with an adjustable strap that is pain-free. It does not move or fall away while you are asleep.
Key Features
Lightweight
Hypoallergenic
100% silk
Adjustable elastic strap
Blocks light penetration
16. Onebttl Graduation Cap Mug
The Onebttl Graduation Cap Mug is made of lead-free non-toxic porcelain. It has a print of the graduation rope that is scratch-resistant. It is safe for use in the microwave, freezer, and dishwasher.
Key Features
Lead-free
Non-toxic
Scratch-resistant print
Safe to be used in microwave, freezer, and dishwasher
17. Jumway Ceramic Mug
The Jumway Ceramic Mug has a perfect golden print on a pink coffee mug with an affirmative line for the girl. This gift set is a combination of a mug, a cup lid, and a golden spoon. The mug is dishwasher safe, but is not to be used in the microwave oven.
Key Features
Silk interior
Dishwasher-safe
Handmade
18. Battery Tender Automatic Battery Charger
This battery charger is perfect for charging all 12-volt lead-acid batteries. It has a 4-step charging program that optimizes battery power without overcharging. After charging the battery, the charger automatically switches to float mode (automatic charge cycle functionality). It has a two-color LED that indicates the stage of charging. It has unique black and green designs and a long cord.
Key Features
Black and green color
12 volts
5 year warranty
LED indicators
Optimizes battery power
Automatic charge cycle functionality
19. Filimin Friendship Lamp Set
The Filimin Friendship Lamp Set can light hundreds of colors with a single touch. One lamp in the set changes its color as and when someone elsewhere touches the other. This depicts the bond and relationship of two friends. The LED in the lamps lasts up to 40,000 hours.
Key Features
A set of 2 lamps
Can connect to more than 2 lamps
100 different color lights
LED lasts for 40,000 hours
20. J Devlin Glass Jewelry Box
The J Devlin Glass Jewelry Box helps you organize your earrings or bracelets. The box comes with a personalized typing engraved on it. The glass box has metal rims stained with antique charcoal and wax. It is easy to maintain and can be polished with a soft dry cloth.
Key Features
Lifetime keepsake
3 line typing
Glass jewelry box
Lead-free
21. Willow Tree Sculpted Hand-Painted Figure
Artist Susan Lordi's Willow Tree Sculpted Hand-Painted Figure is hand carved, each with different emotions of hope, love, and healing. This sculpture holds a book, symbolizing accomplishment. It is a perfect figure for the study table.
Key Features
Comes with an enclosed card
Hand-painted
Hand-carved
Easy maintenance
22. FLYMEI Lightweight Canvas 3 In 1 Backpack
The FLYMEI Lightweight Canvas 3 In 1 Backpack is made of lightweight canvas and has a polyester lining. It comes with a sturdy stitching and firm straps. The set includes a book bag, shoulder bag, and a pencil case of the same design and color.
Key Features
3-in-1 black backpack
Lightweight canvas with polyester lining
Adjustable strap provides comfort
Water-resistant
Machine wash
23. SZAT PRO Sand Timer Mini Hourglass
The SZAT PRO Sand Timer Mini Hourglass is made of crystal glass. It works as an exquisite decoration. It is perfect to be used as a carefree timer. The sand timer comes wrapped in a beautiful gift box.
Key Features
Unique shape
Body made of crystal
Best for home décor
Comes in a gift pack
24. LYMFHCH Black Pocket Watch
The LYMFHCH Black Pocket Watch is a vintage style watch with personalized words engraved on top. It is made of premium zinc allow metal. The watch has a batter life of over 24 months.
Key Features
Premium zinc alloy
Black dial
Analog
4.5 mm diameter
24-month battery life
25. YETI Stainless Steel Vacuum Insulated Tumbler
The YETI Stainless Steel Vacuum Insulated Tumbler comes with a MagSlider lid. It uses the power of magnets to keep your drink from spilling. The tumbler is BPA-free, and its No Sweat design ensure your hands stay dry. The tumbler's exterior is coated with DuraCoat that offers additional grip. Its 18/8 stainless steel body helps maintain the original temperature of your drink.
Key Features
MagSlider lid
BPA-free
No sweat design
Dishwasher-safe
Stainless steel
26. Knock Knock Gift Journal
The Knock Knock Gift Journal is a place to pour out emotions in words by appreciating the people in one's life. The book contains fill-in-the-blank lines that describe some aspect of the affection they have for their loved ones. The pages have simple prompts that make it easy for you to express yourself.
Key Features
Pocket-friendly
Removable plastic jacket
112 pages
Dimensions of the book: 4.5 x 3.25 inches
27. KROSER Laptop Backpack
This is a spacious steel framed compartment for laptops and tablets. It has open pockets that can hold water bottles and other items. The multiple compartments help keep items organized. It is a lightweight knitted bag that is suitable for both boys and girls. The reinforced edges of the backpack make it durable.
Key Features
Made of nylon and PU leather
Water-repellent
Built-in USB port for charging (does not includes a charger)
Shoulder strap and leather handles
Durable
28. COSORI Electric Kettle
The COSORI Electric Kettle is made of high quality borosilicate glass that resists scratching. It has British STRIX thermostat technology. It shuts off automatically 30 seconds after water starts boiling. The quick boil feature heats water in less than 3 to 7 minutes. The inner lid is made of stainless steel. Its wide mouth makes cleaning easy.
Key Features
STRIX thermostat technology
Quick boil feature
Borosilicate glass
LED indicator light
100% stainless steel
Easy to clean
Auto shut-off
FDA-compliant
29. Polaroid Wireless Mobile Photo Mini Printer
The Polaroid Wireless Mobile Photo Mini Printer has the zero ink printing technology that eliminates the need for ink or films. One just needs to connect the device to their smartphone or tablet (via Wi-Fi) to transform their digital images into physical pictures in no time (in less than 60 seconds). The paper prints are water-resistant, tear-resistant, and smudge-proof. The printer is fast and easy to operate. It is portable and is perfect for bloggers, travelers, etc.
Key Features
Zero ink printing technology
Prints in less than 60 seconds
Prints are water-resistant, tear-resistant, and smudge-proof
Portable and compact
Compatible with iOS and Android
The print is Zink Zero Ink
30. Lavemi Women's RFID Blocking Leather Clutch
The Lavemi Women's RFID Blocking Leather Clutch is made of top grain leather with a wax finish. It is equipped with a unique proprietary blocking material that blocks RFID signals from unauthorized scans. The clutch has 17 card slots, one ID card window, three currency pockets, one zipper pocket for change, and a pen loop. It also comes with a wristlet strap. This could be the best present for a high school graduate daughter. It will help her manage her cash and cards, her phone, along with a small notepad and a pen.
Key Features
100% real leather
Unique proprietary blocking material
Zip around closure
Easy to carry with the wristlet strap
Comes in a gift box packing
The best part is graduation gifts do not always have to be expensive. There is something available for every budget. Pick what you think suits your loved one the best, and they will remember it for a long time to come. We promise you will be in their memories!