15 Best High-Waisted Leggings For Gym And Home Workouts – 2022
Your workout companion, perfect for performing all sorts of physical exercises!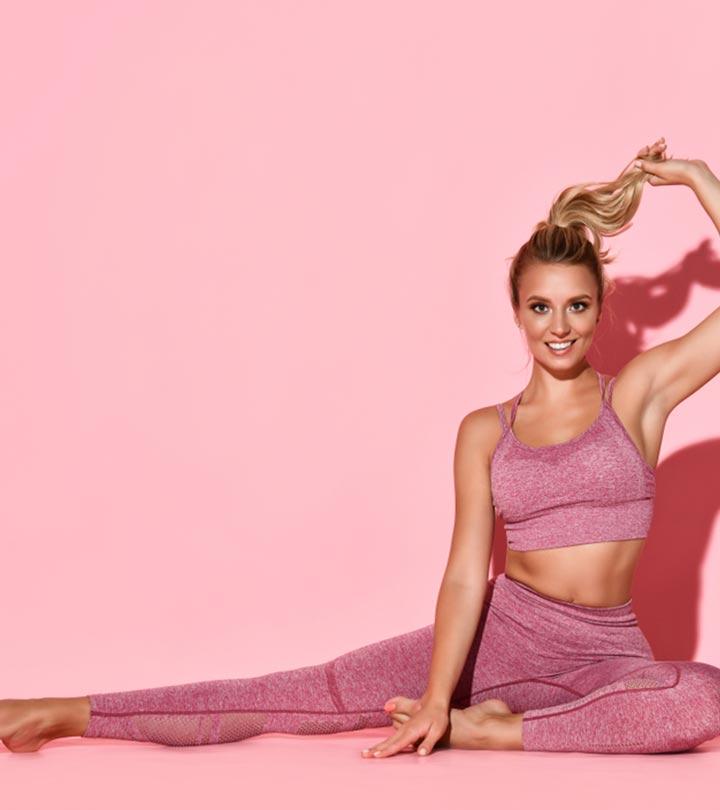 There is something about wearing the best high-waisted leggings that can make your look trendy no matter what you team it with. There are a number of reasons why we think these leggings are even better than sweatpants! For starters, they make sure your body shape is flaunted. The high waist takes care of confining the bulging tummy part, and the breathable material makes sure you can wear it all day without having rashes on your thighs. These also have pockets and are squat proof! What more could we want from an outfit that looks so gorgeous!
So, are you ready to own the pants that you can be comfortable in at home, yoga classes, dance club, and even office! If you are not sure about what to buy that will be of prime quality and long-lasting, we are here to help you choose the best. Here are 15 leggings to pick from that deserve a place in your wardrobe.
15 Best High-Waisted Leggings That Are Too Comfy To Be Missed!
It's comfortable, flattering, and opaque! Just how every woman would want their high-rise leggings to be. Satina High Waisted Leggings are made of spandex and buttery-soft peach-skin material that'll hug your waist for a seamless and flattering appearance. High-waisted to prevent muffin tops and unwanted rolls, the leggings offer a balance of comfort and support to make movements easy in them. Also, they look classy no matter what you pair them with, making them great for leisure, travel, and everyday wear.
Pros
No sagging
Machine washable
Stretchy fabric
Available in multiple sizes, colors, and patterns
Cons
Seams may be fragile
Not suitable for strenuous workouts
Be it yoga or strenuous workouts; these no-show high-waisted workout leggings promise the benefit of fashion and function in one! Stylish enough for you to gram your yoga selfies in, they are made of four-way stretch material, are seamless, and have a gusset crotch area for an ultra-comfortable experience. Made of touchable-soft and buttery material that won't irritate your skin, this activewear capri is breathable and has interlock seams for easy movement. Also, there are pockets! A hidden pocket to store keys, money, and other small essentials and a side pocket to hold your cell phone.
Pros
Squat-proof
Non-chafing
Elastic closure
Moisture-wicking
Opaque material
Machine washable
Cons
May not be ideal if you need plus size
Stretch like there's no tomorrow in these non-see-through, seamless, and comfortable yoga pants! With a form-fitting design, seamless waistband, and V-contour on the rear, you can wear these 7/8 length athleisure wear for yoga, leisure, or simply flattering your curves (because why not?). The leggings are made of a buttery-soft blend of spandex and polyester that won't irritate your skin, and they are opaque and squat-proof, so you can perform all your yoga moves carefree. Also, they prevent unwanted rolls and muffin tops and have side pockets for holding essentials.
Pros
Non-chafing
Brushed finish
Moisture-wicking
Ultra-comfortable
Flatlock construction
Available in trendy colors
Cons
May roll down during strenuous workouts
Tummy in, confidence out! These tummy-control high-waisted elastic leggings guarantee no muffin tops or unwanted rolls whatsoever. Designed with a broad waistband for optimal coverage, they will not roll or slip while stretching, bending, or other strenuous movements. Available in classy patterns and colors, the polyester-spandex material stretches four ways for maximum comfort and protection. Suitable for workouts, yoga, running, cycling, and other outdoor activities, the flatlock construction also minimizes chafing.
Pros
Rear lift
Squat-proof
Brushed finish
Elastic closure
Deep side pockets
Cons
Do you tend to sweat a lot while working out? If yes, then these high-waisted leggings will be a blessing in disguise! Made of breathable and moisture-wicking fabric, they'll keep you dry and comfortable throughout the day. The polyester-spandex blend is also four-way stretchable and has interlock seams for optimal comfort while you bend and stretch. And did you notice the chic pattern? Available in umpteen colors and patterns for you to choose from, these leggings also provide tummy control and have a gusset crotch for easy movements while working out.
Pros
Skin-friendly
Non-chafing
Elastic closure
Opaque material
Deep side pockets
Optimal waist coverage
Cons
May not be machine washable
These no-see-through tummy control leggings will make you fall in love with your curves. With a streamlined and flattering design to accentuate your curves, the leggings have a broad, high, and seamless waistband that won't dig into your skin. Also, no muffin tops! Wear it for leisure or workout in them; the material is touchable-soft, stretchable, and made of high-quality polyester-spandex blend. It also has a gusset crotch area for free movement. A great combination of compression, stretching, and support, add these curve-friendly athleisure wear to your workout arsenal today.
Pros
Squat-proof
Lightweight
Breathable
3 deep pockets
Available in 18 different colors and patterns
Cons
Multiple machine washes can be hard on the fabric and can loosen the seams in the long run! This is why this set of 3 leggings is ideal for active souls. Designed to stand all the stretches and strenuous movements, these leggings have interlock seams for comfort wear. Hugging your waist like a second skin and providing tummy control, the material is polyester-spandex that is ultra-soft and skin-friendly. And the best part— the streamlined design will contour, compress, and support your waist for a flattering look. Try it!
Pros
Lightweight
Non-see-through
Machine washable
Ultra-stretch material
Available in plus sizes
Cons
Your activewear cannot get trendier than this! High on function and designed for the fashionistas, these ripped leggings will be a glam addition to your gym arsenal. With the ripped design offering high breathability and flexibility, the polyester-spandex material is also moisture-wicking and 4-way stretchable. High-quality stretch-knit and non-see-through, they provide seamless rear and tummy coverage too.
Pros
Anti-slip
Ultra-soft
Will not ride up
Machine-washable
Available in plus sizes
Cons
Some may find it too thin
These workout-friendly leggings will make you a fan of their super-stretchy, compressing, and squat-proof design. Made of high-quality polyester-spandex material, you'll never feel discomfort or sweaty while working out in these. Just what you need in summer to stay dry and comfortable during your active hours, these leggings also have a gusset crotch area for free movement during strenuous workouts. And as for the high, broad, and seamless waistband, it'll conceal the cellulite and accentuate your curves beautifully.
Pros
Buttery-soft
Streamlined design
4-way stretch material
Hidden waistband pocket
Available in vibrant colors and plus sizes
Cons
May not be VPL-proof (Visible Panty Lines)
If comfort is a priority to you, these high-waisted leggings by Yogalicious will not disappoint. Made of high-quality polyester and spandex, they are a fantastic choice for those who are looking for optimal comfort and tummy coverage. It has a gusset crotch area for easy movement during yoga and working out and a broad and high seamless waistband to prevent muffin tops. A 4-way stretchable fabric that'll accentuate your curves and fit like a second skin, you can switch your stuffy sweatpants with these breathable and ultra-soft leggings.
Pros
Squat-proof
Lightweight
Inter-linked fabric
Machine washable
Tummy-taming design
Available in plus sizes
Cons
Some may find it too thin
The ultra-soft material of these leggings will make you want to stay in them forever. With an elastic closure to hug your waist comfortably, the material is light, moisture-wicking but also non-see-through and squat-proof to provide both comfort and protection. Made of polyester-spandex material using 4-way stretch technology, you can perform your yoga poses without worrying about ripping. The wide waistband also ensures tummy control and will flatter your figure beautifully. Shapewear slash athleisure wear, anyone?
Pros
High-quality
Skin-friendly
Non-chafing
3 functional pockets
Maximum rear coverage
Available in multiple patterns and colors
Cons
May not conceal cellulite
Not suitable if you are on the heavier side
What makes these leggings unique? Its high-functional seamless feature! With a powerful compression for tummy control, the material is surprisingly soft and will not dig into your skin. Made of nylon, polyester, and spandex and with mesh jacquard on both sides for high breathability, these seamless high-waisted leggings will make those sweaty workouts comfortable and non-stuffy for your skin. Also, no camel toe or VPLs with this one! These tights have a gusset crotch area and are squat-proof and non-see-through for the best experience while working out. Also, they are great shapewear if you are looking to accentuate those curves!
Pros
Anti-slip
No irritation
Lightweight
Sweat-wicking fabric
Available in 6 colors
Cons
Limited plus size options
With an 80% squat-proof guarantee, these seamless and tummy-taming leggings deserve your attention. Great for summer, since they are made of breathable nylon, polyester, and spandex fusion, these curve-friendly and rear uplift leggings will keep you comfortable and make you look trendy at the same time. And did we tell you how stretchy the material is? Suitable for stretching exercises and safe to wear during pregnancy, drop those squats in these ultra-soft leggings this season.
Pros
Lightweight
Skin-friendly
Moisture-wicking
Body-contouring technology
Cons
Bright colors may not be 100% squat-proof
For your lounging needs, get these striped leggings ASAP! Slip into them on a lazy weekend, for a quick run or pair them with your solid color tops; this trendy pair will keep you comfortable all day. And if you are looking for plus-size high-waisted leggings to conceal those unwanted rolls, these pants will not disappoint. Also, stirrup leggings have made it to the fall 2022 runways, so why not add one to your collection too?
Pros
Ultra-soft
Lightweight
Ultra-stretchy
Machine washable
Available in multiple colors
Cons
Not suitable for intense workouts
May not provide tummy control
If you don't mind loosening the purse strings a little, these midi high-waisted leggings promise more than just optimal comfort. Sitting a little above the ankle, these leggings are designed with UPF 50+ to protect skin from harmful rays and are wear-tested to fit every skin and body type. With medium compression around the waist, it's made using buttery-soft space-dye fabric that is breathable and moisture-wicking. A trendy shapewear and athleisure wear to flaunt all around the year, the leggings have no outside seams for a flattering look. And the best part, these high-waisted ankle leggings are available for all sizes from XXS to 4X!
Pros
Ultra-comfortable
Machine washable
Extra coverage
Will not deform or lose color
Cons
Slightly expensive
Not suitable for intense workouts
So, which one are you flaunting this season? Those were the 15 best high-waisted leggings on the market that won't slip or cause discomfort. If you need more shopping assistance or wondering what to pair them with, we have some amazing tips and tricks in our buying guide below.
How To Choose The Best High-Waisted Workout Leggings?
Look out for the following features in the product before buying:
Size:
Choosing the right size is imperative to get that flattering look and comfort while working out. Measure your waist and hip areas and check the size chart provided by the brand. You can also browse through the comments to check if you need to size up or down from your regular size.
Material:
Most leggings on our list are breathable and moisture-wicking. However, to be sure, check if the leggings are made of nylon or polyester and spandex as these fabrics are highly breathable, light, and will keep you comfortable and dry all day.
Compression:
If you are looking for a tummy-taming or shapewear feature in these leggings, check the compression level before buying. Brands offer strong, medium, and low compression levels to meet your high-rise needs. Strong high-waisted compression leggings are great for intense workouts and preventing muffin tops, whereas medium ones are great for running and other outdoor activities.
Workout-friendly:
For yoga or workouts needs, pick leggings that are 100% opaque for squat-proof experience, interlock seam design, and gusset crotch area for the best experience.
Maintenance:
It's imperative to wash your leggings as mentioned by the brand to sustain their durability. If hand washing is time-consuming for you, pick a pair that is machine washable to be safe.
What To Wear With High-Waisted Leggings?
High-waisted leggings are now fashion apparel, girls! With stirrup leggings making their way to the fall 2022 runaway, you can style high-waisted leggings with almost everything! Pair them with solid color tops or tunics, or throw a crop top above for a chic "running an errand" look. If you are petite or have a smaller frame, go for a monochrome look with a fitted crop top over high-waisted leggings to look taller and slimmer. Also, they look great with heels and stilettos! And for workouts, they blend well with almost everything from a sports bra to a neutral top.
Benefits Of High-Waisted Leggings?
Besides looking incredibly good on you, these high-waisted leggings can benefit you in multiple ways:
Ensures tummy control
Provides a slimming effect
Supports back and abs
Improves posture while working out and sitting
Pairs well with everything from sports bra to tunics
Will not slip down or ride up while stretching or bending
Why Trust StyleCraze?
The author, Chaitra Krishnan, is a fashion enthusiast and finds her passion in trying out different products and reviewing them for her readers. She has compiled this list of the best high-waisted leggings keeping in mind the comfort, durability, trendy designs, and many more. To complement her research, she has also gone through hundreds of user reviews. These moisture-wicking leggings are squat-proof and made of breathable material.
Frequently Asked Questions
Can I wear high-waisted leggings with a belly button piercing?
Ideally, you should not. You should avoid wearing high-waisted leggings if your belly button is pierced, the reason being, the compression material may irritate the piercing area or pull the jewelry and cause damage to your skin.
Are high-waisted leggings good for pregnancy?
Absolutely! Most high-waisted leggings are made of ultra-stretchy material that will contour your bump and keep you comfortable. You can also opt for a bigger size if you are looking for optimal comfort.
What do I wear with high-waisted leggings?
You can wear a long t-shirt and style it with sneakers to look comfy and casual. You can also put on a cropped hoodie or a fancy jacket or a duster for overall coverage.
Why do high-waisted leggings fall down?
If your high-waisted leggings keep falling down it is because they are bigger than your size. You need a more body-hugging size for it to stay in place.
How should high-waisted leggings fit?
Your high-waisted leggings should fit you like a second skin, hugging your buttocks, thighs, and calves snugly.
Can I wear high-waisted leggings every day?
Yes, you can wear high-waisted leggings every day. These are comfortable, breathable, and trendy.
Is there a difference between tummy-control leggings and high-waisted leggings?
Yes, not all high-waist leggings are tummy-control leggings. Tummy control leggings have an extra high rise to your midriff that offers good compression for an hourglass silhouette. Regular high-waited leggings do not usually offer any body-shaping feature.
Recommended Articles