13 Best Highlighter Palettes For A Bronzed, Contoured Look – 2023
Add a soft but iridescent glow to the high points of your face to achieve a sleek look.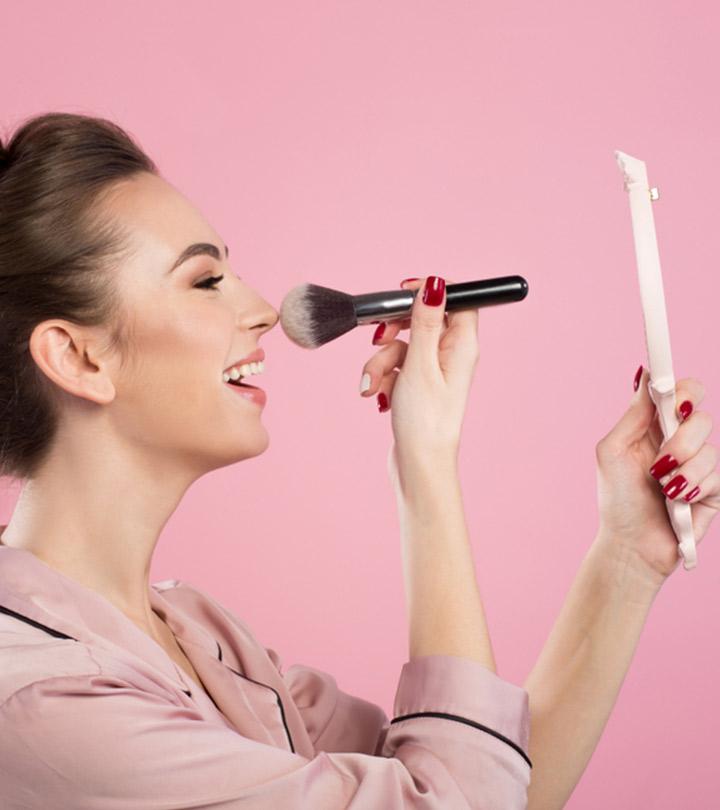 With the best highlighter palette in your hands, you can say goodbye to dull, tired, and lifeless skin. No, it won't solve the underlying issue and you still need to improve your diet and lifestyle to help your skin glow from within, but it is the best quick fix that makeup artists and makeup enthusiasts swear by. Highlighters once used to be only applied by elite and professional makeup artists but no more. They are easily accessible for all women who want to take their finishing to the next level.
The best highlighter palettes come with multiple shades so that you can pick exactly the shade that matches your tone and fits perfectly with the rest of the makeup colors you have used. The primary purpose of a highlighter is to help you perfect your contours and add a soft and iridescent glow to your skin. The most common areas that can benefit from using a highlighter include your cheekbones, eyes, shoulders, and collarbones.
We have a list prepared with the top 13 highlighter palettes that can help you achieve the look of your dreams. So get exploring now!
What Does Highlighter Do To Your Face
Highlighters are light-reflecting products that are available in liquid, cream, or powder form. They enhance your complexion giving it a brighter, dewy glow and accentuating your cheekbones in a subtle, natural way. They also rejuvenate dull or aging skin and make your striking facial features look more prominent. The best highlighting palette is not supposed to make you look shimmery or glittery. Instead, it attracts light to an area, making it more attractive.
13 Best Highlighter Palettes Of 2023 For That Lit-From-Within Look
You can highlight like a pro with this highlighter palette that includes 8 refillable shades of creamy color perfect for you to customize your contour and sculpt your features. This palette helps you enhance your brow bone, cheekbones, nose, and jawline to achieve perfect blended perfection. It has removable and refillable pans, so you can own a customized highlighter palette that you can always fill up with the palette's Pro Singles when they run out. This vegan, cruelty-free cream formula is ideal for sensitive skin. So get ready for that chiseled look! If you want to find out more about this product and its usage, make sure to check out this review on YouTube.
Pros
Vegan
Cruelty-free
8 highlighting and contouring shades
Removable and refillable pans for customized palette
Cons
Some may feel the colors have a strong orange undertone
Price at the time of publication: $17.99
Get ready to be the focus of all occasions with this highlighter palette. It comes with 4 highlighting shades to create the perfect glow and illumination on your face. It has a silky soft texture and achieves seamless coverage. It's both waterproof and smudge-proof, making it a must-have, long-wearing highlighter that prevents you from rushing to a mirror for constant touch-ups. Its light-diffusing pigments are ideal for brightening and enhancing your features and look great on any skin tone. The powder formula of this makeup palette is buildable, easy to apply, and creates a luminous glow. This cruelty-free and vegan product uses only natural organic ingredients and is highly pigmented. If you need further convincing, check this YouTuber's review out.
Pros
100% vegan
Cruelty-free
Waterproof
Smudge-proof
Long lasting
Silky soft texture
Suits all skin tones
Cons
Some may feel it's low on pigment
Price at the time of publication: $8.99
This might just be the real deal for you as this blush bronzer highlighter palette creates the perfect multi-dimensional luminous look that leaves your skin glowing. It's a collection of 2 highlighting, 1 bronzer, and 1 blush powder that instantly brightens your complexion. You can either layer, mix, and match the shades of this customizable palette for a multi-dimensional, sculpted glow. You can achieve a neutral undertone, or wear them separately for a more natural look. This glow highlighter palette is available in 2 universal shades and the moon-kissed palette is ideal for a cool glow. So get ready for moon-kissed luminosity! Check out the review of this product on YouTube to know why it is one of the best out there.
Pros
Versatile
Easily blendable
No harmful ingredients
Suitable for all skin tones
Cons
Has minimal pigment payoff
Price at the time of publication: $11.23
Are you interested in a high-end glow? Try this highlighter palette that comes with 4 highly pigmented shimmer colors to highlight and contour your features to perfection. It works well for people with fair to medium-dark skin tones and has excellent staying power and blendability. Suitable for all ages and all skin types, this pop highlighter palette gives the perfect glow to the areas you want to highlight. The palette comes with a magnified mirror which makes application easy, and what's more, you can check out your makeup any time. Now nothing is stopping you from using it with a variety of skin products and widening your eyes, or slimming your face, or just adding dimension for a flawless look with just the swipe of a brush.
Pros
Vegan
Cruelty-free
Hypoallergenic
Comes with magnified mirror
Cons
Some might find it too sheer
Price at the time of publication: $11.99
Pamper your face with a pop of duo chromatic glow, offered to you with these 9 magical shades that you can wear alone or layer to your heart's content. Its smooth, soft, and creamy formula is suitable and flattering to all skin tones. Unlike many powder highlighters, the formula of this product ensures that it glides onto your skin effortlessly and smooths your skin texture. It works great for mature skin as it doesn't accentuate fine lines and pores. The highlighter catches the light and gives your skin that luminous glow that people crave for. This dream highlighter palette doubles as a shimmer eyeshadow topcoat and because it's packed with top-quality pearlescent particles. A little goes a long way with this one, and you just need a subtle application. What more could you ask for?
Pros
Versatile
Smooth, creamy formula
Duochromatic glow
Suitable for mature skin
Cons
Some find the colors dull and flat for highlighting
Price at the time of publication: $11.99
If you are looking for a pearly glow, this is just the product for you. This highlighter palette features 4 shimmering pearl-inspired pigments and gives your skin a luminous and glistening glow. They have a lightweight formula, that are smooth and don't create a cakey or plastered finish. Instead, you have a natural shimmer that pops on cheekbones. You can use them for full coverage or for light build for minimal makeup, depending on the look you are going for. They are vegan and cruelty-free, so you can contour and highlight your features without an iota of guilt.
Pros
Vegan
Cruelty-free
Lightweight
Smooth application
Natural shimmer
Cons
Some may find the texture a bit chalky
Price at the time of publication: $8.99
Instantly add an incandescent and luminous glow to your face with these 3 highlighting and buildable powders that blend seamlessly. Each richly pigmented powder offers multi-dimensional highlighting and can be worn alone or together for a customized look. This best makeup highlighter palette of micro-milled powders is completely vegan, goes on smoothly, and catches the light on your face, making it glow. This eyeshadow and highlighter palette is available in another shade as well, so you will be spoilt for choice.
Pros
Vegan
Cruelty-free
Richly pigmented
Micro-milled powders
Cons
Some colors may work better as an eyeshadow than highlighter
Price at the time of publication: $19.64
This must-have powder highlighter palette contains 4 shades of metallic warm bronze highlighter powders. These metallic shades deliver intense luminosity to complement every look created. Its lightweight and advanced formula ensure that each shade offers buildable coverage with a metallic luster finish. The neutral shades of the Anastasia Beverly Hills highlighter palette are ideal for all skin tones and can be used to highlight your face, lips, body, and eyes.
Pros
Vegan
Cruelty-free
Lightweight
Buildable coverage
Removable magnetic pans enable customization of palette
Cons
Some feel it's low on pigment
Price at the time of publication: $40.0
If powder highlighters are not for you, the formula of this illuminating highlighter palette is sensationally unique. It is smooth, creamy, and flattering for all skin tones. The beautiful palette has 6 stunning duo chromatic shades, ranging from a gorgeous yellow gold, a pretty lilac pink to a magical icy green. The creamy smooth formula of this palette glides onto your skin like silk and smooths over fine lines and enlarged pores, making it ideal for mature skin. The formula is buildable, so just a little will give you a subtle glow, while more would give you a dramatic and bold look. This portable and convenient illuminator makeup palette has high-quality ingredients, giving you a silky shine and a dewy complexion that can last all day long. Just perfect for professional use or daily use!
Pros
Duo chromatic glow
Long lasting
Portable and easy to use
High-quality ingredients
Transparent pigments for sheer look
Suitable for mature skin
Cons
Some may not find them easy to blend
Price at the time of publication: $9.95
Create the perfect nude glow with this top-rated highlighter palette for your face and eyes. It has 12 shimmery and chic nude shades that create an overall nude glow and contour while enhancing your cheeks and eyes. This all-in-one palette is versatile and can be used as an eyeshadow, eyeliner, bronzer, blush, and highlighter. You can blend all shades of this eyeshadow highlighter palette for an all-over glow and luminosity, or you can use them separately. This product also comes with a mirror, applicators, and application guide that makes applying these highlighters a breeze.
Pros
Versatile
Cruelty-free
Hypoallergenic
Paraben-free
Gluten-free
Non-comedogenic
Dermatologist-approved
Clinically tested
Cons
May contain carmine and iron oxide
Price at the time of publication: $17.78
The Palladio Definer Contour and Highlight Palette features six shades ideal for defining and highlighting your facial features. It contains three contour shades that create the illusion of shadows and depth and three highlight shades that adds shine to the high points of your face. The highlighting and contouring shades of the palette are infused with apricot and chamomile that soothe and calm your skin, ginkgo bilboba and aloe that moisturize your skin, and coconut oil that softens your skin textures. The shades are also enriched with ginseng that protects your skin against free radical damage.
Pros
Lightweight
Blendable
Suitable for all skin tones
Vegan
Paraben-free
Gluten-free
Talc-free
Comes with a mirror
Cons
Price at the time of publication: $14.99
Each of these highlighters is high-tech and soft-focused, creating an extremely flattering light source. They can be applied individually or layered to give your skin a multidimensional glow. They deliver a flawless luminescence to your skin, giving it a softer, younger, and centered look. These powders are suitable for every skin tone and can be used during the day and night. This highlighter palette contains only healthy ingredients and has no harmful or toxic components, nor is it tested on animals.
Pros
Vegan
Cruelty-free
Paraben-free
Sulfate-free
No fragrance
No synthetic dyes
No nanoparticles
Cons
Some may find it too sheer
Price at the time of publication: $64.5
The Focallure palette contains two shades in a palette: a shimmer shade for highlighting and a matte bronzer for adding warmth to your face. The highlighter has a highly pigmented, creamy formula that imparts a flawless finish to your skin. It offers a three-dimensional effect and lifts the overall look of your skin. Both the highlighter and the bronzing shade are waterproof and smudge-proof, so they last for a long time on your skin. You can also use this highlighter to accentuate your body parts like the collar bones and legs.
Pros
Highly pigmented
Waterproof
Long-lasting
Buildable
Cruelty-free
Vegan
Cons
Price at the time of publication: $9.99
Now that you have been through our review of the 13 best highlighter palettes of 2023, here are a few pointers that you should keep in mind so that you find the right shade of highlighter for your skin tone.
How To Find The Right Shade Of Highlighter
The best way to find the right shade of highlighter is to look for one that's 2 shades lighter than your skin. That will give your glow a natural look and prevent you from looking like a Christmas tree. Your highlighter should look like part of your skin and blend in seamlessly for a subtle sheen.
Silver, pearl, lilac, peach, champagne, pink and iridescent shades are best suited for fair complexions as they add just the right amount of glow and radiance to your skin. It's advisable to avoid deep shades like copper and bronze as it may look loud and even kind of fake on your skin.
Highlighters with peach,champagne, bronze, or gold undertones work wonders on medium skin tones. Iridescent shades may also work but it's better to go for iridescent colors that are more warm. It's best to avoid pink as it might come across as harsh against a warm complexion and look too frosty.
With a darker skin tone go for rich golds, copper and bronze tones and avoid too much glitter or shimmer, as it may result in an ashy look. Also avoid iridescent, opalescent, and frosty colours like pink with an olive skin tone as they may come across as grey instead of giving you a luminous look.
Why Trust StyleCraze?
The author, Chaitra Krishnan, is a makeup enthusiast and loves reviewing different products for users to help them pick the right ones. For this article, she has studied highlighter palettes extensively, and upon going through a multitude of online reviews, come up with the best products you can bank on. These palettes help you get that chiseled look by enhancing your brow bone, nose, cheekbones, and jawline.
Frequently Asked Questions
Do you apply highlighter before or after foundation?
It all depends on the look you are going for—applying it under the foundation gives you a soft, natural, subtle look, without it being obvious. If you want to rev up your glamor quotient and achieve maximum glow, you should apply it both under and over your foundation. Applying highlighter over the foundation gives a bolder and more iridescent effect to your skin.
Is liquid or powder highlighter better?
Both have their benefits — powder highlighters are very easy to use and come in different colors, which makes them so popular. Its application is less precise than a liquid highlighter, the powdery formula glides on the skin smoothly, is easier to control, and very buildable.
Liquid highlighters, on the other hand, are very concentrated and a small quantity is enough to give a noticeable glow to the face. But they need to be used sparingly, and the application method is more intensive and requires more precision than powder highlighters.
Does highlighter look natural?
It depends on whether the non-reflective parts of the highlighter formula are translucent. If they are, any highlighter color, right from icy pink to green to champagne to bronze can look surprisingly natural.
What is the difference between highlighter and shimmer?
Highlighters are used on the face's high points. In contrast, the shimmer draws attention and accentuates skin regions where the light strikes.
What is the difference between illuminating powder and highlighter?
A highlighter is a highly concentrated product that highlights your bone structure or a prominent feature of your face. On the other hand, illuminators offer a radiant, illuminated glow by brightening your entire skin rather than just a particular area.
Can we use both an illuminator and a highlighter?
Yes, you can use an illuminator and a highlighter for the extra glow.
Recommended Articles