13 Best Highlighter Sticks To Help You Glow Naturally
Elevate and enhance the beauty of your cheekbones with these incredible highlighters.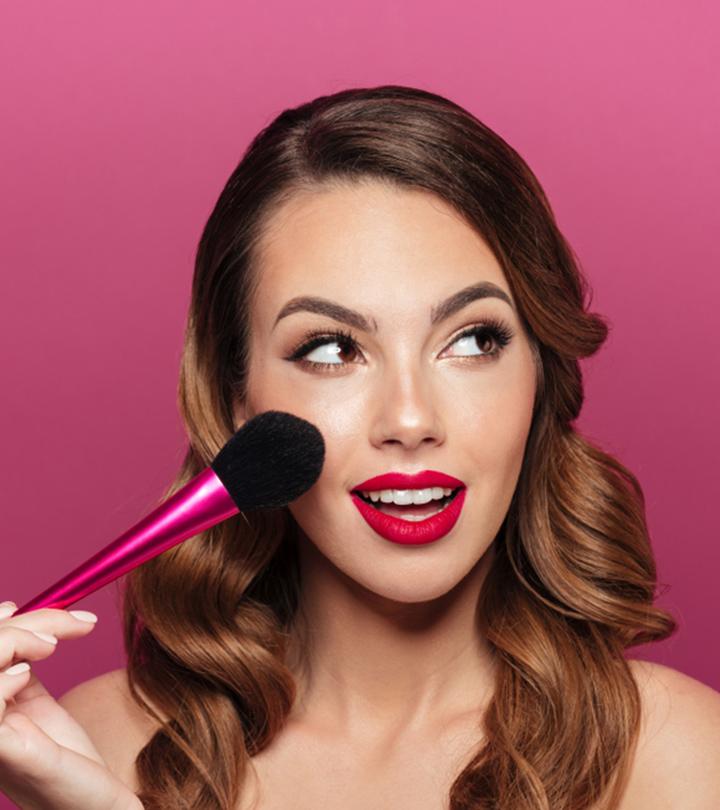 Reducing the makeup application time to provide convenience has become the mantra of cosmetics manufacturers. Sticking to this trend is of quickness are the best highlighter sticks that have come as a godsend to the makeup community. Adding this handy and nifty piece of makeup to your arsenal can help you fix your look and add some stunning highlights to your face instantly. To know which is the best highlighter and jump on the bandwagon, stick around as we list out the 13 best highlighter sticks you can buy! Trust us, you won't regret it!
What Does A Highlighter Stick Do?
Highlighter sticks can be a great addition to your makeup routine to achieve a hydrated and radiant glow. They are also compatible with other face products to instantly boost complexion. With pearlescent ingredients, you can glide a little on the high points of your face for either a subtle or glamorous glow. You may choose to use them solely as highlighters or for strobing by mixing your foundation and highlighter for a brightened face. Highlighter sticks are really fun to play around with as they are versatile, you may even choose to use them as an eyeshadow by dabbing a bit on the inner corners of your eyes, you'd see how it will immediately give you a fresh look!
13 Best Highlighter Sticks Of 2023 To Get That Million Dollar Glow
Add this highlighter to your cart if you're looking to dress your face with a natural glow. These cream highlighter sticks provide a subtle yet illuminating glow for everyday use. They do not contain any glitter and are quick and easy to apply. Simply twist up the product and glide it on your cheekbones, cupid's bow, or brow bone and watch your skin become illuminated. The highlighter does not disturb the rest of your blush or foundation during application and spreads evenly on targeted areas. The product is absolutely a great space-saver as it fits right inside any sized bag.
Pros
Travel friendly
Easy application
Creamy and soft texture
Natural glowy finish
Cons
Price at the time of publication: $8.99
Pamper yourself with a pearlescent effect using Maybelline's Facestudio Master Strobing Stick. This is best for illuminating and helps add dimension while concluding your final look like a high-precision strobe effect. This strobing stick is safe to use as it is dermatologist-tested, non-comedogenic, ideal for all skin types, and suitable for those with sensitive skin. The formula runs creamy in a round chubby stick and a little product goes a long way in adding a natural but bright glow on your face. This stick is best used for strobing as it finishes in a natural and radiant shine, which can also be built upon for a dramatic effect.
Pros
Creamy
Easy to blend
Dermatologist tested
Hypoallergenic
Suited for all skin types
Non-comedogenic
Cons
Price at the time of publication: $6.18
This highlighter stick helps add glamour and confidence to your skin. Simply dab this pearlescent stick on the high points of your face or body! Its tiny body makes up for a great travel companion, so carry it literally anywhere and dab it on your face for when you need that extra dose of sparkle. The shimmery color remains true to every skin tone and is a seamless dream to blend owing to its creamy consistency. The sticky is neither frosty nor powdery, so it could be applied with bare fingertips as well and you can use it on your eyelids, cheeks, collarbones, brow bones or anywhere you'd wish to pack some illuminance.
Pros
Paraben-free
Phthalate-free
FDA approved
Boosts a natural glow
Cons
Price at the time of publication: $28
The Wet & Wild Mega Glow Makeup Stick Highlight is what you need to flaunt your cheekbones. This multi-use product is ideal for highlighting, concealing, and contouring your face. It has a cream-to-powder formula that glides seamlessly on your skin and blends into a natural finish. This buildable highlighter is enriched with jojoba oil that moisturizes your skin. The effect of this highlighter stays on all day and its compact packaging allows you to carry it wherever you go.
Pros
Easy to apply
Blendable and buildable
Portable
Long-lasting
Cruelty-free
Cons
Price at the time of publication: $4.49
With a bronzer and highlighter on either ends, this product will easily be your go-to makeup product as it contains the two primary items that provide depth and definition to your overall look. The highlighter-bronzer duo is a long lasting, cream to powder formula that blends perfectly into your skin and finishes with an all natural bronzy glow and color. The highlighter is formulated with a patented Luminera and Diamond Core Complex that masks the appearance of any wrinkles, discolorations, or demarcations. Vitamin E and grape seed extracts in the formula help provide anti-aging benefits and protection, while pomegranate extracts maintain the consistency and longevity of the product.
Pros
Weightless
Bronzer and highlighter duo
Paraben-free
Cruelty-free
Water-resistant
Cons
Some may find it too shimmery for daily use
Price at the time of publication: $28.0
The Burt's Bees All Aglow Bronzer Stick is made to help instantly provide a fresh, illuminance to your skin while brightening and defining your face. It applies smoothly and merges with your skin tone for a sun-kissed effect. Combined with the nourishing and hydrating properties of coconut oil, jojoba oil, cupuacu butter, and daikon radish extracts, the product is lightweight and does not look patchy or settle into fine lines. The highlighter is also dermatologist-tested, so you can apply this anywhere you feel needs a little bit of pick-me-up.
Pros
Dermatologist tested
Moisturizing
Lightweight
Sulfate-free
Paraben-free
Sculpting glow stick
Cons
Some may find it slightly oily
Price at the time of publication: $10.97
This creamy stick highlighter from Physician's Formula is perhaps the best thing to get your hands on if you have dry skin. With its ultra-blendable and buildable feature, you can swipe more than once without worrying about applying too much. The creamy texture of the highlighter helps melt the product onto your skin and can be easily blended with your fingertips. It is enriched with the goodness of organic jojoba oil, organic aloe vera, and botanical cactus flower to help you achieve a naturally-brightened look. The product is also hypoallergenic, free from fragrance, parabens, and gluten. Dermatologist approved and clinically tested, this highlighter is devoid of any animal cruelty as well!
Pros
Moisturizing and blends easily
Buildable
Cruelty-free
Paraben and gluten-free
Dermatologist approved
Hypoallergenic
Cons
Some not offer long-lasting wear
Price at the time of publication: $6
The Clinique Chubby Stick Sculpting Highlight is a cream formula that is designed to add a luminous glow to your skin. The stick contains light-reflecting optics that help to enhance your best features, such as cheekbones, brow bones, or the bridge of your nose. This creamy highlighter catches the light and creates a subtle, but noticeable, shimmery effect on your skin for a long time. It offers your face a more defined and sculpted look, while also giving your skin a radiant, healthy glow.
Pros
Easy to use
Lightweight
Oil-free
Paraben-free
Phthalate-free
Fragrance-free
Cons
Less quantity for the price
Price at the time of publication: $18
Etude House's Play 101 Stick Contour is a 2-in-1 highlighter contouring stick. The product is angularly cut for ease of application and you can say hello to a powdery finish and bye-bye to the chalky or cakey texture. This highlighter goes on smooth like a cream highlighter but finishes like a velvety film of powder. With this duo, you can now use it to contour or shape your nose, brows, and cheeks.
Pros
Powder finish
2-in-1 contour-highlighter stick
Angular tips help precise and easy application
Suitable for all skin types
Subtle glow
Cons
Some may find it slightly waxy
Price at the time of publication: $12
The Ogee Sculpted Face Stick is a sheer finish highlighter. Its formula is buildable and blendable and it is designed for on-the-go use. It is infused with green coffee oil and caffeine that stimulate collagen production and firm your skin. The product also contains sal tree resin that minimizes the appearance of pores and tapioca powder that smoothens out your skin and absorbs excess oils. It is a lightweight formula that glides seamlessly on your skin and illuminates it in an instant.
Pros
Organic
Lightweight
Buildable
Cruelty-free
Gluten-free
GMO-free
Paraben-free
Synthetic fragrances-free
Phthalates-free
Dyes or petrochemicals-free
Cons
Price at the time of publication: $52
Another nifty highlighter stick is Benefit Cosmetics' Watt's Up Cream Highlighter. A staple in most vanity bags, this product offers a cream-to-powder finish. The end results of applying this highlighter is that you will notice a luminous sheen and a soft-focus look. Ideal for daily wear, this highlighter will not make you look too shiny or dull. This highlighter contains the nourishing benefits of shea butter and soybeans.
Pros
Ideal for daily wear
Infused with soybean glycerides and shea butter
Gluten-free
Blends easily
Cons
May not be best suited for oily skin
Price at the time of publication: $30
The On-The-Glow blush and illuminator has 2 pigmented ends – one is a shimmery highlighter while the other end contains a richly-pigmented cream bullet that can be used as a lip tint, blush, or even eyeshadow! Now, you no longer need to carry 3 separate items when you're traveling because this bad boy is all important things combined! Infused with vitamin E, this highlighter goes on smoothly to provide a natural luminosity and color to your face.
Pros
Can be used on lips, cheek, and eyes
Contains vitamin E
3-in-2 concept
Highly pigmented
Cons
Price at the time of publication: $27.99
The MCoBeauty Highlight And Glow Stick adds a pop of shimmer to the high points of your face like the cheeks, brow bone, and nose bridge. The formula is infused with superfine pearl particles that impart a dewy, luminescent glow to your face. It is a moisture-rich formula that glides seamlessly on your face without making it look cakey. It also stays on your skin for a long-time. The illuminator wand promotes targeted application, which helps you to add dimension to your face.
Pros
Long-lasting
Easy to apply
Blendable and buildable
Highly pigmented
Suitable for all skin tones and types
Cruelty-free
Vegan
Cons
Price at the time of publication: $12.65
The dilemma in choosing a highlighter stick best suited for your skin ends here. Read ahead the few steps to consider before buying a new stick highlighter.
How To Choose The Best Highlighter Stick
As a rule of thumb, choose a highlighter that is one to two shades lighter than your skin tone. If you have warm or yellowish undertones, you might want to opt for bronze or gold-like highlighter and blendable shades. If you tend to fall on the cooler spectrum, you could opt for opal or pearly-white highlighters. Neutral undertones can reach out for champagne highlighters without a second thought. But worry not, you could also play with bold highlighters that look simply stunning or holographic ones too. To find the correct undertone, check for the color of your veins. If you find them to be more on the greener side, you have a warm undertone, however, if your veins seem to be bluish, a cooler undertone is what you have. Neutral undertones are a combination of both green and bluish veins.
Be aware of the many textures and formulations that go into the make of highlighters, some are there to stay all day while some are meant to be fleeting. Powder finishes usually tend to fade away or get absorbed into the base makeup, whereas cream-sheen highlighters tend to stay for a longer time with a probability of turning greasy. As most of the highlighter sticks come in a creamier version as compared to their compact counterparts, you may want to test out the post-application texture of the products. If you fall in the spectrum of combination to oily skin type, opting for one that finishes on a drier scale will help reduce the intensity of the oiliness. If you find yourself to be on the normal to dry skin type, a well-hydrated highlighter will do the job of making you glow without cracking or turning patchy.
Oftentimes we confuse the meaning of shimmer and glitter, especially when we talk about makeup. It is important to note that glitter is particularly unadvised to be used in any makeup or skincare product as these big particles could have adverse effects when applied in regularity. Shimmer however, is seen in many makeup products, popularly in eyeshadows and highlighters. Knowing this difference helps deciding against buying a highlighter that may seem to have glitter but is termed as "shimmer".
Knowing which ingredients to avoid and incorporate is a bonus. Going for products that include naturally-derived ingredients with good chemicals seems to be a healthy balance.
Avoid products that include ingredients like parabens, phthalates, formaldehydes, mineral oils, and petroleum. The former extend shelf life of products while instigating new allergies whereas the latter are moisture and hydration inducing substitutes.
Mica is the prime ingredient that is used in almost all highlighters, however, you can always check for synthetic fluorphlogopite or as commonly known as "synthetic mica" on the ingredients list. Mica has been linked with several probabilities of inhalation problems, and mica mining itself is unethical and illegal.
You can also look for ingredients like almond oil, grapefruit oil, wax or beeswax, which are great for glowing as well as hydrating your skin.
How To Use A Highlighter Stick
The role of any highlighter is to reflect light and add definition to those high points of your face and body where the light falls on predominantly. Knowing the primary areas of where to apply a highlighter could also prevent you from looking like a rave party disco ball. Those areas to focus are: cheekbones, brow bones, bridge of the nose, cupid's bow or the top of your lips, and the inner corners of your eyes.
A little always goes a long way
Since the job of a highlighter is to brighten and illuminate the high points of your face, refraining from overusing or reapplying could prevent one from looking harsh or starkey. Highlighters are only obvious when light reflects on the targeted area, therefore, it may not be as visible in the shade but would shine through your skin once the light falls on the surface.
While a fan brush or a contoured small brush is the obvious best friend of a highlighter, you could also apply it with your fingers! Especially with highlighting sticks that are mostly creamy could easily be blended in with using fingertips.
Coordinate with the rest of your face makeup
Applying makeup is like putting together a flower bouquet, everything should connect and compliment the other aspect. Likewise, using a similar undertone for blush, highlighter, and bronzer would tether the entire look.
Benefits Of A Highlighter Stick
Saves space, easy to carry, and portable
Provides more precision around the eye areas
User has more control of the amount to spread on the skin
Creamy consistency allows it to be blended with fingertips devoid any other tools
Why Trust StyleCraze?
Without proper experience, it is not easy to pick out the right highlighter stick. The author, Chaitra Krishnan, is a makeup and fashion enthusiast who loves trying out new products and penning reviews of the same. She has carefully considered all skin types and online reviews of the products before curating this list of the best highlighters available in the market. These highlighters are not only capable of giving you a natural glow but are also easy to apply and use.
Frequently Asked Questions
Are stick highlighters good?
Depends on the kind of finish and use you want to indulge in. Highlighter sticks are of creamy consistency which means they last for a longer time without making you feel chalky which some powder products could.
Is powder or stick highlighter better?
Both powder and cream stick highlighters are beneficial in their own ways. Powder highlighters could be preferred by those with oily skin, whereas creamy highlighter sticks could appeal to those with dry skin. Apart from this, powder highlighters do have a tendency to have fallouts in their surrounding areas and could be chalky in some cases, highlighter sticks are more mess-free and portable.
How long does stick highlighter last?
Highlighter sticks on an average have a shelf-life of 12-18 months.
Do you apply highlighter before or after foundation?
There are two ways you can use a highlighter. The general way to use one is to dab some product after your base makeup is complete. The other way is to use it like an illuminator, here, you can mix a bit of foundation with a little bit highlighter and blend both the two for base makeup, topped with another glide as you'd normally use a highlighter. This would seal the constant glow evenly across your face and shine more on the high points of your face.
Do you apply highlighter before or after a blush?
A highlighter is applied after the blush for enhanced facial features.
Can I use eyeshadow as a highlighter?
Yes, eyeshadows are highly pigmented, and the right shade may be used as a highlighter.
Which highlighter is the best, liquid or stick?
A liquid highlighter offers a natural glow, while a stick highlighter offers a subtle look and is easier to apply.
Recommended Articles
Best Highlighters For The Face For A Glow Like Never Before!
The Top Must-Have Natural Highlighters
Best Drugstore Highlighters
Best Pink Highlighters To Make Your Face Glow