7 Best Hiking Boots For Wide Feet In 2022 (Reviews & Buying Guide)
Get footwear that offers protection and comfort during your outdoor activities.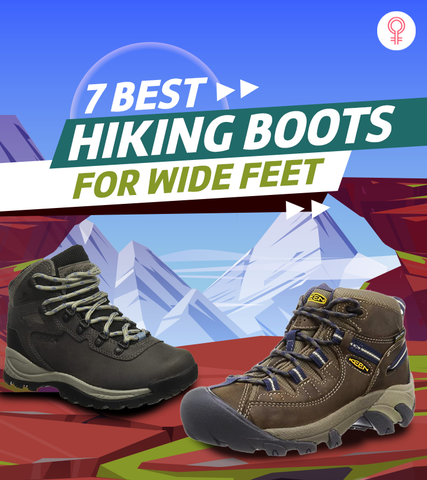 Hiking is a great way to disconnect from our gadgets and experience the real outdoors. However, the same experience might turn out to be a disaster if you experience blisters. Hence, you must invest in the best hiking boots for wide feet that provide maximum comfort, offering you an easy, pain-free hike. These shoes also have excellent shock absorption and prevent skidding. They are made of durable materials that withstand any terrain and will indeed be your next hiking companion.
Finding the right pair of hiking shoes can be demanding, especially for wide feet. So, for your convenience and easy pick, we have rounded up the 7 ideal hiking boots that are comfortable, effective, and durable. Keep scrolling to learn more!
7 Best Hiking Boots For Wide Feet – 2022 Update
The Newton Ridge Plus Hiking Boots by Columbia are super lightweight yet provide all the features of an ideal hiking boot. They have a durable midsole, which offers ample cushioning for long-lasting comfort. In addition, the rubber outsole provides advanced traction for slipstream movement, even on uneven and rough ground.
The boots ensure a worry-free and carefree hike, as it is equipped with a mesh booty construction for enhanced breathability and a fully waterproof upper. Furthermore, their multi-train traction system caters to any environment, giving you solid footing even on wet surfaces in snowy or rainy regions. In addition, the boots come with a lace-up of closures for an adjustable and secure fit.
Specifications
Material: Full-grain leather and rubber
Color: Quarry/Cool Wave
Pros
Advanced traction
Comfortable to wear
Waterproof
Breathable
Durable
Optimal grip
Cons
None
Whether for a casual day out or hiking trip through Yosemite Park, these versatile hiking boots by Merrell provide you with optimal performance and comfort. They are made with quality leather and mesh for extended durability and breathability. These boots feature a unique Merrell air cushion and a removable insole in the heel, adding more stability while absorbing shock. They are also equipped with a protective rubber toe cap and molded nylon arch shank for added safety and convenience. In addition, the sole features 5MM lag death, so you can walk carefree on any surface. The boots seal out any water and keep your feet dry to ensure that you have a safe hiking experience. Check this video for a detailed review of the Merrell Women's Moab 2 Mid Waterproof Hiking Boot.
Specifications
Material: 100% suede leather and mesh
Color: Granite
Pros
Waterproof
Breathable
Durable
Good shock absorption
Add stability
Great traction
Ideal for slippery surfaces
Cons
None
The Targhee II Mid Hiking Boots by Keen has a unique metatomical footbed design, which adjusts to the curves of your feet for the perfect fit and excellent arch support. The boot opening measures approximately 5 inches, perfect for fitting in your wide feet. The KEEN dry waterproof membrane on the top of this boot repels water, while the mesh structures along the laces let out vapor to keep your feet dry and comfortable all day. The rubber outsole provides a high traction grip even on rocky surfaces or muddy environments and does not leave any imprints or traces when walking indoors. It also has torsion stability ESS and mid-cut height, allowing you to balance uneven surfaces and provide good ankle support.
Specifications
Material: 100% leather
Color: Goat/Crown Blue
Pros
Secure fit
Great stability
Breathable
Waterproof
Cons
None
The X Ultra 3 GTX Women's Shoes are designed with descent control technology that makes them perfect for hiking through rocky terrains and slippery slopes. They are waterproof, durable, and have a mid-height design that offers maximum traction on tough trails. They feature a protective mudguard at the base of the foot, which protects the medial and lateral sites from muddy trails, while the anti-debris mesh upper prevents any dust from being trapped between your footbed and foot. The energy cell midsole and the high-performance EVA foam footbed provide optimal shock absorption. In addition, the shoes are equipped with SensiFit foothold technology, which provides a snug and virtually customized fit for added comfort.
Specifications
Material: 100% synthetic
Color: Crown Blue
Pros
Advanced traction
Lightweight
Superior cushioning
Breathable
Optimal grip
Cons
None
This is yet another classy hiking boot by the brand Merrell! It is quite similar to the other design in terms of looks but provides you with added features and comfort. The Moab 2 Mid GTX Hiking Boots feature a unique Vibram TC5+ rubber sole and a removable contoured insole in the heel, which adds more stability while absorbing shock. It is also equipped with a protective rubber toe cap and molded nylon arch shank for added safety and convenience. In addition, the GORE-TEX allows you to effortlessly hike during light rains, while the mesh lining provides exceptional breathability.
Specifications
Material: Synthetic fabric and leather
Color: Brindle
Pros
Waterproof
Breathable
Durable
Great stability
Great traction
Cons
None
If you love hiking through rocky trails, the Women's Chocorua Trail Boots by Timberland is the ideal choice for you! The platform of these boots measures 1.25 inches, while the heel measures approximately 4.5 inches, perfect for wide feet. They feature waterproof protection with Gore-Tex membrane, while the durable rubber lug outsoles provide optimal traction on rugged trails. Moreover, the boots have a cushioned EVA footbed, which provides optimal foot support by dispersing shock. The additional features like rust-proof metal embellishments along the padded collar and tongue provide added comfort. Take a look at this video for an honest personal review of the Timberland Women's Chocorua Trail Boots.
Specifications
Material: 100% leather and textile
Color: Brown
Pros
Good ankle support
Secure fit
Optimal stability
Good arch support
Breathable
Waterproof
Comfortable to wear
Great traction
Durable
Cons
None
Gear up for your next adventure with these trail-tested hiking boots by Keen! They feature waterproof nubuck and a mesh upper, which keep water and debris from getting in the shoes. The mesh, along with the laces, also promotes breathability, thus leaving your feet dry and comfortable. In addition, the removable metatomical footbed design cradles the natural contour of your feet for the perfect fit, added stability, and excellent arch support. At the same time, the Keen zorb EVA Strobel provides maximum shock absorption.
Specifications
Material: 100% leather
Color: Earl grey
Pros
Sturdy
Lightweight
Durable
Snug fit
Breathable
Good stability
Waterproof
Good shock absorption
Optimal arch support
Cons
None
All these hiking boots are specially designed to accommodate wide feet. But if you are still not sure about the suitable pair, read the following buying guide and ensure the best buy –
How To Choose The Best Hiking Boots For Wide Feet?
Leather remains one of the most durable materials when it comes to hiking boots. They offer durability and ensure comfort. If you are planning to hike across wet regions, you can choose waterproof materials like rubber, PU, or plastic. They refrain water or snow from entering the footbed and keep your feet dry and cozy.
Choosing the perfect size as per the anatomy of your feet is crucial. If the shoes are too tight, they are likely to cause blisters and friction, which will ruin your experience. Shoes that are too big in size may slip off and can cause injuries.
Uneven surfaces and rugged trails require a durable sole and deep lugs for optimal grip. So, choose shoes with a strong and hard sole.
Poor ventilation in the feet may cause sweat, odor, and discomfort. Therefore, your boots must also be breathable and have adequate ventilation.
Ensure that your hiking boots also have additional features like cushion lining in the collar and tongue to prevent any painful friction or chaffing. The boot opening also must be snug, so bugs or insects don't end up getting into your footwear.
The right pair of hiking boots is your VIP ticket to the wilderness. However, the choice might get overwhelming if you have wide feet. The best hiking boots for wide feet will provide maximum support and comfort and give you a pain-free hiking experience. They are made of durable materials that prevent skidding and will allow you to walk smoothly on those rough terrains. In addition, they are waterproof, have superior cushioning, and have optimal grip. Consider the material, size, sole, breathability, and additional features while choosing the best hiking boots.
Why Trust StyleCraze?
Aditi Naskar, the author of this article, holds a diploma in health and wellness and loves to review fitness and health products. Her interest in fitness and adventurous sports motivate her to research various products available on the market. She has prepared this list of the best hiking boots for wide feet after reading product specifications and analyzing hundreds of customer feedback on trusted online platforms. These shoes have excellent shock absorption properties and prevent skidding.
Frequently Asked Questions
What are the differences between hiking boots and shoes?
Hiking shoes are flexible, softer than hiking boots, and do not need breaking in. But these shoes are less durable than hiking boots. Hiking boots are strong and offer better protection in rocky or snowy terrains while providing optimal cushioning!
How to clean hiking boots?
Remove the laces before cleaning, and use a brush to remove any dirt and dust from the sole. Then make a mild solution of dishwashing soap and water to clean it thoroughly. Do not put your boots into the washing machine or use detergents, as it can be harmful to the leather and damage the waterproof membranes.
How to check the width of the boots?
Wrap a piece of string or measuring tape around your foot at the bunion joint (the widest part) and measure the circumference. Do this for both feet, as there might be some variation in the size. Your width size is the length plus 1 inch.
Are wide shoes better for hiking?
Yes, wide shoes are better for hiking since your feet and toes will be comfier in large-toe box footwear after a long day.
Are Salomon hiking boots wide fit?
Yes, Salomon hiking boots are wide fit. This flexible boot features Gore-Tex covering to keep your feet dry and comfortable. It is ideal for regular mountain and country walking.
Should hiking boots be tight or loose?
Hiking footwear should be loose because feet swell while hiking; therefore, opt for a pair of larger hiking shoes or boots.
How much toe room should you have in hiking boots?
You need an inch of toe room in your hiking boots.
Recommended Articles
The following two tabs change content below.